*Bourbon Culture is reader-supported. When you buy through links on our site, we may earn an affiliate commission.
Jeptha Creed is one of those bourbon brands that you see on the shelves and think that you want to buy it – but then put it back and pick something else.
For me, I've never been able to convince myself to buy a bottle of theirs because of the consistently bad reviews I've read on previous releases.
What's more, I have friends who have visited the distillery and lounged around in their tasting room area and still walk away feeling like they don't like the brand. And let me tell you, that's a red flag right there.
Cozy, on-site tasting room areas are purposefully built to get customers to bond with the brand. They are designed to immerse the visitor in comfort and relaxation while experiencing distillery more intimately. If you connect with the brand and their whiskey in their tasting rooms, chances are high that your mind
will think fondly about them when you spot their bottle at a store. But for whatever reason, Jeptha Creed's bourbon must be so bad that even the experience of their very cool tasting room wasn't enough to persuade my friends to purchase a bottle of their product.
Looking into Jeptha's Creed Operations
So what's the problem? On the outside, their distillery looks like it has all of the tools for success. It sets on a farm where they grow their own grains (and fruits for their brandy). They even grow Bloody Butcher Corn specifically to put into their whiskey.
Corn that is any color other than yellow is so hot in distilling right now. I think the allure to distilleries and drinkers is simply because it promises something different. Even I'll admit that I want to try every Bloody Butcher corn whiskey product I come across.
However, I have never – and I truly mean this – ever found a whiskey made with Bloody Butcher Corn or any other heirloom variety that I've thought highly of.
I think other reviewers are with me on this for the most part, too. For all the more I want it to be better, it never translates into a superior drinking whiskey. What a bummer.
The Mother/Daughter duo who own/run the distillery have been working hard to improve the brand every day since their first barrel was filled in August, 2016.
During that time, they've experimented with all kinds of whiskeymaking techniques and have upgraded their equipment and capacity thusly.
What was once a distillery based on a small pot still and small barrels for rapid aging has now turned into a distillery with a column still and racks full of 53 gallon barrels. It would appear that they are on the up and up. But what is their whiskey like?
The bottle that I'm reviewing today should answer that question. It uses the previously mentioned Bloody Butcher Corn as 75% of the mash. 20% is dedicated to malted rye and the remaining 5% is malted barley.
The malted rye part is strange, but growing in popularity. Actually, wait a minute, need to stop throwing around the phrase "growing in popularity" because I don't fully believe that. I think that malted rye is being pushed so hard in many modern whiskies either from the bulk grain sellers or distilleries looking to find a way to stand out from the pack.
I have yet to taste a product that uses malted rye in place of regular rye and thought to myself that it's better for it. This will get many New Riff fans up in arms but I'm sure that the people who hated Woodford's Chocolate Malted Rye will come to my aid. Malted rye is, perhaps, the most polarizing grain in whiskey today.
To finish my rant about fancy grains, I'd like to also point out that Bloody Butcher Corn and other heirloom varieties may not be the wunderkind (or is it wonderkid?) that the distilling industry thinks it is. I often see reviews of other whiskies that use it pointing out a lack of sweetness while exhibiting a more earthy taste to it.
Considering that corn is supposed to give bourbon its signature sweet character, that's a strange thing to want to tamper with while making a bourbon. But maybe Jeptha Creed has found a way to keep the sweetness and reduce the dirt?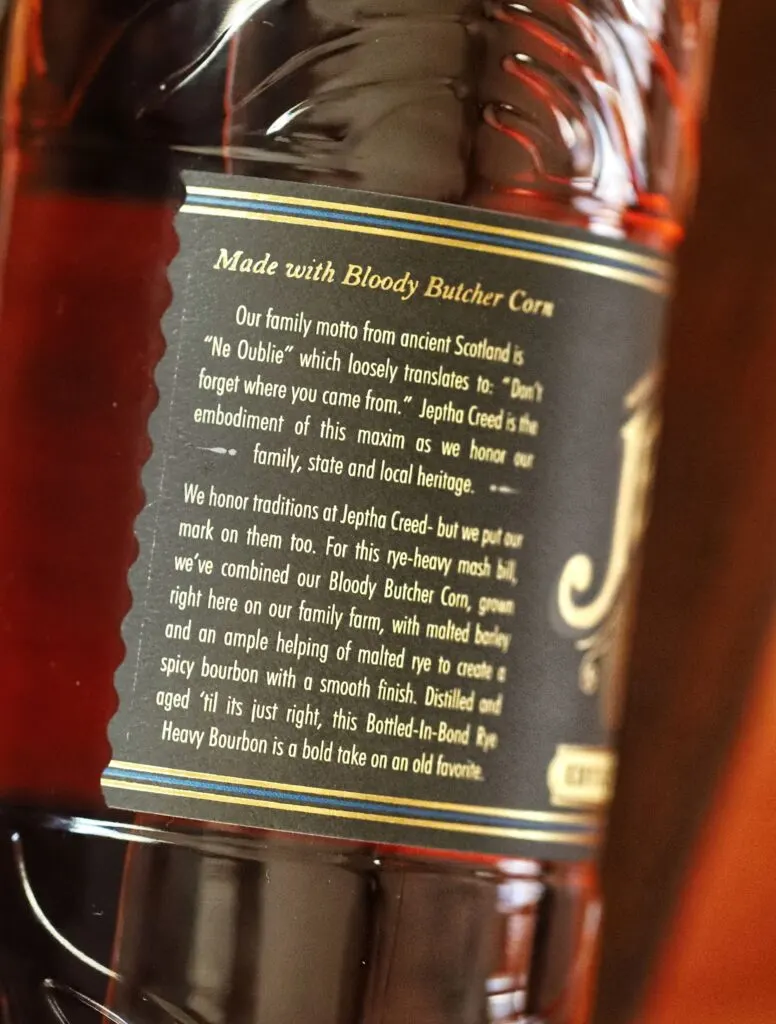 It is with all of this in mind that I'm preparing myself for my first experience with Jeptha Creed Bottled in Bond "Heavy Rye" Bourbon. I am known for bucking the trend of what other reviewers think of certain whiskies, so maybe my take will be different on this bottle (because I haven't seen a good one yet). Let's find out. I sampled this neat in a glencairn.
Tasting Notes
Nose: Aromas of a Corn-on-a-Stick at the county fair combine with similar scents of unbuttered popcorn. There's a bit of damp earth hidden in a sweet perfume smell.
Spices like cinnamon pair nicely with dried apple slices. Underdeveloped notes like freshly sawn oak and sweet hay aren't offensive per se, but they do cry out "I wasn't done in the barrel!"
Palate: There is almost a smokey or charred effect imparted on the grain. Potpourri flavors are likely what the perfume note on the nose translated to on the tongue.
More corn notes, this time in the form of kettle corn, combine with cinnamon Red Hots. The wood seems just as undeveloped on the tongue to with the woody taste of a tongue depressor. There are citrus flavors that come by way of bitter citrus peel and candied citrus peel.
A dash of Nocino (walnut bitters) adds a bit of depth but flavors like damp cardboard subtract from any joy they bring. The sip falls somewhere between a bourbon and a rye whiskey in terms of compartmentalizing some of these flavors.
There is a youthfulness to each sip represented by flavors that are sharp and bold but not necessarily cohesive or layered. Overall, it's not as bad as I was thinking it'd be but its flaws are hard to disguise.
Finish: The wood turns a bit sweeter on the finish while notes of caramel emerge. There are Tootsie Rolls, kettle corn and peppermint candy cane flavors that linger too.
Sharper, less restrained flavors like Saigon Cinnamon, menthol, uncharred oak and cardboard kind of spoil whatever admiration I was having with the completion of the sip. Darn.
Score: 5.7/10
This is a weirdly off-balance bourbon. I went into this with low expectations and I was somewhat surprised with my final score not dipping under a 5.
I did experience earthy notes and some cardboard just like I thought I would, but they weren't as bad as I thought they would be either. This bourbon still needs a lot more time in the barrel because I could tell that the oak hadn't smoothed out the rough edges of the youthful distillate. In fact, it had barely touched it.
If the experience of drinking a bourbon like Henry McKenna 10 Year Bottled in Bond is like receiving a deep tissue massage from a Swedish masseuse, then drinking Jeptha Creed BiB is like getting slapped by Randy Savage.
There's no eloquence in the way the flavors hit your tongue, it just does. Granted, I did find enjoyment in some of the flavors but the experience as a whole was all over the place.
Final Thoughts
Jeptha Creed, and the many people who are responsible for producing their whiskey, are probably doing their best every day to make products that stand out from the rest. That's no easy task in a state where they are literally surrounded by giants.
Unfortunately, I just don't think they're there yet. Products like this bourbon either need more time in the barrel or may have to be radically changed in order to have more appeal (may I suggest laying off the malted rye, first?).
If they don't, they may be forever destined to become a distillery who is ignored among the masses and only has limited craft appeal. Judging by the size of their operation, I don't think that's the direction they're going for.
Either way, this bourbon is a pass for me now and will probably continue to be until I hear word that things are starting to significantly change.
Featured Products
Description:

The Aged & Ore Neat Traveler is a complete travel kit for spirits. We combined our widely praised Neat Glass with one of our 3oz Flight Bottles and housed them together in a custom EVA travel case. Perfect for a night away with your favorite pour. The tie
Description:

The Aged & Ore Bottle Flight is a premium set of 4 custom silicone wrapped glass bottles designed to transport and share samples of your favorite spirits. The flight bottles come in a custom EVA travel case that fits perfectly in any small bag. An Aged &
Description:

This Bundle combines two of our crowd favorite products, creating the ultimate travel bundle to bring along your favorite spirits and glassware. Bundle Includes: Neat Traveler (Gray) Bottle Flight (Gray) Note: This bundle is only available in gray and col
*Bourbon Culture is reader-supported. When you buy through links on our site, we may earn an affiliate commission.