*Bourbon Culture is reader-supported. When you buy through links on our site, we may earn an affiliate commission.
It seems like it's been an unusually long time since Barrell Craft Spirits has released a batch of bourbon. Actually, after checking my calendar and notes I realized that Batch 033 came out in August, 2022.
That's about seven months between batches by my count. Barrell has traditionally released four batches per year, but 2022 only saw three. Is this a new trend?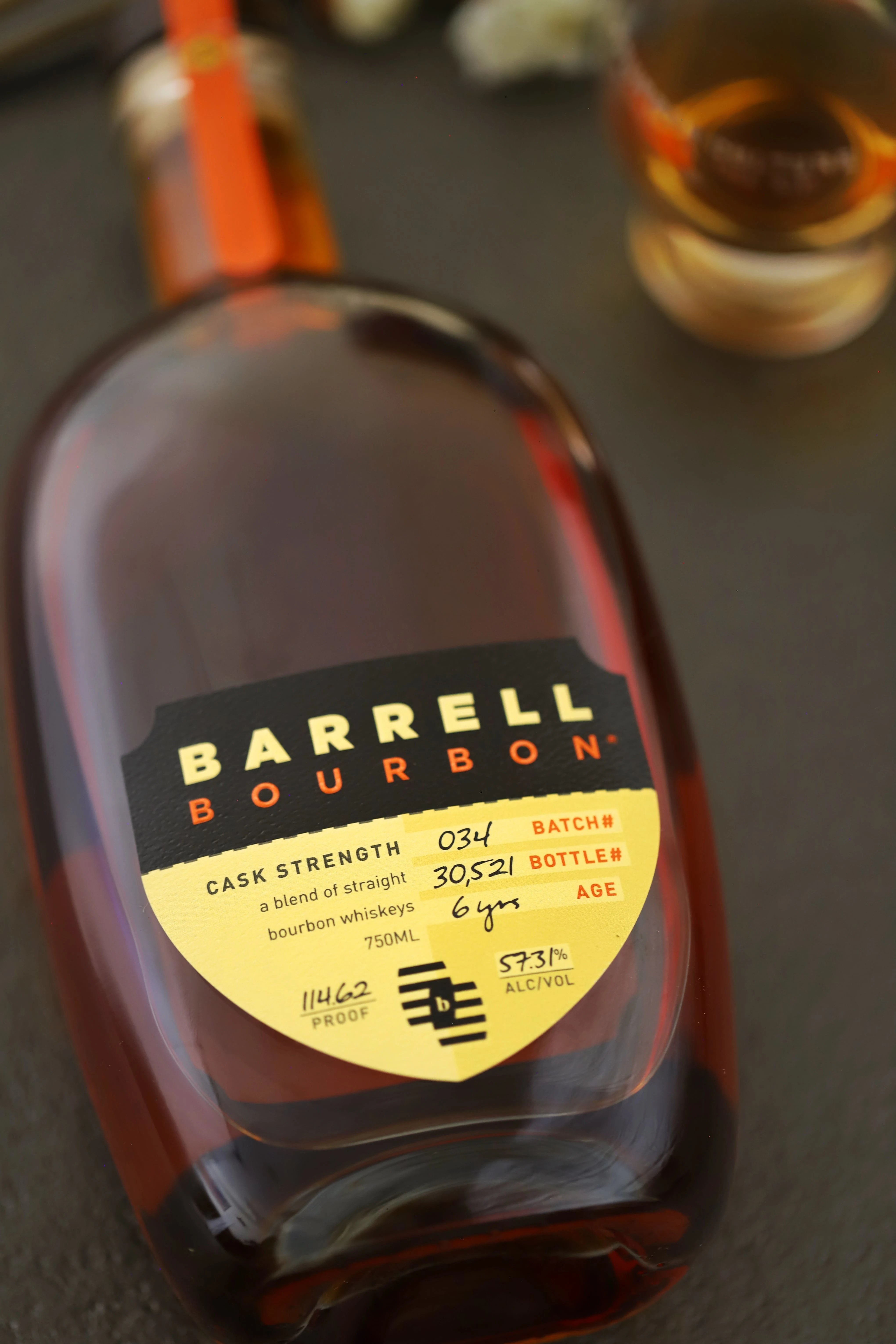 Getting onto the subject at hand, Batch 034 is Barrell's newest release. It is a blend of 6, 8, 10 and 15 year old barrels. Strangely, I have noticed an uptick in comments around the internet from people who didn't realize that this blend contains older barrels in it.
By law, if Barrell is declaring an age statement on the front label (which it always has), it must use the youngest barrel in the blend. Barrell rarely has released a batch that didn't contain at least 10 year old barrels in it.
They just don't tell us the ratios for each batch of liquid. The only time that the age statement was truly accurate was Batch 022 – which only used 5 year old barrels in the blend. This is probably why I still see some stores with that particular batch on the shelf.
Barrell Bourbon Batch 034
I'm being upfront when I remind the audience that I was not a big fan of Batch 033. It seems as if every other reviewer sang that batch praises.
Fred Minnick's voice was the loudest and I'm not gonna lie, it made me doubt myself a bit. But I feel firm in my stance that there were a lot of off-notes within it that made me think that some sort of craft distiller's bourbon made their way into the blend.
I have nothing against craft distillers and even look forward to Barrell's New Year bottling (which is where Barrell showcases them). That release has typically been the most experimental of all of their releases because they've used barrels sourced from craft distillers in Texas, Ohio, Illinois and New York.
But as I have done with every batch of bourbon since "001," I'm never going to let a bad one stop me from trying the new ones. Even if I don't like them, Barrell always impresses me with how they manage to create something different from the same 3 sources.
Batch 034 sees the return of "high corn mash bill" barrels of bourbon into the blend. If you're unfamiliar with what they're talking about, this bourbon comes from MGP in Indiana and uses a mash bill of 99% corn and 1% malted barley.
These made their debut in Barrell Bourbon Batch 031. If I had to guess, I'd say that this is what the six-year-old barrels are that make up the base of this blend.
After that, it appears as if Barton barrels are the 8-year-old component, Dickel barrels make up the 10 year old component and MGP ryed bourbon make up the 15 year component.
That is all just a guess, but based on how the description reads on their website I'd have to say that feels about right.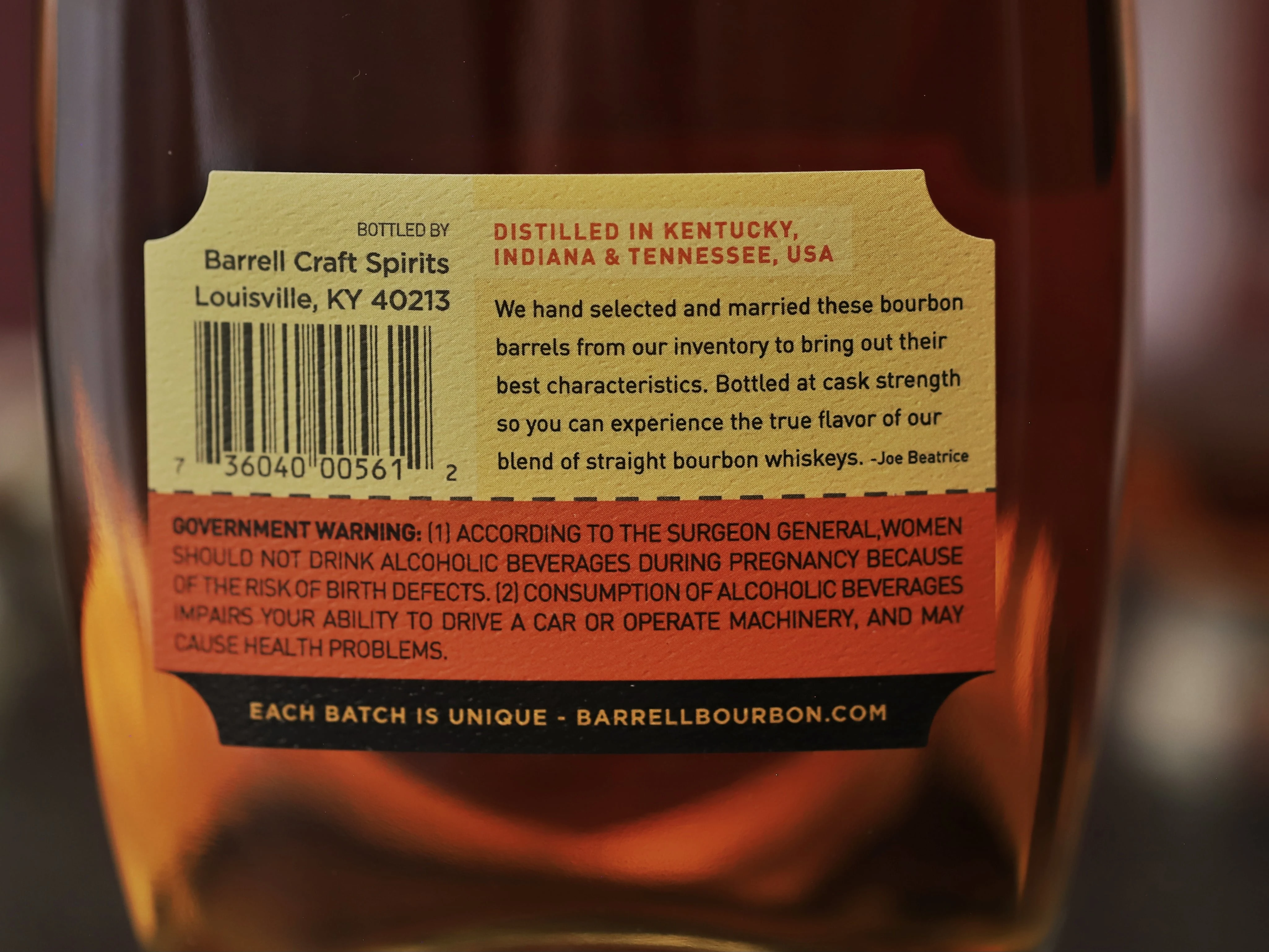 Whether it's overtly or covertly, Barrell has a theme to every batch that they make. It's usually in the description on their website for each batch.
The theme I'm seeing with Batch 034 is that they're trying to create a bourbon that balances "new fruit" aspects of younger bourbon with "old, oxidized fruit" of older bourbon. That sounds like a fun concept for a bourbon and one that I can't say I've seen them attempt recently.
Their notes didn't impact my tasting notes, though. That's because I write them before I start to write the rest of the review. You'll see me reference what they thought I should find versus what I actually did find later on in the conclusion part of this review.
So I guess all that's left is to get down to the tasting notes. Just like I always do, I sampled this neat in a glencairn.
Tasting Notes
Nose: Big, bold scents jump out of the glass at my nose. This is a much more aggressive Barrell product than the last few batches have been… and I like it! Cherry cordials combine with toasted chestnuts (or really just nuts, but these have a woodier aspect to them).
Speaking of wood, seasoned wood is quick to show off, indicating that the older barrels really did make an impact. There are savory notes similar to roasted meat or BBQ. It's unique and I something I don't experience much in a bourbon (Scotch is another story).
I also can find scents similar to an orange creamsicle (the kind with vanilla ice cream in the middle).
Palate: I'm impressed with the fruit flavors I'm finding on my tongue. Grilled peaches, fruit preserves (rhubarb and strawberry), mandarin oranges and Orange Fanta?
Whatever it is, it's almost got this feeling of "effervescence." Salinity binds with notes of rosemary to create a sort of savory effect.
Lemongrass mingles with grilled corn and a bit of malt. Barrel char combines with pipe tobacco and cinnamon to give each sip a spicy, tannic pop.
Oddly, I am also finding a bit of bubblegum which I normally associate with rye whiskies. There must be a contribution of one of those high-rye barrels in the blend.
Finish: I assume that the fruit on the palate were mostly the result of Dickel barrels being added, but outside of that I noticed an absence of its telltale vitamin minerality.
That changes on the finish where that's the very first thing I taste upon completion of the sip. By this point in my journey, it's something I have learned to accept and even like.
Most will disagree. Moving on, toasted nuts and citrus peel linger for a while. I was expecting much more oak influence seeing as how 10 and 15 year old barrels were used, but I don't find much. That's okay though, this dram already has plenty going for it.
Score: 8.3/10
After my scathing review about Batch 033, Batch 034 finally brings back all the things I love about Barrell. In fact, I'd go as far as to say this is the best batch I've had since 031.
The high proof really makes an impact in a way that has been missing for me recently. Barrell is at its best when it's over 110 proof (that's an opinion I've repeated in many other reviews) and this is "proof" of that.
Echoing back to what I said in my introduction, Barrell's stated goal of this batch was to combine the sensations of youthful fruit with older, more oxidized fruit flavors. I very much agree with this being the case after a few sessions with this bottle.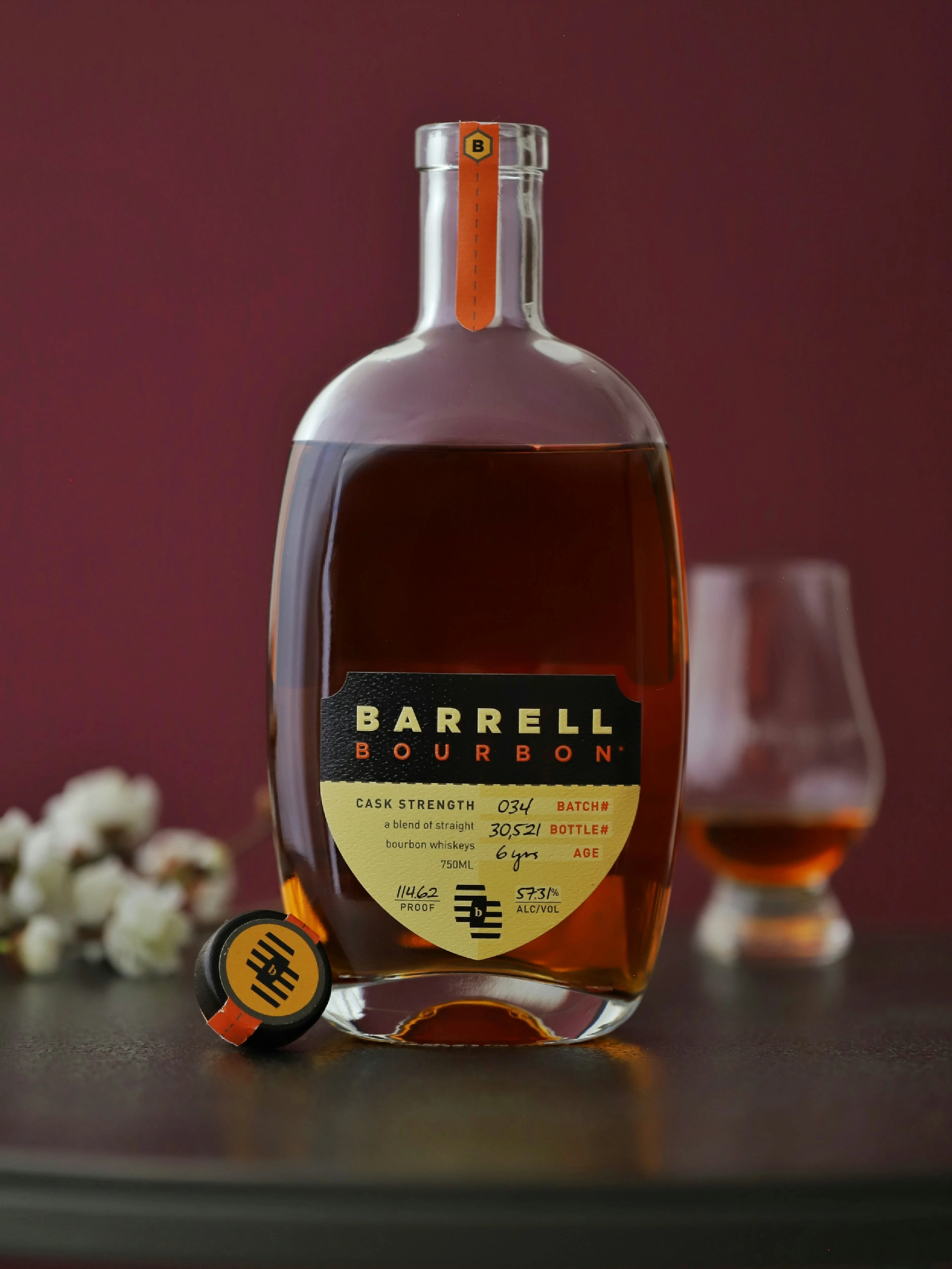 Final Thoughts
Barrell shows time and again that they have the ability to create amazing batches out of the stocks they source. Count me impressed but also don't mistake that for me blindly doling out high scores just because I count myself as one of their biggest supporters. I am also one of their biggest critics (unlike the reviewers at Robb Report, UpRoxx and Paste who wouldn't
write a negative thing about any brand to save their life). This is why I am attaching this word of caution towards future batches that use more and more of these "high corn" mash bill barrels. It should be known that these are the cheapest and most one-dimensional barrels of bourbon out there.
Non-Distiller Producers use them primarily to blend with or "finish" in various wine barrels. They are a great way to bump up the overall proof of a batch and to add some additional sweetness and cinnamon spice.
The reason I am telling you this is because I hope that Barrell uses them sparingly. I am happy to report that they seem to have worked well in this blend, but I am also unsure if that will always be the case. We'll be able to tell if the blends become less exciting overall.
In the end, Barrell has done a very nice job with Batch 034 and I have already recommended this as a batch that shouldn't be skipped on to my friends.
If you have waited to pull the trigger on buying this bottle yourself, you have a green light from me. Welcome back, Barrell.
Featured Products
Description:

The Aged & Ore Neat Traveler is a complete travel kit for spirits. We combined our widely praised Neat Glass with one of our 3oz Flight Bottles and housed them together in a custom EVA travel case. Perfect for a night away with your favorite pour. The tie
Description:

The Aged & Ore Bottle Flight is a premium set of 4 custom silicone wrapped glass bottles designed to transport and share samples of your favorite spirits. The flight bottles come in a custom EVA travel case that fits perfectly in any small bag. An Aged &
Description:

This Bundle combines two of our crowd favorite products, creating the ultimate travel bundle to bring along your favorite spirits and glassware. Bundle Includes: Neat Traveler (Gray) Bottle Flight (Gray) Note: This bundle is only available in gray and col
*Bourbon Culture is reader-supported. When you buy through links on our site, we may earn an affiliate commission.