*Bourbon Culture is reader-supported. When you buy through links on our site, we may earn an affiliate commission.
The Crane Whiskey Society is one of the larger groups I'm affiliated with. They've been active since around 2015 and have used their size and influence to acquire quite a few barrel picks; nine and a half to be exact.
One of their more recent picks took place in early 2022 and was from Starlight Distillery – just a 77 mile drive east of Crane Naval Base. The barrel they chose was not finished in a secondary cask (which I feel is all Starlight does these days).
Instead, it was a single barrel of bourbon that the picking team deemed worthy of their high standards. It was aged for five years and came in at 111.2 proof.
The CWS logo adorns the bottom of the bottle along with an image of Captain William Montgomery Crane, who the base and the whiskey group are named after.
Starlight whiskies have been hit or miss for me due to their ridiculous practice of having 3 different family members operate as "Master Distiller for a Day."
This creates very little consistency – which could be a good or a bad thing depending on the people in your barrel pick group. But that's the way the Huber's run their distillery.
All three of the family members that do distillation, Ted, Christian, and Blake, have a different method of distillation. Here is a list that is just the tip of the iceberg that show why each barrel produced at Starlight will be different:
Starlight starts each batch with a sweet mash, which means there is no backset added from the previous batches which helps consistency
As far as bourbon is concerned, all three family members admit to using slightly tweaked recipes. There are two standard bourbon mash bills that their distilling crew produces most other days including a three-grain bourbon using 60 % corn, 20% rye and 20% malted barley and a four grain bourbon which uses 51% corn, 20% rye, 20% malted barley and 9% wheat.
Each family member makes different cuts on their pot still
Each family member ferments at different temperatures
The distillery utilizes a total of six different cooperages to source their barrels from. Within those six cooperages, they specify the full range of char levels from #1 to #4 as well as toasted heads or charred heads
Barrel entry proofs vary per batch. Sometimes it's as low as 108 and sometimes it's as high as 125.
And once again, I'm just scratching the surface on some of the differences. Read through any group's experiences selecting a single barrel from Starlight and you'll run across one consistent theme: that there is no consistency.
Literally every barrel will taste noticeably different from the next one. I've been involved in barrel picks where all of the choices are extremely similar, but none are worthy of selecting because none of them stand out. I don't think that crews have that issue at Starlight.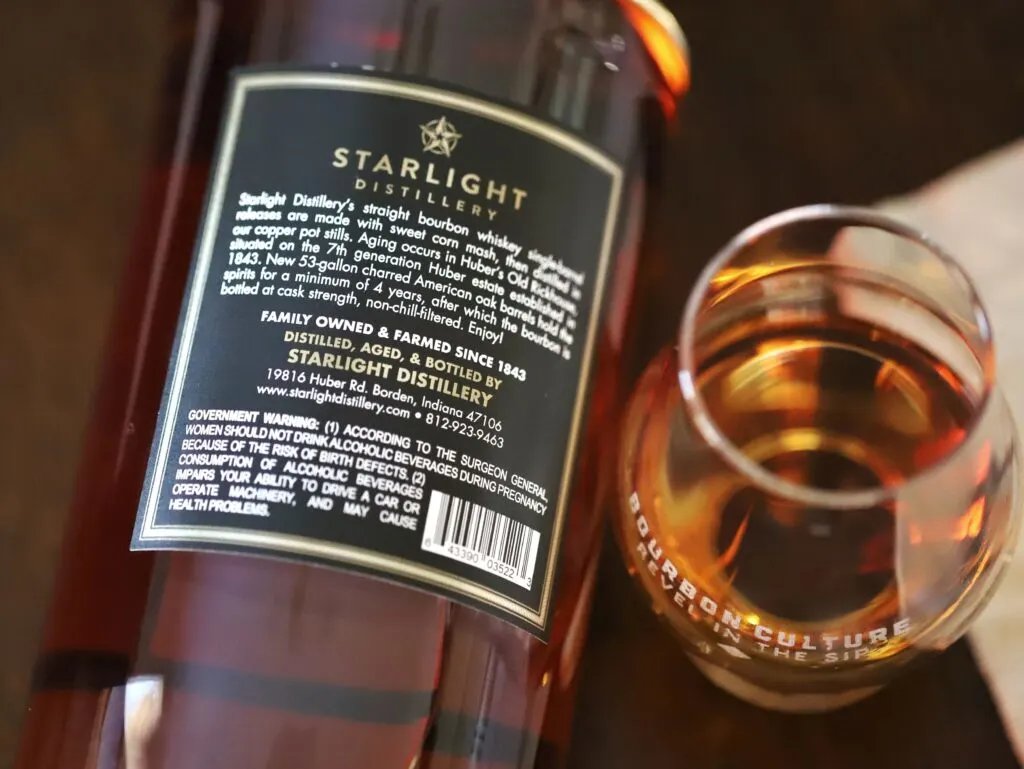 The guys from the CWS pick team documented their Starlight experience here so be sure to check it out. Now let's get down to the subject at hand – what kind of barrel did they pick? Let's find out. I sampled this neat in a glencairn.
Tasting Notes
Nose: Cinnamon spice heat opens up the scents I find first on the nose. Other scents include nutmeg and allspice. This is followed by scents of cornbread and vanilla pudding. There are some fruit notes I can pick up on as the session goes on.
Fleshy tropical fruit like mango combines with cooked apple. Oak is starting to come through and has a bit of a toasted scent about it, but isn't as powerful as it could be if it was left in the barrel for longer. All together, the nose is quite bright allowing each scent to be noticed.
Palate: Corn-forward for sure, but other flavors include raspberries and shredded coconut. The spice keeps each sip very lively on your tongue with the cinnamon, nutmeg and allspice transferring directly from the nose.
The oak isn't totally developed yet (a problem I have with almost all Starlight products), so either it is responsible for some greener notes or the rye grain is.
There's a bit of green sapling wood, a dash of mint and a bit of parsley. Sweetness comes by way of honey and seems well balanced.
Finish: The herbal qualities and rye spice surge upon the completion of the sip. The corn-forward nature of the palate disappears a bit while wilder flavors remain.
Herbal and floral flavors linger. Cinnamon and allspice smolder on the tongue along with a little bit of black pepper. The sweetness is like a stick dipped in honey. It's a nice finish with my only real issue being how I wish I could find more fruit like the nose had.
Score: 6.5/10
For an unfinished Starlight Bourbon, this is about as good as it gets. I still contend that Starlight makes a much better rye whiskey, but have heard rumors that a certain amount of bourbon single barrel picks are required in order to get access to a rye whiskey barrel pick.
Anyway, for a mid-priced bourbon this pick from CWS offers a nice mix of unique flavors and scents. That helps it to stand out from a growing crowd of craft distilleries that have 5 year old products these days. Starlight also keeps their prices relatively low compared to other similarly-sized distilleries. That's always a plus.
Final Thoughts
Starlight products can be hit or miss. Their name is now well known due primarily to the success of their Cigar Batch line of bourbon and rye whiskey. That got enthusiasts interested in exploring more of their whiskies as well as the other creative finishes they do.
Very rarely do you see an unfinished bourbon of theirs being talked about though. Make up your own mind what that kind of information tells us. But this bourbon shows me that good single barrels do exist from Starlight – just don't assume that if you like one, you'll like them all.
I urge that you exercise caution before buying them on a whim. If they were picked by a group whose palates you trust, go for it. Otherwise, try to get a sample first before you buy it. As for the Crane Whiskey Society, I can't wait to see what they pick next.
Featured Products
Description:

The Aged & Ore Neat Traveler is a complete travel kit for spirits. We combined our widely praised Neat Glass with one of our 3oz Flight Bottles and housed them together in a custom EVA travel case. Perfect for a night away with your favorite pour. The tie
Description:

The Aged & Ore Bottle Flight is a premium set of 4 custom silicone wrapped glass bottles designed to transport and share samples of your favorite spirits. The flight bottles come in a custom EVA travel case that fits perfectly in any small bag. An Aged &
Description:

This Bundle combines two of our crowd favorite products, creating the ultimate travel bundle to bring along your favorite spirits and glassware. Bundle Includes: Neat Traveler (Gray) Bottle Flight (Gray) Note: This bundle is only available in gray and col
*Bourbon Culture is reader-supported. When you buy through links on our site, we may earn an affiliate commission.