*Bourbon Culture is reader-supported. When you buy through links on our site, we may earn an affiliate commission.
In 2017, Michter's quietly released their first barrel strength bourbon to a very limited amount of stores. Since the actual bottle amount was so small, only a handful of people ever got to own one.
The same thing occured with the 2018 release as well. But in 2019, after the grand opening of their Fort Nelson location in downtown Louisville, there was enough online chatter about these releases to help amplify the excitement around this highly coveted release. The frenzy over Michter's Barrel Strength Bourbon continues to this day.
As much as people clamor for a wider release and availability of Michter's Barrel Strength Bourbon, there is another annual release that is very similar in age and proof (and probably mashbill): Bomberger's Declaration Bourbon.
The story of how Bomberger's Declaration came to be in the first place was well documented in my article detailing the
The Past, Present and Future of Michter's
. But the one detail that matters the most about Bomberger's is that each year since its inception, Michter's has increased the percentage of bourbon used in the blend that was aged in barrels made from Chinquapin Oak.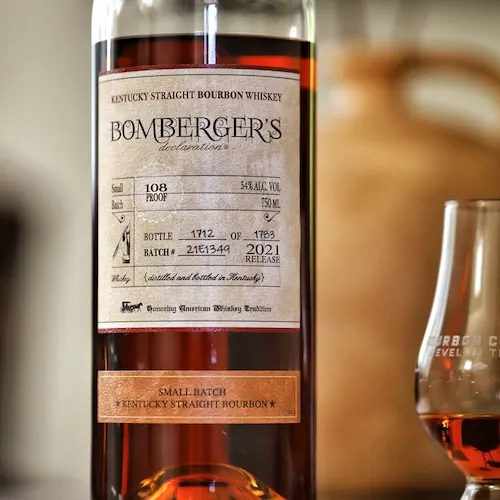 This unique species of oak is hard to describe when it comes to the impact is has on the whiskey. Personally, I find that the flavors it imparts are slightly bolder and more robust than standard White Oak delivers. The only other distillery to openly admit to using this oak has been Buffalo Trace which experimented using it in their Charter Oak series of bourbon.
Michter's wanted to make the Bomberger's line really stand out, so they elected to bottled at 108 proof. Looking across the various single barrels of Michter's Barrel Strength Bourbon, they've all came in between 107 and 110 proof, so it's assumed that Bomberger's is really close to being barrel proof itself. This makes the flavors you'll find in it even more intense (remember, Michter's puts all of their whiskey into the barrel at 103 proof).
The one thing that's also been said about Bomberger's is that every year it is released, it gets better. This could be due to the barrels being allowed to age a bit longer and it could also be because the percentage of Chinquapin Oak barrels increase. So will the 2021 Bomberger's continue the tradition? Let's find out. I sampled this neat in a
glencairn
.
Tasting Notes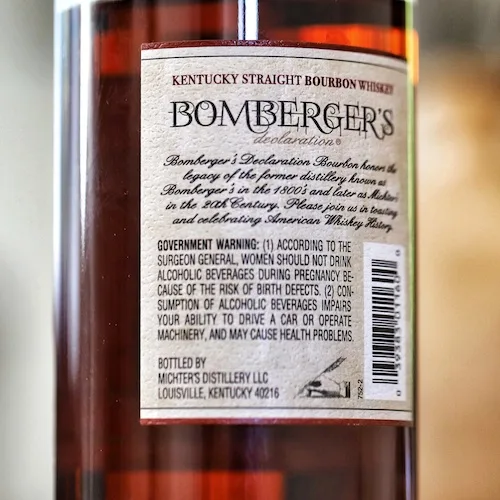 Nose:
Sweet scents of caramel and warm cinnamon rolls hit first. But the truly impressive part is just how nicely the seasoned oak stands out along with a pinch of pipe tobacco.
Fig Newtons, Heath candy bar and a tiny bit of toasted marshmallow give it all the perfect balance of aged notes and sweetness. If I had to smell this blindly without knowing what it was, I'd say this smells like it's 10 years old.
Palate: A wonderfully thick and creamy mouthfeel await. There is oak galore (and it's perfectly done) while loads of other tannins like rich tobacco and leather pile on.
Almond brittle, velvety vanilla crème and slightly burnt caramel amplify classic bourbon notes to become even more decadent. I'm also pleased to find a little bit of fruit notes that stand out like black cherries and raisins. Overall the palate is perfectly balanced with nothing out of place and tastes much older than it is.
Finish: A drier oak finish towards the end, but it doesn't make your mouth dry. Cinnamon, clove and more tobacco are found. Almond extract reveals itself again along with a residual amount of pepper. A bit of whipping cream effortlessly smooths the whole finish out.
Score: 8.5/10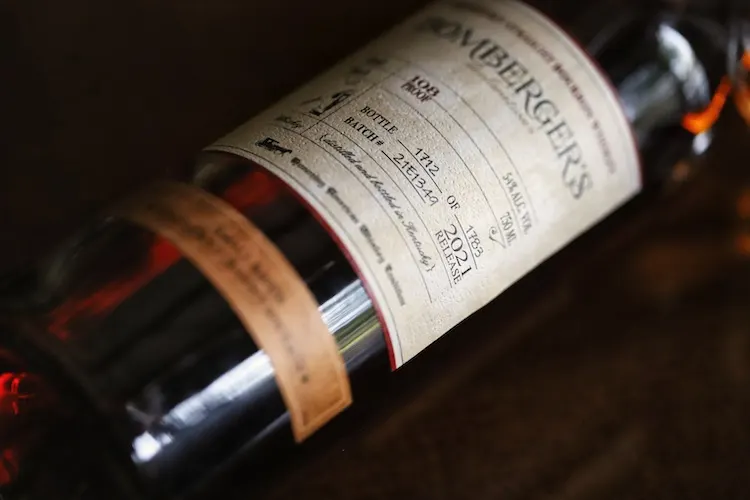 Absolutely incredible. Bomberger's keeps its streak intact with yet another fantastic release that drinks better than the previous years' releases.
It is superbly crafted and makes me believe that the secret behind its success is that it continuously increases the ratio of Chinquapin Oak barrels in each batch. So that begs the question: why not just make the entire batch out of Chinquapin Oak and be done with it?
I don't know why Bomberger's seems to be under so many enthusiast's radar, but I'm here to say that it's easily in the top 10 new releases of 2021.
It was also relatively easy to get ahold of for the average enthusiast because most other people will bypass it in order to find something with more hype (like Blanton's, which would get annihilated compared to this). But the wise hunters know to look out for this unassuming bottle because within it lies some of the best whiskey you can find these days.
Ratings Breakdown
1 | Disgusting | Drain pour (Example: Jeffers Creek)
2 | Poor | Forced myself to drink it
3 | Bad | Flawed (AD Laws 4 Grain BiB, Clyde Mays anything)
4 | Sub-par | Many things I'd rather have (Tincup 10 year)
5 | Good | Good, solid, ordinary (Larceny, Sazerac Rye)
6 | Very Good | Better than average (Buffalo Trace, OGD BiB)
7 | Great | Well above average (Old Ezra Barrel Proof, Old Weller Antique)
8 | Excellent | Exceptional (Michter's Barrel Proof Rye, Four Roses Barrel Strength)
9 | Incredible | Extraordinary (GTS, 13 Year MGP or Canadian Rye)
10 | Insurpassable | Nothing Else Comes Close (William Larue Weller)
Featured Products
Description:

The Aged & Ore Neat Traveler is a complete travel kit for spirits. We combined our widely praised Neat Glass with one of our 3oz Flight Bottles and housed them together in a custom EVA travel case. Perfect for a night away with your favorite pour. The tie
Description:

The Aged & Ore Bottle Flight is a premium set of 4 custom silicone wrapped glass bottles designed to transport and share samples of your favorite spirits. The flight bottles come in a custom EVA travel case that fits perfectly in any small bag. An Aged &
Description:

This Bundle combines two of our crowd favorite products, creating the ultimate travel bundle to bring along your favorite spirits and glassware. Bundle Includes: Neat Traveler (Gray) Bottle Flight (Gray) Note: This bundle is only available in gray and col
*Bourbon Culture is reader-supported. When you buy through links on our site, we may earn an affiliate commission.