*Bourbon Culture is reader-supported. When you buy through links on our site, we may earn an affiliate commission.
Blanton's Bourbon Single Barrel needs no introduction. If you're new to bourbon, it's usually the first bottle you'll covet. The bottle design is what really drives the hype because there's nothing else quite like it.
But once you've had enough of the standard single barrel (93 proof) most drinkers will either move on from it or pursue the higher proofed versions like Blanton's Gold or Straight From The Barrel.
I say this because I've rarely heard of people wanting to work their way backwards by trying Blanton's Black and Special Reserve (both are only 80 proof).
The difference between those two are mainly the age of the bourbon inside. Blanton's Black is said to contain bourbon that's at least 8 years old. Blanton's Special Reserve doesn't really have an age so we can assume it's the same age as most Blanton these days: around 5 1/2 years old. This combination of low proof and young age would make Blanton's Special Reserve the entry-level bottle of the line.
Special Reserve is available only in export markets. It likely exists in the first place because of the European, Asian and Australian taxes that are levied against the proof of the alcohol within a bottle. Another interesting fact is that because of these taxes, there are some bottles of bourbon that are sold in Australia that are 70 proof(!). It's not like bourbon tastes better that way, but it is definitely more affordable.
The reason why the bottle in this review has been re-imported back into the United States is because collectors get hung up on wanting to complete a "vertical." For those of you who aren't familiar with that term, a vertical is short for every bottle in a particular label's lineup.
Most people are familiar with the standard US release of Blanton's but there are literally dozens of varieties of labels that are bottled at different proofs and ages. Most of the special labels are sold only to specific countries or specific stores. I've seen pictures from a collector who had over 40 bottles of Blanton's and they were all different.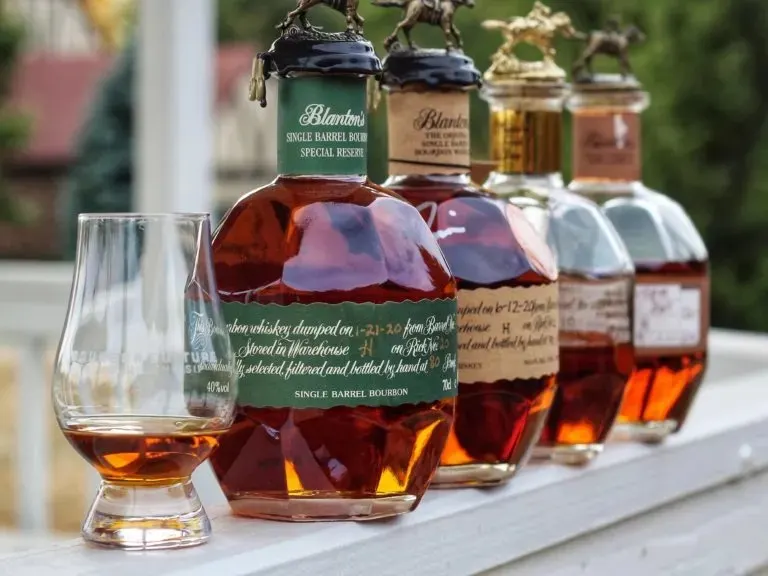 Getting back to the bottle I am reviewing today, I don't have the highest hopes that this bottle of Special Reserve will be anything interesting, but I will always admit I've been surprised before. Let's find out if it's worth your money to open and drink.
Blanton's Bourbon Tasting Notes
Nose: Light notes of caramel/butterscotch sweetness lend a pleasant nose all around. Notes of vanilla and faint cherry blossoms help it feel like it has a bit of complexity to it. The one thing I was not really expecting to find was oak, yet there are some faint notes that I can pick up on.
Palate: The mouthfeel is pretty decent if this is your first drink. However, drink anything else before this and it gets quickly washed away. Flavors of cherry juice become the dominant flavor on the tongue alongside caramel sweetness and vanilla. A fruit cup in light syrup from your childhood really sums up the experience inside of your mouth. It's neither offensive nor mind blowing, but remarkably adept at doing its job.
Finish: Just as I was expecting, there was little to no burn on the finish. This results in the finish tasting almost exactly like the palate (surprisingly this rarely happens). Lingering notes of vanilla and caramel couple with a very faint fruit note and last a short to moderate amount of time. There is a bit of oak too at the end for a light tannic finish in your mouth.
Rating: 6/10
I came into this review expecting Benchmark 8 and got something better instead. That's a win in my book. For a person like me who has tasted hundreds of bourbons, Blanton's Special Reserve is still an underwhelming experience.
But I'm an optimistic person and will admit that it could've been worse. I stand by my opinion that this will not hold up well if you drink it after literally any other bourbon. This is the case with most 80 proof whiskies and I believe it has something to do with your tongue being shocked by a higher proof. This means that once you go up, you can never go back down.
Blanton's Bourbon Review
As I mentioned in my intro, this bottle exists strictly as an entry level into the premium bourbon category. It's proof is both the product of taxation and so that inexperienced whiskey drinkers can feel safe sipping it. I'm lucky to have found one person who decided to open his and let me try it, but after my session with this bottle, I can rest easy knowing that I'm not missing out on much.
Featured Products
Description:

The Aged & Ore Neat Traveler is a complete travel kit for spirits. We combined our widely praised Neat Glass with one of our 3oz Flight Bottles and housed them together in a custom EVA travel case. Perfect for a night away with your favorite pour. The tie
Description:

The Aged & Ore Bottle Flight is a premium set of 4 custom silicone wrapped glass bottles designed to transport and share samples of your favorite spirits. The flight bottles come in a custom EVA travel case that fits perfectly in any small bag. An Aged &
Description:

This Bundle combines two of our crowd favorite products, creating the ultimate travel bundle to bring along your favorite spirits and glassware. Bundle Includes: Neat Traveler (Gray) Bottle Flight (Gray) Note: This bundle is only available in gray and col
*Bourbon Culture is reader-supported. When you buy through links on our site, we may earn an affiliate commission.