*Bourbon Culture is reader-supported. When you buy through links on our site, we may earn an affiliate commission.
Back in 2019, I was contacted by Chattanooga Distillery to review 2 of their new bottles of high-malt bourbon. This bourbon used a totally new mash bill that was a product of their own distillation and aging. I was intrigued since I had good experiences with the barrels of MGP bourbon they had been sourcing and bottling prior to that. I was a little skeptical because of the young age of the liquid inside, but the results spoke for themselves. What I found was a very good, high-quality whiskey that was also extremely affordable.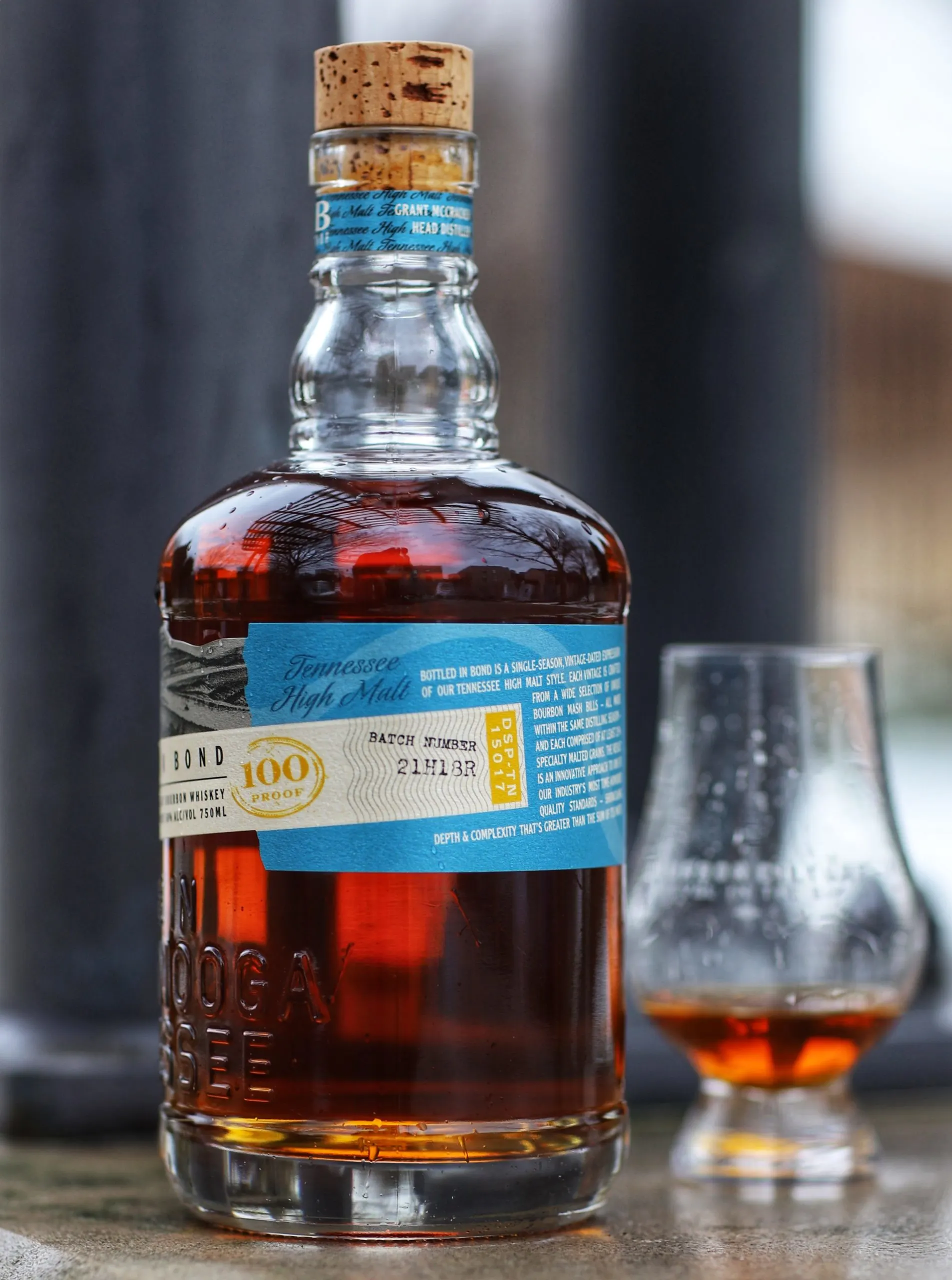 Fast forward 2 more years and a large number of barrels in Chattanooga's warehouses finally turned 4 years old. This meant that they could release a bottled-in-bond bourbon if they chose to do so. It turns out that they did exactly that and the bottle before us today is the result of their hard work and good fortune.
No Secrets, it's all on the label
If the label is any hint at what the future holds, it looks like Chattanooga will be releasing their bottled in bond bourbon two times a year. The label denotes the year the barrels were laid down as well as which season it was distilled (Spring or Fall). The label goes into further detail on which of the 6 mash bills that they used in the blend and the final ratio. What this tells us is that we should expect a bit of batch variance with each release.
For a little background on the bourbon itself, there are a couple things you should know. First of all, Chattanooga decided against charcoal filtering (known as the Lincoln County Process) their distillate before or after putting it in the barrel. Being from Tennessee, you'd almost expect they would do this but it's nice they don't. They are a craft distillery, but they utilize a 36″ column still for their core products rather than finnicky pot stills (but they still have a pot still for their experiments). They also age their whiskey in standard 53-gallon barrels. What sets them apart is their use of large ratios of malted barley in their mash bills (sometimes up to ~30%). That malted barley isn't your typical two-row style either. They gravitate towards more exotic strains such as caramel and honey barleys. All of this combines to make soft, sweet bourbons that don't taste as young as their age suggests.
Early reviews on this Fall 2017 vintage received glowing praise from reviewers including Bourbon Pursuit's Kenny Coleman. I have no reason to believe this was going to be a bad bourbon based on what I've already tasted from them, but I wanted to experience it for myself. Luckily, Chattanooga expanded its sales into Indiana, and I was able to
get my hands this bottle for about $40.
Let's see how it turned out. I sampled this neat in a
glencairn
.
Tasting Notes
Nose:
Initial scents of sweet red fruits include
cherries, strawberry rollups and candied red apples.
Sweeter notes include
cinnamon & sugar French Toast
along with a little bit of caramel sauce. There's even a pleasant amount of light wood scents and new leather.
Palate: A small amount of grainy, youthful distillate peeks out initially but it's quickly overrun with fruit flavors like freeze-dried peaches and cherries. Even though this is only 4 years old, I'm digging how controlled the spice is. It tastes very developed. The rye grain used in the mash bill also makes itself known with notes like red licorice, wildflowers, cinnamon and even Nesquik powder. Somehow, it all works.
Finish: A very strong finish that sees black pepper notes appear out of nowhere to spice up the party. Sure enough, the red fruit flavors stick around and the grain-forward youthfulness also shows back up. But there are lots of herbal notes like mint and oregano to change things up a bit. The sweetness isn't as in your face as you'd think either. Finally, there's a touch of age towards the end with some lingering oak and tobacco leaf.
Score: 7.3/10
What a great way to start a bright future of bottled-in-bond products. Instead of relying on the malt character to carry the distillate, this blend of mash bills seems to find its groove in being more fruit and spice forward. This is exactly the direction I think they needed to go. Sure, the standard 91 and 111 proof versions are great in their own categories, but I wanted something that showed more depth and pizzaz. This bottle does the trick.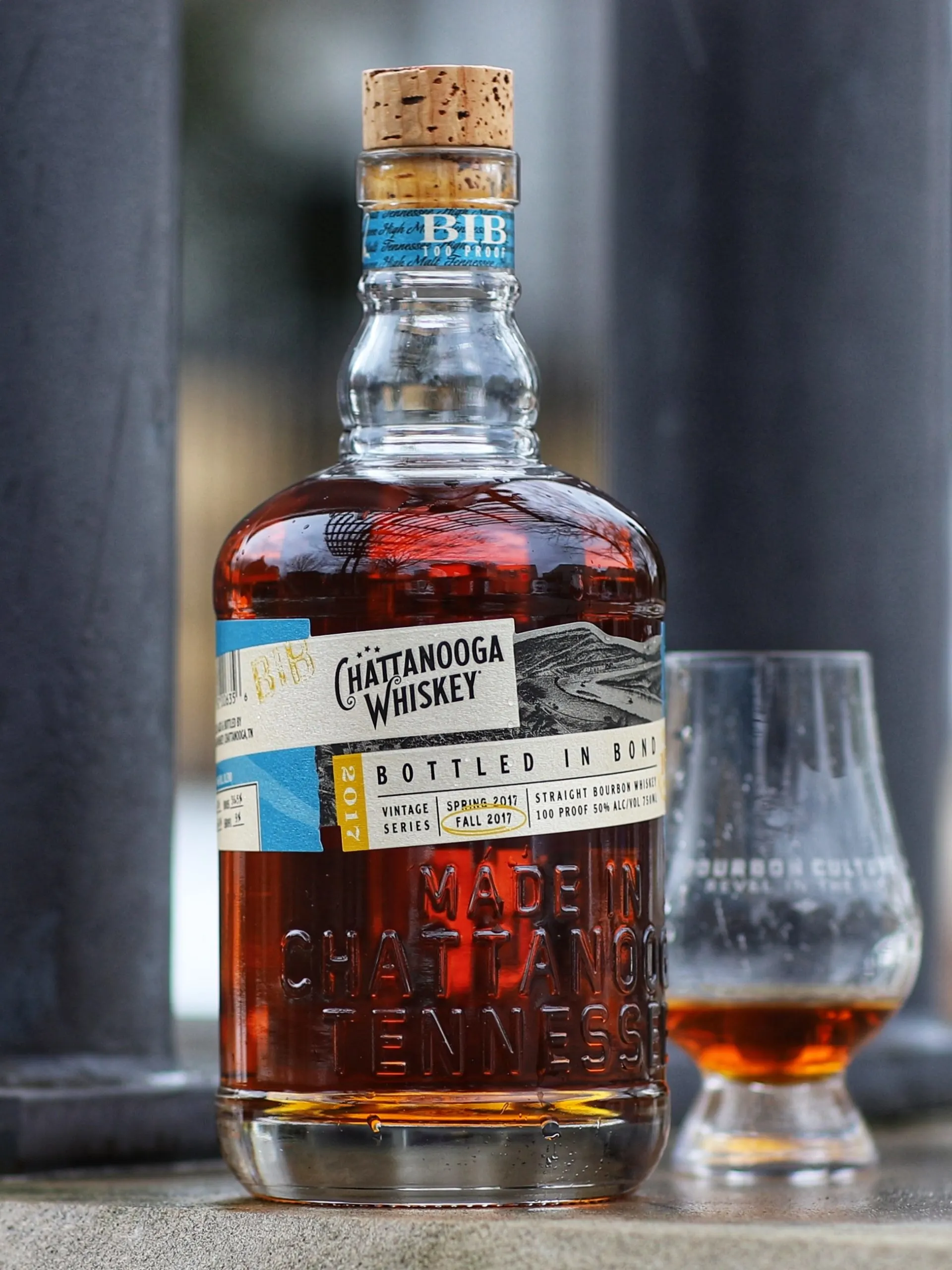 If I had to narrow down what really impressed me most, it was that Chattanooga showcased that their brand and their whiskies are much more flexible than I was initially thinking. Whereas the rye grain never really had a say in how the distillate spoke in the past, it now takes a more prominent role. Rye has the ability to totally evolve a whiskey if it's given enough of a chance and I'm glad to see it shine here.
Final Thoughts
When looking around the landscape of bottled in bond releases between $40 to $50, I think we'd all agree that Henry McKenna and EH Taylor Small Batch are the top dogs of the category. But with their acclaim comes scarcity and inflated values. So it makes me happy to see another challenger enter the ring to give the big guys a run for their money. This is a bottle I'd pick up on the shelf in a heartbeat. I look forward to a bright future of releases that I know will continue to get better.
Featured Products
Description:

The Aged & Ore Neat Traveler is a complete travel kit for spirits. We combined our widely praised Neat Glass with one of our 3oz Flight Bottles and housed them together in a custom EVA travel case. Perfect for a night away with your favorite pour. The tie
Description:

The Aged & Ore Bottle Flight is a premium set of 4 custom silicone wrapped glass bottles designed to transport and share samples of your favorite spirits. The flight bottles come in a custom EVA travel case that fits perfectly in any small bag. An Aged &
Description:

This Bundle combines two of our crowd favorite products, creating the ultimate travel bundle to bring along your favorite spirits and glassware. Bundle Includes: Neat Traveler (Gray) Bottle Flight (Gray) Note: This bundle is only available in gray and col
*Bourbon Culture is reader-supported. When you buy through links on our site, we may earn an affiliate commission.