*Bourbon Culture is reader-supported. When you buy through links on our site, we may earn an affiliate commission.
In 2020, Barrell Craft Spirits rolled out with a brand new product that seemed to be a new twist on an old idea. Barrell is known for their blending prowess, especially when it comes to blending distillates from 3 different states together with impressive results.
Those batches would sometimes yield around 15,000 bottles and be sold nationwide.
But with this new "Private Release Bourbon," Barrell wanted to showcase the concept of "micro-blends" which involved using a single barrel and blending in various distillates into it to achieve a certain profile. This would technically make this a "single barrel" in concept and there would only be a certain amount of bottles that came from each one.
Rather than having the customer walk through these blends blind, Barrell put a designator at the end of every 4 digit code as a way of telling the customer what dominate trait to expect in each one. The codes are broken down thusly:
K – Barrell describes this as having a sweet and earthy Kentucky Bourbon influence (likely with a majority of Barton or Beam in the blend)
A – Barrell describes this as displaying older, dusty and oxidative notes (I don't know which distillate they've found with these traits so dominant!)
i – Barrell describes this as having pronounced chocolatey and chalky Indiana Bourbon influence (obviously a majority of the blend comes from MGP)
R –Barrell describes this as having strong high-rye characteristics (this could mean a lot of different things. MGP would be a main player along with Barton but would the Dickel be a higher rye version like they used in early batches?)
C – Barrell describes this as having fresh corn-forward sweetness (likely with a majority of Dickel in the blend)
When Barrell first started putting these Private Releases, the batches started with the letter "A," then a two digit barrel number followed by the descriptor letter I just explained above.
Each barrel had a blend of 5 year, 9 year, 13 year and 15 year bourbons. Those ages weren't linked to which state they came from, which is kind of a bummer. But looking online, you can read the percentages of which distillate went into every barrel.
For 2021, Barrell increased all of the bourbon's age by 1 year. So it is now 5, 10, 14 and 16 year old bourbon in each blend. The 16 year old distillate is really a head scratcher and makes me wonder which distillate was used, but I think it's safe to assume that it is likely Dickel.
Barrell sent me 4 different Private Releases (all except for the "R" High Rye influenced one) and i decided to dive in deep to see which one I preferred.
My notes are somewhat abbreviated but I am breaking down the characteristics of each one so that you can determine which one may suit your taste buds the most.
Going into this, I am assuming that the "A" barrel will be my favorite, but I tasted these semi-blind to get accurate notes first. I am labeling each with the reveal so that it doesn't confuse you as I go along.
BA2K
Nose: Cherries, cedar cigar box, vanilla and chocolate cake.
Palate: Cherries, butterscotch, honeycomb, cinnamon, a hint of multivitamins, some botanical flavors, citrus rind, Nesquick powder
Finish: Oak, cinnamon, tobacco, citrus rind, caramel, toffee
Score: 7.9/10
Final Thoughts: The chocolate on the nose and palate really excited me. It's different, yet my notes read like I am tasting the "Indiana" influenced barrel. Yet upon reveal, I find this is the "Kentucky" influenced reveal. Overall this is rich and creamy with a hint of some rye character that pops up here and there. If I had to guess, it would've been an MGP bourbon blended with Knob Creek. It's very well integrated though. The cons are the heat and the somewhat thin mouthfeel considering the proof.
BX2i
Nose: Slightly lighter in the nose with more brown sugar and spice. Nice seasoned oak and caramel clusters.
Palate: The rye seems significantly more amped up in this one. Gingersnap cookies, Thin Mints and snickerdoodles all come to mind (yes, all of these are cookies, I don't know how this happened). Cinnamon Red Hots candy and peppermint. Hard candies from grandma's candy bowl (focusing on lemon and cherry). A slight nuttiness
Finish: Oak, tobacco, brown sugar, toffee, brown butter, mint, citrus rind, nougat, a handful of nuts. A little bit of mint.
Score: 8.2/10
Final Thoughts: This one tasted pretty much exclusively like an MGP single barrel. The only thing that would confuse somebody else would be the nutty notes here and there. Otherwise, this is a great blend. Somewhat reminiscent of BBC Discovery #4. I would buy this one right now.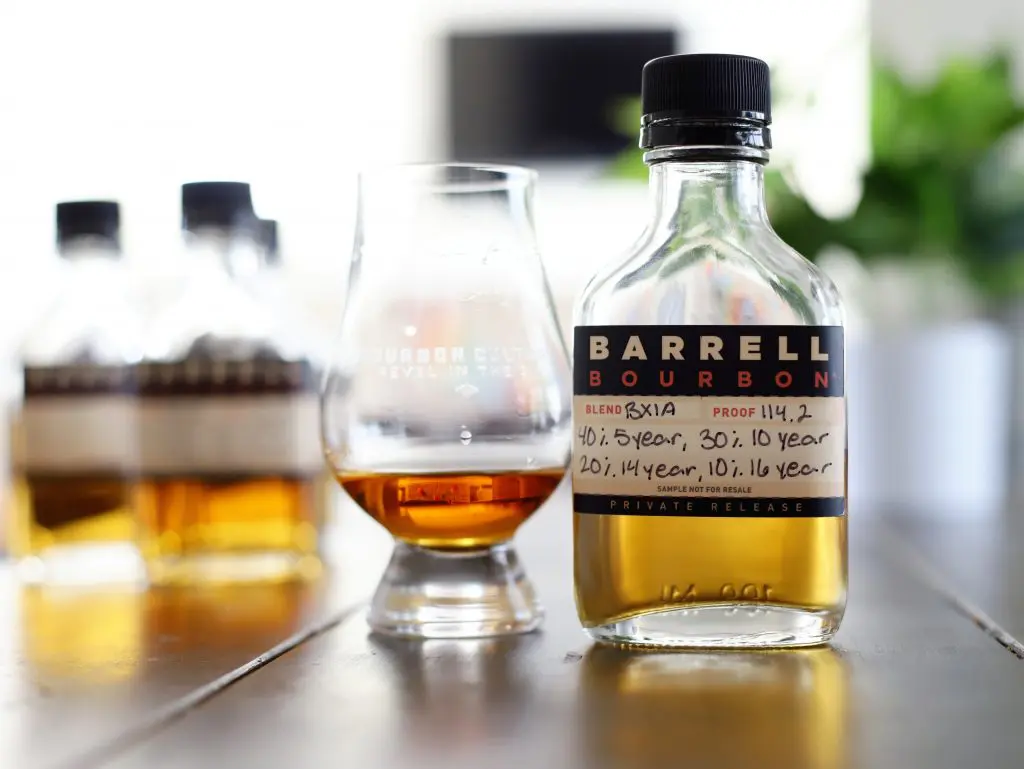 BX1A
Nose: Corn pudding, vanilla coffee creamer, worn leather, caramel sauce, seasoned oak
Palate: Wow, this is extremely mellow in character and very creamy. Earthy, oaky and leathery notes all abound. The sweetness is almost reminiscent of simple syrup. A hint of salted caramel. The spice level is very reduced almost to the point where I don't detect much spice at all. Tannins and sweets rule this dram.
Finish: Multivitamins, dry oak, leather, tobacco, caramel pudding. Some light berry flavors like strawberries and tart blackberries.
Score: 7.4/10
Final Thoughts: This one was a strange one. It felt like there was a gap in flavors that my tongue wasn't picking up on. Literally the tip of my tongue and middle part of my tongue were picking up on no flavors but the back of my tongue was doing all of the tasting. It was just a very weird sensation. Very little spice on this one but the tannins and earthy notes replaced it so I could concentrate on that. This one is not my favorite, but it certainly is intriguing. It felt like there were a lot of flavors that were cancelling each other out. This certainly tasted extremely old.
BA1C
Nose: Cornbread, caramel, cinnamon, oak spice
Palate: Pretty one dimensional. Cinnamon, caramel sauce, pepper flakes, clove and some ginger. A little baked apple. Citrus rind like lemon and orange. Strawberry/rhubarb pie filling.
Finish: A very Dickel finish. Notes of raw corn, cinnamon, pepper, Kellogg's corn flakes, caramel and some figs. A little bit of tobacco leaf.
Score: 7.6/10
Final Thoughts: The heat continues to build as this sip goes on. This ends up feeling like the hottest one here even though it's still within 2 points of all other bottles. It's a bit one-dimensional overall, even though there were some slight flavor nuances I detected. But unless you're really looking for them, it would be hard to find them. Overall, not a great dram and not a bad dram. Just not much else that's extra. This reminds me a bit of Barrell Bourbon Batch 012.
Conclusion: While I'm not surprised that I picked a Private Release that leaned heavily towards the "Indiana Bourbon" profile, it did surprise me that I wasn't as thrilled with the "A" barrel profile with all of its dusty and oxidative notes.
Actually, "oxidative" is the perfect descriptor for this because it tasted like it was oxidized to the point where it lost a lot of its character.
I've poured a glass of bourbon one night and forgot about it on the counter. I found it about 24 hours later and took a sniff and sip to find the flavors flat and muted. This is what the "A" barrel tasted like to me.
The K and C barrels tasted right about what I would expect them to taste like. They were both pretty good even though my money would rather go with the "K" profile overall. The C profile just didn't have the depth to impress me as much.
Time will tell if the success of these Private Releases will make them a permanent part of the Barrell family or if this will go down as just an experimental phase.
It surely shows just how different you can make a bourbon by making fine adjustments to the percentages of barrels put in, but is that enough for the consumer to shell out $100 on? My answer is "yes" if you find the right barrel that speaks to you. But it is highly advisable you find a way to sample one first before going all in.
Featured Products
Description:

The Aged & Ore Neat Traveler is a complete travel kit for spirits. We combined our widely praised Neat Glass with one of our 3oz Flight Bottles and housed them together in a custom EVA travel case. Perfect for a night away with your favorite pour. The tie
Description:

The Aged & Ore Bottle Flight is a premium set of 4 custom silicone wrapped glass bottles designed to transport and share samples of your favorite spirits. The flight bottles come in a custom EVA travel case that fits perfectly in any small bag. An Aged &
Description:

This Bundle combines two of our crowd favorite products, creating the ultimate travel bundle to bring along your favorite spirits and glassware. Bundle Includes: Neat Traveler (Gray) Bottle Flight (Gray) Note: This bundle is only available in gray and col
*Bourbon Culture is reader-supported. When you buy through links on our site, we may earn an affiliate commission.