*Bourbon Culture is reader-supported. When you buy through links on our site, we may earn an affiliate commission.
Back in the 1940's, the president of Brown-Forman, George Garvin Brown II, began to select his own barrels that would be bottled up and given to workers of his company as tokens of appreciation. Rather than just give them a blank bottle, he had a label made that indicated that they were "The President's Choice." Those original labels back then looked very similar to the label that Old Forester uses for President's choice today.
The main difference was the old labels contained a blank spot in the middle so that the person's name could be wrote in and they weren't available to the public. Things changed in 1968 and bottles of Brown-Forman President's Choice were finally made available for commercial sales.
However, upon George Garvin Brown II's death in 1969, no more barrels would be picked. He had, however, picked enough barrels for future bottlings that this label did continue for a few more years before ultimately ending in 1972.
In 2018, Old Forester had just completed their brand new downtown Louisville facility and decided to have the first bottles to roll off the bottling line be something that would be worthy of the occasion. Old Forester President's Choice was resurrected as that worthy bottle.
President's Choice has a few things going for it. For starters, the barrels selected are aged longer than a typical Old Forester product. Most Old Forester products don't see aging much past 6 years, let alone 4, so it was special when the President's Choice barrels stated they were aged from 6 to 8 years old.
They were also bottled at cask strength, which prior to 2020 was a very rare thing to see coming out of Old Forester. And finally, they were all to be officially blessed off by the president of the company which is now Campbell Brown. Campbell does not pick the barrels from the warehouses like George Garvin Brown II did, but his Master Tasters select an initial batch for him to taste through and approve for release with his name on it.
I'm not exactly sure how many barrels of Old Forester President's Choice are released each year but it appears to be around 3 to 6. Since they are single barrels, each one has a different age statement and proof that is hand-written on the label. The barrel numbers are marked sequentially based on the order they were released (much like Henry McKenna).
The bottle I am reviewing today is from barrel #004 and was released at the distillery in 2018. The age statement indicates it is "99 months old" which would make it 8 1/4 years old. This is likely one of the oldest and highest-proofed bottles of Old Forester bottle I'll taste, so I'm excited to see how it turns out. I sampled this neat in a Glencairn.
Tasting Notes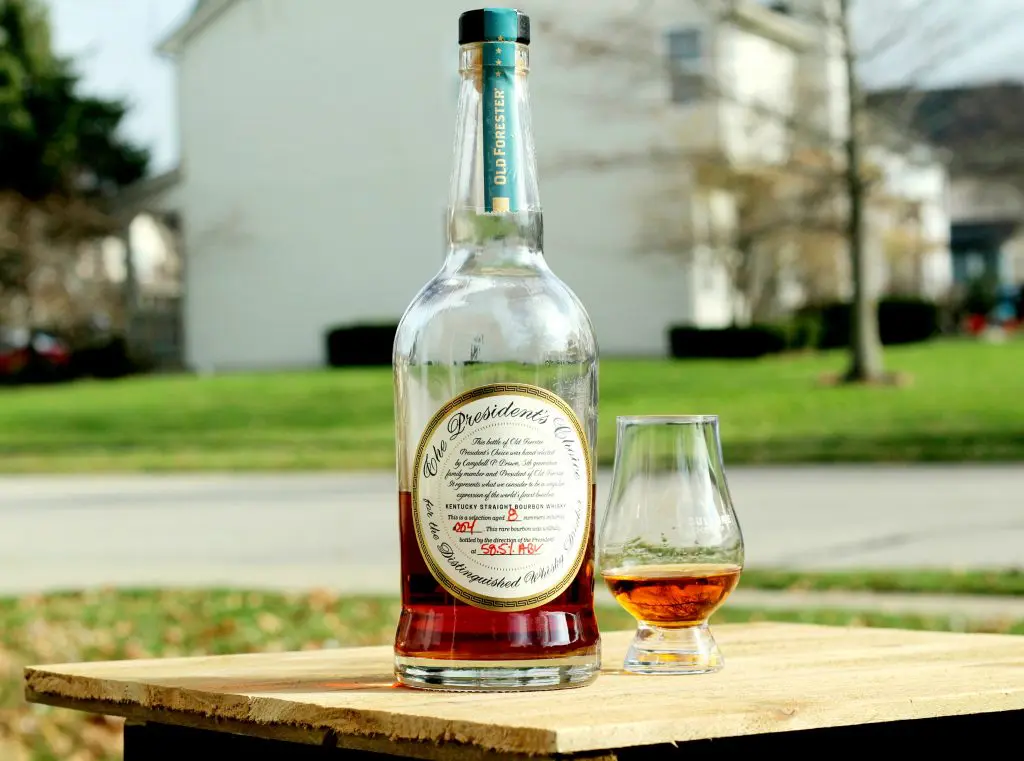 Nose: The nose is incredibly rich and decadent with scents of seasoned oak, cigar box and heavy cinnamon stick. There's generous amounts of tiramisu and toffee to prep you for the sweets that lie ahead (I typically don't think OF products are that sweet).
The vanilla scent is much more powerful than 99% of other bourbons out there, bordering on "extremely fragrant candle." Although fruit isn't easy to come by on this one, there is a very light scent of bananas in the background. Blink and you'll miss it though.
Palate: Powerfully oaked, right on the cusp of being over-oaked, this one delivers the oak that I know Michter's 10 would have if it didn't have to be proofed down or chill-filtered. Flavors of polished wood, seasoned oak and barrel char deliver wood in a big way.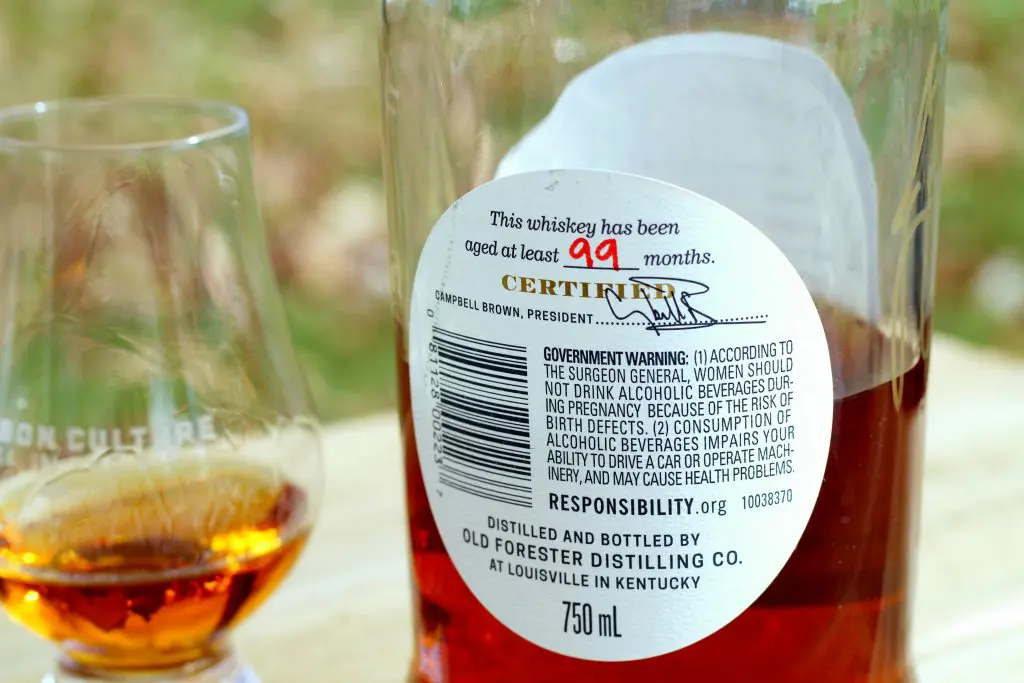 There's also a very "antique" wood taste that's hard to put into words, but tastes easily a decade older than it is. Notes of baked pears, sour cherries, elderberry, fig and wildflower honey dazzle my tastebuds with more flavors that I can comprehend. It's layered and intense. As for baking spices, there are tons. Cinnamon, clove and allspice stand out while baker's chocolate adds a little pinch of bitterness overall.
Finish: Oddly, a "chalky" sensation is the first thing that settles on the tongue after the sip is complete followed by lingering fig and prune notes. There's oak galore and a tiny bit of gingersnap cookies. Caramel crunch popcorn and cinnamon add sweetness and a fun contrast to all that aged oak influence.
Score: 9.3/10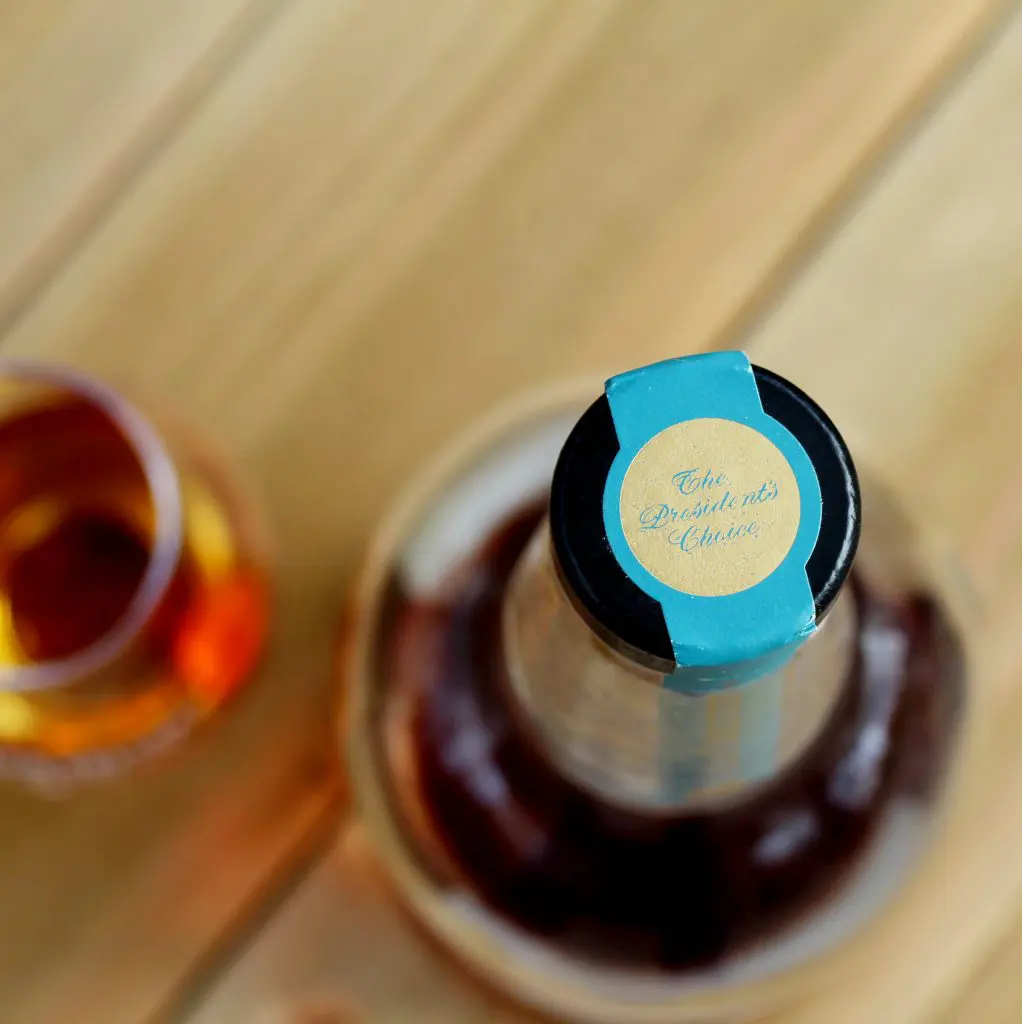 Having had Michter's 20 Year bourbon, Old Forester Birthday Bourbon and Old Forester 150th Anniversary Bourbon, I can definitely see where every piece of President's Choice gets its amazingly complex profile from. When Old Forester releases something this good, no other Kentucky distillery can touch them.
Buffalo Trace products deliver many classic notes like the punch of a heavyweight boxer, but this Old Forester product wows with its skill and versatility. It's sweet without being sweet. It's oaky without being over-oaked. It's fruity without zeroing in on any particular fruit. It has it all.
I still may have a love/hate relationship with Old Forester products but when they're this special, they're unstoppable. Nothing else will match the complexity and extremely aged profile that the liquid inside of their heated warehouses deliver.
So while I may have given less than enthusiastic reviews about their products in the past, one sip from this bottle of President's Choice bottle makes any ill thoughts I once harbored simply disappear. It's that good.
Ratings Breakdown
1 | Disgusting | Drain pour (Example: Jeffers Creek)
2 | Poor | Forced myself to drink it
3 | Bad | Flawed (AD Laws 4 Grain BiB, Clyde Mays anything)
4 | Sub-par | Many things I'd rather have (Tincup 10 year)
5 | Good | Good, solid, ordinary (Larceny, Sazerac Rye)
6 | Very Good | Better than average (Buffalo Trace, OGD BiB)
7 | Great | Well above average (Old Ezra Barrel Proof, Old Weller Antique)
8 | Excellent | Exceptional (Michter's Barrel Proof Rye, Four Roses Barrel Strength)
9 | Incredible | Extraordinary (GTS, 13 Year MGP or Canadian Rye)
10 | Insurpassable | Nothing Else Comes Close (William Larue Weller)
Featured Products
Description:

The Aged & Ore Neat Traveler is a complete travel kit for spirits. We combined our widely praised Neat Glass with one of our 3oz Flight Bottles and housed them together in a custom EVA travel case. Perfect for a night away with your favorite pour. The tie
Description:

The Aged & Ore Bottle Flight is a premium set of 4 custom silicone wrapped glass bottles designed to transport and share samples of your favorite spirits. The flight bottles come in a custom EVA travel case that fits perfectly in any small bag. An Aged &
Description:

This Bundle combines two of our crowd favorite products, creating the ultimate travel bundle to bring along your favorite spirits and glassware. Bundle Includes: Neat Traveler (Gray) Bottle Flight (Gray) Note: This bundle is only available in gray and col
*Bourbon Culture is reader-supported. When you buy through links on our site, we may earn an affiliate commission.