*Bourbon Culture is reader-supported. When you buy through links on our site, we may earn an affiliate commission.
For those unfamiliar with the term "Angel's Share," it is the process by which the liquid inside of a whiskey barrel evaporates and escapes through the barrel. In some cases, a distillery will find barrels that are completely empty after setting for more than a decade in the hot climate of a rickhouse. No producer in Kentucky is probably more familiar with the effects of the Angel's Share than Old Forester.
Old Forester uses heated warehouses whereby each winter, they seal all of the windows and doors and have their built-in boiler system start up to begin pumping heat and humidity inside of them. They raise the temperature up to around 90 degrees or so for a couple weeks before turning it off.
They do this on average about 3 times each winter to simulate the summer heat cycling the barrels will go through. This is also the reason why their barrels are usually harvested around 4 or 5 years old, because they exhibit much older characteristics and the angel's share is also beginning to impact just how much whiskey is left inside of them.
It is not uncommon to see Old Forester do a special release and find 2% of the barrels are completely empty. So with this in mind, they carefully curated a selection of barrels they found to have an extraordinarily large amount of evaporation (perhaps by weighing them? I don't know).
Then they dumped them into a large vat to isolate them from going into any other products. What were they hoping to achieve? It's no secret in cooking when you cook down or "reduce" a liquid, you're concentrating all of the flavors into a thicker, richer end product.
That's the same with whiskey. As the liquid evaporates, it's usually leaving behind more of the sugars, esters and fatty acids that contain so much of the flavor that makes bourbon taste the way it does.
But Old Forester probably didn't like what they tasted from all of that concentrated liquid when it was dumped. Instead, it appears that this was proofed down a decent amount (it's bottled at 110 proof).
If I had to guess, the vat that contained these barrels was likely around 130 proof. But for this proof, I can assume that it still packs quite the punch. So how was this Distillery-only release? It's time to find out. I sampled this neat in a glencairn.
Tasting Notes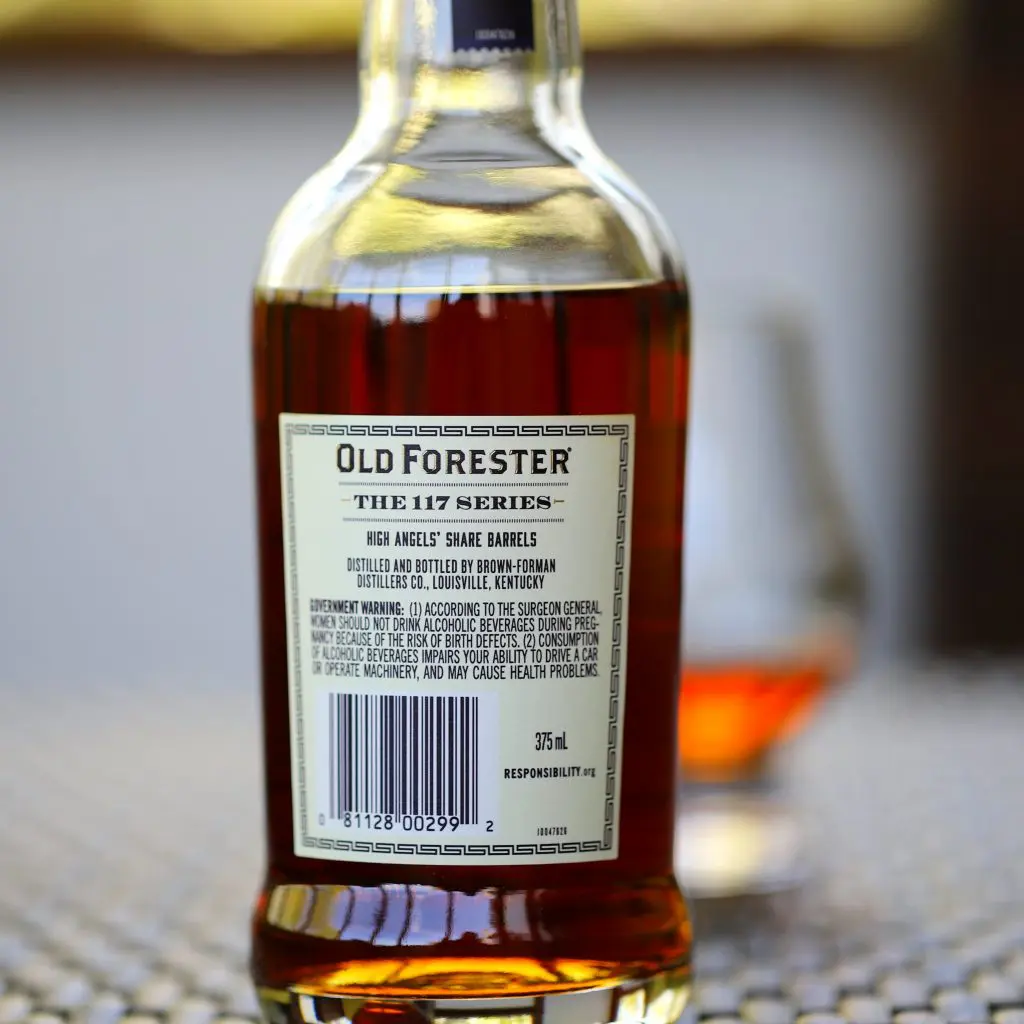 Nose: Notes of citrus and evergreen pine needles start off as fruit notes of raspberry compote, flat Cherry Coke and a hint of banana runts are found. There's lots of sweetness on the nose with loads of hot buttered toffee popcorn. All of this will keep you coming back for a sniff even after the glass is empty.
Palate: Why am I not surprised to get bit by the familiar sting of bitter oak right off the bat? This dram starts tannic as hell with additional notes of dry tobacco leaf, cinnamon stick, worn leather and Orange Pledge.
There are sour lemon drop candies, a small hint of maple syrup and Halls cough drops. One of the more fun flavors I found reminds me of the old school "Root Beer Barrels" candies I had a as a kid. It helps give it just enough extra sweetness to help it out.
Finish: A rush of cooling menthol and peppermint spice greets the end of each sip. There's Saigon Cinnamon, bitter oak, a hint of char and burnt toffee. The finish has a little bit of sweetness missing, but gets a little help from this gingerbread cookie flavor that sticks around.
Score: 7.5/10
This Old Forester bottling held a few surprises I wasn't expecting. The flavors and scents seemed to be more developed and slightly more complex than typical OF offerings at this age and proof. The "Root Beer Barrels" candies taste on the palate was a fun childhood throwback as was the Cherry Coke scent on the nose.
I wasn't expecting to find a ton of sweetness in this bottle, and to some extent I was not let down. But that's what you get with a liquid that's been this concentrated already. It could have been worse and it wasn't, so that's saying a lot.
This release created quite the clamor after it was released at the gift shop this year. Many people knew that it was going to only come in a 375ml bottle with a $40 pricetag, but I also saw it shock a few people who were trying to buy them on the secondary market at $210 a piece (sometimes as high as $250) and learning that they were buying a half-size bottle.
This is the nature of the secondary these days and I can tell you with absolute confidence that these are not worth $200+. If you are a die-hard Old Forester Fan, I know it may be hard to resist the pull of buying this bottle. But if you consider that you'd be spending the equivalent of $420 or more, then you would be better served by saving a little bit of money and buying an extra bottle of Old Forester 150th Anniversary instead.
Ratings Breakdown
1 | Disgusting | Drain pour (Example: Jeffers Creek)
2 | Poor | Forced myself to drink it
3 | Bad | Flawed (AD Laws 4 Grain BiB, Clyde Mays anything)
4 | Sub-par | Many things I'd rather have (Tincup 10 year)
5 | Good | Good, solid, ordinary (Larceny, Sazerac Rye)
6 | Very Good | Better than average (Buffalo Trace, OGD BiB)
7 | Great | Well above average (Old Ezra Barrel Proof, Old Weller Antique)
8 | Excellent | Exceptional (Michter's Barrel Proof Rye, Four Roses Barrel Strength)
9 | Incredible | Extraordinary (GTS, 13 Year MGP or Canadian Rye)
10 | Insurpassable | Nothing Else Comes Close (William Larue Weller)
Featured Products
Description:

The Aged & Ore Neat Traveler is a complete travel kit for spirits. We combined our widely praised Neat Glass with one of our 3oz Flight Bottles and housed them together in a custom EVA travel case. Perfect for a night away with your favorite pour. The tie
Description:

The Aged & Ore Bottle Flight is a premium set of 4 custom silicone wrapped glass bottles designed to transport and share samples of your favorite spirits. The flight bottles come in a custom EVA travel case that fits perfectly in any small bag. An Aged &
Description:

This Bundle combines two of our crowd favorite products, creating the ultimate travel bundle to bring along your favorite spirits and glassware. Bundle Includes: Neat Traveler (Gray) Bottle Flight (Gray) Note: This bundle is only available in gray and col
*Bourbon Culture is reader-supported. When you buy through links on our site, we may earn an affiliate commission.