Barrell introduced their first "named" release at the end of 2018. They called it Barrell Dovetail. This blend of finished whiskies was originally supposed to be Barrell Whiskey Batch 006 before Joe Beatrice made the call to end the whiskey line entirely.
This was probably the right call as it was getting confused for their Barrell Bourbon line and had become more of a testing ground for unique finishing experiments rather than selling unique Corn or Light Whiskies.
Each Barrell Whiskey batch was crazier than the last. How crazy? Well Whiskey Batch 005 was a blend of bourbon and whiskey finished in Amaro, Cognac and Brandy barrels.
Joe and his team decided that with the huge amount of finishes, the product wasn't really recognizable as a whiskey anymore. So he began to file these new "named" releases under "specialty spirits" when he was submitting the new product form to the TTB.
Barrell Dovetail
Barrell Dovetail, in it's base $80 bottle form, is a blend of bourbon and whiskey finished in Cabernet barrels, Black Strap Molasses Rum barrels and Port Pipes (a Pipe is a type of large barrel). I was infatuated with it when it first came out and I immediately bought a second bottle.
But Barrell kept churning out so many new products at such a furious pace that I couldn't keep up with tasting each one. So it was very rare for me to go backwards and drink previous batches. Dovetail eventually fell off my radar completely.
Barrell expands its Gray Label Line but forgets about Dovetail
2018 saw Barrell Craft Spirits begin a new ultra-premium line called "Gray Label." Gray Label releases used older, age-stated spirits and sold them for all for a whopping $250/bottle. They started out with a 15-year-old bourbon, a 25-year-old corn whiskey and a 13-year-old rum.
In the years that followed, Barrell would add or subtract certain spirits (never the bourbon, though). Then in 2021, they released a Gray Label version of Seagrass along with a 24-year-old (Canadian) Whiskey. During this time, I never thought "where's Gray Label Dovetail?" and apparently everyone else forgot too.
But Barrell didn't forget because in late 2022, they released a Gray Label Dovetail. Honestly, it was done so quietly that I didn't even notice. What caught my attention first was its big brother Gold Label Dovetail. In Indiana, they both seemed to hit the shelves at the same time (early 2023).
Composition of Gray Label Dovetail
Early batches of standard Barrell Dovetail used a blend of 10 year old MGP Whiskey and 11 year old bourbon from Dickel. I'm confident that the age of the barrels used in standard versions of Dovetail has probably declined, but Gray Label Dovetail promises much older stock in its blend.
In fact, the press release says it now uses whiskies aged up to 20 years. Additionally, the blend will now use whiskey from Canada alongside barrels from Indiana and Tennessee. But what's the minimum age of barrels used in this blend?
Barrell lets us know those details for the $90 Bourbon batches, New Year releases and Vatted Malt, but not a $250 Gray Label release?
These components are all finished in the same style of Rum, Port and Cabernet barrels that Dovetail is. I imagine they were extra-choosy about them before making this Gray Label release.
A much higher than any previous batch of standard Dovetail
The final blend comes in at a sweltering 131.54 proof – much higher than any previous batch of standard Dovetail ever was. This is, without a doubt, because of the addition of Canadian Whisky to the blend.
Many Canadian Whiskies are practically made to the specs of a Light Whiskey anyway – coming off the still between 160 and 190 proof and being put into the barrel at 140 proof. This will result in a higher final proof and a thinner whiskey overall.
And if Barrell is using MGP Light Whiskey, the average proof of those barrels reaches around 140 proof too. Dickel Tennessee Whiskey is typically low in proof, so judging by the final proof of this blend, that's got to be the smallest component.
Part of Dovetail's allure was a mouthfeel that was buttery and syrupy. Would that remain true if the proof got too high? And would the high proof effect its overall balance? I'll attempt to answer all of these questions in a minute. First I need to taste it. As usual, this was reviewed neat in a glencairn.
Tasting Notes
Nose: I don't casually toss around the word "lush," but this fits the description of the nose perfectly. Assorted red fruits accompany maple syrup-soaked raisins. Jimex fruit nectar combines with lemon custard.
The proof is high, but it doesn't bite back. Honestly, whiskey is the furthest thing from my mind while smelling this, but that's kind of how I felt about regular Dovetail too. The whiskey is only there as a vessel to carry the unique flavor combination to your nose and mouth.
For all the more I read about 20 year whiskey being in this release, oak is curiously absent. That would make sense if the base whiskey used a majority of Canadian and MGP Light Whiskey because both are matured in used barrels.
Palate: The first flavors that hit the tongue are soft, sweet red wine and creamy Flan. There's a bit of acidity – like a red wine vinegar – that also stick out. I can see you thinking that doesn't sound like it belongs, but adds a nice contrast to the sea of sweetness I'm finding.
There are tropical notes like sweetened and shredded coconut as well as a sort of bread fruit. These must be from the rum finishing barrels. Oak is still hard to come by, but it's lurking around with its pal light cigar wrapper.
Maybe this is from the Cabernet? Regardless, the palate is superbly balanced with flavor, but you'd be hard pressed to guess this is a whiskey if tasted blind.
Finish: Finally, I have found the oak I've been looking for. Not a lot, mind you, but it begins to show the age of what we're dealing with. The finish rolls back the fruit notes just enough to let me enjoy some of the underlying whiskey notes like soft baking spices and honey.
There are lingering juices of red berries mixed with syrup and licorice. Oddly, I'm even finding a dash of umami from time to time (think soy sauce).
Score: 8.3/10
There are two ways of looking at this whisk…err, spirit. What is this classified as? Actually, that's the whole point I'm trying to make. If you walk into this expecting a whiskey, you'll end up disappointed.
If you walk into this expecting something unique and unusual, you'll be a happy camper. I didn't know what to expect. I just knew that my hopes for an oakier and richer experience to standard Dovetail didn't really pan out.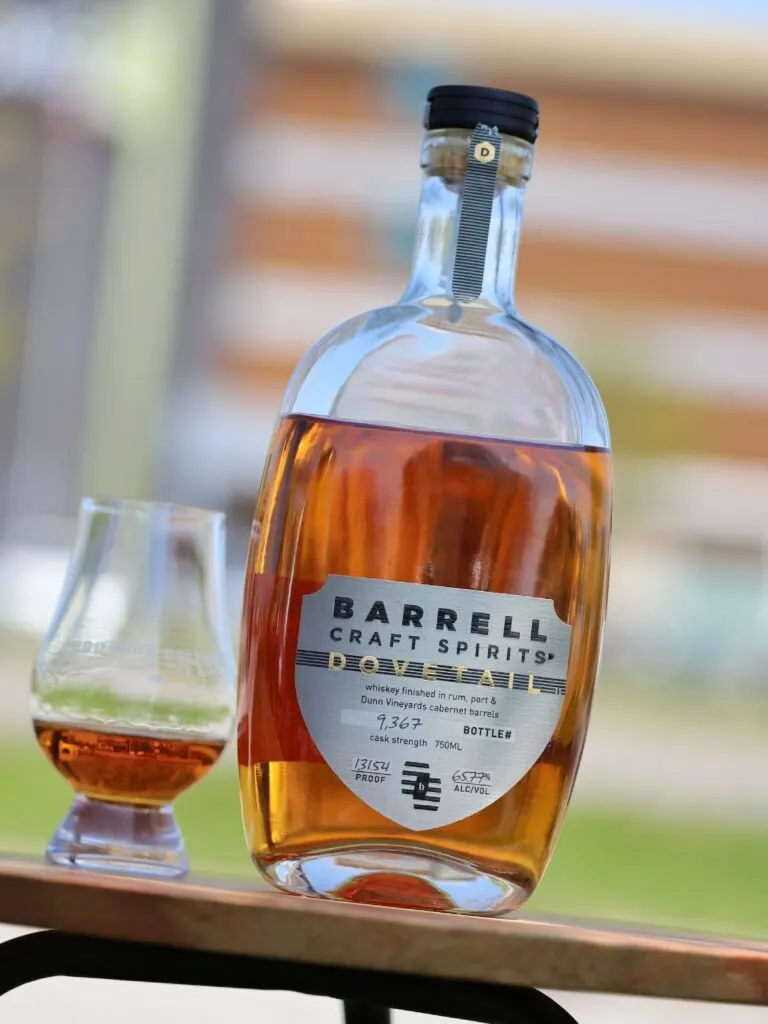 So why is Gray Label Dovetail three times as expensive as standard Dovetail? The answer lies in the ages of the whiskey that Barrell sprinkles into their product descriptions. 20 year old whiskey in a bottle of Dovetail sounds pretty impressive, right?
Ask any enthusiast out there if, on average, 20 year old Canadian Whisky is equal to 20 year old bourbon in price or taste. The answer is no.
I know Barrell knows this too but they have painted themselves into a corner by deciding the price point for Gray Label first and then trying to find ways to justify that price later. You may view that as an opinion, but I think it's true.
There's no way Barrell knew what kinds of products would've ended up in their Gray Label line back in 2018; but they knew the price they'd charge for it. Now they have to scramble to gussy up each release with stats that can hopefully justify it. It's a viscous circle.
I'll admit, 20 year old Canadian Whisky is a savvy way of convincing less-knowledgeable consumers that the product has a distinguished pedigree, but true enthusiasts know that Canadian Whisky (with the exception of some rye whiskies) is average at best and was meant to disappear into generic-tasting blends. I wish Barrell would stop using it for their high-end products.
Final Thoughts
Having my first sip of a Dovetail product brought back a flood of good feelings. It has made me want to go out and buy a standard batch again to see what I've been missing. I hear the standard blend has had its ups and downs over the years, but the Barrell Team got it on the right track again.
As for Gray Label Dovetail, it's on the right track too… if the price tag wasn't so high. This isn't a knock on Barrell's pricing structure either. I know why they do it and *sigh* I guess it makes sense from a business standpoint.
But they really need to make sure that the whiskey they're selling is special enough to warrant that high price. Dovetail Gray Label is great, but it's not something that is great enough to shell out $250 for.
Ironically, this is my exact same stance I had with Barrell Gray Label Seagrass. I felt that product also wasn't worth the 3x price increase. The good news is that Barrell Gold Label Seagrass showed me that Barrell can eventually get it right while also justifying the ($500!) price tag.
So they kind of redeemed themselves in that regard. Speaking of which, Dovetail now has a Gold Label version too. Will I find the same thing to be true? As it turns out, I have an opinion on that one too.
Featured Products
Description:

The Aged & Ore Neat Traveler is a complete travel kit for spirits. We combined our widely praised Neat Glass with one of our 3oz Flight Bottles and housed them together in a custom EVA travel case. Perfect for a night away with your favorite pour. The tie
Description:

The Aged & Ore Bottle Flight is a premium set of 4 custom silicone wrapped glass bottles designed to transport and share samples of your favorite spirits. The flight bottles come in a custom EVA travel case that fits perfectly in any small bag. An Aged &
Description:

This Bundle combines two of our crowd favorite products, creating the ultimate travel bundle to bring along your favorite spirits and glassware. Bundle Includes: Neat Traveler (Gray) Bottle Flight (Gray) Note: This bundle is only available in gray and col
*Bourbon Culture is reader-supported. When you buy through links on our site, we may earn an affiliate commission.