From 2014 to 2018, all Barrell products were basically the same price wherever you found them. But when they launched their Gray Label line in late 2018, the rules changed.
This new ultra-premium line would see Barrell finally moving past the $100 threshold and into the land of $250 bottles. Enthusiasts didn't know what to think.
While Gray Label bottles continue to come out every year, they don't really sell quickly. That's to be expected for the price. But they do eventually sell, so who's buying them?
You would assume that it's Barrell enthusiasts but I think more often than not it's the type of customer that walks into a liquor store, pulls out a few hundred dollars and says "give me this much whiskey!"
All joking aside, there is a large market of people who walk into a store not with a bottle in mind, but with a price in mind for a bottle that will impress. They're typically uninformed consumers and assume that more expensive bottles are better than less expensive bottles.
This explains the bourbon market's unceasing march towards premiumization. This also explains why my dad would buy my Grandpa a bottle of Johnnie Walker Blue Label every Christmas.
He thought that was the best Scotch available and didn't have anyone to tell him otherwise. Oh how I wish I had a time machine to go back and guide him towards better Scotch!
The rise of Gold Label
I'm speculating on this, but Joe Beatrice probably looked around the whiskey landscape of mid-late 2020 and noticed what other whiskey makers were noticing: people hadn't stopped buying alcohol because of the pandemic. If anything, they were buying more.
On top of that, they were willing to put down even more money if they felt a bottle was of particularly high quality. So he tasked his team with developing an even more premium label above Gray Label. Barrell Craft Spirits Gold Label was what they came up with.
The first release, a bourbon, came out in 2021 and was a blend of 16 and 17 year old barrels. It had a price tag of $500.
The $500 price point initially shocked Barrell's fans. Barrell didn't care though. Other brands already had reached that point or passed it like Whistlepig's Boss Hog, Kentucky Owl's Dry State, Rabbit Hole's Founder's Collection and many more.
But Barrell had no intention at stopping with just one Gold Label product. About 6 months later they released Gold Label Seagrass. This was followed by Gold Label Dovetail in late 2022.
What makes Gold Label Dovetail different?
Dovetail is a blend of three different barrel finishes: Port wine, Cabernet wine and Black Strap Molasses Rum. The whiskey used in the blend gets older the higher you go up the line.
For instance, a standard bottle of Barrell Dovetail uses 10 year old MGP Whiskey and 11 year old Dickel bourbon (or at least it did in 2018 – it is probably younger now). Gray Label Dovetail ups the ante by using whiskey that has matured up to 20 years.
It also sees the addition of Canadian Whisky to the blend. Gold Label Dovetail uses whiskey that is matured up to 25 years and continues with the Canadian Whisky in the blend. Now you know the difference.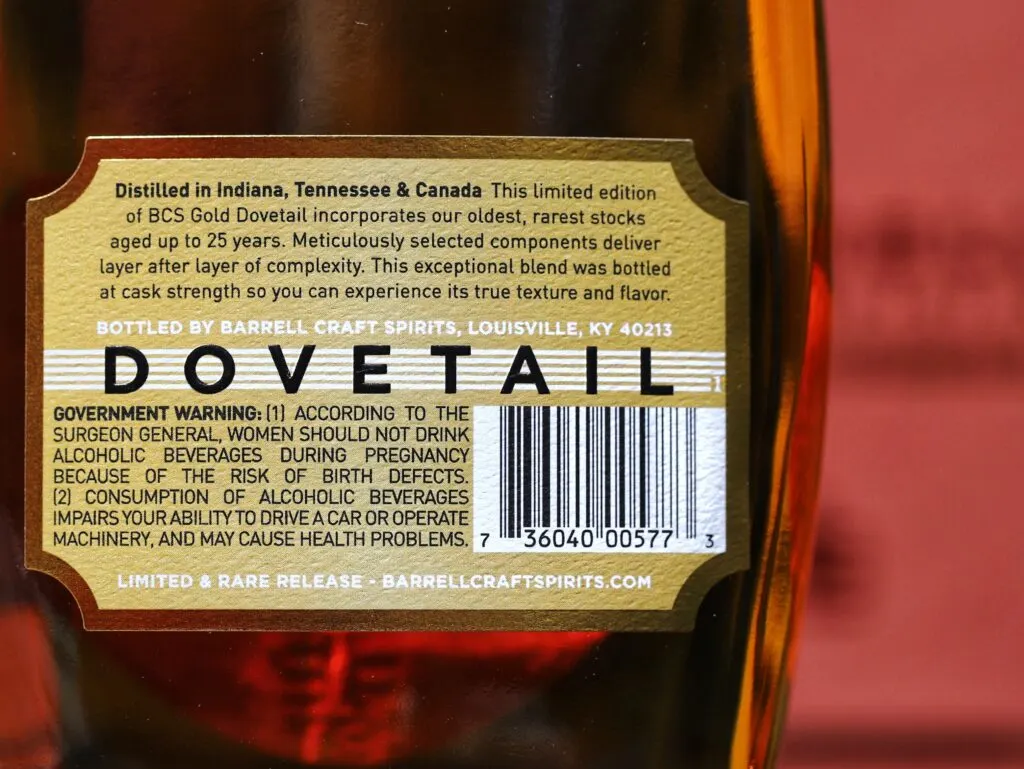 Pay close attention to what they're not telling you though. There is no mention of the age of the youngest barrels in the blend. In fact, the majority of the blend could be as young as 5 years old if they wanted it to be.
This isn't all that uncommon in the whiskey industry, but it is a relatively new thing with Barrell. They've usually been forthcoming with listing all barrel ages from youngest to oldest in their other batched products like Bourbon, New Year and Vatted Malt.
Why don't they provide those details with Gray and Gold labels?
Dovetail Profile
Dovetail doesn't taste like your typical whiskey. It is similar to drinking a high-proof nectar of fruit and syrup. It's just such a different experience from anything else out there.
While I didn't expect to find a lot of oak in the other Dovetail releases, I wonder if Gold Label will be different. In fact, I'm hoping that Gold Label Dovetail will have a surprise or two up its sleeve since this is Barrell's most premium label.
Will this drink like a $500 whiskey? It's time to stop wondering and pour myself a drink already. As usual, I reviewed this neat in a glencairn.
Tasting Notes
Nose: The nose is an absolute bomb of sweet scents. I am picking up on Brown Sugar Pop Tarts, strawberry pancake syrup from IHOP and molasses cookies. There's a lot of vanilla scents that come off like homemade pudding and a hint of Bananas Foster.
I am assuming that the rum barrels contributed to the latter. Buttery notes follow the aroma of a fresh-baked graham cracker pie crust do too. I even get a hint of lemon the longer the session goes on. All of my favorite dessert scents are present and I can only imagine what the rest of the dram has in store.
Palate: Beware that for the first couple weeks after opening this bottle, the heat will get to you. That's to be expected at 140+ proof.
But after 3 sessions with it, it became much more restrained. The viscosity of the liquid is 20w-50 while the color is more like 0w-16 (Motor oil guys, I hope I made you laugh). How is the liquid this paradoxical?
Fruit notes are everywhere – even more so than the nose. Flavors of peaches, strawberries, cherries and papaya can all be found.
It begins to taste a little bit more like a wine-finished rum rather than a whiskey. Speaking of wine, the wine notes here are definitely red and definitely oaked. But there are some rye notes that keep bringing me back to the reality that this is a whiskey at heart.
Intermittent floral notes combine with peppery bursts. There's even the faintest taste of mint, surprisingly. I can't tell which whiskey would be providing these notes. Did Barrell use some of their Valleyfield Canadian Rye Whisky in the blend?
I mentioned earlier that I was on the lookout for any surprise flavors and I think I found one: Oyster Sauce. I couldn't put my finger on it before but there is a flavor that carries both a degree of saltiness/umami that is accompanied by a sweet taste.
But does this Oyster Sauce note really exist? I will admit that I'm not 100% confident because the longer this session goes on, the more the flavors change.
Honestly I think that's because the high proof is strip-mining the tastebuds from my tongue. I said that the heat does eventually settle down, but maybe that's because it has slowly obliterated my sense of taste after the first few sips. Not a complaint, just an observation.
Finish: Lingering notes of Crème Brûlée, oaked red wine and some cinnamon spice. The sweet flavors are always present which means the finish is pleasant until the very end.
Even brighter notes like strawberry-rhubarb pie with sugar sprinkled crust can be found. The rhubarb part, for what it's worth, contributes by offering a bit of tartness to it all.
That intriguing bit of rye character I found on the palate also pops back up with orange and lemon citrus. The finish lasts for a decently long time too.
Score 8.9/10
I want to share one observation before I get into my conclusion: this bottle took me a long time to compile my notes for. I could only study it for about 4 sips or so before my taste buds were wiped out.
I had a similar issue with a 149 proof Charbay Whiskey I reviewed recently. But the difference between those two is that the Charbay punished me with every sip.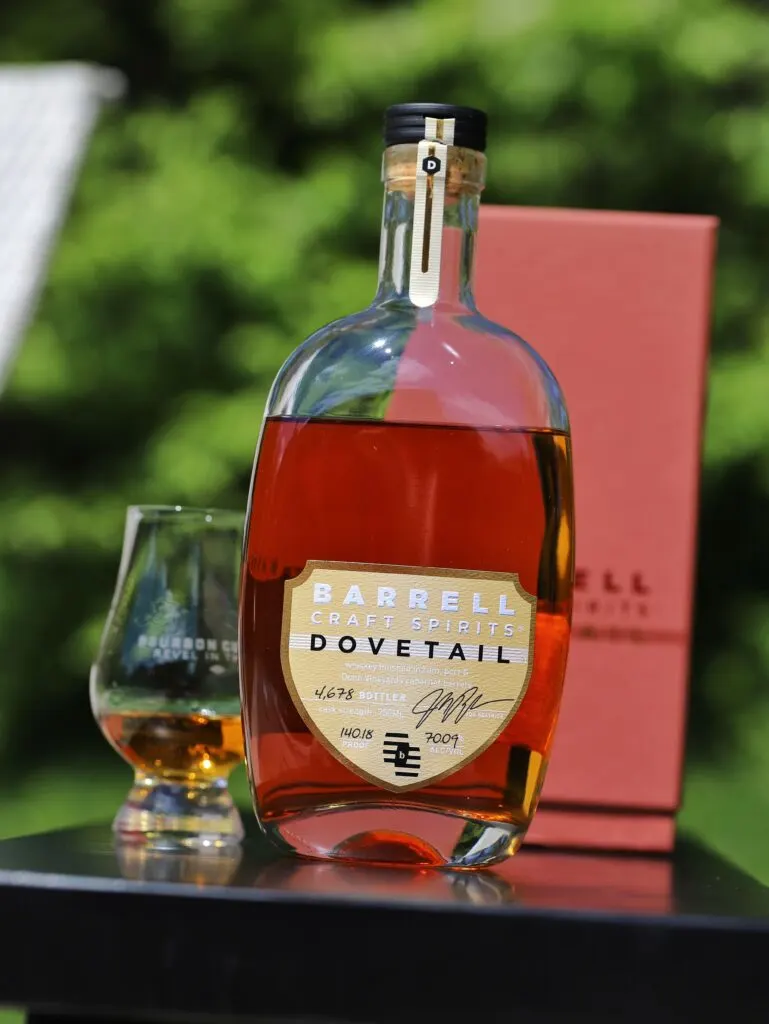 The Gold Label Dovetail was more gentle in its approach. I would realize halfway through my glass that I wasn't picking up on as many flavors or scents and I think the reason was that the high proof had fried my tongue.
Don't let that part dissuade you from getting a bottle though. This is actually packed full of flavor and I'm just giving you more insight about what to expect.
Final Thoughts
It's hard to wrap up a whiskey as complicated as this. Is Dovetail Gold better than its standard and Gray Label versions? Yes. Is it worthy of a $500 pricetag? Oof, that's tough.
I'm speaking from experience when I say I did buy this bottle outright and I knew what I was getting into – but I'm not sure I'd buy another. Instead, I'd push potential buyers to buy the Seagrass Gold Label. It's the same price but it actually tastes like a (rye) whiskey.
Seagrass is the one you want if you want to taste how perfectly in-sync a whiskey and its finishing casks can be matched. Dovetail tastes more like an experiment to see how finishing casks can build off of one another. The whiskey is more of an afterthought.
140 Proof may be too much
I can't believe I'm about to say this last part, but I think the high proof hurts Dovetail just a bit. Don't misunderstand me, I loved the fact that it was HAZMAT when it came out – that's one of the main reasons I bought it.
But I don't see how a casual drinker who wants to buy a fancy bottle to impress their friends will decide on this bottle (unless they ignore the proof). It's just way too much.
When Barrell had initially filed the TTB label for Seagrass Gold, it was listed as 144 proof. When it was launched, the proof "dropped" to 128. After tasting it, I was absolutely sure that 128 was the best proof for it. This should have been the case with Dovetail Gold too.
And while some people will say "just add water to it," I would respond with this: If you're already paying for $500 whiskey, then you shouldn't have to do anything more to it. I can't think of any other luxury good that tells the owner that more assembly may be required if they get the pricier version.
As far as Gold Label Dovetail goes, it's a damn good finished whiskey and is definitely one of the most unique bottles you can buy out there, but it feels like it doesn't know who it was made for.
So if you're dead-set on spending $500 on a bottle and it has to be from Barrell, I'm going to recommend you buy the Gold Label Seagrass first. Dovetail is great and all, but Seagrass is the total package with no assembly required.
Featured Products
Description:

The Aged & Ore Neat Traveler is a complete travel kit for spirits. We combined our widely praised Neat Glass with one of our 3oz Flight Bottles and housed them together in a custom EVA travel case. Perfect for a night away with your favorite pour. The tie
Description:

The Aged & Ore Bottle Flight is a premium set of 4 custom silicone wrapped glass bottles designed to transport and share samples of your favorite spirits. The flight bottles come in a custom EVA travel case that fits perfectly in any small bag. An Aged &
Description:

This Bundle combines two of our crowd favorite products, creating the ultimate travel bundle to bring along your favorite spirits and glassware. Bundle Includes: Neat Traveler (Gray) Bottle Flight (Gray) Note: This bundle is only available in gray and col
*Bourbon Culture is reader-supported. When you buy through links on our site, we may earn an affiliate commission.