*Bourbon Culture is reader-supported. When you buy through links on our site, we may earn an affiliate commission.
Distilled & Bottled by Glen Grant
Region: Speyside
Type: Single Malt
ABV: 50%
Age: 15 yrs
Color: gold
Launched in 2018, this Glen Grant offering is bottled at "Batch Strength" (50% ABV) and aged in 100% first-fill bourbon casks without chill filtration. Unfortunately, I can't find where Glen Grant has confirmed that this offering has no added caramel coloring.
Caramel coloring is technically allowed to be used by Scotch producers, but most enthusiasts shun its practice in favor of more natural colors.
While this bottle of Glen Grant 15 was initially launched as a US exclusive, it can now be found in Europe.
Tasting Notes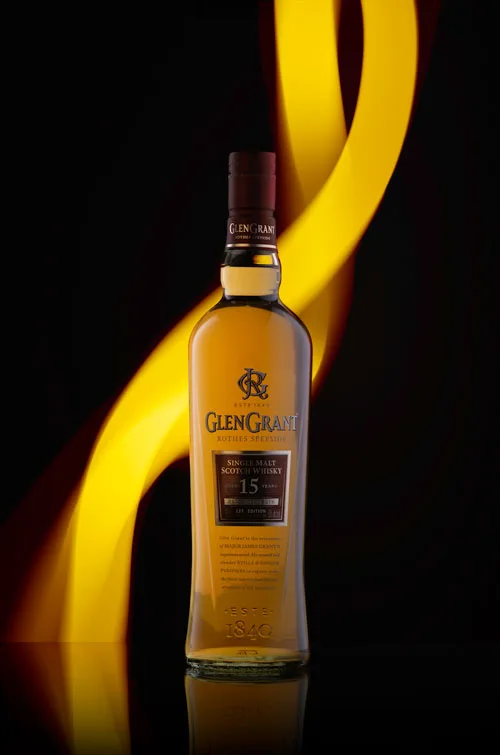 Nose: There is a heavy bourbon influence with fresh-picked apples, honey sweetness, and vanilla. Searching further reveals fresh cut flowers and barley sugars for a pleasantly sweet experience.
Palate: The distillate carries a medium weight on the tongue compared to other Scotches around this age and proof. Sweetness continues with honey, caramel candy and lemon.
Finish: The finish has great length with barrel sugars, oak spice and even white chocolate. Candle wax and apples return after the sip is complete along with a dash of cinnamon.
Rating: 7/10
Conclusion: This is a lovely whisky with straight forward and balanced flavors that create a pleasant sipping experience. The use of first-fill ex-bourbon barrels give loads of interesting sweet notes. This is an approachable whisky and a good candidate for "New-to-Scotch" drinkers who want something that's a step up from entry level malts.
Overall I think that this whisky has a lot of great things going for it with its high age statement, great proof and overall value.
Featured Products
Description:

The Aged & Ore Neat Traveler is a complete travel kit for spirits. We combined our widely praised Neat Glass with one of our 3oz Flight Bottles and housed them together in a custom EVA travel case. Perfect for a night away with your favorite pour. The tie
Description:

The Aged & Ore Bottle Flight is a premium set of 4 custom silicone wrapped glass bottles designed to transport and share samples of your favorite spirits. The flight bottles come in a custom EVA travel case that fits perfectly in any small bag. An Aged &
Description:

This Bundle combines two of our crowd favorite products, creating the ultimate travel bundle to bring along your favorite spirits and glassware. Bundle Includes: Neat Traveler (Gray) Bottle Flight (Gray) Note: This bundle is only available in gray and col
*Bourbon Culture is reader-supported. When you buy through links on our site, we may earn an affiliate commission.