*Bourbon Culture is reader-supported. When you buy through links on our site, we may earn an affiliate commission.
In 2017, Mark and Sherri Carter officially parted ways with Dixon Dedman after resurrecting the Kentucky Owl Brand. Dixon would continue to work with his new owners at Stoli while the Carter's decided to continue blending whiskies in Kentucky because they had found it so enjoyable.
The Old Carter brand would see bottlings of sourced bourbons and rye whiskies just like Kentucky Owl did. They also blended and bottled an "American Whiskey" series on top of it. Old Carter products were a little more transparent than the Kentucky Owl brand was about the source of the whiskey within and began to separate themselves by sourcing whiskies from Indiana and Tennessee.
Tennesse Bourbon
A Tennessee Bourbon is what we have in front of us today with Old Carter Straight Bourbon Batch 3. A little over 1500 bottles came from this batch, but no age statement is given. Since there is really only one distillery in Tennessee that is sourcing out their whiskey, it is likely that the contents are from Cascade Hollow (makers of George Dickel).
But Old Carter is a premium brand and it was going to take a lot of luck or a lot of skill to find enough barrels from inside Cascade Hollow that stood out enough to make customers willing to drop $200 per bottle on them.
In my experience, bourbon sourced from Cascade Hollow can have vastly different profiles from one barrel to the next, so if ever they were going to find some off-profile distillate that fit the bill of "premium," this was their chance. With great anticipation, I am reviewing the bottle you see before you today.
Tasting Notes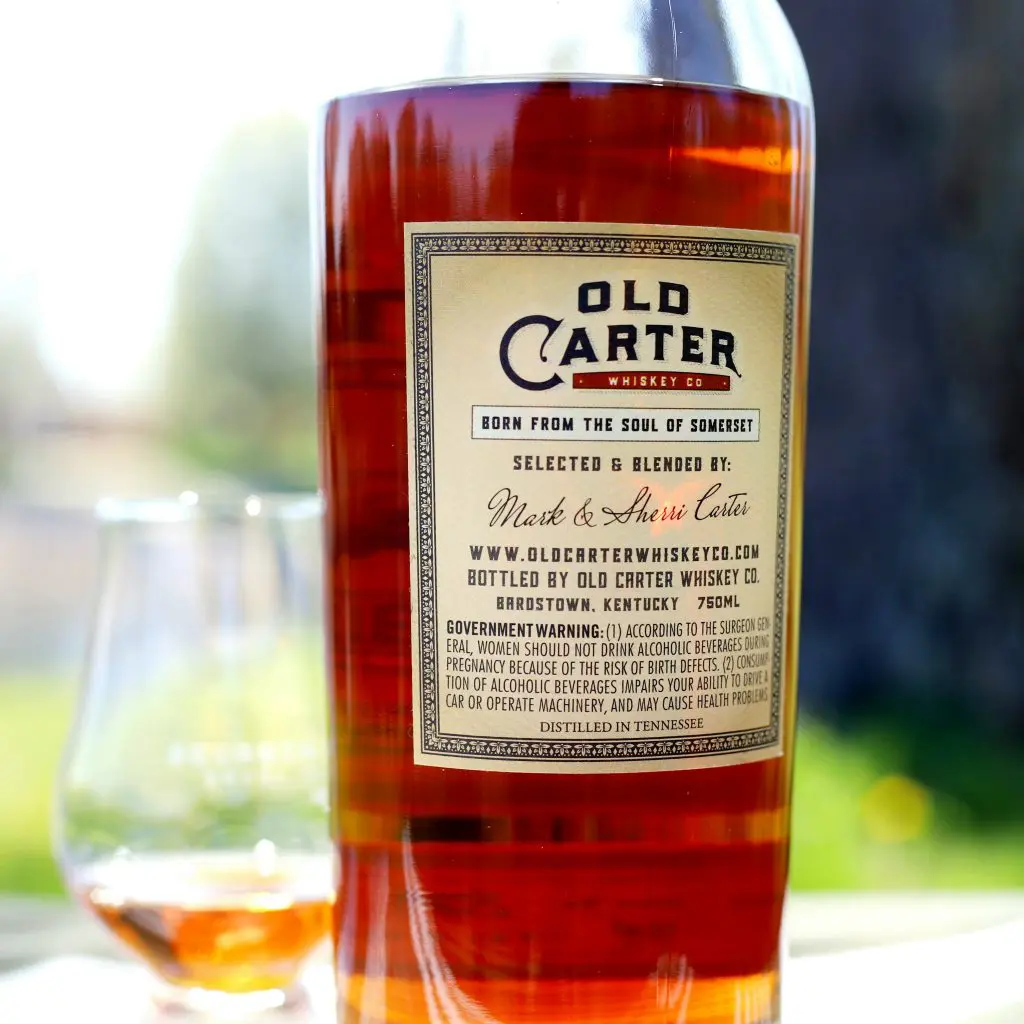 Nose: As with most bourbon from Tennessee, the familiar scent of "sweet peanuts" is detected first. There's also aromas of chocolate powder, cinnamon and fresh-baked banana bread with melted butter.
The scent of oiled olive wood utensils and rosemary add a sort of savory and herbal quality that is fascinating and draws me in deeper with every sniff. Traditional scents of baked apples and heavy caramel round out this complex and deep nose.
Palate: The amount of spice I'm picking up is off the charts! Saigon cinnamon, red pepper flakes and oak spice all combine to light my tongue on fire (but with flavor too). Exotic notes of plantain chips coated in a thick syrup are accompanied by lemon zest, apricots, peppery papaya, a hint of ripe strawberry.
I'm surprised that the sweetness isn't more robust for what is likely a high-corn mashbill, but it's okay because no one note dominates the flavor. Everything works well.
Finish: Drying wood is accompanied by wet tobacco, flint rocks, multivitamins and table syrup. The tannins work perfectly well with the minerality which is sometimes a turn-off to most people. But it seem to be well integrated here.
Score: 8.5/10
The outright assault of complex, layered and unique flavors sets this bottle of Old Carter above almost all other distillate I've had from Cascade Hollow. I'm sure that most drinkers that have negative mindsets about Dickel won't be persuaded by this review.
However, if you have an open mind and want to experience some of the most interesting and unique flavors in bourbon, this is your ticket. With the exception of the finish, I didn't find that this batch really came off as "Classic Dickel" in any way.
One bizarre thought I had while drinking this was how I swore that this batch contains some barrels of Jack Daniel's in it. It is kind of preposterous to think that Brown Forman would have sold barrels to the Carter's or a barrel broker, but finding some notes of plantains and baking spices seemed so on-the-nose with that other distillery from Tennessee that it implanted itself in my mind as a possibility.
But even if that turns out to be a pipe dream, this could be a legitimate contender for one of the most premium tasting distillates that have came out of Tennessee (my others include Barrell Bourbon Batches 005 and 009). The Carter's are definitely on the right path and their skill in picking and blending barrels is on full display with Batch 3.
Ratings Breakdown
1 | Disgusting | Drain pour (Example: Jeffers Creek)
2 | Poor | Forced myself to drink it
3 | Bad | Flawed (AD Laws 4 Grain BiB, Clyde Mays anything)
4 | Sub-par | Many things I'd rather have (Tincup 10 year)
5 | Good | Good, solid, ordinary (Larceny, Sazerac Rye)
6 | Very Good | Better than average (Buffalo Trace, OGD BiB)
7 | Great | Well above average (Old Ezra Barrel Proof, Old Weller Antique)
8 | Excellent | Exceptional (Michter's Barrel Proof Rye, Four Roses Barrel Strength)
9 | Incredible | Extraordinary (GTS, 13 Year MGP or Canadian Rye)
10 | Insurpassable | Nothing Else Comes Close (William Larue Weller)
Featured Products
Description:

The Aged & Ore Neat Traveler is a complete travel kit for spirits. We combined our widely praised Neat Glass with one of our 3oz Flight Bottles and housed them together in a custom EVA travel case. Perfect for a night away with your favorite pour. The tie
Description:

The Aged & Ore Bottle Flight is a premium set of 4 custom silicone wrapped glass bottles designed to transport and share samples of your favorite spirits. The flight bottles come in a custom EVA travel case that fits perfectly in any small bag. An Aged &
Description:

This Bundle combines two of our crowd favorite products, creating the ultimate travel bundle to bring along your favorite spirits and glassware. Bundle Includes: Neat Traveler (Gray) Bottle Flight (Gray) Note: This bundle is only available in gray and col
*Bourbon Culture is reader-supported. When you buy through links on our site, we may earn an affiliate commission.