*Bourbon Culture is reader-supported. When you buy through links on our site, we may earn an affiliate commission.
Distilled & Bottled by Kilkerran (Mitchell's Glengyle)
Region: Campbeltown
Type: Single Malt
ABV: 57.1%
Age: 8yr
Color: Mahogany
The bottle before you is an October 2019 bottling of Kilkerran's 8 year old cask strength whisky. This was aged exclusively in re-charred Oloroso sherry casks & bottled at 57.1% ABV without chill filtration or added coloring.
Tasting Notes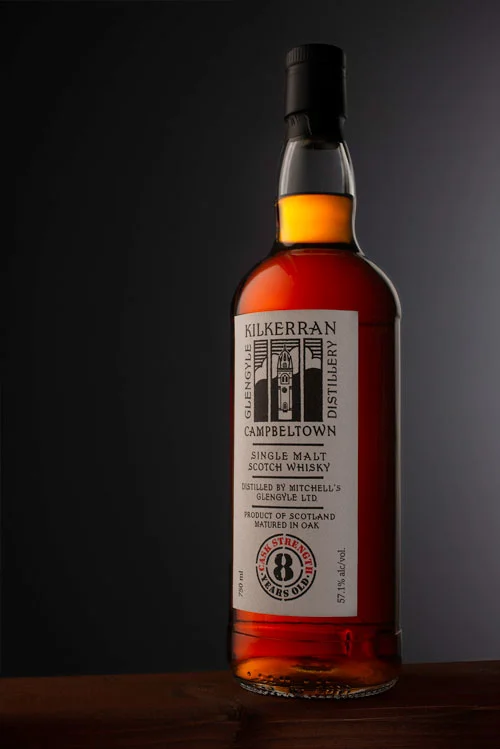 Nose: Loads of sherry with figs, raisins, toasted nuts, caramel candies, and baking spice. Kilkerran's base whisky takes a back seat on the nose but still gives a hint of damp soil and a wisp of smoke.
Palate: Sweet and full on the palate with very little burn despite being cask strength. Ripe cherry flavors produce a sweet and slightly sour note. There's also a hint of brine as well. The "earthy" quality of the base whisky that was somewhat covered up on the nose reveals itself on the palate.
Finish: A rather long finish showcases how the peat teases your tongue with smoke and some Kilkerran fuel vapor. It then transitions to a more sherried sweetness with tons of chocolate, toasted nuts and raisins before ending with some wood spice and baking spices
Rating: 9/10
Conclusion: I'm a big fan of this whisky. It is robust and full bodied and the bold Sherry flavors here take center stage without completely crowding out Kilkerran's character. It blends and balances beautifully. The mouthfeel is sublime and this whisky proves that a skilled distillery can create sumptuous offerings without needing double-digit age statements.
Featured Products
Description:

The Aged & Ore Neat Traveler is a complete travel kit for spirits. We combined our widely praised Neat Glass with one of our 3oz Flight Bottles and housed them together in a custom EVA travel case. Perfect for a night away with your favorite pour. The tie
Description:

The Aged & Ore Bottle Flight is a premium set of 4 custom silicone wrapped glass bottles designed to transport and share samples of your favorite spirits. The flight bottles come in a custom EVA travel case that fits perfectly in any small bag. An Aged &
Description:

This Bundle combines two of our crowd favorite products, creating the ultimate travel bundle to bring along your favorite spirits and glassware. Bundle Includes: Neat Traveler (Gray) Bottle Flight (Gray) Note: This bundle is only available in gray and col
*Bourbon Culture is reader-supported. When you buy through links on our site, we may earn an affiliate commission.