Before I was a person who took bourbon seriously, I only kept two bottles of it in my cabinet. Eagle Rare and Woodford Reserve. Now that I've experienced a wide array over the years, I can honestly say that regular Woodford Reserve doesn't excite me anymore. This isn't meant to sound snobby, it's just that their low-proof offerings are very basic compared to what others are doing. But there is one bottle they make that consistently gets my attention – Woodford Reserve Master's Collection Batch Proof Bourbon.
Woodford elected to call this version Batch Proof when most producers call theirs "Barrel Proof," "Barrel Strength" or "Cask Strength." They all basically mean the same thing, but Batch Proof seems a bit more accurate. Technically, if it's not a single barrel, then the proof is measured after all the barrels get batched together. So what goes into a typical batch?
Anatomy of Woodford Reserve Batch Proof
Woodford Reserve has one unique trait in how their bourbon is made compared to the other large heritage distilleries in Kentucky – and I'm not just talking about their triple pot stills. All Woodford Reserve bourbon (and rye whiskey to my knowledge) is a blend of their own whiskey and whiskey made at Brown-Forman Distillery in Shively, Kentucky.
Woodford Reserve does it this way because the technique they use to make their whiskey on pot stills results in a distillate that is too light in body compared to other American-made whiskies. As such, they found that the body could become fuller by blending in Old Forester bourbon. This results in a whiskey that had the body of a traditional American bourbon along with the unique flavors that come from distilling on a pot still (i.e. oily, fruity and somewhat funky).
No exact ratio of Woodford Reserve barrels to Old Forester barrels has ever been provided, but I'm going out on a limb and saying that it's around 2 barrels of Woodford for every 1 barrel of Old Forester. Even though this is speculation, I'll explain how I arrived at that ratio later on in the review.
So what makes Woodford Reserve Bourbon Different from Old Forester? I've made a helpful chart to help illustrate it:
Now that we can see what the differences are with the barrels, let's talk about the batch sizes. Typical Batch Proof composition used to be a well-protected secret under Chris Morris. Now that he's retired and Elizabeth McCall has taken his place, she's been much more willing to answer the questions that Chris wouldn't. According to Mostlybourbon's review who interviewed her, she said that each year's WRMC Batch Proof is comprised of about 120 barrels. This is slightly smaller than the average number of barrels that make up Elijah Craig Barrel Proof batches (~150 give or take). Couple that with it being an annual release and you can see why it's an allocated bottle.
Woodford Reserve Batch Proof has transformed over the years since it was first released in 2018. What started out as a bottle shape that I can only associate with the TV show "I Dream of Jeanie," has changed into the shape you see before you in 2020. It's also recently been sized down from 750ml to 700ml. Brown-Forman seems to be hard-charging in their quest to take advantage of the new US laws that allow for smaller bottle sizes.
Now that you know more about Batch Proof's origins, let's see how it tastes. I sampled this neat in a glencairn.
Tasting Notes
Nose: The scent of chocolate wafer crisps and caramel-covered Flan fills my nostrils when I take a sip. There's a nice amount of oak and leather present too. This creamed corn scent hints to its age being on the younger side. Toasted pecans dusted with cinnamon and some cherries are also floating around. Overall, the nose is great, somewhat uncomplicated and has a touch of youth to it.
Palate: Out of all the nice flavors I find in each sip, I'm somewhat surprised by a persistent grainy note that lurks around. As is the case with most Woodfords, I'm detecting chocolate (which is more like a cocoa powder) notes that probably stem from being distilled on a pot still. The sweetness comes by way of toffee and is toned down from the previous two Batch Proofs (119.8 and 118.4). Is that a result of the higher proof?
Whatever the case is, the high proof is probably the culprit behind this dram having a good amount of heat per sip. Either that or it's the cinnamon and peppercorn flavors popping on my tongue. Tannins come by way of barrel char and seasoned oak. There's also some nice fruit flavors like grilled stone fruit and a very light banana. Oddly, it's the starchy quality of the banana that stands out more than the actual banana flavor.
Finish: The finish has concentrated tannins similar to leather and oak. Just like on the palate, the rye spices are always present with cinnamon, allspice and green peppercorns all providing a lively and lingering flavor. Caramel and chocolate chips give the finish some sweetness too.
Score: 8.1/10
Compared to Woodford Reserve Batch Proofs of the past, this is pretty similar in terms of what we've come to expect. The high-rye content peeks through and shows us an interesting mix of spices. The triple pot still process gives each sip and sniff a lovely chocolate accent. The only thing I could complain about is the occasional grainy (in the form of corn) taste or scent. Woodford relies on heat cycling to produce a more mature tasting bourbon but sometimes it's not enough to overcome Father Time.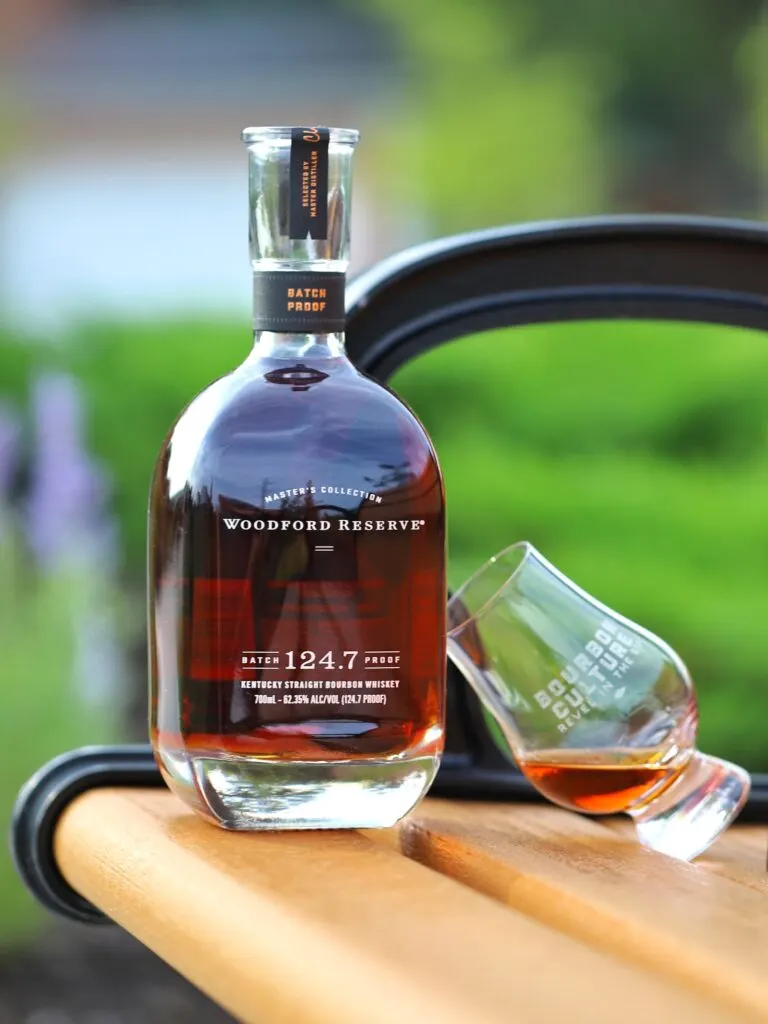 This year's Batch Proof was one of the easiest ones to find yet. I rarely hunt bourbon anymore, yet I had the ability to buy this bottle at least 3 separate times. I still believe it to be a great example of what Woodford Reserve is capable of making and wish they'd take more chances at increasing the proof across the board. Otherwise, they might find that they're losing sales to their competition.
Final Thoughts
I wanted to use this section to address something I said I would earlier in this review. It's in regards to the average age of Batch Proof barrels plus my speculation on the ratio of Woodford Reserve barrels and Old Forester barrels used in every batch.
For starters, the average age of Woodford's barrels has been said to be around 6 years for a while now. Back when Woodford first began to distill (in 1994, but really in earnest by 1996), Lincoln Henderson had said that the first barrels were not ready for bottling until 2001 or 2002. Take with those numbers what you may, but that's around 6 years old (or more). There is much talk about Woodford's own pot-still produced bourbon being aged around 6 to 7 years here and here.
I also noticed this nugget of information in the Kentucky Bourbon Festival's Distillers' Row Series of bottles being offered. Look closely:
The age stands out because it shows that Woodford has 6 year old barrels on site. You might argue that they could've saved up extra-special barrels for this release, but KBF's bottle offerings have been getting more pedestrian every year – to the point where distiller's aren't really bringing their "A Game." So this means that 6 year old barrels could be the norm for what Woodford typically uses.
Additionally, they make mention of 2 of the 3 barrels that are being used in the blend, but what about the third one? My hypothesis is that the third barrel is Old Forester bourbon. But since Woodford doesn't ever like to bring up that their product uses bourbon from Old Forester, that's why they don't mention it. Therefore, I'm going to take this clue and run with it and assume that most Woodford consists of 2 barrels of their own bourbo to 1 barrel of Old Forester.
As usual, thanks for reading my wacky thoughts and stay tuned for next year's release!
Featured Products
Description:

The Aged & Ore Neat Traveler is a complete travel kit for spirits. We combined our widely praised Neat Glass with one of our 3oz Flight Bottles and housed them together in a custom EVA travel case. Perfect for a night away with your favorite pour. The tie
Description:

The Aged & Ore Bottle Flight is a premium set of 4 custom silicone wrapped glass bottles designed to transport and share samples of your favorite spirits. The flight bottles come in a custom EVA travel case that fits perfectly in any small bag. An Aged &
Description:

This Bundle combines two of our crowd favorite products, creating the ultimate travel bundle to bring along your favorite spirits and glassware. Bundle Includes: Neat Traveler (Gray) Bottle Flight (Gray) Note: This bundle is only available in gray and col
*Bourbon Culture is reader-supported. When you buy through links on our site, we may earn an affiliate commission.