*Bourbon Culture is reader-supported. When you buy through links on our site, we may earn an affiliate commission.
I do not hold Wilderness Trail in high regard after my experiences with two different bottles of their wheated bourbon (a bottled in bond and barrel strength version). Those have been enough to drive me away from the brand, believing that their products all taste thin and underdeveloped. I still have faith in Dr. Pat Heist, who is the man behind the curtain at WTD (the acronym Wilderness Trail wants you to call them by). He's so damn knowledgable about all things concerning yeast and fermentation. It was a shock when I discovered I didn't like his wheated bourbons.
As I shared my opinions with other enthusiasts, I'd get the same replies "But have you tried their rye whiskey?" To which I could only reply "No, is it really that much different?" Their answers were universally "Yes!"
Changing my mind about Wilderness Trail Rye Whiskey
Still, I dragged my feet on buying a bottle. It is fairly accessible in the Indianapolis area but I just couldn't get excited for it. They were all universally Bottled in Bond and I wanted to find a barrel proof version (which do exist). I knew they were also around 5 years old – maybe a little older or younger depending on the batch. Then a friend of mine told me he had one I just had to try.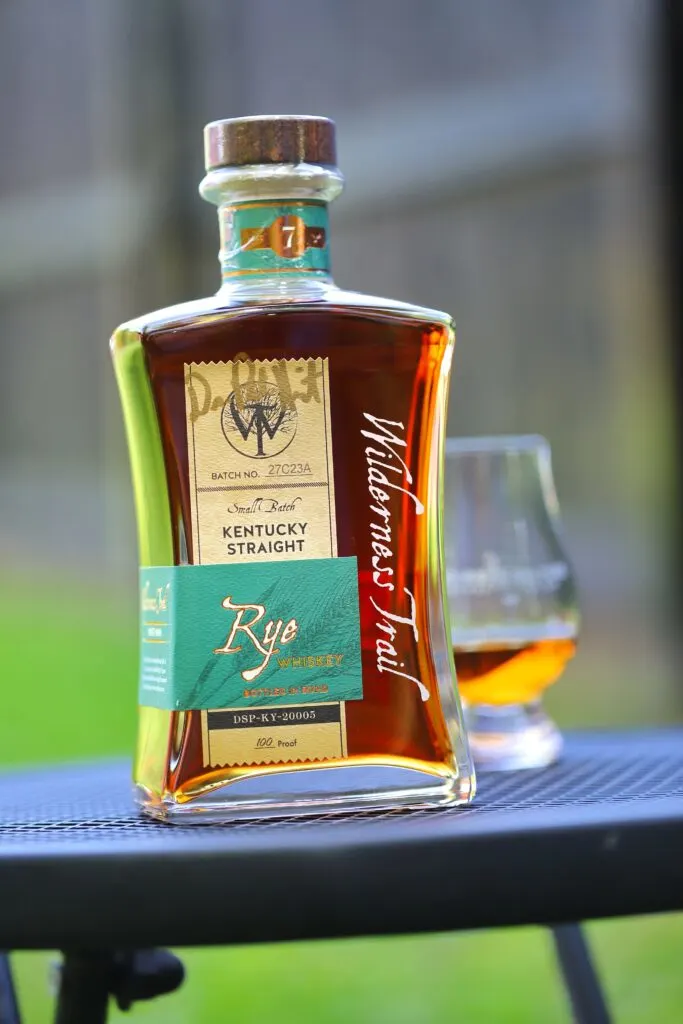 Wilderness Trail released a 7 year old age-stated version of their rye as a gift-shop exclusive early in 2023. This would be a bottled-in-bond release and it was comprised of only 15 barrels which were all distilled in the same season. All of them used WTD's standard rye whiskey mash bill of 56% rye, 33% corn, 11% malted barley. The rye, by the way, is said to be sourced from a heritage varietal grown in Kentucky. Rye isn't known to do particularly well in a climate as hot and humid as Kentucky, so I wonder what will stand out when it's used to make a whiskey.
Other specifics have been hallmarks of the brand since its inception: sweet mash fermentation (the tanks are cleaned every single time and no backset is added) and a super-low barrel proof of around 100 or 105. This results in a more unique taste as the wood sugars that the extra water content dissolve are different from high proofed whiskies.
There has been no word on which location of the warehouse that Wilderness Trail aged these in or what the final proof was before water was added. But what we have to go on is enough to know that this should be their best shot at showing off the future of their rye whiskey. So how did they do? Thanks to my friend James, I'm going to be able to tell you about it. I sampled this neat in a glencairn.
Tasting Notes
Nose: Upon first sniff, the nose comes off as impressively fruity. There are scents of peaches, cherries and even a hint of banana. I find the sweet scents of both caramel and honey. The former is more common with a bourbon and the latter is more common with a rye whiskey, so I guess that makes sense why they're both in the same place at the same time. I find a hint of chocolate and a hint of coconut (so – Mounds Bar?). The rye notes come by way of a minty candy cane. There's even an underlying aroma of vanilla. Nothing out of place so far!
Palate: For being a low-rye rye whiskey, this tastes like it has a much higher rye content based solely off of the typical rye spice and "green" notes I find. Is this because of that Kentucky-grown rye? Whatever it is, there's a lot of herbal and floral notes I can taste. I would normally taste these on much higher percentage rye whiskies.
Count me impressed that a lot of the fruit notes travel from the nose to tongue, only this time they taste like they come in the form of Jolly Ranchers; apples, dried pineapples, pear, apricots and candied lemon peel. The spices are well-rounded and include cinnamon, white pepper and anise. There's even a little bit of cherry licorice. The sweetness has developed nicely with melted caramel and maybe a small amount of maple syrup. It's the perfect string of well-developed flavors with no astringency. The heat is also in check, but the bite each sip has could have made me a believer that this was bottled more around the 108-110 proof range. Not a bad trait to have by any means.
Finish: The fruit flavors hang around until the end. There's a lingering flavor like flat Cherry Vanilla Coke. Additional fruit flavors like baked apple and a bit of citrus develop it further. I finally pick up on a tannic note which happens to come in the form of leather. It's not much, but I'll take it. Spice notes on the finish include cinnamon, fennel, black pepper and anise. They give your tongue a satisfying heat that lets you experience the sensation of this really great whiskey for a long time.
Score: 8.2/10
After a few sessions with this bottle, the results were conclusive: this really is a great rye whiskey. If I had to describe which other ryes it tastes most similar to… that might be tough. It has the fruit notes of an MGP rye with the floral and herbal notes of a Michter's/Woodford Reserve rye. The banana and maple syrup notes caught me a little off guard – could there be a hint of Jack Daniel's Select Rye Whiskey in there too? I'm sure anything could happen if Dr Heist is responsible for picking out the yeast that will ultimately shape the character of his whiskies.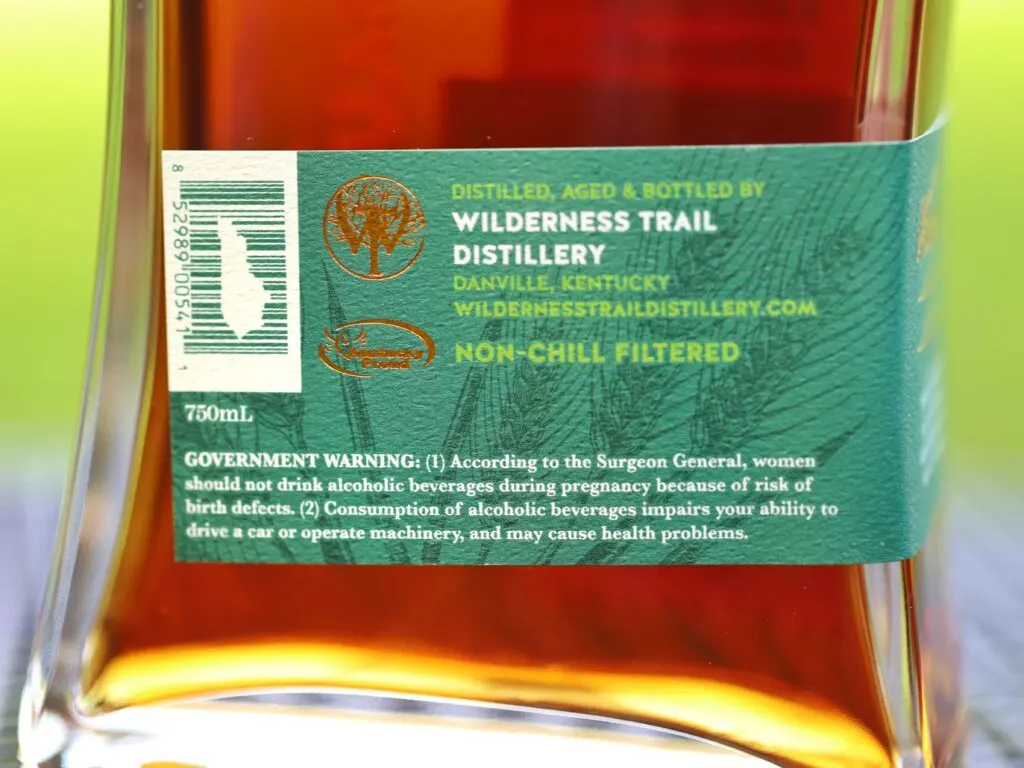 Perhaps I need to just accept the fact that there doesn't appear to be any straightforward comparable rye whiskies to this bottle of Wilderness Trail rye whiskey. Instead, it seems to be forging its own *clears throat* trail. Sorry, I couldn't resist. But if and when this becomes the standard age that Wilderness Trail starts bottling its rye whiskey, it should create quite the shift in consumer preference. Beam and Heaven Hill better start making a better product now to combat the superior whiskey that is Wilderness Trail 7 Year Rye.
Final Thoughts
Wilderness Trail has been pumping out the liquid at a furious pace for many years now. Their warehouse space and the current barrel shortage are the two main factors holding them back though. Still, I feel like we're on the cusp of seeing products in the 7+ year age range start coming out with more regularity. The telltale sign will be just how much more they can release within the next year or two. I would argue that Wilderness Trail needs to focus more on an older range of whiskies like this one. If they don't, they might unintentionally be driving away future customers like myself. But if their 7 year old whiskies can taste like this, there is a great chance it could draw even more of us in.
Featured Products
Description:

The Aged & Ore Neat Traveler is a complete travel kit for spirits. We combined our widely praised Neat Glass with one of our 3oz Flight Bottles and housed them together in a custom EVA travel case. Perfect for a night away with your favorite pour. The tie
Description:

The Aged & Ore Bottle Flight is a premium set of 4 custom silicone wrapped glass bottles designed to transport and share samples of your favorite spirits. The flight bottles come in a custom EVA travel case that fits perfectly in any small bag. An Aged &
Description:

This Bundle combines two of our crowd favorite products, creating the ultimate travel bundle to bring along your favorite spirits and glassware. Bundle Includes: Neat Traveler (Gray) Bottle Flight (Gray) Note: This bundle is only available in gray and col
*Bourbon Culture is reader-supported. When you buy through links on our site, we may earn an affiliate commission.