*Bourbon Culture is reader-supported. When you buy through links on our site, we may earn an affiliate commission.
Buffalo Trace may get all the recognition when it comes to their claim that Blanton's was "The Original Single Barrel Bourbon." But if you go back far enough in history, Brown Forman has a pretty good case if they wanted to challenge it. As early as the 1890's, it was said that George Garvin Brown, president of Old Forester, gifted a bottle of President's Choice to the Governor of Kentucky every year. His son, George Garvin Brown II, would standardize the single barrel product under the same name in 1946. He would continue to hand-select the barrels that carried his title every year until his death in 1969. The product was bottled for a few more years before it was canceled.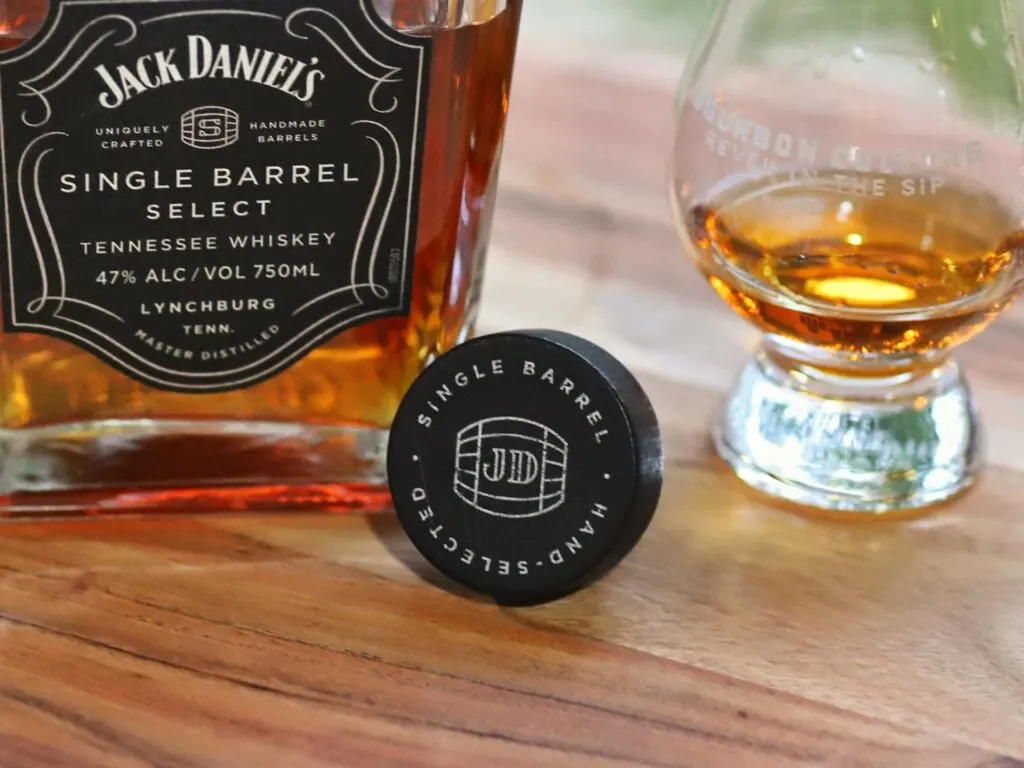 While the successor to President's Choice wasn't reintroduced until 2018, another Brown Forman brand had already been bottling a single barrel version of their whiskey for over 20 years. You already know who it is if you're reading this review: it was Jack Daniel's.
Jack Daniel's releases a Single Barrel Tennessee Whiskey
In 1997, the first barrel of Jack Daniel's Single Barrel Select Tennessee Whiskey hit the shelves. The general public didn't pay much attention because Old No. 7 was the cheaper and more plentiful option. 1997 was still in that weird "pre-internet" period of time where new whiskies were slow to sell because information about them was slow to come out. Jack Daniel's had a large enough following to make Single Barrel Select a profitable undertaking at a time when there were very few enthusiasts who cared about such a thing.
Decades later, bourbon of all kinds began to take off. Jack Daniel's, as a brand, didn't feel the same heat on running out of whiskey as the Kentucky brands did mostly because the public hadn't yet put 2 and 2 together that Tennessee Whiskey was technically a bourbon. Many people will claim that Jack is not a bourbon to this day, but I'll let sleeping dogs lie for this review.
It is my opinion that Jack Daniel's Single Barrels didn't really take off until the Barrel Proof version was released around 2018. This single-handedly brought a super-star persona to Jack's whole lineup. Retailers found out that they could only get so many barrel proof picks and filled the spaces on their shelves with Single Barrel Select when they ran out. This forced many enthusiasts to consider buying a bottle of Select when the Barrel Proof version wasn't offered.
How is Jack Daniel's Single Barrel different?
Jack Daniel's has some very tall rickhouses at their distillery in Lynchburg Tennessee. The thing about rickhouses with multiple floors is that the heat will rise and accumulate at the top while the lower floors remain fairly cool. The high temperatures allow for increased interaction between the distillate and the wood – creating a higher proof and richer whiskey in a shorter amount of time. The risks of aging barrels exclusively on the higher floors include too much evaporation (empty barrels are found more frequently at the top than anywhere else) and too much oak influence on the liquid making it bitter.
If matured correctly and with an eye towards the warning signs a whiskey is becoming over-oaked, whiskey aged on the top floor can be incredible. This is why Jack Daniel's selects all of their barrels for their Single Barrel Select program from there. They are rumored to age them to 5 years (or maybe just a little bit more) before they're considered mature enough for the program. In the hot Tennessee sun, that's more than enough time.
Once they are picked, the whiskey gets proofed down to 94 before being bottled. Not all Single Barrel Selects are picked by an outside entity though. There are plenty on the shelves in regular form like the bottle I'm reviewing today. If it's not a group pick, that means that a taster at Jack Daniel's decided the barrel embodied right profile that Jack wants to be know for. Unfortunately it means we'd never know the exact age or warehouse the barrel came from – which really only matters if you're a true nerd.
So what is Single Barrel Select supposed to taste like? Let's find out. I sampled this neat in a glenclairn.
Tasting Notes
Nose: Sweet notes of honey and sugar shards combine with butterscotch to make the nose an irresistible dessert-like treat. There's a good amount of charred wood and cinnamon that combine with a whiff of apple peel. Apple is not the main fruit note though, that would be banana. The way the vanilla interacts with the banana brings back childhood memories of Banana Pudding rimmed with Nilla Wafers. I love Jack Daniel's for this exact reason.
Palate: I know this is not a comparison review, but if I were to compliment this JD Select for one thing it does better than its Barrel Proof version, it's that it is much sweeter. Not sickly sweet, mind you, but the caramel and honey combine to kind of coat all of the other flavors I'm finding. It's also noticeably creamy in its delivery. There are roasted nuts, toasted oak, bananas and vanilla. I'm also surprised to find a faint floral note which is unusual for the brand but ends up giving this a little bit more complexity.
Finish: The lingering oak and barrel char at the end is a tad bit drying on my tongue. There are banana runts and a decent amount of sweetness that ensure that the finish doesn't turn overly tannic. It's not as complex or satisfying as other bourbons, but it's still enjoyable
Score: 6.9/10
Jack Daniel's Single Barrel Select delivers a straightforward experience with all the right notes in all the right places. There are no obvious flaws except being a bit mundane. It's a decently rich and sweet experience that offers a more delicate experience than its high-proofed sibling Jack Daniel's Barrel Proof Tennessee Whiskey. I also found myself surprised that even though this is probably proofed down about 30 points from what it was at barrel proof, that not much is lost in terms of flavor outside of some extra oak.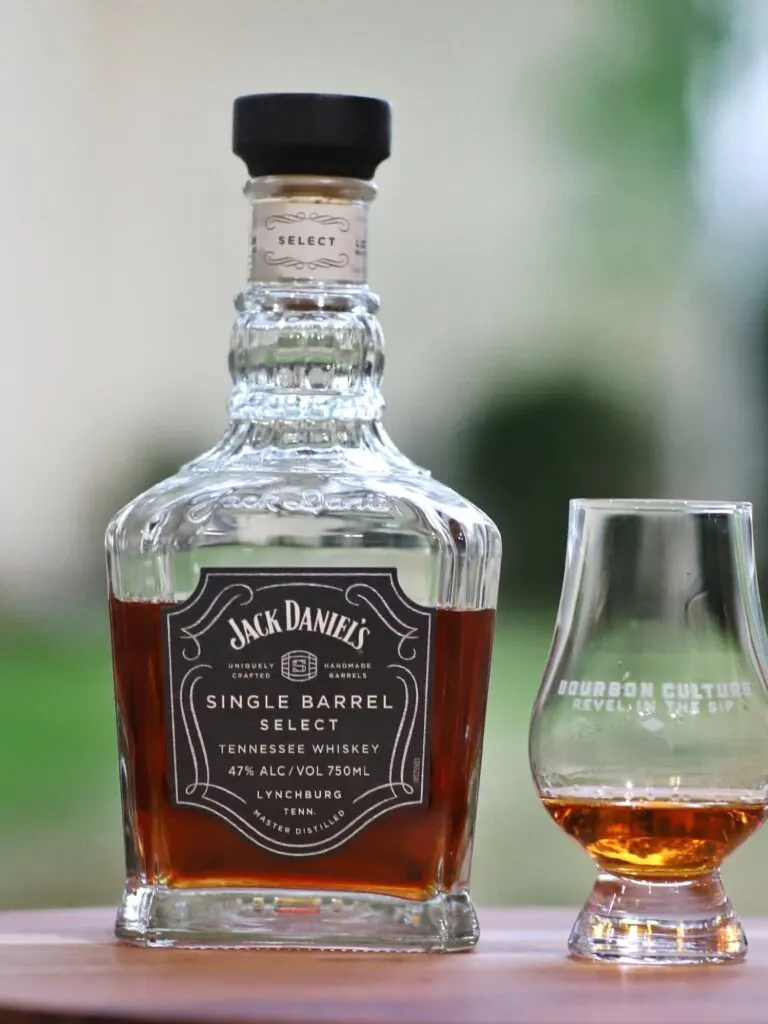 Final Thoughts
For years I've given Jack Daniels Single Barrel Select a pass over its Barrel Proof version. Imagine how surprised I was to find such a competent and highly flavorful version still existed in this bottle. There really isn't much lost here over it's higher-proofed version. In fact, it's much more sippable. I enjoyed this very much and think a lot more people would too if they'd just give it a chance. And if you're still not sure this one is for you, try to find a store that has done a pick of it. It's guaranteed to give you the same experience but maybe with a couple additional surprises to make it stand out more. But this bottle seems to hold up just fine on its own.
Featured Products
Description:

The Aged & Ore Neat Traveler is a complete travel kit for spirits. We combined our widely praised Neat Glass with one of our 3oz Flight Bottles and housed them together in a custom EVA travel case. Perfect for a night away with your favorite pour. The tie
Description:

The Aged & Ore Bottle Flight is a premium set of 4 custom silicone wrapped glass bottles designed to transport and share samples of your favorite spirits. The flight bottles come in a custom EVA travel case that fits perfectly in any small bag. An Aged &
Description:

This Bundle combines two of our crowd favorite products, creating the ultimate travel bundle to bring along your favorite spirits and glassware. Bundle Includes: Neat Traveler (Gray) Bottle Flight (Gray) Note: This bundle is only available in gray and col
*Bourbon Culture is reader-supported. When you buy through links on our site, we may earn an affiliate commission.