*Bourbon Culture is reader-supported. When you buy through links on our site, we may earn an affiliate commission.
Resilient Bourbon got their start around 2017 as a non-distiller producer (NDP) sourcing barrels of bourbon (and a little bit of rye whiskey) from Tennessee and Indiana. From what little I can tell, the founder of the brand, Brian Ciske, owns a distribution company called BC Merchants out of Chicago.
It is a safe assumption that he made some contacts over the years that led him towards a barrel broker (which is kind of like a middleman between distilleries and bottlers) who offered to sell him some barrels. Those barrels eventually became the backbone of the Resilient Bourbon brand.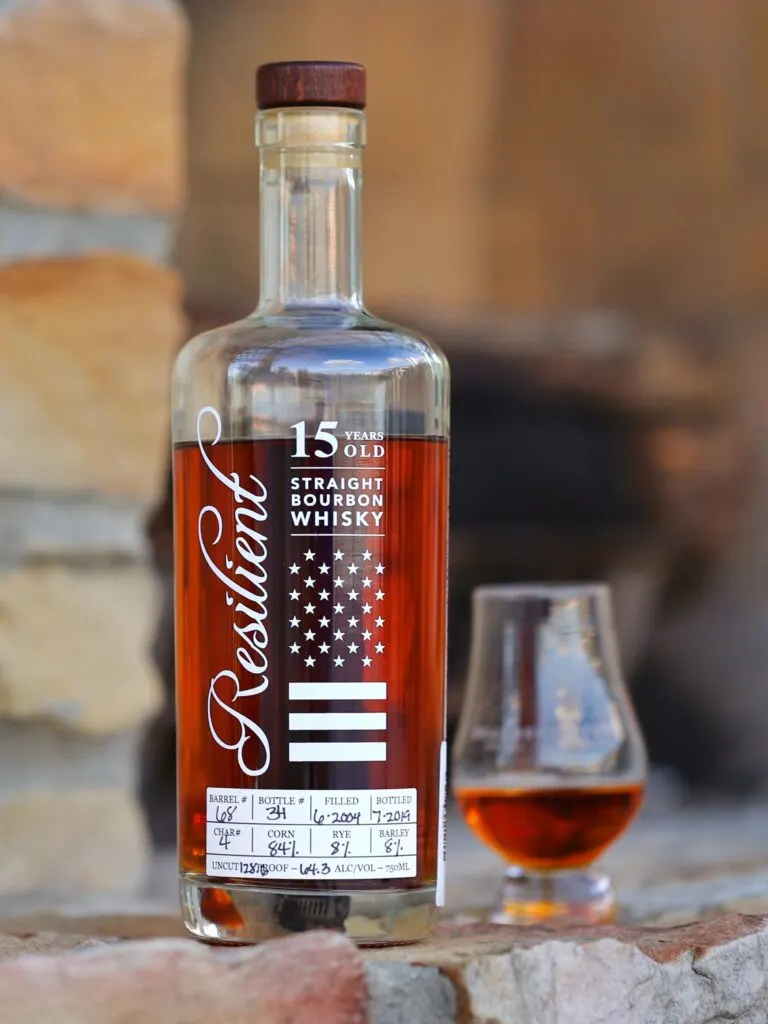 I reached out to Brian to learn more about how he obtained these barrels and how he came up with the brand in the first place. He wasn't really forthcoming with information but was very proud of his products.
So I turned to Resilient's website and determined that he purchased around 200-250 barrels – probably at the same time in 2017. Sometimes these are called "lots" or "parcels." If you read my review for Redemption 18 Rye, then you're already familiar with the concept of how it all works.
What goes into Resilient Bourbon?
The majority of the barrels that go into Redemption bottles are from Cascade Hollow (makers of George Dickel) and were distilled in either June 2004 or January 2005. There were a little less than a dozen that came from MGP that were all distilled on the same day in May, 2006.
Throughout the years, Redemption also bottled some 6 year old MGP rye whiskey and possibly some new-fill MGP and Dickel barrels as well. More on those later.
It is unclear where these barrels remained after being purchased, but it's a good guess that they stayed in Kentucky and didn't go to Chicago. This is because in the years that followed, the "Bottled in" location would change from Bardstown to Pembroke to Stanford.
Bardstown has lots of bottling lines to choose from while Pembroke is home to M.B. Roland and Stanford is home to Bluegrass Distillers. I know that has very little to do with the whiskey inside the bottle, but it's interesting to see how NDPs shop around for a bottler.
What Resilient thrives at is giving us all the stats we'd want to know about the whiskey inside. It's not too hard to decipher "60/36/4 bourbon from Indiana" or "84/8/8 bourbon from Tennessee." Resilient also lists the months and years that a particular barrel was made and bottled.
What is unusual is how high the proof has become on some of those Tennessee barrels. There have been a decent amount of them with proofs going past 120 (one of them is 129.4!). That doesn't mean Resilient purchased all high proof barrels though. I noticed some of these Tennessee barrels dipping down into the 90s which we can only assume is still at cask strength.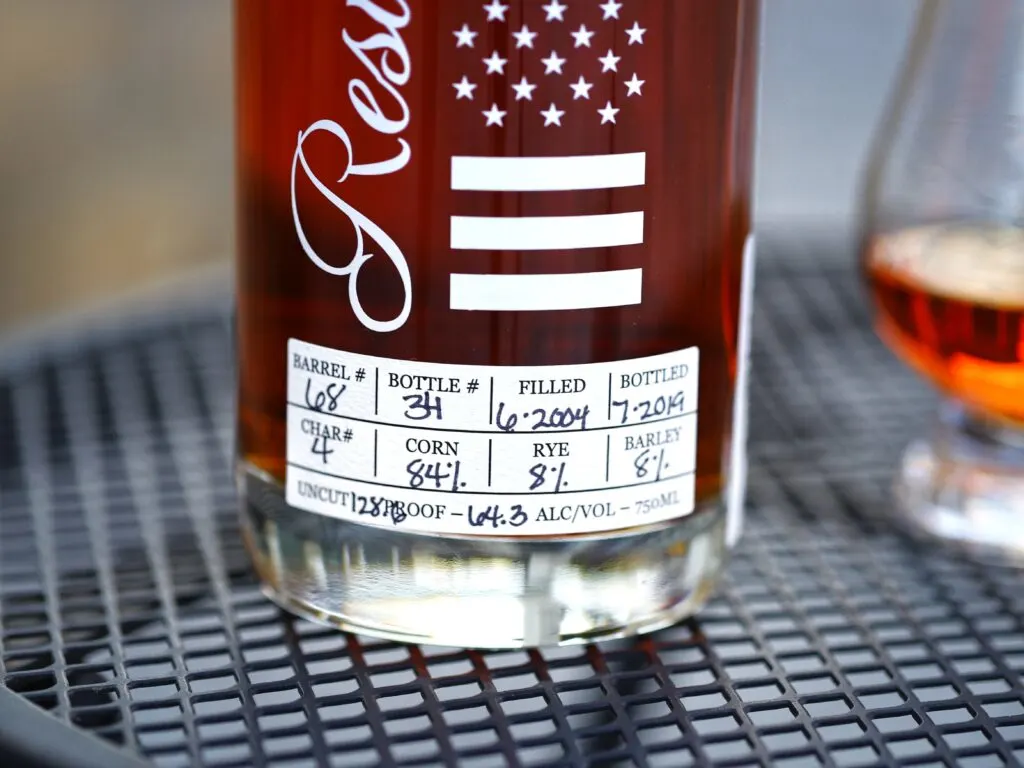 Speaking of "Cask Strength," I would have thought that everything Resilient bottled was this way. But when I started to count, I noticed that out of 156 single barrels from Tennessee, 55 of them were bottled at a perfect 107 proof. All 10 single barrels of 11 year old MGP were too. That seems too coincidental to just happen that way naturally.
Plus, I noticed that there is actually no mention anywhere on the bottle of it being a cask strength or barrel proof product. All of this begs the question: why were some proofed down and others allowed to stay at cask strength?
Barrel #68
The bottle I'm reviewing today is from Barrel #68. Of note, these barrels were not released sequentially; they appear to be released when they've been fully matured. As an example, Barrel #67 was bottled 3 months before #68 but Barrel #73 was bottled 4 months before Barrel #67.
Huh? The Resilient website shows all of the ages, so it's not like we have to understand why as long as we understand that there is some diversity out there.
This leads us to the whole point of this review: how will Dickel taste at this proof and age? It's had enough time in the barrel to hopefully be thoroughly mellowed, so let's fill up a glass and find out. Thank you to Chris and Evan for splitting this bottle with me. I sampled it neat in a glencairn.
Tasting Notes
Nose: Scents of Honey. Nuts. Cheerios? Haha, I'm kidding about that last one, but those sweet, nutty notes are what I would expect to find first in a barrel of Dickel. The fruity scents dark are concentrated – like raisins and dates.
I can also find a good amount of vanilla and even some oak. The oak is well-tempered and doesn't come off like it's 15 years old, but it doesn't necessarily smell any younger either. Finally, there are some spice notes like nutmeg and cinnamon that add a nice contrast on the nose.
Palate: For 124+ proof, this wears its alcohol content well. There's no getting around the heat, but I am able to hold it on my tongue for as long as I need to really taste all of the flavors. I am picking up a lot of fruit – dried pineapple, mango, cherry, coconut flesh and dates.
Dickel has these wonderfully tropical fruits sometimes and they're always a favorite of mine. I am very happy to find them here. There's also the taste of crushed stone, Flintstone Multivitamins and corn tortillas.
Oak is very faint, but I'm more intrigued with how much leather I'm tasting. Caramel mixes with lots of cinnamon and black pepper giving each sip equal parts sweet and spicy.
Finish: Lingering notes of caramel, dry oak and leather are most noticeable on the finish. There are some lighter notes that hang around too like vanilla, dates and figs. The multivitamins note doesn't go away either, which is either a good or bad thing depending on what you think of it.
Score: 7.7/10
This may seem counterintuitive to what I'd normally say, but the proof on this bottle makes it kind of a brute. The flavors don't just waltz into the room, they kick the door down. Why do I care with this particular bottle?
Because a lot of the Dickel has come out on the market recently and trended towards a more delicate and mellow experience. A person drinking this blind may not even realize that it's Dickel – if they can look past the multivitamin aspect that is.
The one saving grace is the vast array of fruits are just as strong. It's almost like Four Roses had a baby with Jim Beam. It's strangely rewarding if you can fight through the heavy notes up front.
Final Thoughts
Big, brash and bold. This is an experience that I would encourage thrill-seekers to find a bottle of; especially those who haven't let others influence their opinions on Dickel.
Resilient did the right thing by releasing this as a single barrel rather than having it blended away or proofed down. This is an unusual experience but one that I am fully recommending you try.
The only problem is that these aren't easy to come by anymore. The heyday of highly-aged Resilient single barrels seems to have passed, replaced by much younger Bottled-in-Bond versions or finished versions using the same young whiskey.
Brian may have elected to save a handful of older barrels to sprinkle around over the next year or two, but we can't be sure about that. And with Dickel buying back these highly aged barrels (presumably to use in their older Cask Strength Reserve releases), we might stop seeing bottles like this altogether.
What I'm trying to say is, love 'em or hate 'em, these Dickel bottles are a dying breed and your only chance left to get one might just be in a bottle of Resilient.
Featured Products
Description:

The Aged & Ore Neat Traveler is a complete travel kit for spirits. We combined our widely praised Neat Glass with one of our 3oz Flight Bottles and housed them together in a custom EVA travel case. Perfect for a night away with your favorite pour. The tie
Description:

The Aged & Ore Bottle Flight is a premium set of 4 custom silicone wrapped glass bottles designed to transport and share samples of your favorite spirits. The flight bottles come in a custom EVA travel case that fits perfectly in any small bag. An Aged &
Description:

This Bundle combines two of our crowd favorite products, creating the ultimate travel bundle to bring along your favorite spirits and glassware. Bundle Includes: Neat Traveler (Gray) Bottle Flight (Gray) Note: This bundle is only available in gray and col
*Bourbon Culture is reader-supported. When you buy through links on our site, we may earn an affiliate commission.