*Bourbon Culture is reader-supported. When you buy through links on our site, we may earn an affiliate commission.
I have a habit of starting off my reviews by taking the reader down a windy path of history mixed with opinion before telling you what I really think about the whiskey.
That's the formula I like and one that's hard to deviate from. However, when looking at the size and scope of the history behind Wild Turkey 101, there is simply too much to fit into a single review and I probably couldn't do it justice.
Wild Turkey 101
One of the earliest memories of my bourbon journey was telling my neighbor (who is from Lexington, KY) that I had started to enjoy bourbon and asked him if he did too.
His response of "Neighbor, bourbon is my love language!" still makes me laugh every time I think about it. He gifted me a bottle of Wild Turkey 101 the very next day.
Back in those days my impression of WT101 was much different than it is now. I remember thinking that each sip was hotter and spicier than I would've preferred. It was also missing some of the fun, fruity flavors I had enjoyed in other bottles under $40.
Speaking of that price point, WT101 usually comes in at about half of that. So I assumed it was an inferior product because it didn't command a higher price point.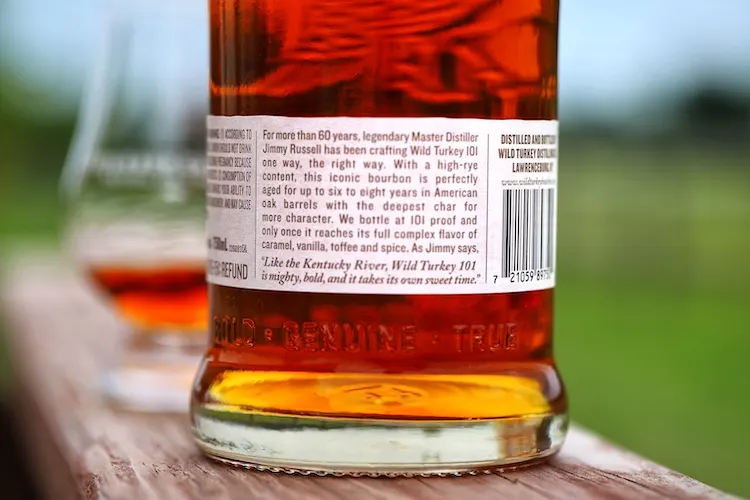 In a nutshell, the price is what most new bourbon drinkers have a hard time grasping. The main point that many seasoned drinkers try to tell them is that price is not reflective of the quality inside.
Also, many new drinkers prefer to start with 80 or 90 proof bourbons and view the leap to 101 proof as daunting. This is confirmed when they take their first sip because the spice and heat may come off as unbalanced.
In a way, the proof and the way it is distilled make it hard to grasp every flavor that's coming at you.
Just as Wild Turkey 101 has seen a multitude of changes over the years, so too have the distilling operations at the Lawrenceburg, KY facility changed as well.
Age statements have come and gone, fermenting and distilling processes have been tweaked and even the barrel entry proof has gone up.
Part of the reason Wild Turkey retained such a rich character had been their refusal to increase the barrel entry proof after it became popular to do so.
107 to 110 proof
It wasn't until 2004 that it was increased from 107 to 110 proof and then again in 2006 to 115 proof. The main reason behind this is likely profit and allows for larger yields once you factor in all of the additional water that gets added in.
But a barrel entry proof of 115 is still very low compared to the rest of the industry with the exception of Michter's (103), Maker's Mark (110) and George Dickel (115).
So what does this modern-day interpretation of Wild Turkey taste like? After their label change in late 2020, I decided it was as good of a time as ever to pick up another bottle of this bourbon stalwart to see how much I liked it. I sampled this neat in a glencairn.
Tasting Notes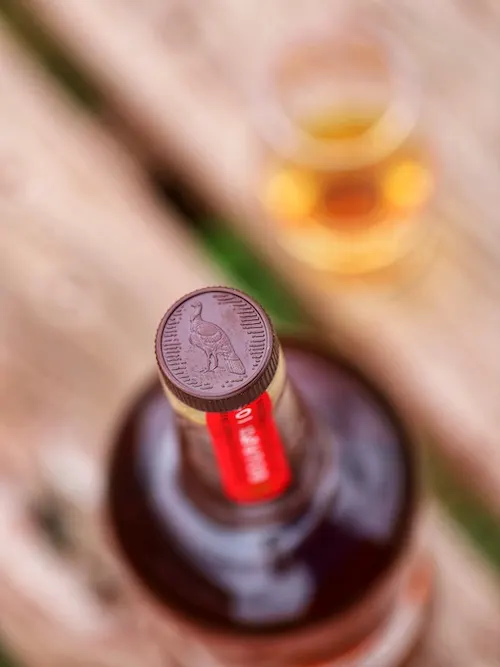 Nose: For 101 proof, I'd expect the nose to fairly bold. Yet WT101 takes it one step further. Candy bar scents immediately swell up with the scent of a melted Charleston Chew. The nuts lean more towards peanuts than anything else. Sweet and savory scents with a lingering spicy note (cinnamon, allspice) might make inexperienced drinkers think it's a higher proof than what it actually is.
Palate: Peppery spice and cinnamon give way to a touch of heat and sweetness. The sweetness comes by way of caramel candies and a bit of vanilla. There are some nice oak notes that seem well integrated despite its age. Chocolate can be found too if you look hard enough.
Finish: A rich and spicy finish with some rye spice notes and a hint of mint coupled with caramel sauce and oak spice. Cinnamon and a little bit of allspice continue to provide fantastic baking spice notes that provide a long lasting and pleasant finish.
Score: 6.2/10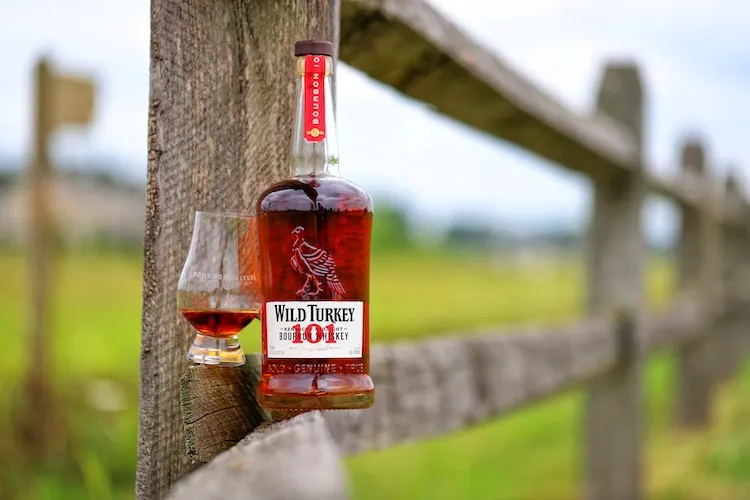 For the low cost of around $19, this score should impress the non-believers out there. WT101 is the real deal and a bourbon that would suit anyone well, particularly those with large collections that may find themselves drinking through expensive or rare bottles too quickly.
This is a no-nonsense bourbon with enough complexity to wow the casual drinker while also demanding the respect of an enthusiast.
It is also somewhat simple, relying on its textbook bourbon sweetness and a tad bit more spice (especially rye spice!) than your typical entry-level Buffalo Trace, Jim Beam or Heaven Hill products.
At this price (or even slightly more), this will always be the right answer if you're needing to restock on more budget friendly bottles.
Final Thoughts
While we may never see the return to the good old days of Wild Turkey 101 with 8 to 12 year age statements or with liquid so dark you can't see through the bottle, Campari still realizes that they must keep the quality inside of this bottle as high as they can.
And maybe, just maybe, if we're all patient enough, the time will come where WT101 regains its age statement and we'll have even more of a reason to celebrate this bottle all over again.
Ratings Breakdown
1 | Disgusting | Drain pour (Example: Jeffers Creek)
2 | Poor | Forced myself to drink it
3 | Bad | Flawed (AD Laws 4 Grain BiB, Clyde Mays anything)
4 | Sub-par | Many things I'd rather have (Tincup 10 year)
5 | Good | Good, solid, ordinary (Larceny, Sazerac Rye)
6 | Very Good | Better than average (Buffalo Trace, OGD BiB)
7 | Great | Well above average (Old Ezra Barrel Proof, Old Weller Antique)
8 | Excellent | Exceptional (Michter's Barrel Proof Rye, Four Roses Barrel Strength)
9 | Incredible | Extraordinary (GTS, 13 Year MGP or Canadian Rye)
10 | Insurpassable | Nothing Else Comes Close (William Larue Weller)
Featured Products
Description:

The Aged & Ore Neat Traveler is a complete travel kit for spirits. We combined our widely praised Neat Glass with one of our 3oz Flight Bottles and housed them together in a custom EVA travel case. Perfect for a night away with your favorite pour. The tie
Description:

The Aged & Ore Bottle Flight is a premium set of 4 custom silicone wrapped glass bottles designed to transport and share samples of your favorite spirits. The flight bottles come in a custom EVA travel case that fits perfectly in any small bag. An Aged &
Description:

This Bundle combines two of our crowd favorite products, creating the ultimate travel bundle to bring along your favorite spirits and glassware. Bundle Includes: Neat Traveler (Gray) Bottle Flight (Gray) Note: This bundle is only available in gray and col
*Bourbon Culture is reader-supported. When you buy through links on our site, we may earn an affiliate commission.