*Bourbon Culture is reader-supported. When you buy through links on our site, we may earn an affiliate commission.
To the casual drinker, Wild Turkey Rare Breed Bourbon is just another bottle that they can reliably find on the shelf of most liquor stores.
The bottle and label are somewhat generic to look at which would partly explain why it's always available. Of course enthusiasts of the brand would rather drink Malort straight from the bottle rather than see WTRB disappear from the shelves. Thank goodness it looks like it's not going anywhere soon.
Wild Turkey's Rare Breed was one of the original gangsters of barrel proof bourbons back at a time when barrel proof bourbons weren't really a thing.
Jackie Zykan of Old Forester said it best when she explained that all bourbon brands shunned the idea of bottling their bourbons at barrel strength because it was deemed irresponsible on the part of the distillery and not what a gentleman would prefer to drink in good company.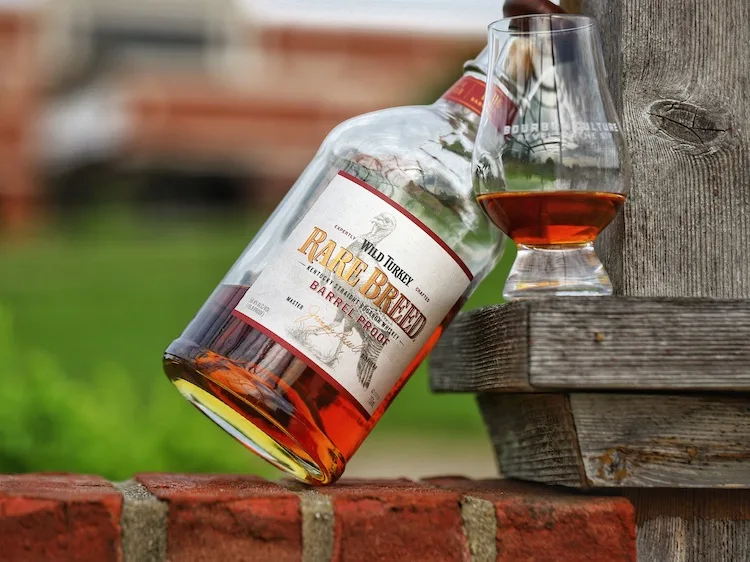 But times began to change and Booker Noe showed that there was a demand for barrel proof bourbon when he released his first batch of Booker's in 1988. Also worth noting: "gentlemen" did not become feral animals while drinking it (well, maybe a few did).
So whether Wild Turkey fans want to believe it or not, it was probably because of Booker Noe that we even have Rare Breed in the first place.
Released in 1991, Rare Breed was supposed to showcase what barrel proof Wild Turkey would taste like. It never carried an age statement but is generally assumed to be as old as the current iteration of Wild Turkey 101. Every few years or so, Rare Breed changes the look of the bottle and label and even gets a new proof.
The current iteration of Rare Breed has been around since 2017; wearing the same proof (116.8) and sporting the same label/bottle shape.
With each batch, the profile may change a bit but the overall character remains. Of note, all Rare Breed sold in the US has been chill filtered, a process that Jimmy Russell loathes.
However, he must have got his way with the bean counters at Campari enough to have them release a non-chill filtered version of Rare Breed that wears a unique darkened label and is sold at Duty-Free shops.
The most recent batch also supposedly contains a mix of 6, 8 and 12 year old barrels. The proof remains low because Wild Turkey barrels their bourbons at 115 proof which is about 10 proof points lower than almost all of the other major Kentucky distilleries.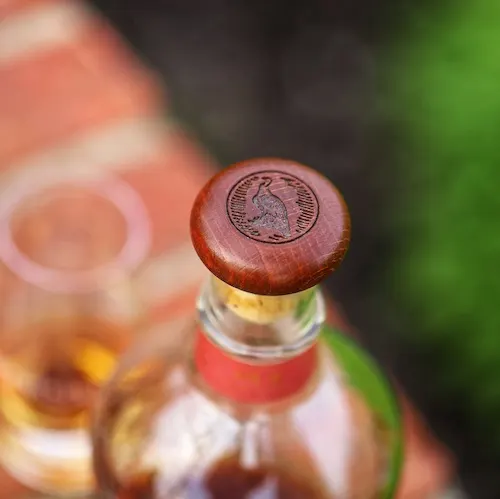 Modern day barrel proof bourbons (or those that are very close to it) are more common than they once were. This means that Wild Turkey can't rest on its laurels or else it will lose significant ground in such overcrowded landscape.
While many drinkers may directly compare Rare Breed to Elijah Craig Barrel Proof, Bookers or Stagg Jr, I personally find it to be more in competition with the likes of Old Ezra Barrel Strength 7 Year, Belle Meade Reserve, Knob Creek Single Barrel, Maker's Mark Cask Strength and Baker's.
I'm sure that many would disagree, but Rare Breed doesn't command the price of the previous 3 I mentioned and it is generally found on the same level shelf as the latter ones I mentioned.
So what did I think of Rare Breed? Here are my notes. I sampled this neat in a glencairn.
Tasting Notes
Nose: Scents of roasted nuts, cinnamon and toffee leave a great initial impression. There's a good amount of that classic Wild Turkey rye spice as well which is noticeable but not overbearing.
I get creamy vanilla cream that contrasts nicely with some oak and toasty grains. There's even a bit of citrus and stone fruits that can be found if your nose hangs around in the glass long enough.
Palate: Caramel sauce blends nicely with the flavors of peanut brittle while Flan shows off its vanilla/custard creaminess. Heat from the rye (and proof) are easy to manage with notes of red pepper flakes ginger root allspice and cinnamon. There's even a little bit of mint in there too.
Finish: A pleasant finish of oak, tobacco spice and sweetness. There is also a savory component that I liken to salted caramel. Cinnamon and clove spices remain but round out the whole finish perfectly.
Score: 7.6/10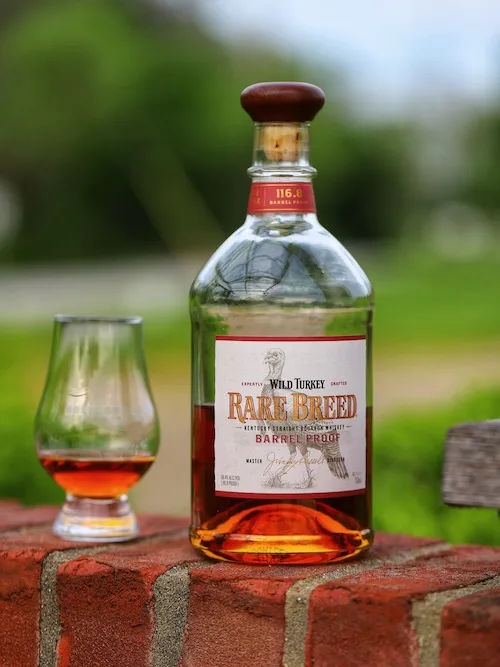 Rare Breed Bourbon is a fantastic example of a barrel proof bourbon that is rich and flavorful without being unbearably hot.
The community of bourbon drinkers have taken a shine to this particular label for a good reason, it's an excellent example of what Wild Turkey is capable of when fame and exclusivity aren't there to take away from the experience.
To change any other component about this whiskey would inevitably change the price, but I couldn't help but wonder what this would taste like if they decided to remove the 6 year old component and also stop chill filtering it.
Even if it was marked up an additional $10, a blend of 8 and 12 year old barrels might bring Rare Breed closer to the levels that I witnessed in this year's contender for "Best Whiskey of the Year," Russell's Reserve 13 Year Barrel Proof Bourbon. It will probably never happen, but every Turkey lover can dream, right?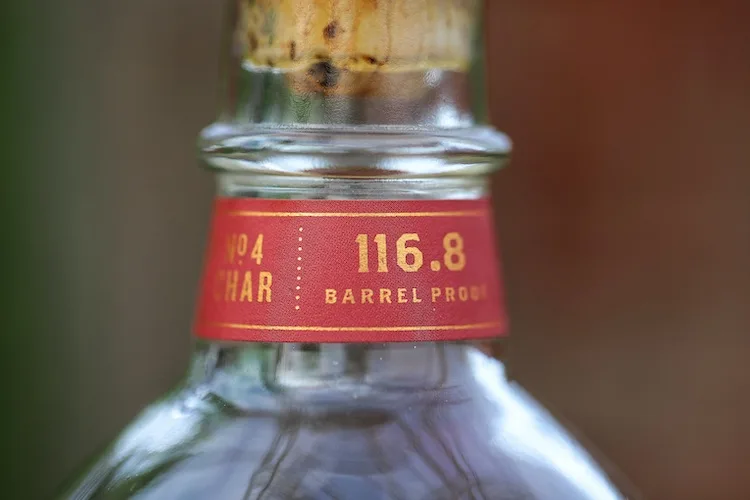 To sum everything up, there is a reason why Wild Turkey Rare Breed consistently makes various publications Top 10 lists (or 15 or 20 or whatever number they're using) for "must-have" bourbons to have in your bar.
It's because for the price and the flavors that this delivers, very few come close to it. It's also a great entry into getting new drinkers into liking more of that "high-rye" profile too.
Speaking of high-rye, I think it's about time I checked out their new Rare Breed Rye Whiskey for my next review. Stay tuned!
Ratings Breakdown
1 | Disgusting | Drain pour (Example: Jeffers Creek)
2 | Poor | Forced myself to drink it
3 | Bad | Flawed (AD Laws 4 Grain BiB, Clyde Mays anything)
4 | Sub-par | Many things I'd rather have (Tincup 10 year)
5 | Good | Good, solid, ordinary (Larceny, Sazerac Rye)
6 | Very Good | Better than average (Buffalo Trace, OGD BiB)
7 | Great | Well above average (Old Ezra Barrel Proof, Old Weller Antique)
8 | Excellent | Exceptional (Michter's Barrel Proof Rye, Four Roses Barrel Strength)
9 | Incredible | Extraordinary (GTS, 13 Year MGP or Canadian Rye)
10 | Insurpassable | Nothing Else Comes Close (William Larue Weller)
Featured Products
Description:

The Aged & Ore Neat Traveler is a complete travel kit for spirits. We combined our widely praised Neat Glass with one of our 3oz Flight Bottles and housed them together in a custom EVA travel case. Perfect for a night away with your favorite pour. The tie
Description:

The Aged & Ore Bottle Flight is a premium set of 4 custom silicone wrapped glass bottles designed to transport and share samples of your favorite spirits. The flight bottles come in a custom EVA travel case that fits perfectly in any small bag. An Aged &
Description:

This Bundle combines two of our crowd favorite products, creating the ultimate travel bundle to bring along your favorite spirits and glassware. Bundle Includes: Neat Traveler (Gray) Bottle Flight (Gray) Note: This bundle is only available in gray and col
*Bourbon Culture is reader-supported. When you buy through links on our site, we may earn an affiliate commission.