When Jackie Zykan and her team began the process of sorting through the 150 barrels that were pulled for the special 150th Anniversary bottling of Old Forester, she was intent on establishing a specific profile for each batch.
Those profiles are listed on Old Forester's official website, but as we know those profile notes may not always represent what you will find inside each bottle.
All three batches are comprised of barrels that had their staves air dried for 150 days and were all filled with the same mashbill. The barrels were then aged anywhere from 6 to 8 years in Old Forester's heat cycled warehouses.
So far the most enjoyable surprise while tasting all through all three batches has been how much each one reminds me of a different distillery's flagship bourbon.
Old Forester 150th Anniversary Bourbon Batch 1
OF150 Batch 1 was full of Buffalo Trace notes (a combo of GTS and WLW) while Batch 3 tasted more like a well-aged high-rye mashbill from MGP.
I didn't go in order of the batches, so Batch 2 is the one I end with. Based on the tasting notes that Old Forester provides on their website, Batch 2 should come closest to the Buffalo Trace profile (cherries, brown sugar, wood, etc).
It was impossible not to read some reviews on these batches before I had drank through each one and I was stunned to see many people preferring Batch 2 over all the rest.
I was intrigued by why that was, so I tried my best to go into this with an open mind. Which way would this batch lean? There's only one way to find out. I sampled this neat and in a Glencairn.
Tasting Notes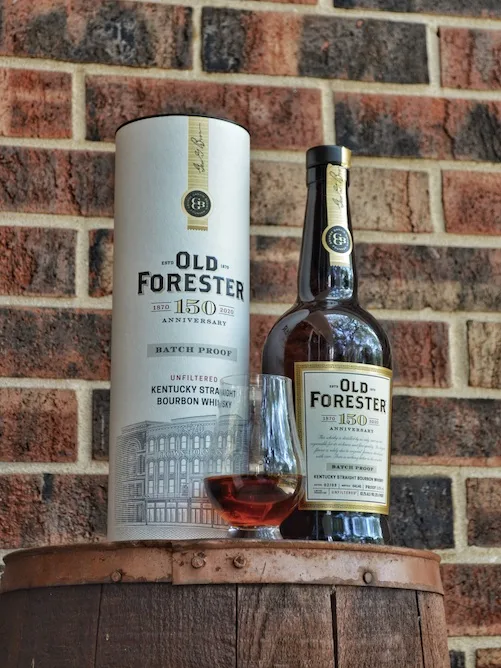 Nose: The nose leads with an explosion of intense toasted and seasoned wood. Words can't describe how incredible it is but I don't want to pull my nose out of the glass because it is that good.
Traditional bourbon scents are cranked up to "11" with notes of toffee, black forest cake and heavy vanilla. Spices abound, but the wood and sweet scents dominate.
Palate: A sweet and spice-filled experience of cinnamon, Bing cherries and seasoned oak. The chocolate on the tongue reminds me of brownies while a sweet, nutty flavor is found that I compare to candied pecans.
Some of the rye in the mash bill is making itself known with the prickly spice of peppercorns and hints of fresh squeezed citrus juice.
Finish: The oak continues to shine and transform as the drink goes on. For the finish, it is more like a honey'ed oak flavor. Cinnamon spice, mint and tarragon show off the rye grain traits while cherry cough syrup and toasted brown sugar add the sweetness. Rich tobacco notes add even more depth.
Score: 9.2/10
I am stunned. This bottle is the stuff of legends and has become my favorite of all three batches of Old Forester's 150th Anniversary release.
At first I didn't want to believe it was the best, but it's just so robust and flavorful that there's no use trying to act like it's anything other than spectacular.
Easily tasting years older than it actually is, this bottle has it all. It carries the 1-2 punch of the best flavors bourbon has to offer. It is one of the best products you can probably get from Old Forester without spending stupid money for King of Kentucky.
I had previously believed that Batch 3 was the best and most interesting batch of the three (because I love MGP), but this one just blew my mind. If you want the closest interpretation of a GTS (except with a bit more rye in the mashbill), this is your ticket.
But don't take this review as saying the other two batches of 150th Anniversary are not worth your time. Each batch is unique and outstanding in its own way.
In fact, there was quite a bit of internet fighting online about which batch was best. In reality, it all comes down to which way your palate aligns and what you enjoy drinking.
For me, even though I'm a huge MGP fan, I did think that Batch 2 was the most satisfying overall. But all 3 are definitely worth getting if you can.
Final Thoughts
Old Forester 150th Anniversary was a resounding success story of just how high caliber their products can get. After seeing the rapid expansion of products bottled at higher ages with higher proofs, I am anxiously awaiting to see what's next.
150th Anniversary should by no means be the stopping point for an extra-aged, high proof product coming out of their warehouses.
In 2021, we've seen an increase of better single barrel products coming out of their warehouses to the masses but nothing quite beats a purposely sorted and batched bourbon like these. Old Forester has shown they have the barrels, now can they find an excuse to make another limited release so we can taste these again?
Ratings Breakdown
1 | Disgusting | Drain pour (Example: Jeffers Creek)
2 | Poor | Forced myself to drink it
3 | Bad | Flawed (AD Laws 4 Grain BiB, Clyde Mays anything)
4 | Sub-par | Many things I'd rather have (Tincup 10 year)
5 | Good | Good, solid, ordinary (Larceny, Sazerac Rye)
6 | Very Good | Better than average (Buffalo Trace, OGD BiB)
7 | Great | Well above average (Old Ezra Barrel Proof, Old Weller Antique)
8 | Excellent | Exceptional (Michter's Barrel Proof Rye, Four Roses Barrel Strength)
9 | Incredible | Extraordinary (GTS, 13 Year MGP or Canadian Rye)
10 | Insurpassable | Nothing Else Comes Close (William Larue Weller)
Featured Products
Description:

The Aged & Ore Neat Traveler is a complete travel kit for spirits. We combined our widely praised Neat Glass with one of our 3oz Flight Bottles and housed them together in a custom EVA travel case. Perfect for a night away with your favorite pour. The tie
Description:

The Aged & Ore Bottle Flight is a premium set of 4 custom silicone wrapped glass bottles designed to transport and share samples of your favorite spirits. The flight bottles come in a custom EVA travel case that fits perfectly in any small bag. An Aged &
Description:

This Bundle combines two of our crowd favorite products, creating the ultimate travel bundle to bring along your favorite spirits and glassware. Bundle Includes: Neat Traveler (Gray) Bottle Flight (Gray) Note: This bundle is only available in gray and col
*Bourbon Culture is reader-supported. When you buy through links on our site, we may earn an affiliate commission.