Colloquially known as just "Lot B" by enthusiasts, the 12 year old version of bourbon from the Van Winkle line has an interesting backstory on why it's known by this term. According to Julian Van Winkle III, he had separated his 12 year old barrels into two lots back when he was running his operations at the Old Commonwealth Distillery in 1991. Lot A was supposedly a very small group while Lot B was much larger.
Many have speculated that Lot A was the superior batch of barrels. Regardless, he began to bottle and sell them both at the same time. Lot A sold out much faster than Lot B mainly because there were less. Lot B barrels were so plentiful that it took multiple years to sell out.
When it came time to organize another release of 12 year old barrels, Julian decided to keep the Lot B name because more customers were now familiar with it.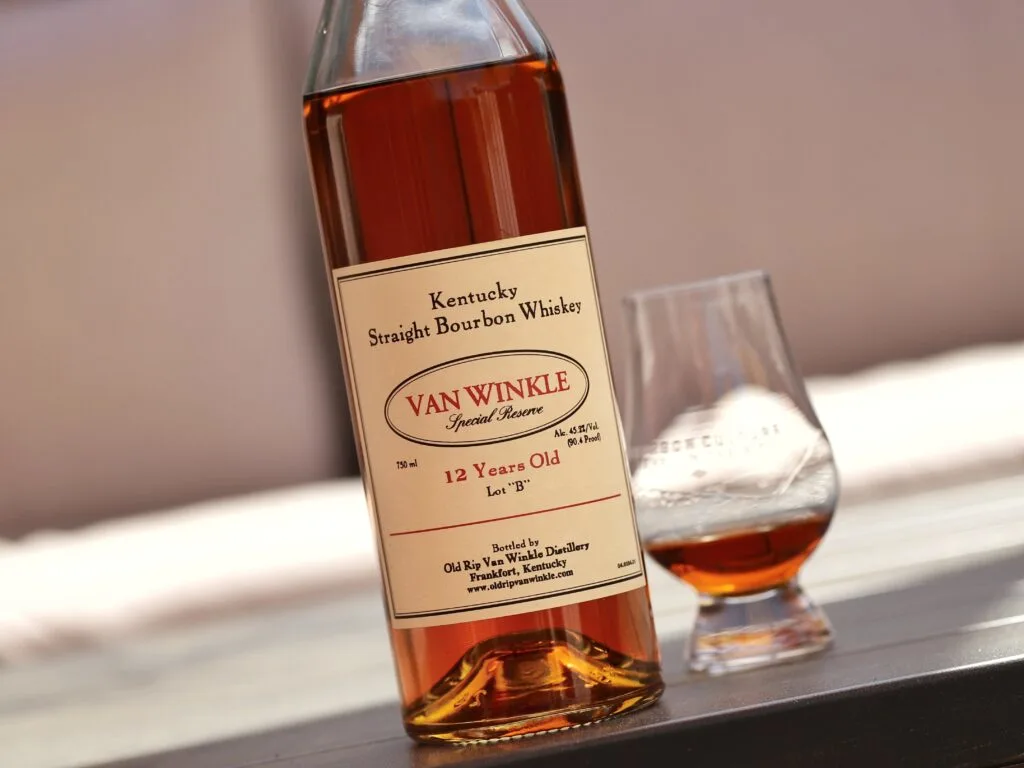 Julian's main purpose of creating Lot B at the specifications that it was bottled at was to showcase a lower proof, more mature version of his bourbon to Scotch or Canadian Whisky drinkers so that they could see that it could be just as approachable.
Yes, a 90 proof version of Old Rip Van Winkle 10 year existed at the same time, but Julian felt that the extra 2 years really helped show off the delicate profile of his wheated bourbon. Lot B was going to show him if older bourbons had the audience he hoped existed (remember, this was still during the glut where nobody was buying bourbon). Since it still exists, one must assume that his idea was successful.
Contrary to Old Rip Van Winkle 10 Year, Lot B has always been sold in the bottle shape that it currently is today (which is a derivative of a wine bottle). The label features no images and is rather plain. It's always been bottled at 90.4 proof too.
The main label difference the bottle has gone through has been the change of the wording at the bottom from "Bottled in Lawrenceburg (Kentucky)" to "Bottled in Frankfort." This change occurred after Julian and Buffalo Trace came to a partnership agreement in 2002.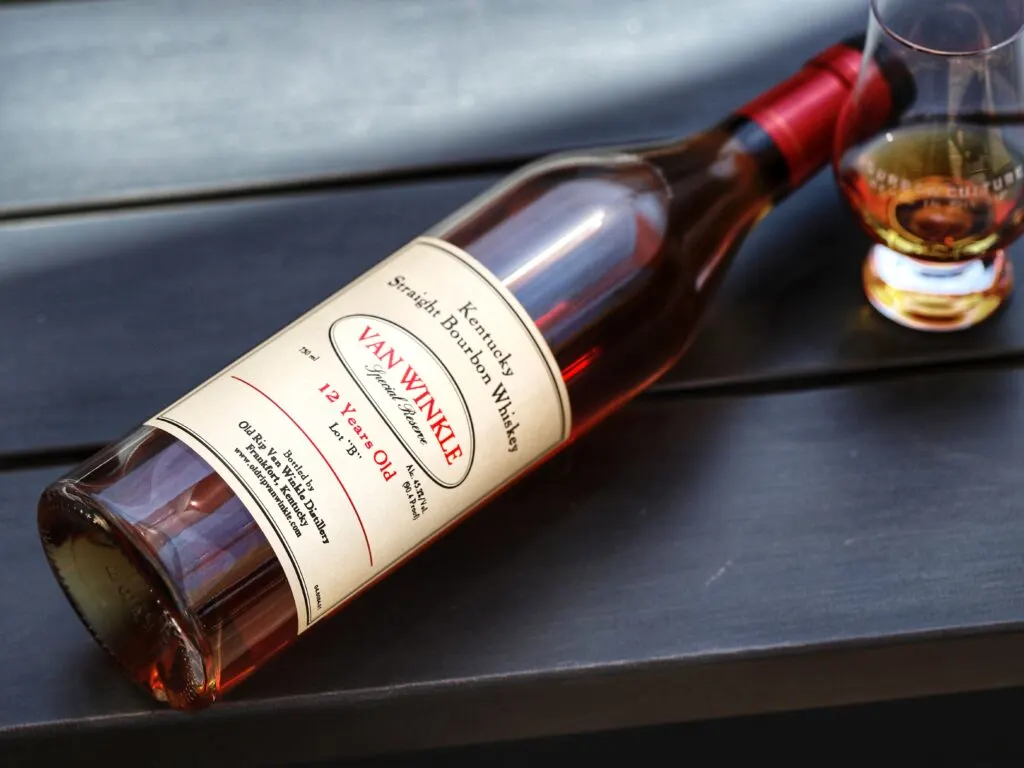 12 Years Old, wheated and 90 proof. Where have I seen this before?
One of the more obvious comparisons to Lot B is Weller 12 Year. A quick search on YouTube will result in many different talking beards giving you a hot take on which is better.
Realistically, the differences aren't glaring to me and I think most people are trying to convince themselves that Weller 12 is the superior value or that Lot B is so much better because they spent a lot of money on it.
The bottom line is that they're both similar. Even just tasting one of them gives you a pretty good idea of what the other is going to taste like. But I won't spoil the tasting notes just yet.
Lot B vs Old Rip Van Winkle
Another bourbon that gets compared to Lot B is Old Rip Van Winkle 10 Year. Yes, 17 proof points and 2 years of age separate the two, but here's why different kinds of enthusiasts prefer one over the other.
Those that prefer Old Rip Van Winkle are typically looking for a more robust tasting bourbon at the expense of it being slightly more untamed. I wouldn't exactly call ORVW untamed, but the tannins haven't fully blossomed into the full spectrum of varnishes, chocolates and semi-drying antique tastes that older versions of Pappy are known for.
Lot B has a more mellow character that allows your tastebuds to not get overwhelmed by the proof. This allows lighter flavors like vanilla, delicate sweets and floral bouquets to be noticed.
The difference on the secondary market isn't huge either. Sometimes I've seen $200 separating the two (favoring the Lot B) but I believe that their secondary prices should be the same. To most enthusiasts that prefer higher proofed bourbons, they'll never consider spending more on the less-punchy Lot B.
For Lot B enthusiasts, they don't want the extra proof because… well I don't know why. I'm baffled every time somebody tells me they prefer it over ORVW. But since Pappy 15, 20 and 23 year old versions are extremely hard to come by (and exponentially more pricey), Lot B and ORVW are are really the only two choices you have if your funds are somewhat limited but you want something with the Van Winkle name on it.
So how does Lot B taste? Let's find out with this bottle from 2022 and see if all the trash I just talked about it is justified. As usual, I sampled this neat in a glencairn.
Tasting Notes
Nose: Rich, sweet scents of caramel and berries (cherries too) wrap around an older oak and wood varnish aroma. Delicate vanilla notes mix with soft baking spices. But don't mistake that for tingly spices, they are very subdued.
And try as I might, I just don't find any floral notes on the nose. Bummer. Still, this is a nuanced bourbon from the very first sniff but it's not very strong. You could mindlessly smell this all day long and it would be very enjoyable, but not all that unique.
Palate: The oak flavors that hit my tongue taste slightly older than the 12 years it has spent in the barrel. That's a good thing! But the whole dram is overall smooth and inoffensive.
Digging deeper past the standard mix of sweets and fruits (like cherries and other red fruits), I find notes like Tootsie Roll and Cinnabon rolls. There's even a touch of anise and clove that gives each sip a low ping of heat. Overall this is exactly as I expected – sweet, mellow and fully mature.
Finish: Fruit flavors linger the longest on my tongue with flavors of berry jam giving a nice coating effect. Sweetness also comes from caramel hard candies while a gentle wash of oak hangs around. Ground cinnamon provides some extra zing that allows the finish to last a bit longer too.
Score: 7.9/10
Let me take a minute and explain why the score I gave this bottle of Lot B is neither a good or a bad thing. For starters, Lot B was a very pleasant sipper with absolutely nothing wrong with it in terms of flaws.
Each sip shows that Buffalo Trace is at the very top of their game when it comes to distilling and aging their bourbon. Lot B barrels are also much more nuanced at this low proof. Every sip was a joy and nothing was out of place.
For a bourbon that plays it as safe as this Lot B does, there's not much excitement to be had. Maybe that's your jam though – and if it is, then this bourbon is for you. But if you desire to have a little bit more kick in your glass, don't expect to find it here.
I find myself to be like that and usually answer "what's your favorite Pappy?" with the answer "William Larue Weller!" Settle down – that just a joke (that still happens to be true) that shows how good Buffalo Trace's wheated bourbon is at higher proofs.
So if you're like me, either don't buy this bottle or if you already have, find a way to trade up for it.
Final Thoughts
The early years of exploring bourbon are in the rear view mirror for me. That doesn't mean I've turned snobby, but I have a much better sense of what's out there that is worth the time and money to pursue. Lot B just isn't that kind of bottle to me. If it is for you, then awesome!
This review probably won't change your mind. But if you view bourbon drinking as more of a journey of exploration rather than a destination where you find what you like and put it in park, then I urge you to keep looking. Lot B may have the genes from a very good bloodline, but that doesn't mean you have to go out of your way to buy one for yourself.
Featured Products
Description:

The Aged & Ore Neat Traveler is a complete travel kit for spirits. We combined our widely praised Neat Glass with one of our 3oz Flight Bottles and housed them together in a custom EVA travel case. Perfect for a night away with your favorite pour. The tie
Description:

The Aged & Ore Bottle Flight is a premium set of 4 custom silicone wrapped glass bottles designed to transport and share samples of your favorite spirits. The flight bottles come in a custom EVA travel case that fits perfectly in any small bag. An Aged &
Description:

This Bundle combines two of our crowd favorite products, creating the ultimate travel bundle to bring along your favorite spirits and glassware. Bundle Includes: Neat Traveler (Gray) Bottle Flight (Gray) Note: This bundle is only available in gray and col
*Bourbon Culture is reader-supported. When you buy through links on our site, we may earn an affiliate commission.