*Bourbon Culture is reader-supported. When you buy through links on our site, we may earn an affiliate commission.
I have never owned a bottle of any flavored whiskey in my 5 short years of bourbon reviews. But have I accepted shots of Skrewball, Fireball or Wild Turkey American Honey in the past? You betcha. Those instances were more of an "in the moment" kind of thing, not because I was actively seeking them out.
I cannot avoid flavored whiskies forever though. There market share will ensure that there will be new ones for decades to come.
It might also be bourbon's best chance for future survival since they help lure customers who would have never considered bourbon before. It's like we're in a reboot of the flavored vodka trend of the early 2000's – only with whiskey.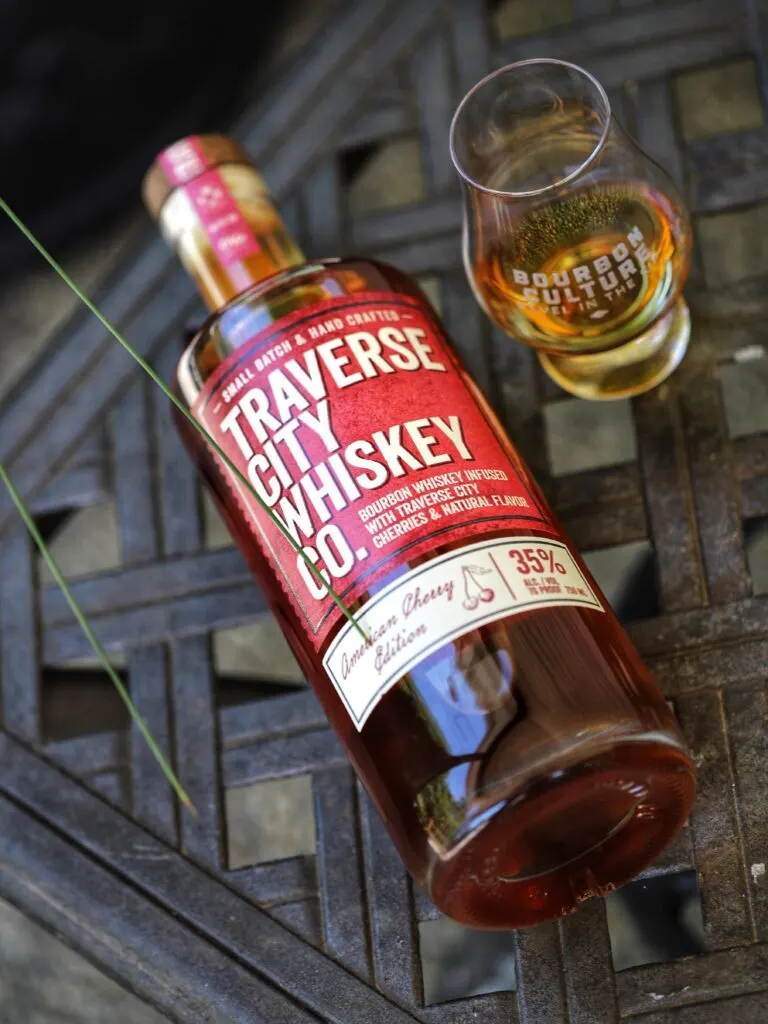 But there must be some sort of distinction made between brands who mass produce artificially-flavored whiskey versus the ones who artfully labor over the precise blending of natural ingredients with aged whiskey or bourbon. Traverse City's American Cherry Edition falls into the latter camp.
For the record, American Cherry Edition cannot be labeled as a bourbon even though that word does appear on its front label. Traverse City Whiskey Co (TCWC) is allowed to put it there because it did technically start as a batch of four barrels of bourbon each aged for at least five years.
But since cherries are added directly into the bourbon, it can't be called bourbon outright. Those cherries, by the way, are said to be hand-picked at their orchard and immediately transported into their distillery to be added into the vat of bourbon.
And while we're on the subject of what this can and can't be called, it technically can't be called a "whiskey" either because it's not bottled at 40% ABV (80 proof). That's the minimum proof for a spirit to be called a whiskey in the US.
How TCWC American Cherry Edition is made
The cherries I just spoke about are added directly into the batch of bourbon and allowed to "steep" for 3 days. That's it! I was quite shocked to hear that was all the more time they need because I've seen finished whiskies needing months or maybe even years to gather all of that flavor. I guess that's what happens when you add in the ingredient directly.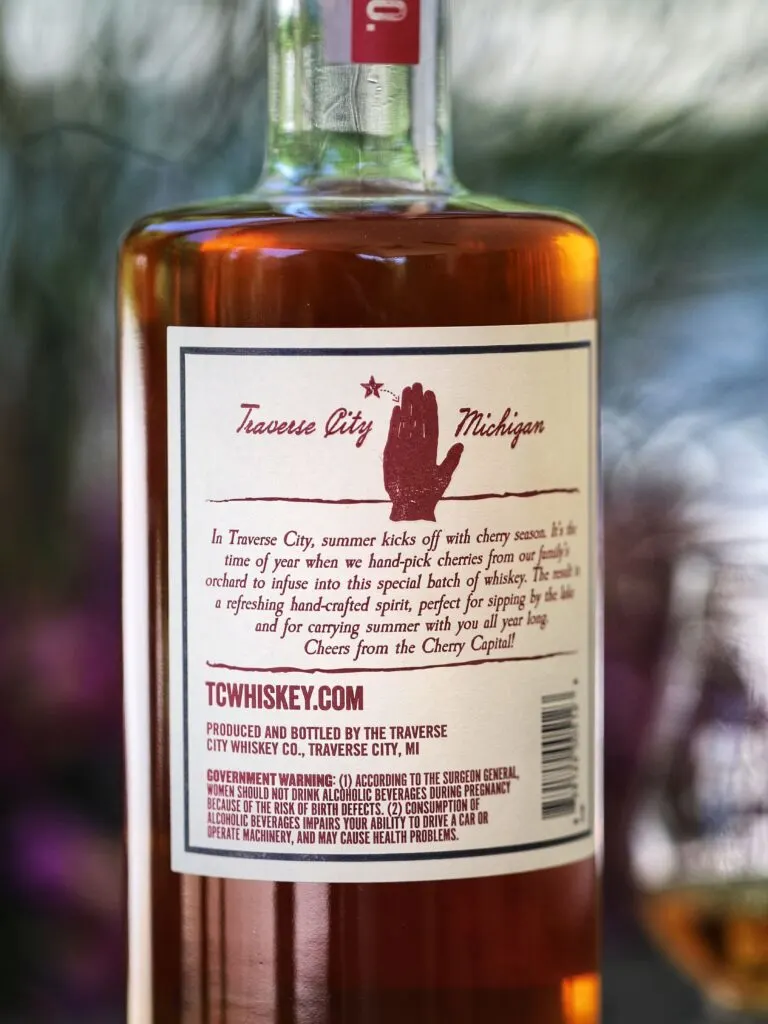 TCWC takes great pride in their cherries which is why this "whiskey" was created in the first place. I'm not quite sure what the purpose of a bottle like this is, but I have to assume it was made to be up to the consumer on how to use it.
I've heard of many people using it in Old Fashioned's while others like to sip it neat. Many reviewers have commented on how it is too sweet to sip neat. But that's probably just a matter of preference. What was my opinion on that? Read on to find out. I sampled this neat in a glencairn.
Tasting Notes
Nose: This smells exactly like a jar of Maraschino Cherries. There is no other note as dominant as that. Even the smell of bourbon is non-existent. It takes quite a while to find any other kinds of notes, but I think I can detect some crème and chocolate here and there.
Palate: No surprise here, maraschino cherries are almost all that I can taste too. The mouthfeel is thin but overall, there aren't as many flavors out there that are as pleasant as these kinds of cherries. What I'm trying to say is that I'm happy with what I'm tasting, but it's not what I was looking for in a whiskey.
I do eventually find a bit of burnt char or burnt toffee coming through, but it's barely detectable behind the wall of cherry flavor.
Finish: The finish seems like it's going to be short and sweet, and it kind of is. One thing I don't enjoy much about it is how it starts to leave a sickeningly sweet aftertaste – like drinking a warm cherry coke. Not my favorite way of ending a drink, but not surprising.
Score: 5/10
I am not upset with how this tasted at all. In fact, it was kind of a nice change of pace from all of the bourbon and rye I drink. There's really nothing standing in the way of you and pure maraschino cherry bliss. And if that's your thing, you're going to be in heaven.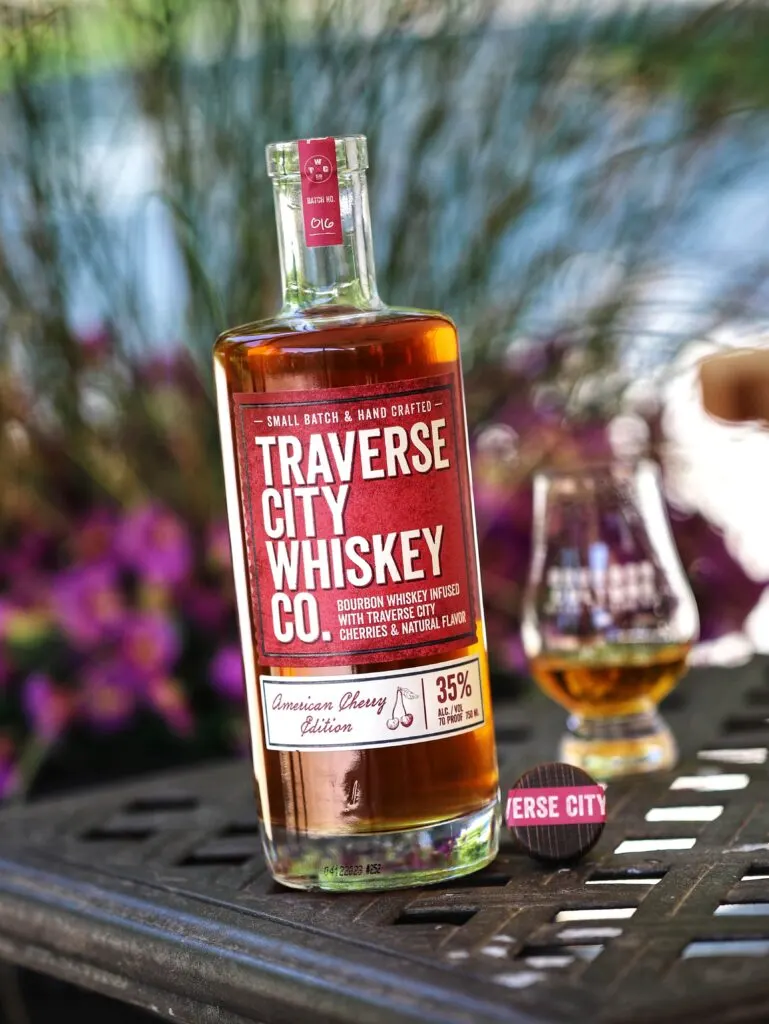 Final Thoughts
I think I'm going to use this as a substitute in some of the cocktails that require Luxardo Cherry Liqueur and see what happens. That's probably not a good idea, but after tasting this I'm more curious to see how it can shape the direction of a cocktail.
And I think that's one of the reasons why bottles like this are made – for anyone to explore creative ways to use them.
I also think it's obvious that Traverse City really wanted to create a product that would blend together two things they want to be known for – and they succeeded.
Of note, they have a barrel proof version too that is supposedly made more for bourbon drinkers because it's focuses on the bourbon being the star of the show. So whatever kind of drinker you identify as, Traverse City has you covered.
Featured Products
Description:

The Aged & Ore Neat Traveler is a complete travel kit for spirits. We combined our widely praised Neat Glass with one of our 3oz Flight Bottles and housed them together in a custom EVA travel case. Perfect for a night away with your favorite pour. The tie
Description:

The Aged & Ore Bottle Flight is a premium set of 4 custom silicone wrapped glass bottles designed to transport and share samples of your favorite spirits. The flight bottles come in a custom EVA travel case that fits perfectly in any small bag. An Aged &
Description:

This Bundle combines two of our crowd favorite products, creating the ultimate travel bundle to bring along your favorite spirits and glassware. Bundle Includes: Neat Traveler (Gray) Bottle Flight (Gray) Note: This bundle is only available in gray and col
*Bourbon Culture is reader-supported. When you buy through links on our site, we may earn an affiliate commission.