*Bourbon Culture is reader-supported. When you buy through links on our site, we may earn an affiliate commission.
If you've ever met me and had a chance to glance in my whiskey closet, you'd know that the number of Four Roses store picks I have is rivaled only by the number of Russell's Reserve store picks I have.
This is not meant to brag. I just genuinely love exploring the different warehouse maturation styles on Wild Turkey. I have my friend Rarebird101 to blame for that.
Scanning the ages of all of my picks, I find that I don't have one over 9 years old. Once upon a time, these used to carry a 10 year age statement minimum. On rare occasions, there have been 12 to 14 year old barrels that get put into the modern Single Barrel program.
Those are rare, but they exist (and usually the entities that get them hold onto them pretty tightly).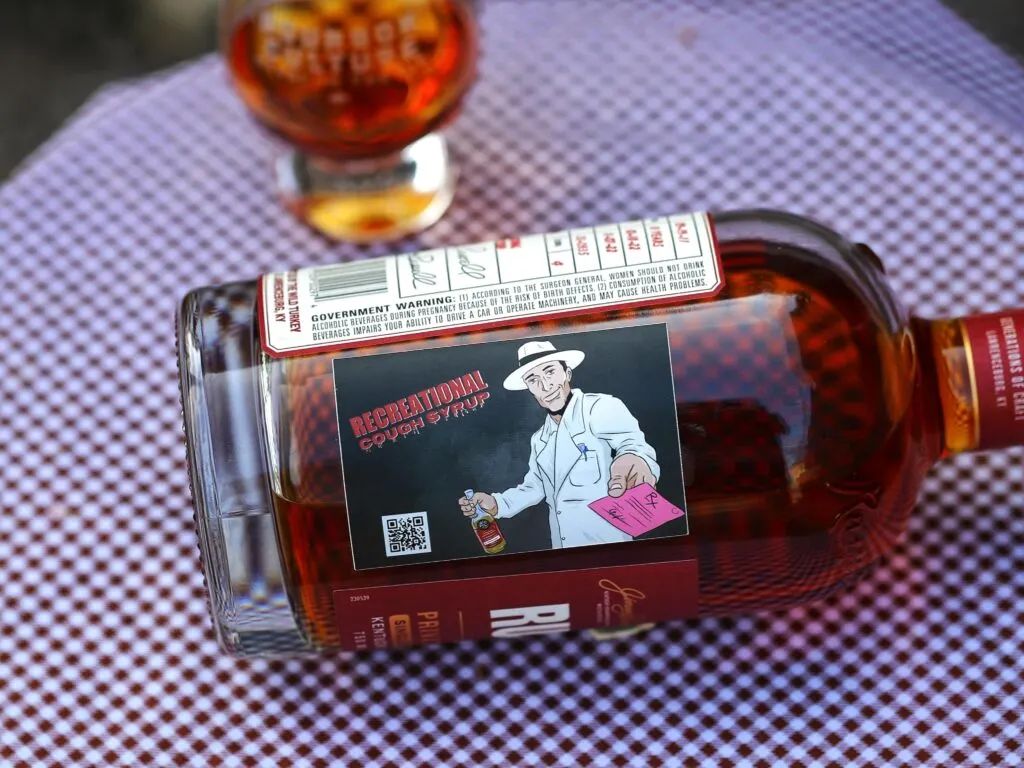 Russell's Reserve Single Barrel Bourbon
This is why I was shocked when I learned that Wiseguy's Lounge, part of the Goodfellas Pizza Chain in Louisville Kentucky, had managed to pick their own 11 year old barrel.
When I was first told of the age by my friend James, I thought he had misquoted it. A short visit later (and $100 lighter) proved that yes, this really was an 11 year old pick.
Deciphering "Recreational Cough Syrup's" information tag
Did you know that there is a place on the internet that will tell you which Wild Turkey rickhouses were selected for that year's barrel picks? Not only that, but it'll give you the details on which floors they aged on, which campus they came from and the approximate age of the barrels that were pulled?
It's true. All you have to do is head on over to Rarebird101's website and check out his Wild Turkey Release Calendar.
I've found Rarebird's calendar to be invaluable when it comes to determining which years contained my favorite warehouses (so I know how to ask for it on secondary pages) or to get hyped about when I see certain warehouses being picked from in the following year. Personally, I'm a fan of Tyrone Rickhouses B, D, E and K.
Anyway, a quick glance at his graphs might convince you that this particular barrel belongs to the batch of barrels from 2022's Tyrone E Rickhouse (floor 4).
Not so fast though! Learning to decipher the barrel number will actually tell you that this barrel was originally pulled in 2020 to be part of the single barrel program. It still comes from the same warehouse and floor though. It's almost certainly from a different spot on that floor though.
What does this mean? That this barrel has been setting around for 2 years waiting to find a home. Either it's been passed over by groups for that long (yikes) or there was some other unknown reason to explain why it was lost and then found in 2022. We'll probably never know.
Ok, enough with the exposition, it's time to get down to drinking this one! Bottoms up to the oldest (modern) RRSIB I've had to date. Let's hope it's everything I want it to be. This was sampled neat in a glencairn.
Tasting Notes
Nose: The oak scents I find on the nose make this one of the most mature smelling modern-day Russell's I've had yet. It's on the cusp of developing a nice varnish note, just like the first batch of Russell's Reserve 13 has. There's a good amount of fruit on the nose too – like apple and cherry strudel. Baking spices are easy to smell with cinnamon and nutmeg being most dominant. Surprisingly, I even smell chocolate, something that I rarely find in Wild Turkey products.
Palate: Hello fruit! Wow, I don't normally find fruit outside of cherries and apples in Wild Turkey bourbon, but this one has so much more. I'm finding peach and raspberry preserves as well as some orange zest. Did they accidently bottle a Buffalo Trace barrel? (kidding) The oak doesn't come off as old as I was thinking it would be, but it still pulls its weight along with a small amount of cigar wrapper.
I figured there was a fair amount of exaggeration when the pickers landed on the "cough syrup" name, but it does ring true.
It's not really medicinal tasting but it does have a menthol kind of feeling as you drink it. One of the best parts for all of you enthusiasts that love texture is how creamy the mouthfeel is. This is a really enjoyable Wild Turkey all around.
Finish: Lingering notes of cherry crème keep the finish sweet and fruity while a dash of baking spices give it a pleasant, persistent burn. A small amount of tannins remind you of the age while some rye spice and citrus flavor add more depth. Overall, the finish strikes a more simple tone but one that anyone can appreciate.
Score: 8.3/10
This is high on my list as one of the more outrageous Russell's Reserve picks I've had. This one sidesteps some of the more common (at least to me) modern Wild Turkey profile notes like PayDay candy bar and cooked apples and finds itself swimming with fruit.
The oak on the nose is the best I've had in a modern Russell's Reserve too. I was worried that $100 was too much for an RRSiB pick, but after a week with this bottle, it's been worth every penny.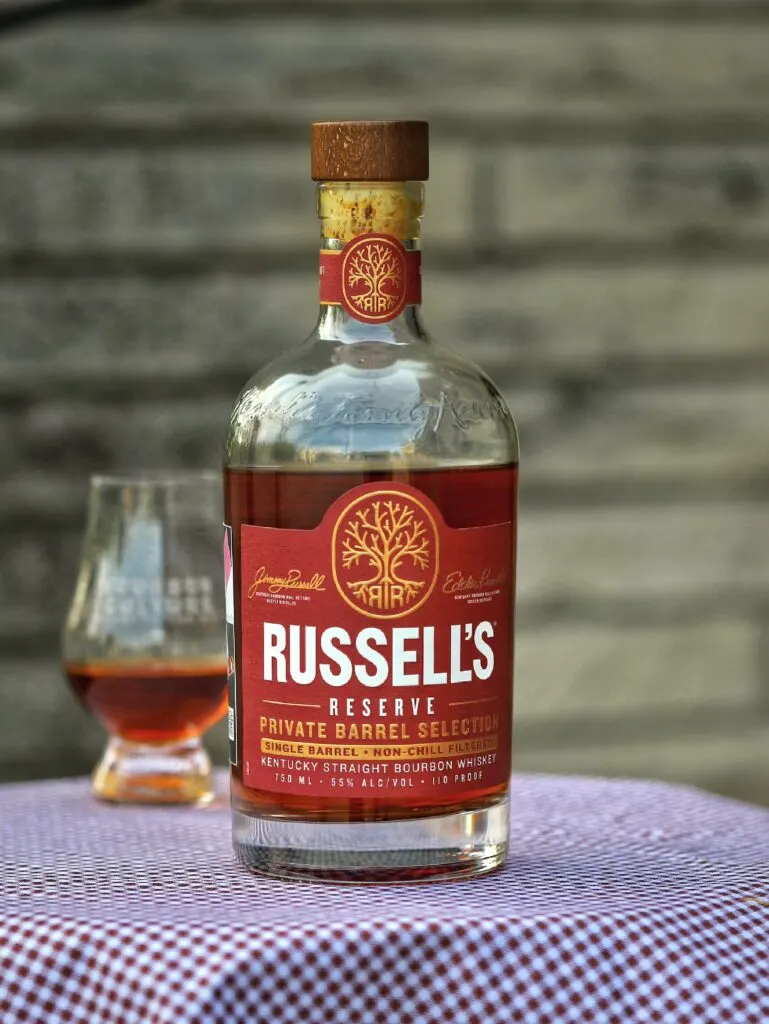 Final Thoughts
Sometimes I don't understand the hate that enthusiasts give to off-profile picks. Why do you want a single barrel of something if it tastes like everything else that company produces? The reason why I say this is because a lot of Russell's Reserve picks taste so similar. That's what makes finding a pick like this such a joy.
As for why this barrel sat around for 2 extra years before somebody picked it is anyone's guess. Sometimes a whole rick gets emptied and there's a barrel or two that just weren't ready to be bottled. That may have been the case here but I'd like to think that all that extra time laying around has turned this ugly duckling into the beautiful swan it is today.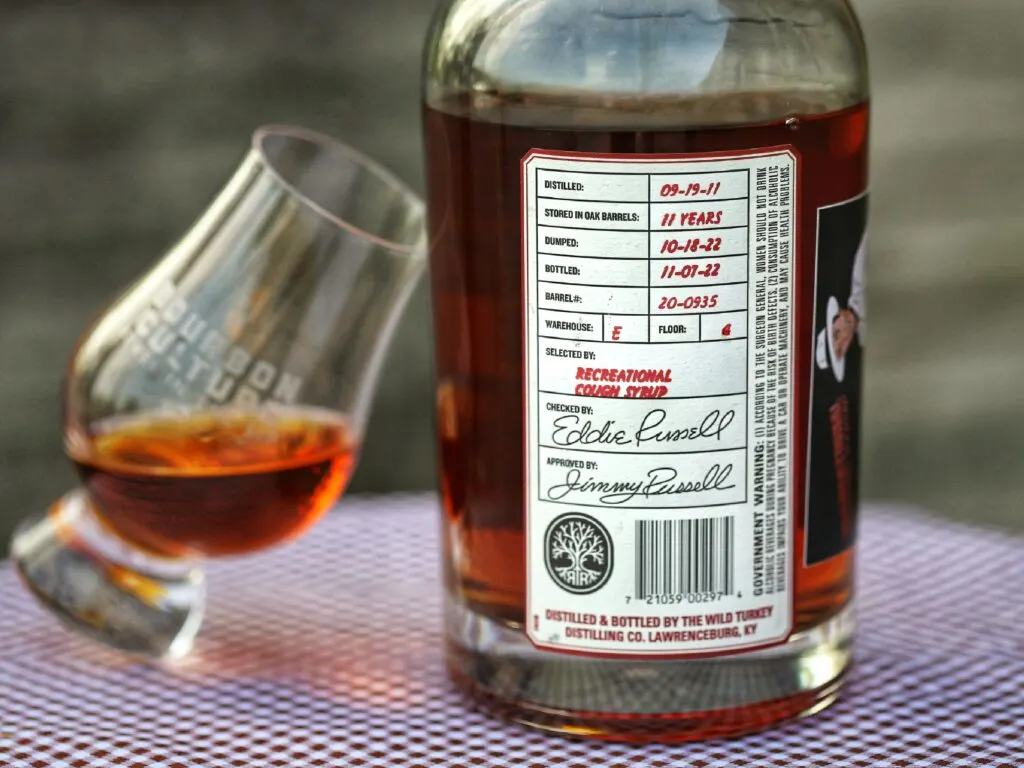 Featured Products
Description:

The Aged & Ore Neat Traveler is a complete travel kit for spirits. We combined our widely praised Neat Glass with one of our 3oz Flight Bottles and housed them together in a custom EVA travel case. Perfect for a night away with your favorite pour. The tie
Description:

The Aged & Ore Bottle Flight is a premium set of 4 custom silicone wrapped glass bottles designed to transport and share samples of your favorite spirits. The flight bottles come in a custom EVA travel case that fits perfectly in any small bag. An Aged &
Description:

This Bundle combines two of our crowd favorite products, creating the ultimate travel bundle to bring along your favorite spirits and glassware. Bundle Includes: Neat Traveler (Gray) Bottle Flight (Gray) Note: This bundle is only available in gray and col
*Bourbon Culture is reader-supported. When you buy through links on our site, we may earn an affiliate commission.