*Bourbon Culture is reader-supported. When you buy through links on our site, we may earn an affiliate commission.
The Stoll and Wolfe brand has a fascinating backstory about how they got started and how their lineage could technically be grouped in with Michter's. In my in-depth article on Michter's: Past, Present and Future, I talk about how Joe Magliocco purchased the rights to the abandoned Michter's name in the late 90's. Joe decided to relocate the brand to Kentucky instead of Pennsylvania because all of the best whiskey making talent was there.
Origin Story of the Stoll and Wolfe Brand
Two decades later, a scrappy young entrepreneur named Erik Wolfe wanted to bring distilling back to the original location where Michter's once stood in Schaefferstown, PA. When he found out that he could no longer use the name Michter's, he decided to use the name "Bomberger's" instead. This was the name of Michter's distillery prior to the 1940s. He even went as far as seeking out former Michter's Master Distiller, Dick Stoll, who still lived nearby. He asked Dick if he would help him resurrect the brand and create a new generation of Pennsylvania whiskey. Even at the ripe age of 80, Dick jumped at the chance.
Joe Magliocco and his distillery soon found out about the new Bomberger's startup (and pending name trademark) in Pennsylvania. It is assumed that he had his team hastily create a new bottle and brand under the same name in order to beat them to the market. It was close, but Joe's Bomberger's Declaration beat Erik and Dick's Bombergers to the market by a few months in late 2013/early 2014, but they weren't released in the same states just yet. The bottles looked nothing alike, but the name was.
Joe wasted no time in also releasing another label called Shenk's (which was the original name of the entire distillery). This would set his brand up for the impending naming rights lawsuits that were soon to follow. Once liquor stores started to run into problems with which Bomberger's to re-order, the phone calls started coming in. This led to a showdown in court over the name. Once the dust settled, it was Joe Magliocco who had won the rights to all 3 names. This forced Erik Wolfe and Dick Stoll to rename their operation. They settled on Stoll and Wolfe.
With the Bomberger's name taken away, Stoll and Wolfe is born
For the next 6 years until his death, Dick Stoll worked tirelessly to perfect the recipe and techniques necessary to revitalize the Pennsylvania Rye Whiskey category. While their own distillate has been aging, they have been sourcing bourbon and rye whiskey from MGP in Indiana. Much of their early stuff blended together rye whiskey and bourbon (so it was unable to be called either) to try and imitate the strange 50% corn, 38% rye, 12% malted barley recipe that Michter's originally used from the 50's to the 80's.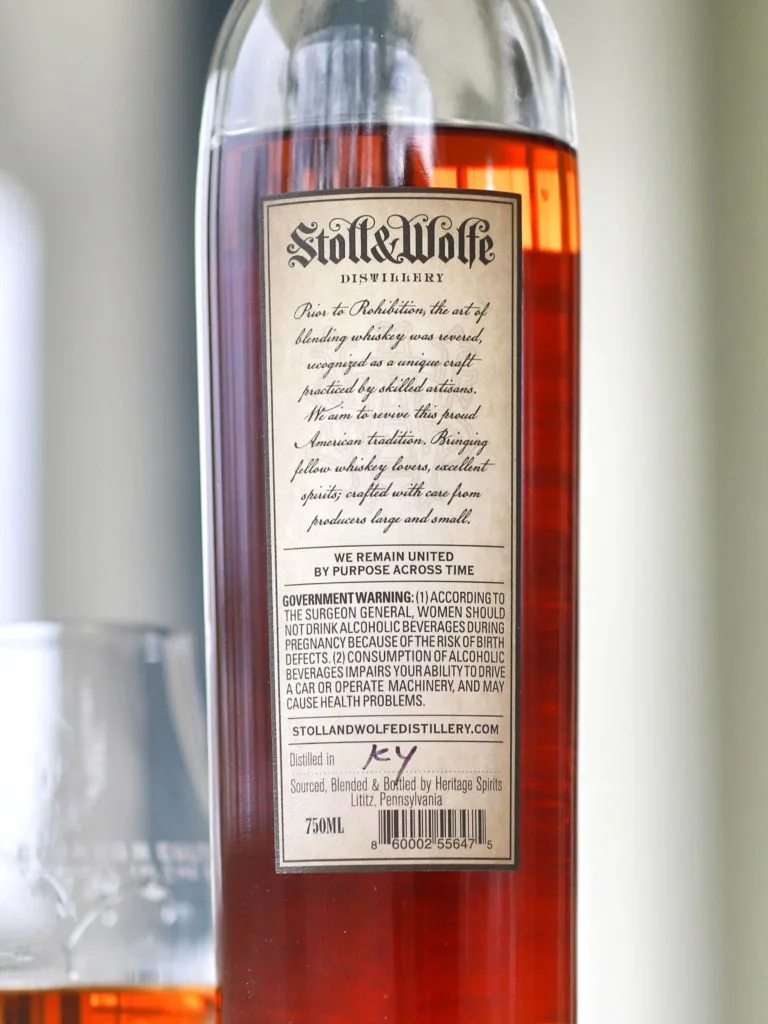 Last year the Stoll and Wolfe distillery rolled out with a single barrel of rye whiskey under their new "Kindred Spirits" line. It was released at the same time that the second tribute bottling of bourbon was released in honor of Dick Stoll's birthday. Both would be released only in Pennsylvania. A good friend of mine who lives in the state told me that he could help me get either of those releases if I wanted them. Since Dick Stoll's birthday bourbon was 9 year MGP, I decided to pass on it because I have a lot of MGP bourbon in my collection. But when I saw a 7 year old rye whiskey that was apparently distilled in Kentucky, I knew I had to try it.
I contacted Stoll and Wolfe and asked if they could give me any details on the rye whiskey. Specifically, I wanted to know which Kentucky distillery it come from and what the mash bill was. They responded with only the mash bill and said that it was "51% rye, 44% corn and 5% malted barley." They also used the verbiage that it was a "Kentucky STYLE rye whiskey." This last part made me instantly wonder if they had bottled MGP's new rye whiskey mash bill (which uses a 51/45/4 rye whiskey recipe) and if they had just misquoted the ratios. When I received the bottle, the rear label also had a handwritten "KY" in the area where it said "State of Distillation _____." Since it was a distillery-only release, I know that the TTB either doesn't have to look at those kinds of labels or if they do, they don't worry about the accuracy outside of proof too much.
With this review, I hope to find out if my nose and tongue can guide me on if this tastes more like it came from Indiana or a random Kentucky distillery. 7 year old Kentucky Rye Whiskey just isn't a thing you see from NDPs! But stranger things have happened so let's find out. I sampled this neat in a glencairn.
Tasting Notes
Nose: The initial aromas are sweet and slightly spicy. I get lots of caramel sauce which makes sense with the high-corn percentage used in the mash bill. Generally, the whole nose is full of various sugars like brown sugar and melted Bit O' Honey candies. Then I begin to pick up on some dead-giveaway MGP notes like cinnamon, pine needles and botanical scents.
Palate: A mouthful of Cinnamon Red Hots candies followed by nutmeg, candy corn, molasses, crumb cake and a bit of toffee. I even find some delicious seasoned oak within, which is a trait I normally don't find much in rye whiskies. Fruit notes of orange peel play nicely with herbal flavors with mint leading the way and more of that telltale pine needle flavor.
Finish: Lingering notes of seasoned oak, tobacco, and browned butter keeps the finish rich and satisfying. This tastes a bit older than what the age statement says. Leftover candied citrus peel, brown sugar and cinnamon notes remain from the palate making this finish very enjoyable.
Score: 8/10
This is a terrific, sweeter kind of rye that shows off its age and well-spiced rye qualities. It still retains many of MGP's 95/5 characteristics except the sweetness is dialed up a little bit more and the spice is dialed down. This is what you get with most "Kentucky Style" rye whiskies too. In that sense, I still think this an MGP product but its identity could be confused with that of a Kentucky rye.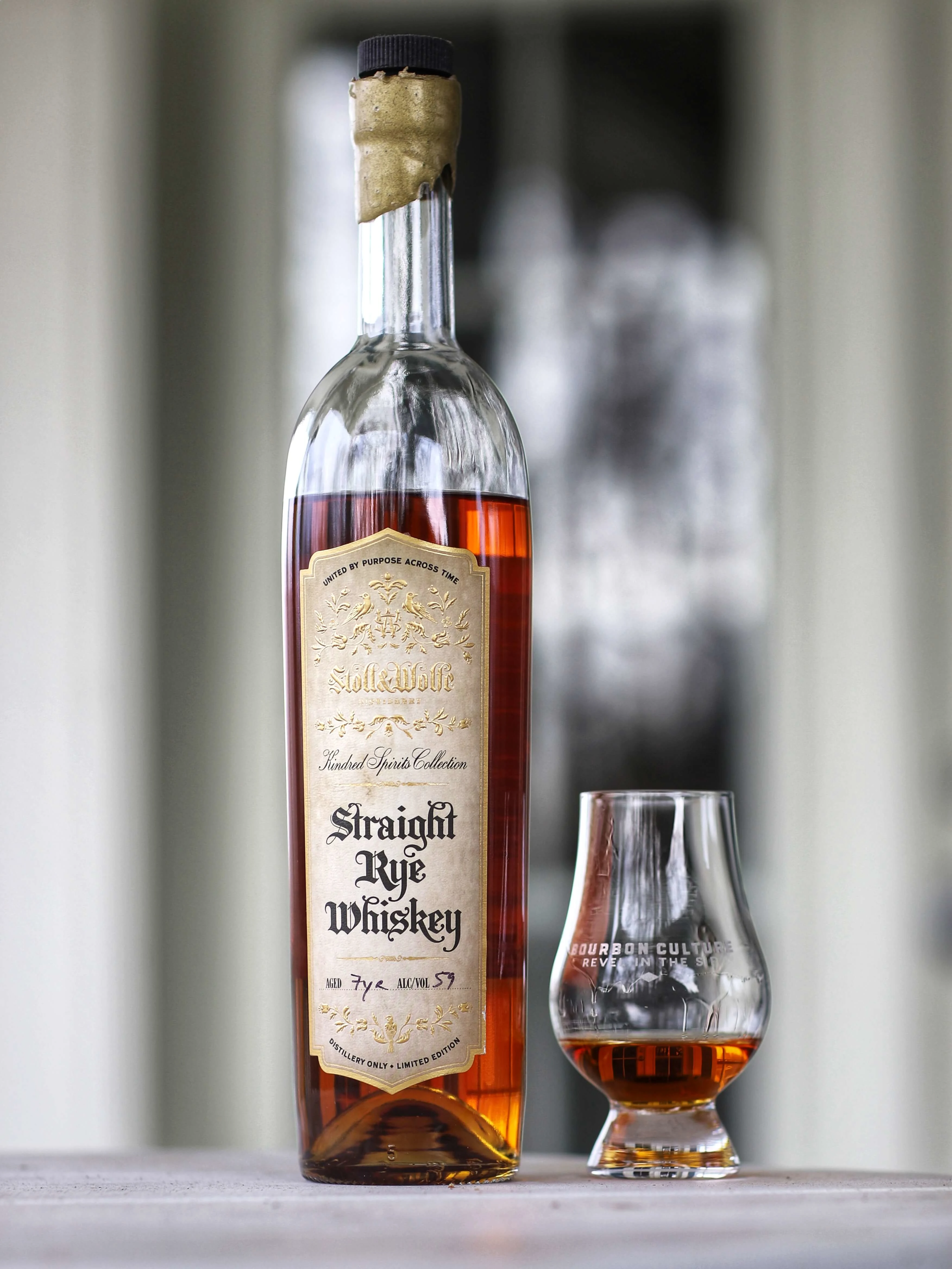 One of the great things about this 51% rye whiskey has to be the abundance of tannins like oak and tobacco. For some reason I don't ever seem to get those notes in large enough quantities with the 95% rye unless it was aged over 12 years. This adds another dimension to this flavorful rye and also beckons to bourbon drinkers who have not yet crossed over to the dark side.
Final Thoughts
For $85, I think this rye whiskey was priced about right. I'd ideally love to see it more around the $10 per year aged mark, but for a special edition that uses a mash bill you don't often see by itself, I felt that it was worthy of my money. I also really want to support the Stoll and Wolfe brand as I feel that they are doing it right and have a bright future. Stay tuned for upcoming reviews where I hope to get my hands on their own rye whiskey that they've made with Rosen Rye. The future is bright for them and I can't wait to see what Erik does next.
Featured Products
Description:

The Aged & Ore Neat Traveler is a complete travel kit for spirits. We combined our widely praised Neat Glass with one of our 3oz Flight Bottles and housed them together in a custom EVA travel case. Perfect for a night away with your favorite pour. The tie
Description:

The Aged & Ore Bottle Flight is a premium set of 4 custom silicone wrapped glass bottles designed to transport and share samples of your favorite spirits. The flight bottles come in a custom EVA travel case that fits perfectly in any small bag. An Aged &
Description:

This Bundle combines two of our crowd favorite products, creating the ultimate travel bundle to bring along your favorite spirits and glassware. Bundle Includes: Neat Traveler (Gray) Bottle Flight (Gray) Note: This bundle is only available in gray and col
*Bourbon Culture is reader-supported. When you buy through links on our site, we may earn an affiliate commission.