*Bourbon Culture is reader-supported. When you buy through links on our site, we may earn an affiliate commission.
One thing you may or may not know about me; I am a Honda fanboy. They say you typically stay with the brand of your first car and mine was a Honda. By my count, I've owned 9 of them so far if I count an Acura TL I had. Acura is Honda's "Luxury" car line but many people don't buy in that they're truly a luxury brand.
Car magazines like to joke around and say that Acura vehicles are more like "Honda Plus." They're a little bit nicer, but you can still tell that you're driving a Honda. Acura owners seethe when they hear this.
Why do I bring this up? Because when I heard that Barrell Craft Spirits was launching a new brand called Stellum, I thought it was designed to be the luxury branch of Barrell Bourbon. It turns out that's not the case at all. Stellum ended up being Barrell's entry level brand.
Stellum vs Barrell Rye Whiskey
But a quick look at the stats on Stellum versus, say, Barrell Rye Whiskey Batch 001 and Batch 002 makes me chuckle… those rye whiskey batches were composed of basically the same barrels that are used in Stellum, yet they were double in price. So does that make Barrell products "Stellum Plus?"
Based on the information gleaned from the new Stellum website, this Rye Whiskey uses a base of MGP's 95/5 rye whiskey that is around 5 to 6 years old. Also included in the blend is MGP's 51/49 rye whiskey (that's 49% malted barley!) and a rye whiskey from Kentucky which I'm not sure the provenance of.
Tennessee Rye Whiskey
Barrell also claims that there is rye whiskey from Tennessee in the blend too. Just to be clear, Barrell has claimed to source rye whiskey from "Tennessee" for a while now, but I'm 99% sure that's not accurate. Jack Daniels does not source their rye whiskey and Dickel does not make a rye whiskey.
Dickel Rye Whiskey is made and aged at MGP before being trucked to a Diageo facility in Illinois to get filtered through a layer of sugar maple charcoal. So until someone like Chattanooga Whiskey Company starts sourcing out their rye whiskey, there is literally no such thing as rye whiskey sourced from Tennessee.
So now that we know what Stellum is comprised of, how does it taste? It's time to pull back the curtain! I sampled this neat and in a Glencairn.
Tasting Notes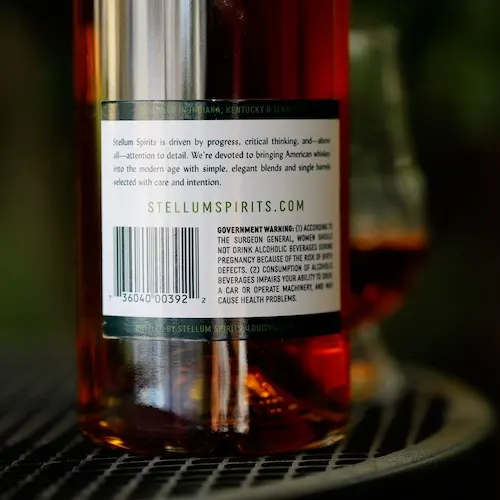 Nose: Floral and herbal notes abound. Sweet mint, pine needles and a touch of tarragon give this all the classic rye whiskey scents, albeit "lighter."
Warm honey buns with apricot jam pair with a light woody scent to give the nose a nice rounded complexity. The aroma of beignets and melted butter also adds a soft touch, likely coming from the high malted barley content of 51/49 rye whiskey barrels.
Palate: Rye spice prickles the tongue with a hint of dill and mint. A sharp sweetness, like barrel aged honey, comes through and carries the oak spice with it. Clove and cinnamon spice remind you this is a rye whiskey while fruity licorice and herbal tea add depth and fun flavors.
Finish: More wood influence comes out on the finish complete with herbs, cinnamon butter and more honey.
Score: 7/10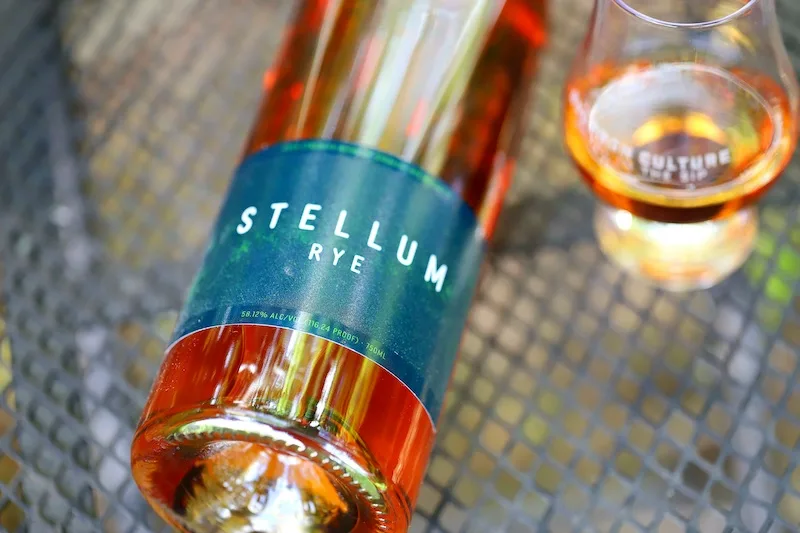 This rye whiskey baffles me. On one hand, it doesn't drink like it's 114+ proof AT ALL. It's much softer and, dare I say, "smoother" in its profile. This had me scratching my head because a base of MGP 95/5 rye whiskey should have given this whole thing a spicy punch on the tongue.
I believe it is the high malt rye whiskey doing its thing by mellowing out the whole blend. Then I have the wood influence on the rye whiskey which is usually not typical for me to find. That leads me to believe that the Kentucky rye whiskey has brought its influence into the blend as I don't typically find a lot of wood influence on young MGP rye whiskey.
Overall this is one of the easiest drinking, high proof rye whiskies I've had to date. But in a way, it's almost too easy to drink. The flavors are pleasant but I kind of miss having a mouthful of cinnamon Red Hots and stuffed with various herbs. This isn't to say it's a bad rye whiskey, but it's not entirely what I was expecting.
For the new rye whiskey drinker, spicy rye whiskey like I'm describing can be daunting and maybe turn people away from wanting to try others. But for the experienced rye whiskey drinker, you tend to want nothing else but that bold spice. Stellum seems like the perfect rye to start out with and not be turned off.
Value, Value, Value
And if there is one final selling point for this bottle, it's the value. $55 for something that's 114+ proof is a fantastic deal these days. For this price you're going to find rye whiskey that's either far less in proof or not as mature.
The closest competitor to this would be something like Knob Creek Rye Whiskey (5.5 years old and 115 proof) or Pikesville (6 years old and 110 proof). But Knob Creek gets too peppery while Pikesville can come off a bit one-dimensional. This makes Stellum an obvious choice. It won't be for everyone, but for its price, it's one everyone should try.
Ratings Breakdown
1 | Disgusting | Drain pour (Example: Jeffers Creek)
2 | Poor | Forced myself to drink it
3 | Bad | Flawed (AD Laws 4 Grain BiB, Clyde Mays anything)
4 | Sub-par | Many things I'd rather have (Tincup 10 year)
5 | Good | Good, solid, ordinary (Larceny, Sazerac Rye)
6 | Very Good | Better than average (Buffalo Trace, OGD BiB)
7 | Great | Well above average (Old Ezra Barrel Proof, Old Weller Antique)
8 | Excellent | Exceptional (Michter's Barrel Proof Rye, Four Roses Barrel Strength)
9 | Incredible | Extraordinary (GTS, 13 Year MGP or Canadian Rye)
10 | Insurpassable | Nothing Else Comes Close (William Larue Weller)
Featured Products
Description:

The Aged & Ore Neat Traveler is a complete travel kit for spirits. We combined our widely praised Neat Glass with one of our 3oz Flight Bottles and housed them together in a custom EVA travel case. Perfect for a night away with your favorite pour. The tie
Description:

The Aged & Ore Bottle Flight is a premium set of 4 custom silicone wrapped glass bottles designed to transport and share samples of your favorite spirits. The flight bottles come in a custom EVA travel case that fits perfectly in any small bag. An Aged &
Description:

This Bundle combines two of our crowd favorite products, creating the ultimate travel bundle to bring along your favorite spirits and glassware. Bundle Includes: Neat Traveler (Gray) Bottle Flight (Gray) Note: This bundle is only available in gray and col
*Bourbon Culture is reader-supported. When you buy through links on our site, we may earn an affiliate commission.