*Bourbon Culture is reader-supported. When you buy through links on our site, we may earn an affiliate commission.
New Riff Distillery seemed to have all the right answers when they first began distilling in 2014. They had the perfect mix of an old school (Larry Ebersold's mentorship and his MGP mashbills that he brought along) and new school (sourcing different grains, concentrating on various malted projects).
The only issue, it appeared, was time. New Riff has stated early on that their products would not be bottled much above the 4 year old mark until at least midway through the 2020's due to distilling capacity and storage limitations.
When that times comes, they plan on being able to release a range of bourbon and rye whiskey aged all the way up to 10 years old.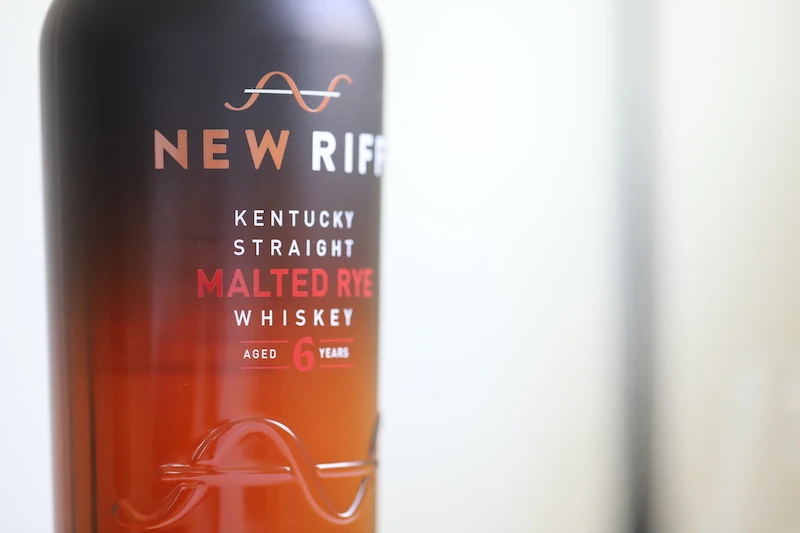 At first, this was a letdown to enthusiasts who were excited when they tasted the products coming out at four years old. But that excitement quickly gave way to boredom after 3 years of single barrels with the same age statements and declining proof.
In order to keep their interest in the brand, New Riff has released some quirky experimental projects over the past 2 years such as Backsetter, Maltster, Christmas Whiskey, Balboa Rye and today's bottle that I will be reviewing: a six year old malted rye whiskey.
Malted Rye Grain
Using malted rye grain is somewhat uncommon in American whiskey making, but it's not unheard of. Corsair, Woodford Reserve and Mile High Spirit's Fireside whiskies are among the few that come to mind, but they have never used 100% malted rye to make a whiskey with.
My opinion with using a malted rye is that the flavors are polarizing and can either come off with either acidic coffee bean notes or wet cardboard. That usually translates to people either loving it or hating it.
So how does New Riff's Malted Rye Whiskey taste? Will using 100% malted rye make a major improvement over their standard rye whiskey (which uses 95% unmalted rye and 5% malted rye)? Let's find out. I sampled this neat and in a Glencairn.
Tasting Notes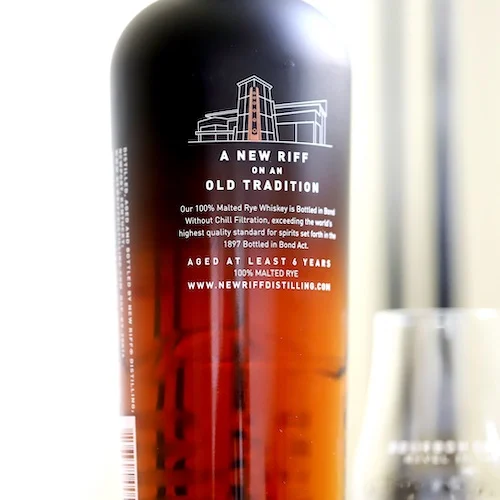 Nose: The two most dominant scents when I inhale are oatmeal raisin cookies and peppermint candy canes. The peppermint part I get because that is a standard rye grain trait, but I did not see the oatmeal raisin cookie part coming.
The sweetness in this is unlike any other whiskey where instead of getting caramel or honey, I get powdered sugar. It's very strange! Some rye notes also make their way through the dominant scents like forest floor and a small amount of lemon peel.
Palate: This is non-chill filtered so it's strange that the mouthfeel is so thin. I'm going to chalk that and the lack of heat up to it being bottled at 100 proof. Flavors of gingersnap cookies, dried trail mix fruit (apricots, cherries, plums) and Andes Mints all play together nicely.
There is a slight metallic note that is off-putting, but not enough to ruin the dram. Any hint of spice that would indicate it's a rye whiskey are very subdued. Instead, I find a mixture of sweet grass artificial citrus flavors and a little bit of coffee beans.
Finish: An odd tasting assortment of herbs coupled with a tiny bit of pine are the main flavors that linger in this rather short finish. There is a coffee aftertaste and more Andes Mints that hang around (I get this a lot with malted rye) and a slightly woodiness that probably comes from the six years it's been aging.
Score: 6/10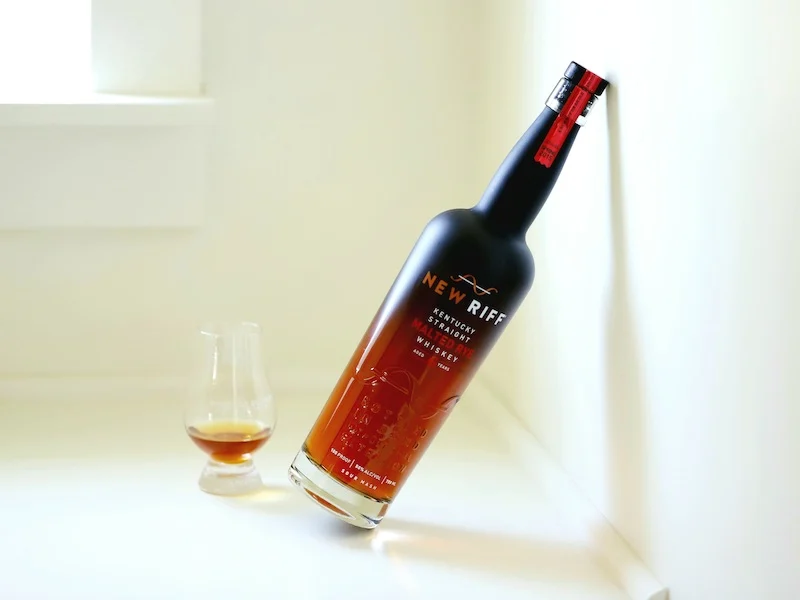 Although it has its interesting spots, this does not taste like a rye whiskey in the traditional sense. The malted aspect seems to strip away the traditional bold and spicy nature of rye whiskey into something far smoother and easy to drink.
That's not a bad thing to most people who take a swing at something new and hope that they don't gag when drinking it. But for rye whiskey lovers who crave that bold punch, this probably will not be your jam.
I can appreciate that New Riff has never sold anything that is bottled under 100 proof, but even at that point this tastes like it was proofed down a bit too much. It's curious to me why they continue to bottle these experimental releases at that level rather than releasing them at barrel proof.
They are "rare and exclusive," after all. Maybe it would've created a richer tasting whiskey? On the other hand, maybe the maturation experts at New Riff decided it wasn't a large enough profile difference between 100 proof and barrel proof and decided that they just wanted to make more bottles.
At the end of the day, the price on these New Riff special releases are what keeps them feeling like a gamble that should be taken. They don't charge some wild, exorbitant price that gives you anxiety if you made the right decision to buy.
Instead, they are priced right at the point where you can afford to not like a bottle and then want to share it with friends to get their take. And that's something that I hope New Riff never changes.
Ratings Breakdown
1 | Disgusting | Drain pour (Example: Jeffers Creek)
2 | Poor | Forced myself to drink it
3 | Bad | Flawed (AD Laws 4 Grain BiB, Clyde Mays anything)
4 | Sub-par | Many things I'd rather have (Tincup 10 year)
5 | Good | Good, solid, ordinary (Larceny, Sazerac Rye)
6 | Very Good | Better than average (Buffalo Trace, OGD BiB)
7 | Great | Well above average (Old Ezra Barrel Proof, Old Weller Antique)
8 | Excellent | Exceptional (Michter's Barrel Proof Rye, Four Roses Barrel Strength)
9 | Incredible | Extraordinary (GTS, 13 Year MGP or Canadian Rye)
10 | Insurpassable | Nothing Else Comes Close (William Larue Weller)
Featured Products
Description:

The Aged & Ore Neat Traveler is a complete travel kit for spirits. We combined our widely praised Neat Glass with one of our 3oz Flight Bottles and housed them together in a custom EVA travel case. Perfect for a night away with your favorite pour. The tie
Description:

The Aged & Ore Bottle Flight is a premium set of 4 custom silicone wrapped glass bottles designed to transport and share samples of your favorite spirits. The flight bottles come in a custom EVA travel case that fits perfectly in any small bag. An Aged &
Description:

This Bundle combines two of our crowd favorite products, creating the ultimate travel bundle to bring along your favorite spirits and glassware. Bundle Includes: Neat Traveler (Gray) Bottle Flight (Gray) Note: This bundle is only available in gray and col
*Bourbon Culture is reader-supported. When you buy through links on our site, we may earn an affiliate commission.