*Bourbon Culture is reader-supported. When you buy through links on our site, we may earn an affiliate commission.
Western Spirits Beverage Company is based out of Bowling Green, Kentucky and includes some brands in their portfolio you may have heard of.
Sam Houston, Bird Dog and Lexington are just a few bourbon labels that they bottle alongside the star of today's review, Calumet Farm 15 Year Bourbon.
For the last 3 years, Sam Houston and Calumet Farm continue to release double digit age stated bourbon that is more than likely sourced from Barton in Bardstown, KY.
They typically price it around $8 or $9 per year aged and release it around 100 proof. Previous years saw it bottled below 100 proof but now in 2021, the 15 year version of each gets bottled above 100 (the bottle I'm reviewing comes in at 105 proof).
It is not a single barrel, instead Calumet Farm batches "single racks" totaling about 19 barrels.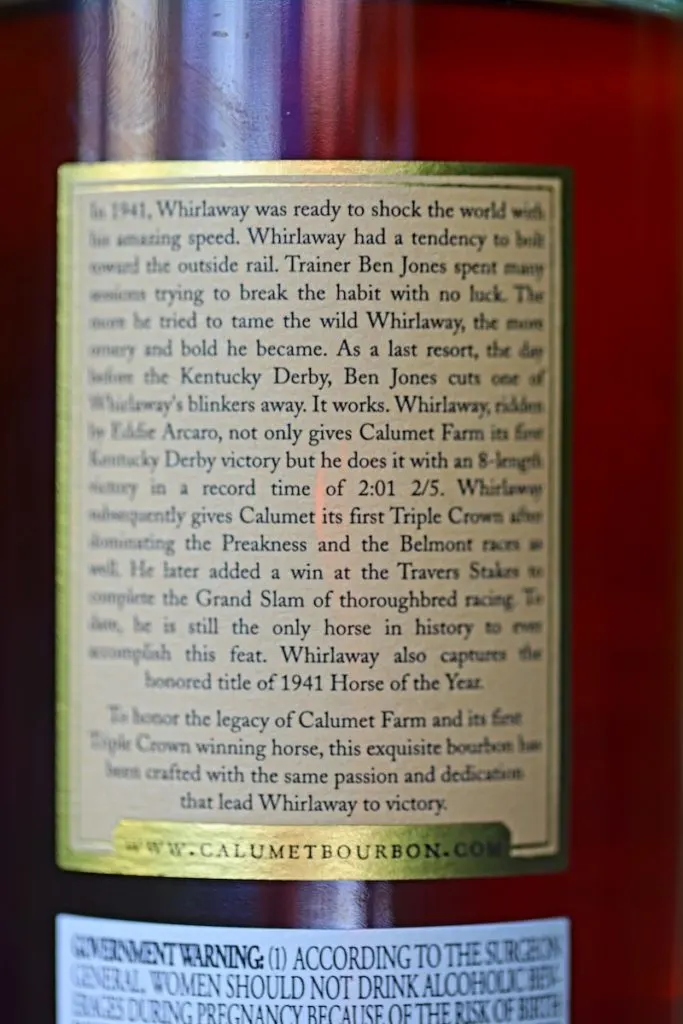 Selling bourbon above the $100 threshold is an easy sell these days. Most customers still equate a high price with being a higher quality bourbon.
Enthusiasts know this is not the case, but it's tough to convince anyone otherwise. To be fair, the allure of the 15 year age statement is simply be too irresistible for most to pass up.
Sourced Bourbon
The average buyer of this bottle probably doesn't know what "sourced bourbon" is or has any idea who Barton Distillery even produces for.
Therefore these bottles are able to fly off the shelf with ease whenever they're released.
But is the bourbon inside truly worth it? After years of lackluster, double digit aged Barton bourbon being bottled by almost everyone (Cream of Kentucky, Kentucky Par, Blue Run, Lucky Seven and so on), has Calumet Farm stumbled upon gold?
Or is this doomed to be "just okay?" Let's find out. I sampled this neat in a glencairn.
Tasting Notes
Nose: Warm vanilla and oak spice notes accompany dark red fruit compote and caramel sauce. These are all pretty standard as far as Kentucky bourbon goes. Overall the nose is a bit underwhelming but inviting nonetheless.
Palate: Fruit-forward flavors of cherries and apricots mingle with peppery spice notes and a hint of mint.
Some scorched caramel alongside lady fingers demonstrate the sweeter side that almost gets covered up with a powerful blast of tannins like oak, tobacco leaf and musty leather.
The bite to this one is a little bit stronger than the proof would indicate, but it's still manageable. Overall, this is a tannin-rich sip that has just enough sweetness to keep it balanced.
Finish: Tannins like oak and leather remain behind as the sip fades away. There's some dark chocolate with a bit of alkalinity as well. Overall, the finish is only moderately long and somewhat of a letdown for its age.
Score: 7.7/10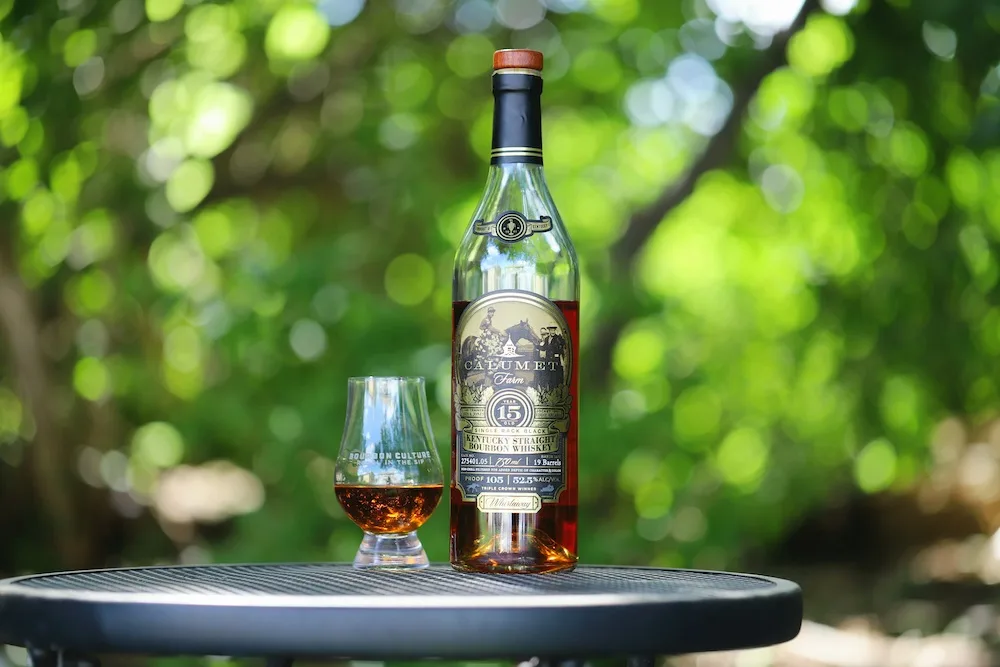 I know that I'm a small fish in a big pond so my opinion here won't reach the people that need to hear it. But if you're reading this because you're standing in a liquor aisle with this bottle in your hand and the pricetag reads $120+, I am telling you this now, "it's just not worth it."
Perhaps you'll listen to me and put it back on the shelf, but a bourbon like this just isn't as good as others at half of its price. Four Roses Small Batch Select, Elijah Craig Barrel Proof, Knob Creek Single Barrel and 1792 Full Proof offer a richer and more complex experience at half the price.
Barrell Bourbon batches are 2/3 this price but deliver way more complexity per pour. But this bottle right here is the epitome of a generic bourbon that's not worth what its being sold at.
Barton produces some good bourbon but rarely does it produce great bourbon. For $120, I would demand great bourbon.
Gift givers are stuck with the hassle of trying to find a bottle that is priced high enough to say "you are valued/special to me" and will be super tempted to buy it, but Calumet Farm 15 Year is not that bottle.
Ratings Breakdown
1 | Disgusting | Drain pour (Example: Jeffers Creek)
2 | Poor | Forced myself to drink it
3 | Bad | Flawed (AD Laws 4 Grain BiB, Clyde Mays anything)
4 | Sub-par | Many things I'd rather have (Tincup 10 year)
5 | Good | Good, solid, ordinary (Larceny, Sazerac Rye)
6 | Very Good | Better than average (Buffalo Trace, OGD BiB)
7 | Great | Well above average (Old Ezra Barrel Proof, Old Weller Antique)
8 | Excellent | Exceptional (Michter's Barrel Proof Rye, Four Roses Barrel Strength)
9 | Incredible | Extraordinary (GTS, 13 Year MGP or Canadian Rye)
10 | Insurpassable | Nothing Else Comes Close (William Larue Weller)
Featured Products
Description:

The Aged & Ore Neat Traveler is a complete travel kit for spirits. We combined our widely praised Neat Glass with one of our 3oz Flight Bottles and housed them together in a custom EVA travel case. Perfect for a night away with your favorite pour. The tie
Description:

The Aged & Ore Bottle Flight is a premium set of 4 custom silicone wrapped glass bottles designed to transport and share samples of your favorite spirits. The flight bottles come in a custom EVA travel case that fits perfectly in any small bag. An Aged &
Description:

This Bundle combines two of our crowd favorite products, creating the ultimate travel bundle to bring along your favorite spirits and glassware. Bundle Includes: Neat Traveler (Gray) Bottle Flight (Gray) Note: This bundle is only available in gray and col
*Bourbon Culture is reader-supported. When you buy through links on our site, we may earn an affiliate commission.