*Bourbon Culture is reader-supported. When you buy through links on our site, we may earn an affiliate commission.
Batch 9 vs Batch 13
Stagg Jr. needs no introduction. It's been one of the most affordable and obtainable bottles for many of us that are low on the allocated bourbon totem pole to get a taste of barrel proof Buffalo Trace bourbon. Recently, Buffalo Trace released Batch 12 and Batch 13 within a few months of each other after many thinking there would be no release for 2019 at all. They turned out to be a hit with many questioning if this was the pinnacle of every Stagg Jr. release to date.
My good friend and fellow bourbon enthusiast, Adam, were talking about our affinity for the new batches as well as the legendary Batch 9 that was released in the fall of 2017. We came up with the idea of comparing these so that we could determine the ultimate Stagg Jr. batch. For the purpose of this review, Adam and I discussed if we should compare all 3 batches, 9, 12 and 13 and ultimately decided against it because we both agreed in previous tastings that batch 12 finished last. Adam had previously tasted Batch 9 against 12 and I had compared Batch 12 against 13. Batch 12 finished last in both of our tastings.
To start the interview off, Mike already has warmed up his palate with a glass of Maker's Mark Private Select "Gold on Gold." Adam has not tasted anything yet. We have agreed to not do this blind, but instead to go into it with open minds because we do not have a preference for either batch just yet. We have also decided to start with Batch 9.
Batch 9
Mike: So how many batches of Stagg Jr. do you currently have?
Adam: Just 9, 12 and 13 at the moment. I think I've had 10 and 11 in the past, but I don't remember them very well.
Mike: I have Batch 7 and then batches 9 through 13 currently. Batch 10 was my first ever purchase though.
Adam: So my initial impression of Batch 9 is that it really is Stagg Jr. I get a lot of the notes from a George T. Stagg but of course the age is not quite there or as deep. But the overall profile is similar. Right now I'm having a little bit of trouble getting past the ethanol on the nose of this batch.
Mike: Yeah, I agree, when I think about Stagg Jr. in the same context as Stagg Sr., the Jr. does come off as younger. There's not a lot of oak or chocolate or tobacco.
Adam: I think they are there, they are just not nearly as developed as GTS.
Mike: Yeah, I didn't mean to say they're not there, but they're just not there in abundance like GTS. However, this Stagg Jr has got a real deep sweetness like heavy caramel and some nice fruit scents on the nose.
Adam: Yes, I get all of that. I think that the palate and the finish are where Batch 9 really shines. It really opens up and gives me those flavors in more abundance than I get on the nose.
Mike: Exactly, I like that thick cherry syrupy liquid. I also find a citrus element in there. But since there is a lot of barrel char taste, it's almost like the citrus peels are toasted rather than just raw.
Adam: The palate is cherry, dark chocolate, burnt wood and maybe a bit of tobacco and leather. There are some very nice brown sugar/caramel-y stuff in there as well. Now that I think about it, the more I'm thinking there's probably some butterscotch in there too. But those cherries are on both ends of the palate, like at the beginning and at the end.
Mike: Same here, they never leave. And I get that butterscotch now that you're talking about it too.
Adam: Just a second ago, I was walking around and then took another smell and sip and was like "oh my god that butterscotch is incredibly prevalent."
Mike: Butterscotch was such a dominant EHTBP note for me, that's what I felt like separated it from Stagg Jr, but here we are tasting it in here.
Adam: The finish is just amazing. It keeps going and going.
Mike: I like the tobacco notes you and I are both picking up. For me, it's a nice fragrant "Swisher Sweets" kind of tobacco whereas GTS is more of this real meaty, wet pinch of tobacco.
Adam: I always think of GTS's tobacco like Copenhagen and Stagg Jr. as more of a "Red Man" or like a full leaf rather than the just the chew.
Mike: I've never chewed or dipped so I can't relate *laughs*
Adam: You didn't miss out on much. I used to do it in my high school because we all did it when we played baseball.
Mike: I always heard everyone pukes their first time, so I was like "nope." *laughs*
Adam: Yeah that's pretty much true.
Mike: Well, identifying flavors in whiskey is all about what you've experienced in life… So tell me more about the leather you're getting on the nose. How do you envision leather as a sensory note?
Adam: Honestly, I can picture what leather tastes like from chewing the leather laces from a jacket I used to have. And on the nose, it almost smells like a dried leather… in a good way!
Mike: Yeah I can feel that, I used to chew on the leather laces of an old baseball glove I had.
*Adam responds with a text at the same time I did about also chewing on his leather baseball gloves as a kid and remembering that taste and smell*
Adam: It was just something you did between pitches or between innings or whatever. But it was always this kind of rich bitter flavor. I feel like leather and tobacco are very close to each other on the flavor wheel.
Mike: Before we move onto Batch 13, I'd like to point out that the finish on Batch 9 gets a tad dry, which isn't a bad thing, but more times than not I notice BT products have a juicy and fruity finish.
Adam: I don't really get the dryness, but I do agree that Batch 9 has a lack of that juicy, fruity finish that you get from really nice BT products. I guess in my mind, I associate dryness with a lot of white wine flavors, so it's hard for me to make that call with something that tastes like this.
Mike: That chocolate you pointed out borders between dark and semi-sweet, so I think that's robbing the moisture content for me a bit.
Adam: I'm not officially rating Batch 9, but I think this is like mid 80-ish. Maybe lower. I might give it an 84
Mike: I still really enjoy it. It's still an 8.1 or 8.2 for me. It kind of has no faults, but it also has not much in the way of uniqueness.
Adam: Again, this is not an official number, but I'm just shooting from the hip trying to give myself some context before Batch 13. The nose is not super interesting, but the palate is very very good and the finish is really nice and it also has a lot of flavors that I chase in bourbon.
*We proceed to move onto Batch 13 and banter back and forth as we nose and sip a little until our palates reset*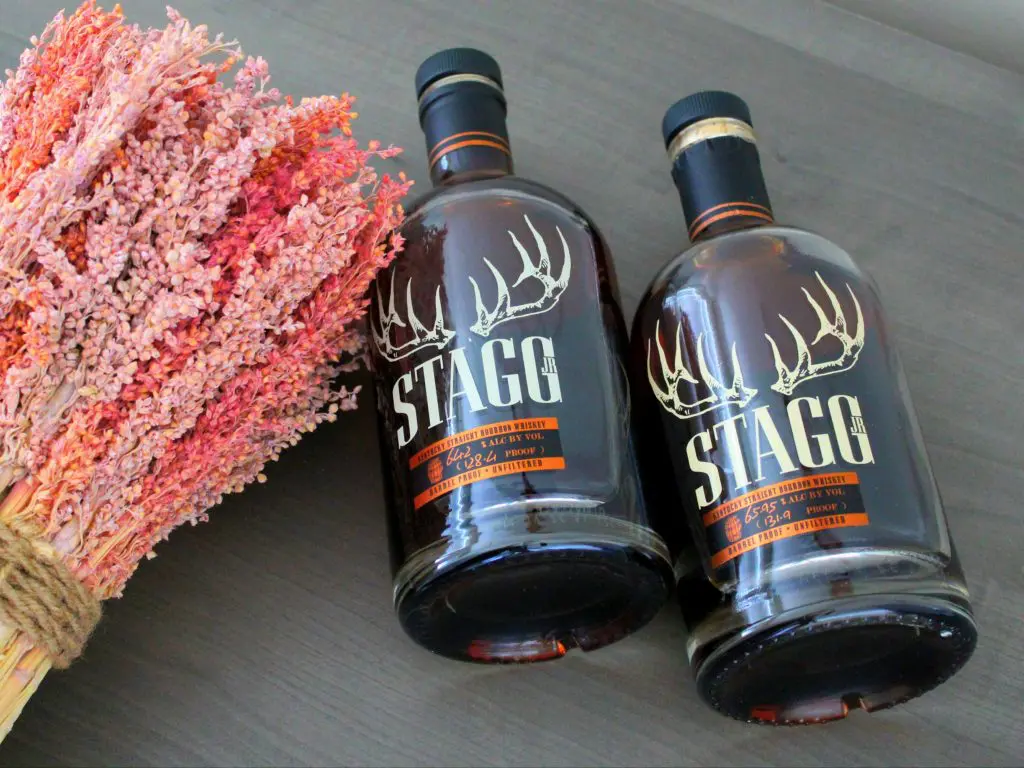 Batch 13
Mike: First thing I'm getting is really heavy caramel. Then some of that chocolate that we both love.
Adam: I get caramel and grain. And yeah, the chocolate is there and there's some cherries as well.
Mike: I can see the grain a bit, but nowhere near the cask strength Dickel grain vibes I usually get with that stuff *laughs*
Adam: I get some notes of pie crust. I was thinking the nose was more like Old Forester 100 or OGD BiB, even though those are nowhere near as nice as this. There's almost this funky vegetable note on the palate of Batch 13.
Mike: Vegetable huh?
Adam: A little bit, like rye spice or like a Four Roses OBSO or OBSQ.
Mike: Man, I'm not getting that, but things are a little bit more mellow and sweeter on the first taste than Batch 9 was.
Adam: I get a touch of astringency on the nose of the Batch 13, but then again, I did just open this bottle of Batch 13 about 20 minutes ago.
Mike: Oh wow, I opened mine 2 months ago!
Adam: So now I'm back to the nose and it's way more traditional Stagg cherry, chocolate and leather.
Mike: I'm not getting leather on the nose on my end on this one… yet. Everything is just sweeter, to include that orange scent. Orange, cherry, chocolate and then caramel in that order.
Adam: I think the leather is on the end of the palate for me. Also, I get the caramel out of it as well.
Mike: Oh, you've moved onto the palate! In that case, yes, I do get leather and oak in big quantities. And on the finish as well.
Adam: Yes, the oak is very big (in a good way) on the finish as well.
Mike: Does this seem spicier to you than Batch 9? It seems that way to me.
Adam: My 13 tastes spicier than my Batch 9. I don't know if it's cracked pepper or what, but there is something on the edge of my tongue. I almost get more of dry bark flavor whereas Batch 9 was more like sweet wood.
Mike: When in doubt, it's usually pepper flakes/cracked peppercorns.
Adam: I'm getting that citrus flavor you were describing on Batch 9. It definitely tastes like a toasted orange peel or the notes you'd get from an orange liqueur.
Mike: Yes, I agree. This is definitely toasted instead of a straight-up citrus juice.
Adam: These are really close for me. The Batch 12 didn't come nearly as close to Batch 9 as Batch 13 is.
Mike: Exactly. The Batch 13 may have a slight advantage for me tonight.
Adam: They are really fucking close, but I'm going to give it to the Batch 9 by a hair. There's just something more robust on the back of the palate that leads into the finish. I'm going to give the Batch 9 like an 83 and the Batch 13 an 81.
Mike: I don't get that vegetal or astringency thing on Batch 13 like you did. Maybe it's because my bottle was open longer. But the Batch 13 is much more balanced to me. But I tend to lean more towards the bold and slightly off-balanced profile that provides the challenge. Overall, the tannins weren't as fierce to me on Batch 13 as they were on 9.
Adam: I think I like the 9 because although the Batch 13 is more balanced, it doesn't give me the things that the 9 does. This is a stupid analogy, but Batch 9 is like dating the hot girl during her hot mess years, but Batch 13 is getting back together with her after she got into law school *laughs*
Mike: Haha, nice analogy dude! Are we ready to crown the winner then?
Adam: Batch 9!
Mike: And Batch 9 for me as well! But with a disclaimer that if I'm wanting something more balanced, then I may reach for the Batch 13 that night.
Winner: Stagg Batch 9
Featured Products
Description:

The Aged & Ore Neat Traveler is a complete travel kit for spirits. We combined our widely praised Neat Glass with one of our 3oz Flight Bottles and housed them together in a custom EVA travel case. Perfect for a night away with your favorite pour. The tie
Description:

The Aged & Ore Bottle Flight is a premium set of 4 custom silicone wrapped glass bottles designed to transport and share samples of your favorite spirits. The flight bottles come in a custom EVA travel case that fits perfectly in any small bag. An Aged &
Description:

This Bundle combines two of our crowd favorite products, creating the ultimate travel bundle to bring along your favorite spirits and glassware. Bundle Includes: Neat Traveler (Gray) Bottle Flight (Gray) Note: This bundle is only available in gray and col
*Bourbon Culture is reader-supported. When you buy through links on our site, we may earn an affiliate commission.