*Bourbon Culture is reader-supported. When you buy through links on our site, we may earn an affiliate commission.
New Jersey is known for a lot of things: The Jersey Shore TV show, Chris Christy, the Sopranos and of course, The New Joisey Bourbon and Yacht Club. I believe I used the correct spelling on that last one. The NJBYC is a prestigious institution with three rules for membership: You must own a yacht, you must wear your polo shirts with the collar popped and you must pick bitchin' single barrel picks. Well, maybe only one of those is a requirement…
Today's bottle is single barrel pick of Maker's Mark Private Select (MMPS) that was customized by the NJBYC. Most readers may be familiar with how Maker's conducts the customization part of these barrel selections: Maker's starts out with a full barrel of their Cask Strength bourbon and has groups customize them by selecting up to 10 staves from 5 varieties of wood. Once they are selected, the staves are toasted, inserted into the barrel and then rolled into a limestone cave where it is aged until it is ready.
The NJBYC had the added advantage of a Maker's Mark rep doing a personal sample tasting whereby individual wood-finished bourbons were able to be sampled and even blended so that each selector could experience what profiles the wood stave brought to the table. The NJBYC decided on 1 Baked American Pure 2, 4 Seared French Cuvee, 2 Roasted French Mocha and 3 Toasted French Spice wood staves in the end. This wheated bourbon is typically around 7 years old and ended up being bottled at 108.8 proof.
The group then dubbed their pick "Gold on Gold." After trying some of the their previous Knob Creek Picks, I was happy to get my hands on this bottle to see if the hits would continue. Let's see how this stands up. I sampled this neat and in a glencairn.
Tasting Notes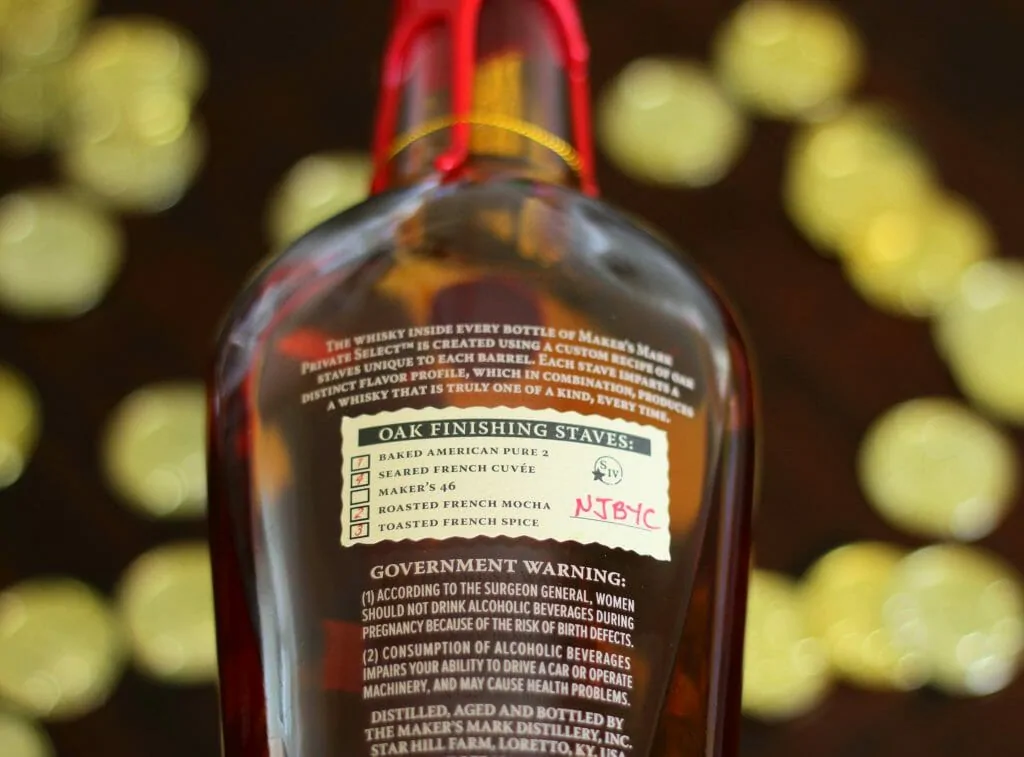 Nose: Maybe it's the Roasted French Mocha staves talking, but my nose is immediately hit with scents of whipped chocolate mousse. This nose is first and foremost, a chocolate bomb to me. But it continues on the same path with notes of espresso beans and light toasted oak which really convey a feeling of indulgence. There's butterscotch chips and some chopped up cherry pieces to continue the sweet theme that stops just short of being "cloying."
Palate: Thick, syrupy cherry cola coats the tongue. But it's not long before that delicious chocolate from the nose appears in the form of chocolate shavings on a piece of tiramisu. The light oak dances around, but never dries your mouth out. Instead it adds a nice layer of depth. There are some peppery spice notes that will remind you that there's some proof to this dram, but it's never intrusive. I'm not detecting many fruit notes overall, but there is a toasted orange peel note that hangs around that goes well with the other sweet flavors I've detected.
Finish: The finish lingers for a while because of the syrupy nature of this liquid. There's some seasoned oak becomes stronger and the chocolate now surrounds cherries. And not that it needed any more sweetness, but a light caramel sauce is there to keep reminding you that you're drinking your dessert.
Score: 8/10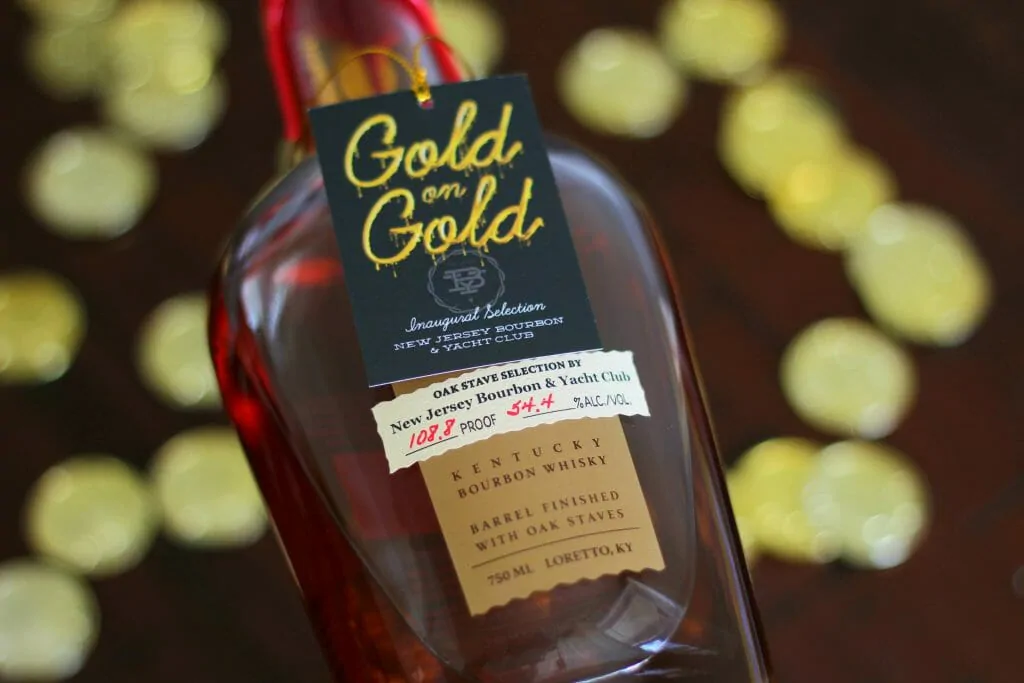 My first experience with a MMPS from Big Red Liquors left me unimpressed and was thoroughly beat by a Larceny Barrel Proof Single Barrel in a blind comparison. However, Maker's Mark Cask Strength (MMCS) had won a victory over Weller Antique 107 in a separate comparison review. All this taught me was that MMCS was probably the better choice overall in terms of value and flavor whenever I wanted to reach for a bottle with the red wax on top. But I'm glad that I was able to get my hands on this because it has finally shown me what a great single barrel of Maker's Mark can taste like. This one is no fluke, the flavors were perfect, rich and rewarding. Chocolate notes on a bourbon are tops on my list, which is why I spaz over older GTS releases and even some extra-aged MGP bourbons.
Final Thoughts
Could this be the magical configuration of staves for Maker's Mark Private Selects? That's a matter of opinion, but this is certainly up there for me. Rumor has it that Maker's will begin introducing different wooden staves in the coming years, while phasing out others, making some of these bottles more unique and sought after if a particular stave is deemed the best. But until that time comes, I would highly recommend that you sample all of these that you can find to see which combination you like the best.
Ratings Breakdown
1 | Disgusting | Drain pour (Example: Jeffers Creek)
2 | Poor | Forced myself to drink it
3 | Bad | Flawed (AD Laws 4 Grain BiB, Clyde Mays anything)
4 | Sub-par | Many things I'd rather have (Tincup 10 year)
5 | Good | Good, solid, ordinary (Larceny, Sazerac Rye)
6 | Very Good | Better than average (Buffalo Trace, OGD BiB)
7 | Great | Well above average (Old Ezra Barrel Proof, Old Weller Antique)
8 | Excellent | Exceptional (Michter's Barrel Proof Rye, Four Roses Barrel Strength)
9 | Incredible | Extraordinary (GTS, 13 Year MGP or Canadian Rye)
10 | Insurpassable | Nothing Else Comes Close (William Larue Weller)
Featured Products
Description:

The Aged & Ore Neat Traveler is a complete travel kit for spirits. We combined our widely praised Neat Glass with one of our 3oz Flight Bottles and housed them together in a custom EVA travel case. Perfect for a night away with your favorite pour. The tie
Description:

The Aged & Ore Bottle Flight is a premium set of 4 custom silicone wrapped glass bottles designed to transport and share samples of your favorite spirits. The flight bottles come in a custom EVA travel case that fits perfectly in any small bag. An Aged &
Description:

This Bundle combines two of our crowd favorite products, creating the ultimate travel bundle to bring along your favorite spirits and glassware. Bundle Includes: Neat Traveler (Gray) Bottle Flight (Gray) Note: This bundle is only available in gray and col
*Bourbon Culture is reader-supported. When you buy through links on our site, we may earn an affiliate commission.