*Bourbon Culture is reader-supported. When you buy through links on our site, we may earn an affiliate commission.
It's always odd to watch a brand or a label die in the world of bourbon only to have a new, slightly tweaked version resurrected less than a year later. This happened when Heaven Hill killed off the 6 Year Old Heaven Hill Bottled in Bond only for it to be replaced with a 7 Year Old version a year later. Even Elijah Craig and Larceny barrel proof single barrels existed on an extremely limited basis before Heaven Hill shut them down only to release them as large, batched versions three times a year.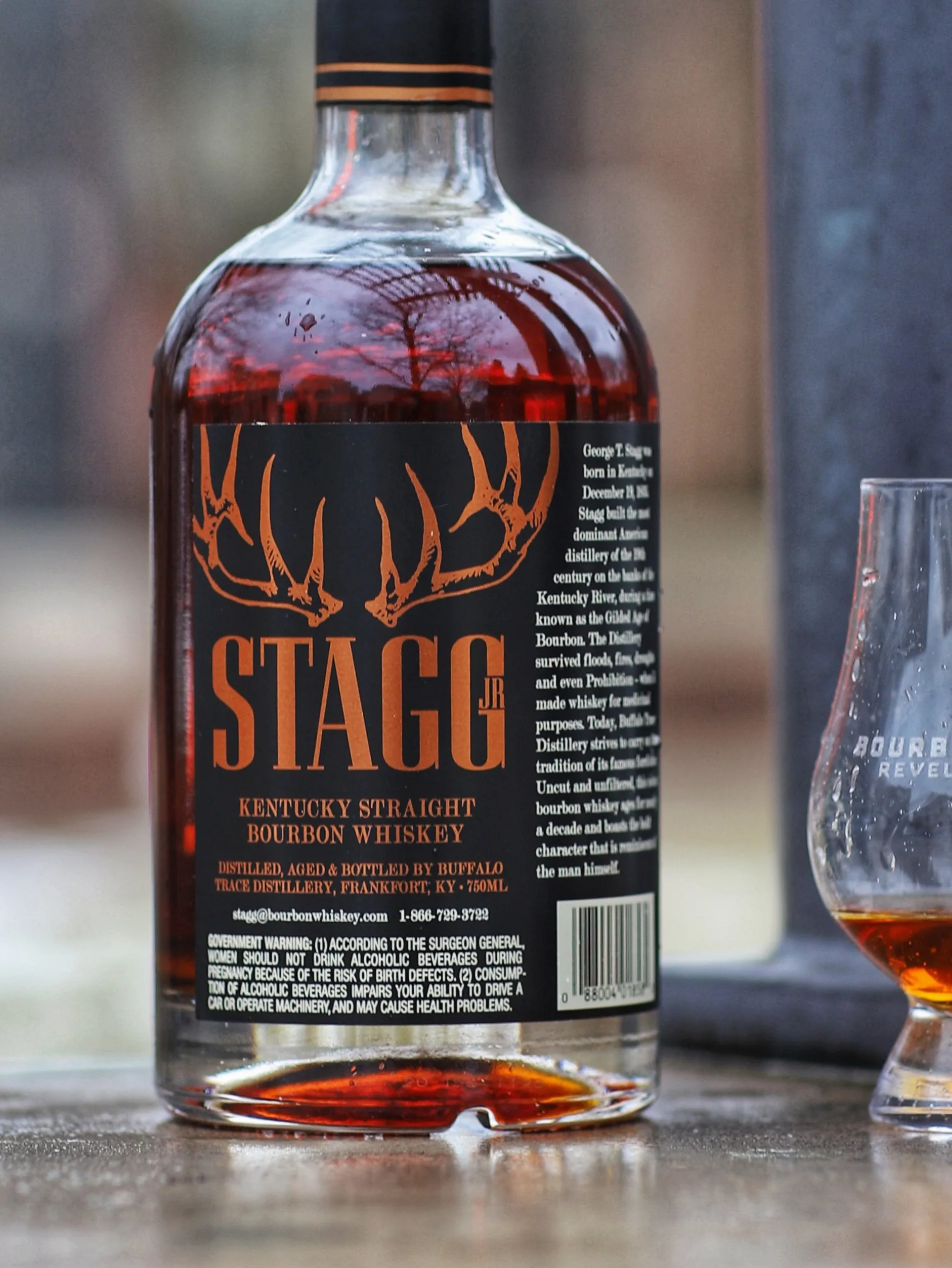 Buffalo Trace has decided that after Stagg Jr Batch 17 was released that the label will be no more. Now it will be replaced by a label which is only going to be known as "Stagg." There doesn't seem to be any rhyme or reason behind the name change. It wasn't because the brand was having a hard time selling bottles (quite the contrary) but maybe it's because they felt the word "Jr" was demeaning to it.
Going out with a bang
In my previous review on Batch 16, I made a few assumptions that tied together the Stagg Jr brand ending to the announcement that Buffalo Trace was canceling the release of the 2021 George T. Stagg (which is 15 years old) label. For the first time in 2 decades, GTS would not be released with the rest of the Buffalo Trace Antique Collection. One of the assumptions I made was that GTS may be forever cancelled and that "Stagg" would replace both; blending in young and old barrels for every batch. People did not like to hear that but the truth is we won't know until August or September of 2022 to see if GTS comes back to the line.
I also noted in my Batch 16 review that it tasted significantly older than previous Stagg Jr batches. If you want to know what exactly tasted older about it, I found way more chocolate and tobacco notes which are notes typically associated with GTS. Stagg Jr is usually known for its younger cherry notes which were very muted for that batch. Did some rejected 2021 GTS barrels get dumped into these last 2 batches? I feel very strongly that the answer is yes. I liked Batch 16 so much that I rated it with a score that is higher than virtually all other Stagg Jr batches I've had to date.
Does this mean that Stagg Jr Batch 17 continues the trend and goes out with a bang? I sure hope so. This is why I was so excited to try it. Thanks to my generous friend in Chicago, I have been able to take my time and peel back the layers to see what secrets this one hides. I sampled this neat in a glencairn.
Tasting Notes
Nose: A flood sweet oak and chocolate notes. Rich tobacco, much like a cigar box being opened, is immediately evident. This bourbon seems like it has some age to it. The nose is way more mellow than you would expect at this proof too. Buttery baked goods mixed with caramel scents that are some of the best I've experienced in a while. Vanilla cake and syrup-soaked raisins couple with and blackberry jam scents. I don't know why this is, but I barely pick up any cherry scents on the nose.
Palate: Chocolate and tobacco flavors dominate. Rich wood notes and cinnamon spice give a deep, velvety coating to your mouth. There are fruits, but they're dark and seductive, not like the cherry cough syrup of previous batches. I also find some orange peel that give a bright citrus pop among the sea of rich and aged notes. Sweet fruit jams mingle very well with those orange citrus notes. A thought that keeps popping up as I drink this is how much it tastes like it's at least 12 years old.
Finish: Swiss chocolate meshes with honeyed oak and more tobacco. It's a rich and long ending to a really delicious dram. Fruit syrup flavors pop in and out with a lingering blackberry and stone fruit compote. The proof, just like I noted on the palate, is barely noticeable.
Score: 8.7/10
This is a wonderful farewell to the Stagg Jr label before its replacement comes out. Just like Batch 16, I find so many of those older notes that I associate with a typical bottle of GTS. The result was a transformation from the brash, powerhouse of flavors I'd usually find in a bottle of Stagg Jr to one that is much more refined and distinguished. Frankly, it's way better for it. If Buffalo Trace did in fact dump in some GTS reject barrels into this batch, they should take pride in it and leak the details about it. It could be the biggest (positive) bombshell reveal the industry has had in a long time.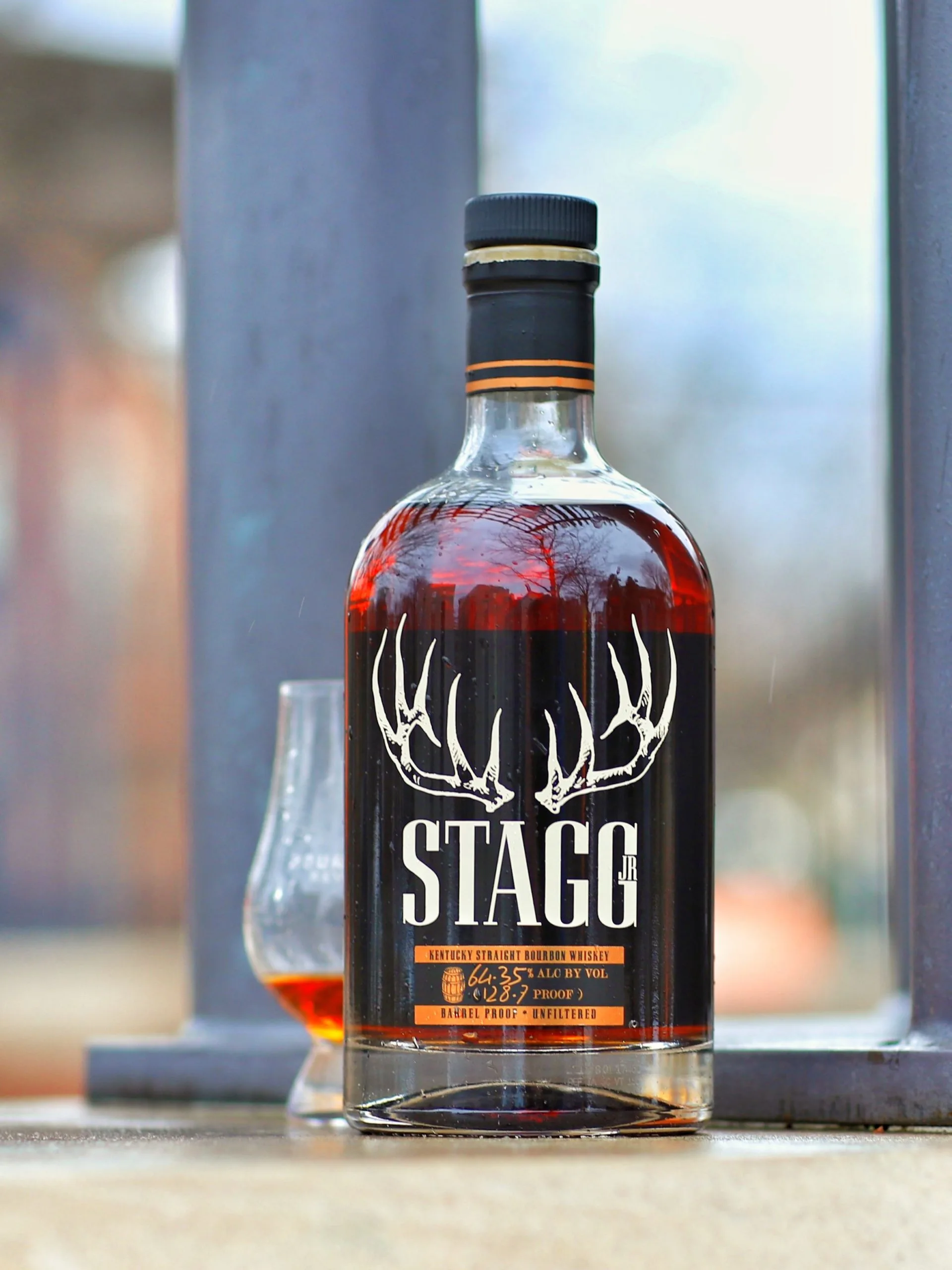 Final Thoughts
As a final send-off to this iconic line, Stagg Jr will be remembered for how it never gave up and kept getting better. The early batches were universally panned by reviewers but started to find their stride in later releases. It wasn't until Batch 12 and beyond that the cat was out of the bag and everyone was trying to get their hands on one. It will forever be known as the bottle that was the most accessible cask strength Buffalo Trace products out there. Perhaps one of the most iconic things about this brand was that novices and seasoned whiskey drinkers alike could both enjoy it.
As Buffalo Trace takes this brand in a new direction, we will all patiently wait and hold our breath for what comes next. Here's to hoping that "Stagg" will have more bottles per release while also improving the age statement. The king may be dead, but long live the king.
Featured Products
Description:

The Aged & Ore Neat Traveler is a complete travel kit for spirits. We combined our widely praised Neat Glass with one of our 3oz Flight Bottles and housed them together in a custom EVA travel case. Perfect for a night away with your favorite pour. The tie
Description:

The Aged & Ore Bottle Flight is a premium set of 4 custom silicone wrapped glass bottles designed to transport and share samples of your favorite spirits. The flight bottles come in a custom EVA travel case that fits perfectly in any small bag. An Aged &
Description:

This Bundle combines two of our crowd favorite products, creating the ultimate travel bundle to bring along your favorite spirits and glassware. Bundle Includes: Neat Traveler (Gray) Bottle Flight (Gray) Note: This bundle is only available in gray and col
*Bourbon Culture is reader-supported. When you buy through links on our site, we may earn an affiliate commission.