*Bourbon Culture is reader-supported. When you buy through links on our site, we may earn an affiliate commission.
Back in 2016 when it was apparent to Smooth Ambler that the whiskey they had sourced from MGP was beginning to dry up, they began to scramble at ways to stretch their remaining stocks. They had already recognized as early as 2014 that their barrels were evaporating faster than they ever thought possible, so they secured a contract with MGP to distill a large amount of barrels just for them. However, this would not finish aging until 2019 and Smooth Ambler's wheated distillate that they had distilled themselves needed as much time as it could get to keep aging.
George Dickel Distillate
In a bind to find a source of cheap aged whiskey right away, they looked further south than Kentucky and into Tennessee. For whatever reason, George Dickel Distillery had stocks of 5+ year old bourbon distillate that was aging in used, but rejuvenated barrels (so it was technically whiskey, not bourbon). Smooth Ambler grabbed up a decent amount of these barrels and shipped them back to the distillery in West Virginia and began to experiment with blending it with their remaining stocks of MGP bourbon.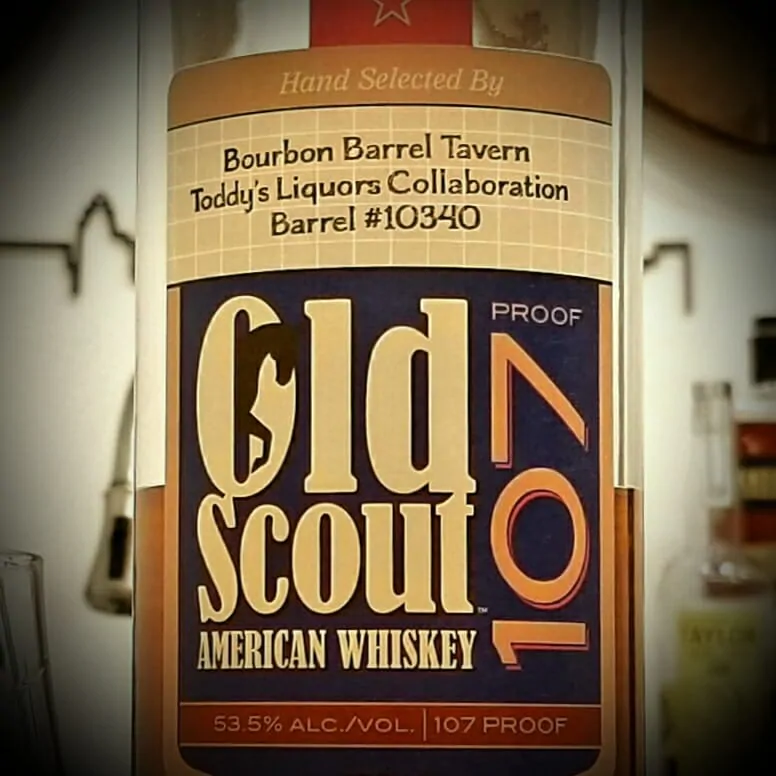 I'm going to make a wild assumption at how exactly this all went down: But they either took the MGP barrels and dumped them into the Dickel barrels or vise versa. Personally, I think it was the former. There may have been tasting involved to ensure that the product was palatable, but otherwise, they found that mixing the Dickel and the MGP created a product somewhere between passable and pretty good. The "pretty good" barrels were then marketed to liquor stores as a "single barrel" pick. With the average price per bottle coming in around $35-40 coupled with the Smooth Ambler name recognition, liquor stores initially gobbled them up. But reviewers panned the product and comparisons to the products of the past made it seem like Smooth Ambler was bottling up the equivalent of flavored vodka.
Toddy's Liquor's #10340
Unaware of this entire backstory, I bought a bottle of the SAOS American Whiskey back in 2018 from Toddy's Liquor Store in Bardstown, KY. He had bought two single barrels and this one had age statements on it that it was a blend of 6 and 9 year old distillate. I actually assume the 9 year old is MGP bourbon and the 6 year old is the Dickel whiskey.
So what did I think of this bottle? Was it the letdown of the century like so many had said it was? Let's pour a glass and find out. This was sampled neat and in a glencairn.
Tasting Notes
Nose: The nose is sweet with a signature Dickel trait of roasted peanut butter mixed with creamy caramel. I'm surprised by the semi-sweet chocolate note I'm getting as well. A very deep sweetness permeates throughout and there is no heat on the nose. It is just a very rich and inviting dessert nose.
Palate: The mouthfeel is surprisingly thick with notes of peanut brittle, black pepper and a melted Hershey bar. There is some nice rye spice traits that give off a little bit of heat. But just enough to warm your chest.
Finish: The two most popular notes of this dram are evident upon the finish where the caramel gets somewhat burnt and a rich chocolate ganache hangs around. The medium-length finish keeps all of the sweetness from the palate intact.
Score: 7/10
I'm as surprised as you that I rated a whiskey like this so high. But every time I drink this dram (and I drink it a lot), I get the same tasting notes and the same experience, so I know I'm not just imagining this. In fact, I was so bold to call out on Reddit that I preferred this over Wild Turkey 101. Maybe I just got a good bottle of this and a bad bottle of Turkey, but I preferred this in a semi-blind tasting. The price is almost double of WT101 though, so it's really a tough stretch to say that this is twice as good. But for what is a negatively viewed product in the Smooth Ambler portfolio, this bottle is really not that bad.
Final Thoughts
One more fun fact to go out on… If you're a fan of this particular label, there are still single barrels waiting to be purchased at Smooth Ambler. And the longer they set, the longer they'll age in that (maybe used?) oak. So potentially, the last barrel pick of this series should be the best barrel sold of the American Whiskey series. It's an interesting point to consider.
Rating Breakdown
1 | Disgusting | Drain pour (Example: Jeffers Creek)
2 | Poor | Forced myself to drink it
3 | Bad | Flawed (AD Laws 4 Grain BiB, Clyde Mays anything)
4 | Sub-par | Many things I'd rather have (Tincup 10 year)
5 | Good | Good, solid, ordinary (Larceny, Sazerac Rye)
6 | Very Good | Better than average (Buffalo Trace, OGD BiB)
7 | Great | Well above average (Old Ezra Barrel Proof, Old Weller Antique)
8 | Excellent | Exceptional (Michter's Barrel Proof Rye, Four Roses Barrel Strength)
9 | Incredible | Extraordinary (GTS, 13 Year MGP or Canadian Rye)
10 | Insurpassable | Nothing Else Comes Close (William Larue Weller)
Featured Products
Description:

The Aged & Ore Neat Traveler is a complete travel kit for spirits. We combined our widely praised Neat Glass with one of our 3oz Flight Bottles and housed them together in a custom EVA travel case. Perfect for a night away with your favorite pour. The tie
Description:

The Aged & Ore Bottle Flight is a premium set of 4 custom silicone wrapped glass bottles designed to transport and share samples of your favorite spirits. The flight bottles come in a custom EVA travel case that fits perfectly in any small bag. An Aged &
Description:

This Bundle combines two of our crowd favorite products, creating the ultimate travel bundle to bring along your favorite spirits and glassware. Bundle Includes: Neat Traveler (Gray) Bottle Flight (Gray) Note: This bundle is only available in gray and col
*Bourbon Culture is reader-supported. When you buy through links on our site, we may earn an affiliate commission.