*Bourbon Culture is reader-supported. When you buy through links on our site, we may earn an affiliate commission.
Barrell Craft Spirits took a gamble in 2016 when they launched their first finished whiskey by taking an American Whiskey from MGP and finishing it in Sherry Butts (the term for a barrel that held Sherry Wine). The result was a whiskey which racked up a decent amount of accolades and awards and cemented the fact that there was going to be finished whiskies in Barrell's portfolio from that point onward.
Batch #003
Shortly thereafter, Barrell released Whiskey Batch 003 in 2017 which saw them use 5 year old distillate from Tennessee and finish it in Sherry and Port barrels. Then they were blended together for a final ratio of 20% Sherry and 80% Port. By switching distillate, the proof point was now considerably lower than any other batches they had produced at that time and still remains the lowest proof batch out of any of their whiskies: 103.5 proof.
While I've had Sherry-finished releases (Belle Meade, Joseph Magnus) and Port-finished releases (Angel's Envy and Isaac Bowman), I've never had a whiskey that used both in one, so I was unsure what to expect. But the look of the juice inside this bottle is impossible to say no to, with it's ruby-red hue. In fact, I'd say it looks a lot like a bottle of Midwinter's Night Dram. But how would it taste? I sat down with a bottle and tasted it neat from a glencairn.
Tasting Notes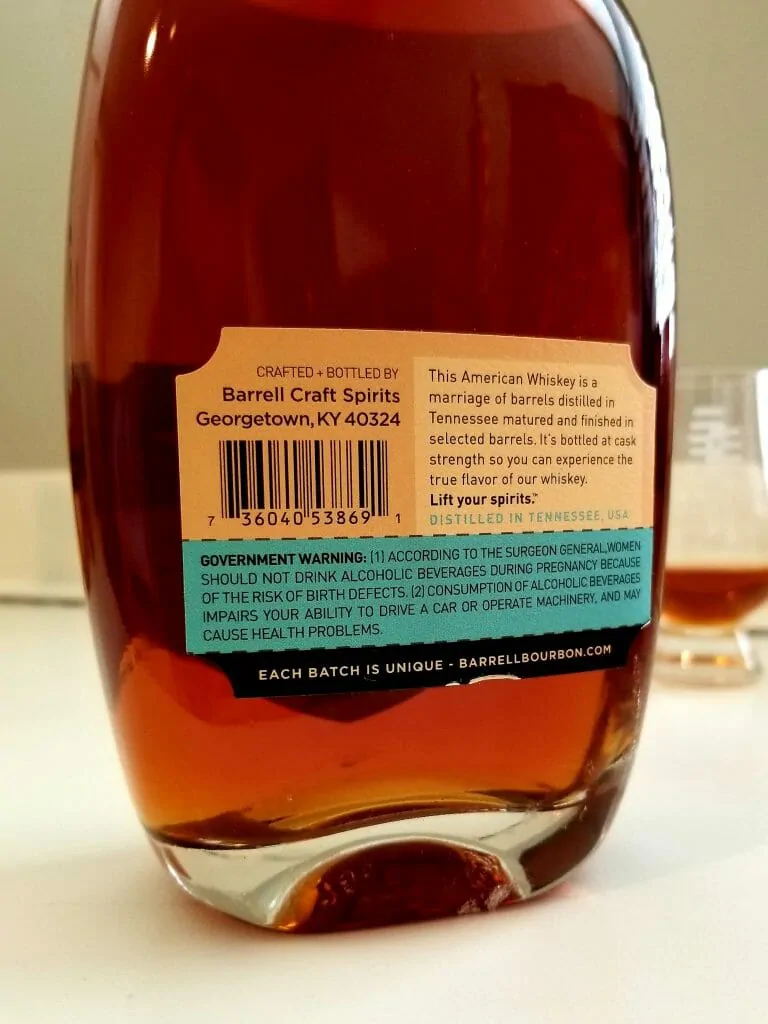 Nose: Freshly baked biscuits with fig butter. There are loads of stewed, dark red fruits. There's also a decent amount of citrus scents wafting around as well. No doubt the nose's sweetness takes it cues from the wine finishes, but it never feels cloyingly so.
Palate: A very thick and sticky mouthfeel. There are notes of sticky-sweet molasses cookies topped with cherry and raspberry preserves. There's even a dark chocolate mousse topping that I find a lot with Dickel distillate. And if you search long enough, you'll also find some roasted nuts hiding in the background.
Finish: The finish morphs carries over the thick mouthfeel with semi-burnt toffee and baking chocolate at the end. I also find remnants of cinnamon-spiced prune juice on the back of my tongue as the finish fades away. Their is a slight residual graphite minerality that lingers long after the sip is gone, which takes away from the whole experience a bit.
Score: 7.1/10
Overall, this is one of my least favorite Barrell releases that they've put out, but it's still pretty good overall. What I was hoping would turn out as a Midwinter's Night Dram on steroids, seemed to rely too heavily on the finishing barrels. I think Port wine really needs the assistance of rye spice to help compliment it, but there is very little rye here, so it just makes everything extra sweet, like almost drinking syrup.
Final Thoughts
The base distillate needs a lot of help the lackluster Dickel base was not covered up well enough, even by these pungent wine barrels. In fact, a thought that crossed my mind as I drank it was what if the distillate wasn't even a true Dickel Bourbon and instead, the Dickel distillate that used the same "rejuvenated barrels" that Smooth Ambler used for it's "American Whiskey" label? It would make a lot of sense that Joe Beatrice wouldn't want to spend extra money on buying true Dickel bourbon just to finish it in a wine barrel and have to label it as a whiskey. And both Smooth Ambler and Barrell would've used this distillate at around the same time. But this is just speculation. However, when compared to the entire Barrell Whiskey lineup, Batch 003 is clearly the low point of the finishing experiments.
Rating Breakdown
1 | Disgusting | Drain pour (Example: Jeffers Creek)
2 | Poor | Forced myself to drink it
3 | Bad | Flawed (AD Laws 4 Grain BiB, Clyde Mays anything)
4 | Sub-par | Many things I'd rather have (Tincup 10 year)
5 | Good | Good, solid, ordinary (Larceny, Sazerac Rye)
6 | Very Good | Better than average (Buffalo Trace, OGD BiB)
7 | Great | Well above average (Old Ezra Barrel Proof, Old Weller Antique)
8 | Excellent | Exceptional (Michter's Barrel Proof Rye, Four Roses Barrel Strength)
9 | Incredible | Extraordinary (GTS, 13 Year MGP or Canadian Rye)
10 | Insurpassable | Nothing Else Comes Close (William Larue Weller)
Featured Products
Description:

The Aged & Ore Neat Traveler is a complete travel kit for spirits. We combined our widely praised Neat Glass with one of our 3oz Flight Bottles and housed them together in a custom EVA travel case. Perfect for a night away with your favorite pour. The tie
Description:

The Aged & Ore Bottle Flight is a premium set of 4 custom silicone wrapped glass bottles designed to transport and share samples of your favorite spirits. The flight bottles come in a custom EVA travel case that fits perfectly in any small bag. An Aged &
Description:

This Bundle combines two of our crowd favorite products, creating the ultimate travel bundle to bring along your favorite spirits and glassware. Bundle Includes: Neat Traveler (Gray) Bottle Flight (Gray) Note: This bundle is only available in gray and col
*Bourbon Culture is reader-supported. When you buy through links on our site, we may earn an affiliate commission.