*Bourbon Culture is reader-supported. When you buy through links on our site, we may earn an affiliate commission.
Barton Distillery released their 1792 Full Proof pick to a good deal of hype in 2016. The whole lineup of 1792 was undergoing a transformation that saw multiple interesting finishes or mashbills be released under the 1792 name. The name "Full Proof" denotes that the proof upon which the whiskey entered the barrel would be the proof that the whiskey is also bottled at. This means that 1792 actually increased in proof as it aged and then water was added to it to bring it back down to 125 proof. This makes even more sense once you realize that Barton primarily ages its bourbon on floors 4 through 6 of their warehouses and that it ages other spirits (including a brandy apparently) on its lower floors.
Rural Inn Picks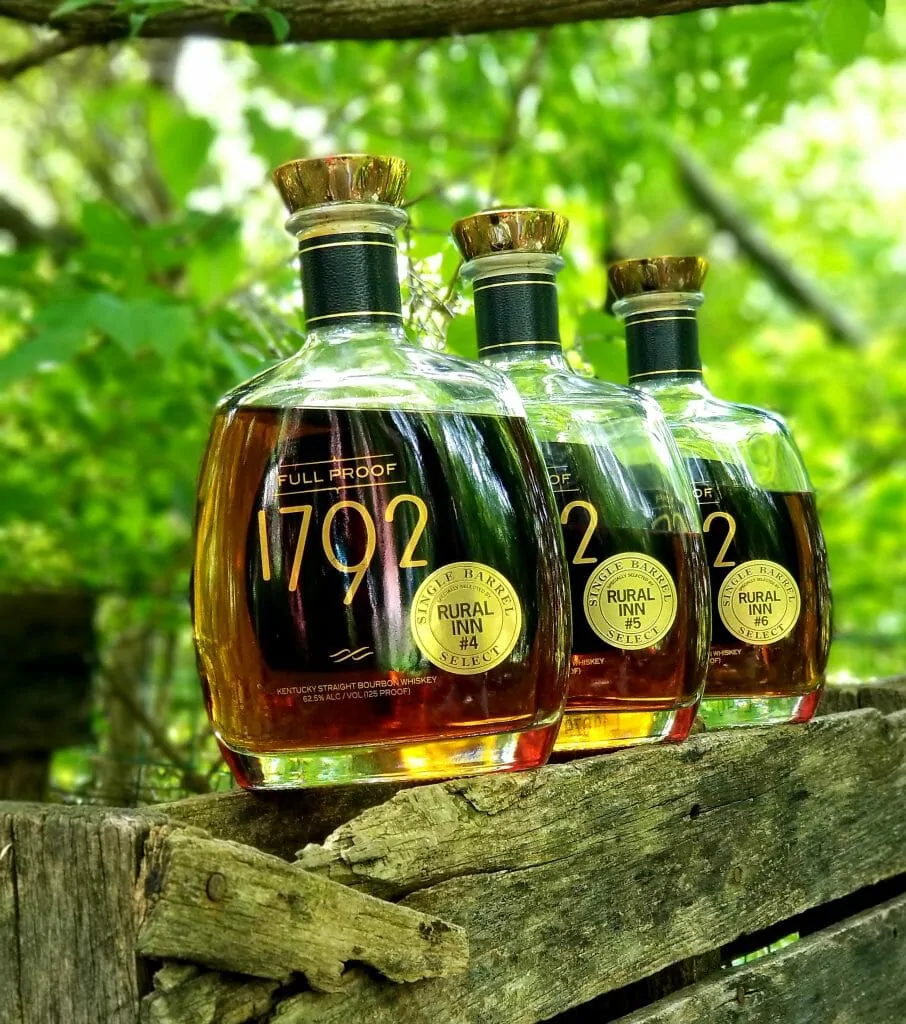 Shortly after Barton launched the 1792 Full Proof label, they began a single barrel program whereby liquor stores or groups could come in to sample barrels and buy them for their store. I do not know the typical yield on these barrels, but it surely has to be slightly less than normal. Today, I have 3 separate store picks from The Rural Inn in Indianapolis that I am going to do a semi-blind tasting on. I'll know they're all 1792 Full Proof, but I won't know which one is which as I'm tasting them. So let's get started, shall we? They were all sampled neat and in a glencairn.
Blind Glass #1
Nose: Grade B Maple Syrup, heavy cinnamon, vanilla scones, a faint hint of chocolate chip cookies
Palate: Maraschino cherries, thick brown sugar, sticky toffee, cinnamon, clove and black pepper round out the spices. There is also a nice orange zest in here.
Finish: Pine needles hint to the rye in the mashbill. I also get a general rye spice cooling effect as well. There is warm cinnamon frosting and a mild tannic oak drying sensation
Score: 7.8/10
Blind Glass #2
Nose: Seasoned Wood, Vanilla scraped straight from the bean pod, Spiced apple pie, honey and crème brulee. This nose, with it's seasoned wood scent especially, reminds me of MGP bourbon. If you're a fan of MGP, this is your pick.
Palate: Warm raisins and prunes. Sweet corn bread with melted butter. Cherry licorice and sweet mint.
Finish: Oaky, some baker's chocolate, some citrus peel (like a sour orange), and the sweet mint hangs around. There is also some drying oak and surprisingly, butterscotch chips.
Score: 7.9/10
Blind Glass #3
Nose: Sweet pipe tobacco, barrel char, Christmas baking spices! Cinnamon and nutmeg. Then there is a slight hint of mocha coffee grounds along with caramel sauce. If there is one thing this nose reminds me of the closest, it's ECBP.
Palate: Sweeter than the other 2 surprisingly? Cherries and candied orange peel. This tastes *almost* like a Barrel Proof Buffalo Trace would.
Finish: The sweet finish carries over. The orange turns slightly sour, but a honeyed rye spice dances around for a bit while tobacco leaf adds complexity.
Score: 7.8/10
Blind Reveal:
Glass #1: 1792 Rural Inn #4
Glass #2: 1792 Rural Inn #6
Glass #3: 1792 Rural Inn #5
Winner: 1792 #6!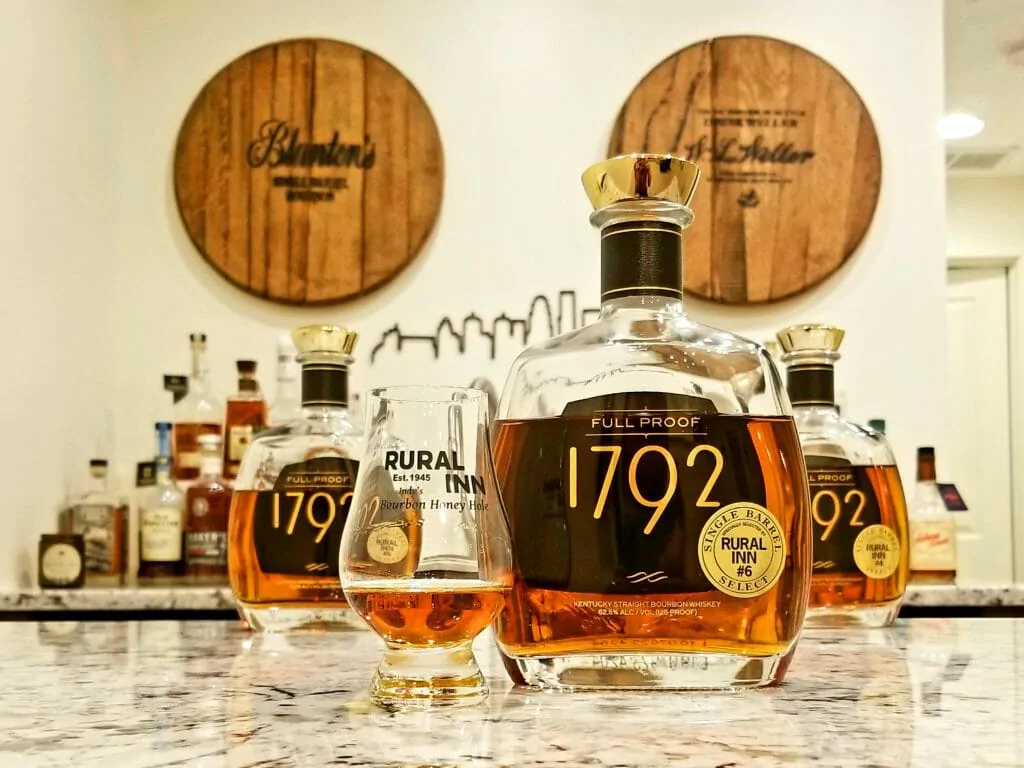 My initial thoughts were just how differently all of these Full Proofs tasted. If this was a total blind tasting, I would have believed that I was tasting 3 different distiller's products. But the most surprising out of all of these things were just how good that all of these bottles were. Almost eclipsing an "8" in score, these bottles showed great character and complexity. This review was actually done in the summer of 2019, before Jim Murray proclaimed 1792 as his "Whiskey of the Year" but since then, the tater's have refocused their targets onto it and now stores quickly sell out. I can kind of see why.
Final Thoughts
Although I do not think that 1792 is the best whiskey out there, the value proposition was always clear to see. My first bottle (pick #4) was only a measly $44. But the price is now upwards of $50. The uniqueness of this distillate is hard to describe, but in my opinion that is a good thing. You would simply have to try every Store Pick to know how well you liked it because they won't all taste the same. And that, in my opinion, makes 1792 Full Proof single barrels such a fun whiskey to seek out.
Featured Products
Description:

The Aged & Ore Neat Traveler is a complete travel kit for spirits. We combined our widely praised Neat Glass with one of our 3oz Flight Bottles and housed them together in a custom EVA travel case. Perfect for a night away with your favorite pour. The tie
Description:

The Aged & Ore Bottle Flight is a premium set of 4 custom silicone wrapped glass bottles designed to transport and share samples of your favorite spirits. The flight bottles come in a custom EVA travel case that fits perfectly in any small bag. An Aged &
Description:

This Bundle combines two of our crowd favorite products, creating the ultimate travel bundle to bring along your favorite spirits and glassware. Bundle Includes: Neat Traveler (Gray) Bottle Flight (Gray) Note: This bundle is only available in gray and col
*Bourbon Culture is reader-supported. When you buy through links on our site, we may earn an affiliate commission.