*Bourbon Culture is reader-supported. When you buy through links on our site, we may earn an affiliate commission.
Toddy's Liquor Store in Bardstown, KY is a polarizing place among bourbon enthusiasts. This tiny shop right in the middle of downtown Bardstown is hard to find, old and very cramped on the inside. But the allure of Toddy's is the fact that the top shelves contain an ever-changing assortment of allocated bottles that the owner, Guthrie, buys and sells himself. The prices on those rare bottles all hover around secondary (if not more) but he enjoys haggling with people over what they will pay or trade for in order to get one.
But Toddy's is known for more than just its allocated bourbon selection. What really thrust it into the bourbon limelight were the picks of Russell's Reserve single barrels that were nicknamed "Toddy's Twix." Guthrie has described his Twix picks as being some of the sweetest barrels he can find with chocolate notes that make it taste like a Twix candy bar. His early picks were good enough to gain notoriety in certain Wild Turkey groups. But these days, his Twix picks vary in quality (and he'll even tell you that himself). When I was at his shop picking this up, Guthrie told me that this Twix pick, his 7th, was not as good as his "Twix VI."
But since I'm always on the lookout for a good Russell's Reserve store pick, I decided to grab one anyway and see what the hype was all about. Priced at $75, but wearing a "sticker," would this CNF pick show me traits of the candy bar it's named after? There's only one way to find out. I sampled this neat and from a Glencairn.
Tasting Notes
Nose: The nose has a familiar scent of peanut butter followed by a heavy does of baking spices. I also detect Nilla wafers. The chocolate that I was hoping to find is there in the form of both chocolate pudding cups and chocolate ganache. The wood scent in this dram is more like a cedar wood than oak, because of its lighter, more fragrant notes.
Palate: The first notes that my tongue detects aren't chocolate, but rather a combination of cherry and orange Jolly Rancher candies. There's the familiar creamy nut butter and the spice of red pepper flakes. I'm happy to detect some chocolate in the form of cocoa powder, but it's not quite the burst I was expecting based on the nose. Vanilla cupcakes and some rye spice notes like peppermint and herbs are also happy to join the mix, showing some of that great rye character that Wild Turkey bourbons are known to have.
Finish: This may sound too on-the-nose, but I do detect a bit of the vanilla wafers covered in caramel that you typically find in candy bars. It's a fun treat, but I am noticing my chocolate notes are missing. It's not totally a downer though because musty oak notes that I like from Wild Turkey products are present in a big way along with roasted nuts, sweet citrus juices, sweet mint and Ricola cough drops.
Score: 8/10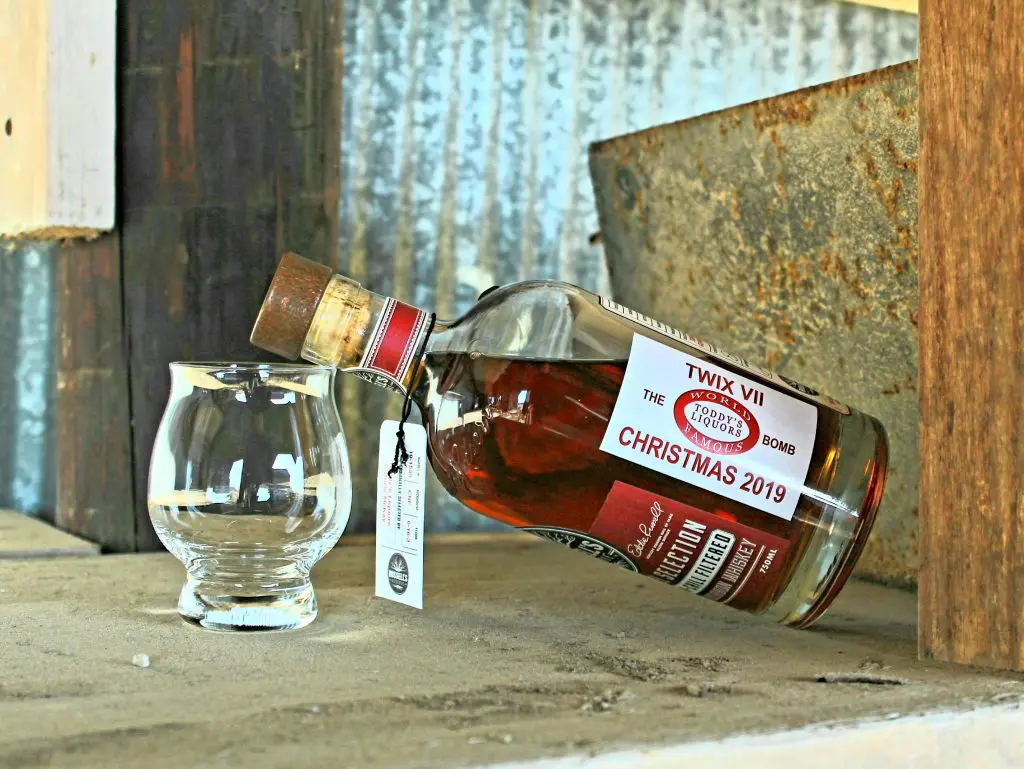 I've had only a small amount of Russell's SiBs compared to other reviewers. But in my limited experience, I would say that this one lands squarely in the middle. It's certainly not a bad pick by any means and my rating of an "8" means that this bottle was delicious, the value was spot on and I'd buy another bottle if I had the chance.
But it's a sweet, dessert-y bourbon that does drink like a candy bar and that hits the spot on most nights. Some of those old, musty notes that I really enjoy in my RRSiB picks were absent in this one, which took some of the complexity out of it. I have never tasted another Toddy's Twix before, but if they're like what others are telling me, then they'd probably break into a very high score on my rankings. These also don't seem to pop up too much on the secondary sites either, but when they do, they typically fetch double of what they were sold for, if not more.
Final Thoughts
The one high note about Toddy's Twix is that you know that the same person is picking these barrels every time, delivering a level of consistency that you don't always find in regular store picks. And since it's also known that his palate leans more towards sweet and dessert-y, it's a surefire bet that that's what you'll be getting every time you buy one of these bottles. And sometimes in a sea of store picks, consistency is something that people will appreciate more than the gamble that most other store picks have become.
Ratings Breakdown
1 | Disgusting | Drain pour (Example: Jeffers Creek)
2 | Poor | Forced myself to drink it
3 | Bad | Flawed (AD Laws 4 Grain BiB, Clyde Mays anything)
4 | Sub-par | Many things I'd rather have (Tincup 10 year)
5 | Good | Good, solid, ordinary (Larceny, Sazerac Rye)
6 | Very Good | Better than average (Buffalo Trace, OGD BiB)
7 | Great | Well above average (Old Ezra Barrel Proof, Old Weller Antique)
8 | Excellent | Exceptional (Michter's Barrel Proof Rye, Four Roses Barrel Strength)
9 | Incredible | Extraordinary (GTS, 13 Year MGP or Canadian Rye)
10 | Insurpassable | Nothing Else Comes Close (William Larue Weller)
Featured Products
Description:

The Aged & Ore Neat Traveler is a complete travel kit for spirits. We combined our widely praised Neat Glass with one of our 3oz Flight Bottles and housed them together in a custom EVA travel case. Perfect for a night away with your favorite pour. The tie
Description:

The Aged & Ore Bottle Flight is a premium set of 4 custom silicone wrapped glass bottles designed to transport and share samples of your favorite spirits. The flight bottles come in a custom EVA travel case that fits perfectly in any small bag. An Aged &
Description:

This Bundle combines two of our crowd favorite products, creating the ultimate travel bundle to bring along your favorite spirits and glassware. Bundle Includes: Neat Traveler (Gray) Bottle Flight (Gray) Note: This bundle is only available in gray and col
*Bourbon Culture is reader-supported. When you buy through links on our site, we may earn an affiliate commission.