*Bourbon Culture is reader-supported. When you buy through links on our site, we may earn an affiliate commission.
Quick, name 3 different Canadian distillers. Most would probably answer "Alberta distillery" and stumble on naming two more. The reality is that if you're a fan of American whiskey (or Scotch), the products coming out of Canada don't interest you. Some of you may have guessed "Crown Royal" because it was likely the first type of whisk(e)y that you drank that wasn't Jack Daniels.
But Crown Royal, which was sold by Seagrams to Diageo in the early 2000s, is really more of a collection of distilleries in Canada (i.e. Gimli and Valleyfield). But budding bourbon and rye whiskey enthusiasts quickly poo-poo anything that comes from Crown, let alone Canada. However, when Whistlepig began bottling rye whiskey from Alberta Distillery, it became the de facto distillery associated with Canadian Rye Whisky for most Americans.
The truth is that we don't have to look that far north for a distillery that has been churning out great rye whiskey products that rival some US-produced ones. Hiram Walker Distillery, which is located right across the border from Detroit in Windsor, Ontario has been churning out some great whisky for many decades.
Corby, the parent company that owns the HW Distillery, is a name you may not have heard of before. But I guarantee you have heard of the other brands they own such as Jameson, Glenlivet, Beefeater Gin and Kahlua Liqueur. For this review though, we are only concerned with the whiskey products produced at the Hiram Walker distillery like J.P. Wiser's, Pike Creek and the subject of our review today: Lot No. 40 rye whisky.
Lot No. 40
Lot No. 40 has been sold in the US since 2012 as an 86 proof rye whisky. Starting in 2017, Canadians have been able to get ahold of an annual release of Cask Strength Lot No. 40 that started with a 12 year age stated rye whisky. This release was primarily aged in new charred oak barrels and had a mashbill of 95% unmalted rye and 5% malted rye.
What I'm reviewing today was the second cask-strength bottling of this popular label and was released in 2018 and carried an age statement of only 11 years. Bottled at 116.8 proof, it was higher in proof than the initial batch, but what else had changed? I have not tried the 12 year bottling at the time of this writing, but wanted to explore the profile of this 11 year old one for this review.
As always, I have sampled this neat and in a Glencairn.
Tasting Notes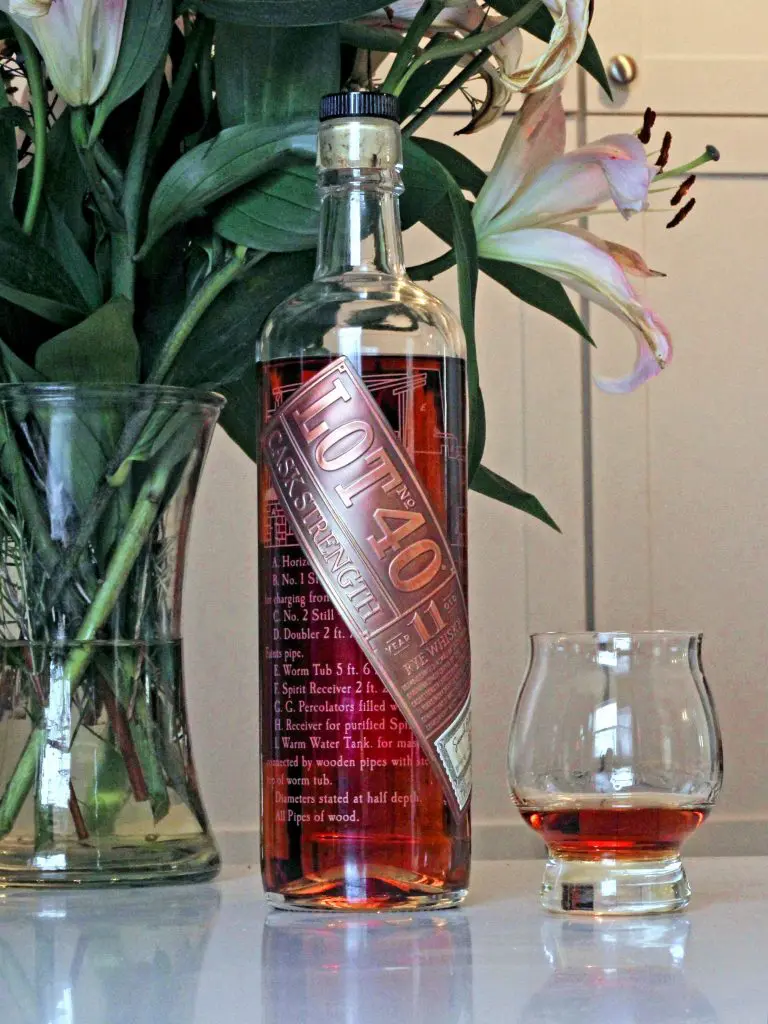 Nose: The nose does not come off as a typical Canadian Rye, but it is very floral like holding a bouquet of flowers. In fact, the whole nose seems to be reminiscent of a forest floor after a Spring rain. The sweet notes swirl around like sweet cherry blossoms, vanilla bean pods and a hint of sliced banana. There is also a fun aroma of graham crackers that add some grain elements to the mix, but is still very complex.
Palate: There is a sharp rye spice that builds on the tongue, but not in a youthful way. The classic rye flavors of pine needles and peppermint dominate, but the baking spices add a rich complexity with cinnamon stick, cardamom and clove. The sweetness comes in the form of crystalized honey that can be both sharp and sweet at the same time. Overall, there is a decent amount of heat, but it isn't intrusive enough to not be able to find all of these layered flavors.
Finish: Sweet and sharp flavors hang around after the sip is over. There is notes of fiery Saigon cinnamon and ground white peppercorns that is quite intense, but doesn't scare me away. In fact, it is so uniquely delicious that it beckons me to come back for another taste. The rye spices also integrate sweet mint, fresh hay and ginger root for a little extra zing. There is even a pleasant citrus like lime zest.
Score: 8.2/10
It is difficult to describe in my tasting notes just how deep and robust the flavors on this rye were. But they were fantastic and really straddled the line between what a Canadian Rye Whisky tastes like and what a high-rye American Rye Whiskey tastes like. In fact, if I had to pick which American Rye profile this tasted closest to, I'd say a blend of Russell's Reserve Single Barrel Rye (sweetness), Knob Creek Single Barrel Rye (spice/heat) and New Riff Single Barrel Rye (rye character).
Final Thoughts
This bottle is a rarity to the US market and although it's not exactly pricey in the grand scheme of things (it's roughly the cost of Wild Turkey Cornerstone), it is hard to get your hands on because they typically have to come across the border somehow.
But the attractive packaging and character of the rye make it worth finding a way to get a pour of it sometime in your lifetime if only because Lot No. 40's Cask Strength bottlings seem to be heading in the direction of various barrel finishes and no age statements. This may not change the minds of whiskey lovers, but for the rye whiskey purists, they will stick with the 12 and 11 year Cask Strengths as the top bottles to find.
Rating Breakdown
1 | Disgusting | Drain pour (Example: Jeffers Creek)
2 | Poor | Forced myself to drink it
3 | Bad | Flawed (AD Laws 4 Grain BiB, Clyde Mays anything)
4 | Sub-par | Many things I'd rather have (Tincup 10 year)
5 | Good | Good, solid, ordinary (Larceny, Sazerac Rye)
6 | Very Good | Better than average (Buffalo Trace, OGD BiB)
7 | Great | Well above average (Old Ezra Barrel Proof, Old Weller Antique)
8 | Excellent | Exceptional (Michter's Barrel Proof Rye, Four Roses Barrel Strength)
9 | Incredible | Extraordinary (GTS, 13 Year MGP or Canadian Rye)
10 | Insurpassable | Nothing Else Comes Close (William Larue Weller)
Featured Products
Description:

The Aged & Ore Neat Traveler is a complete travel kit for spirits. We combined our widely praised Neat Glass with one of our 3oz Flight Bottles and housed them together in a custom EVA travel case. Perfect for a night away with your favorite pour. The tie
Description:

The Aged & Ore Bottle Flight is a premium set of 4 custom silicone wrapped glass bottles designed to transport and share samples of your favorite spirits. The flight bottles come in a custom EVA travel case that fits perfectly in any small bag. An Aged &
Description:

This Bundle combines two of our crowd favorite products, creating the ultimate travel bundle to bring along your favorite spirits and glassware. Bundle Includes: Neat Traveler (Gray) Bottle Flight (Gray) Note: This bundle is only available in gray and col
*Bourbon Culture is reader-supported. When you buy through links on our site, we may earn an affiliate commission.