*Bourbon Culture is reader-supported. When you buy through links on our site, we may earn an affiliate commission.
I am pretty crazy about rye whiskey these days and am excited to see that more brands are starting to put out more labels into their lineups. But I'm a devout "high rye" rye whiskey lover who loves my rye mashbills to contain more than 90% rye. This is why I prefer MGP, New Riff and Canadian ryes over the barely legal Kentucky rye whiskies out there. But lately I've been dabbling into the barely legal ones to see which ones stick out to me. What I've came to find out is that I do like a lot of Kentucky ryes, but they need to be high in proof.
Ryes like Sazerac Rye (i.e. Baby Saz) and even some of the BiB ryes out there don't always cut it for me. Even in my early days, I did not care for Pikesville, which has both a high proof and an age statement. But times change and so do preferences, so I decided to grab that old bottle and do a side by side with a new Knob Creek Rye store pick from Rural Inn.
Rural Inn Pick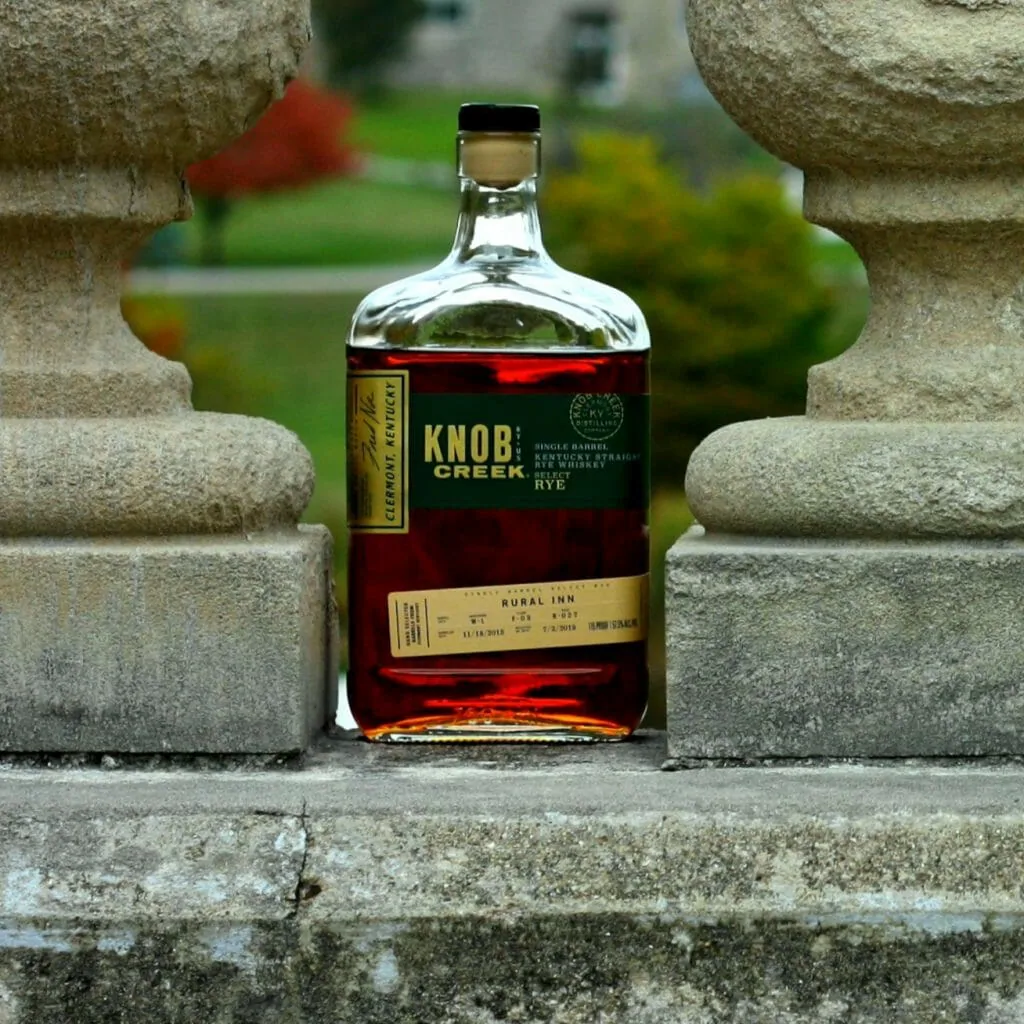 Back in June, Knob Creek sent a very nice wooden box with 3 sample bottles and a bottle of KY water to proof down the glasses with along with lots of information about where the barrels came from. It was interesting to see just how different 3 barrels of barely legal rye whiskey could be. On paper, the Pikesville shared very similar characteristics with the Knob Creek. The Knob Creek came in at 5.5 years old and 115 proof. The Pikesville is at least 6 years old and bottled at 110 proof. So which would reign supreme? I sampled these semi-blind and neat in a glencairn.
Blind Glass #1
Nose: Charred oak, crème brulee, grass clippings, leather-bound book, melted chocolate bar, fresh mint, toasted nuts
Palate: An oily mouthfeel that's not necessarily creamy, but it seems to coat everything very well. There's a persistent heat like white pepper and chili powder. But there's also a sweet side trying to show through with caramel sauce, raisins, cinnamon and sourdough bread. There's also a nice smattering of peppermint throughout.
Finish: The finish is somewhat simple with sweet mint, drying oak, black pepper and basil (?!). The sweetness that was present in the palate doesn't necessarily transfer over to the finish, which ends on an overall spicy note.
Score: 6.5/10
Blind Glass #2
Nose: An instant 180 from Glass #1, the nose skips tannins altogether in favor of fruits and sweets. There's cherry, vanilla, orange zest and lots of baked goods. There's an earthiness that's present and also mixes in some cocoa powder and subtle rye spice. This is a very bourbon-like nose and frankly, it reminds me of some Buffalo Trace products.
Palate: Fruit preserves carry over the fruit-forward nature of the nose. There's cherries and raspberries that mix together with pepper flakes and gingersnap cookies. It's a pleasant sweet and spicy combo.
Finish: The cocoa powder on the nose somehow now comes back into physical form by way of a Snickers candy bar. There's some cherry cheesecake and candy cane that both hint to the sweet nature of this rye as well as a subtle spiciness that is more smoldering and less fiery.
Score: 6.7/10
Blind Reveal:
Glass 1: Knob Creek SiB Rural Inn pick
Glass 2: Pikesville
Winner: Pikesville!
This isn't the first time and this isn't the last time that I have done a barrel pick and ended up not picking it as a winner in a semi-blind side by side comparison. I've done this comparison 3 times now and the results were the same every time. I'd like to say that the Pikesville does have a big advantage in the sense that it's been open for 9 months whereas the Knob Creek has only been open for 3 weeks, but it might just come down to the fact that the Knob Creek is more spicy in nature than the Pikesville.
Final Thoughts
This is probably why Pikesville is universally loved; it's a great gateway rye for the bourbon lover because it packs so much fruity sweetness while limiting the heat level. It may also have something to do with the barrel char level not imparting as many tannins into the juice because I think Heaven Hill uses a #3 level char for all of their bourbon and ryes whereas everything Jim Beam distills uses a #4 char.
Regardless, I would not skip out on the Knob Creek Single Barrels if you find them. Ultimately they're a fun rye because the spice level amps it up and the tannins give you a sense of greater age than they are. It's a bold and adventerous rye that really packs a wallop.
Rating Breakdown
1 | Disgusting | Drain pour (Example: Jeffers Creek)
2 | Poor | Forced myself to drink it
3 | Bad | Flawed (AD Laws 4 Grain BiB, Clyde Mays anything)
4 | Sub-par | Many things I'd rather have (Tincup 10 year)
5 | Good | Good, solid, ordinary (Larceny, Sazerac Rye)
6 | Very Good | Better than average (Buffalo Trace, OGD BiB)
7 | Great | Well above average (Old Ezra Barrel Proof, Old Weller Antique)
8 | Excellent | Exceptional (Michter's Barrel Proof Rye, Four Roses Barrel Strength)
9 | Incredible | Extraordinary (GTS, 13 Year MGP or Canadian Rye)
10 | Insurpassable | Nothing Else Comes Close (William Larue Weller)
Featured Products
Description:

The Aged & Ore Neat Traveler is a complete travel kit for spirits. We combined our widely praised Neat Glass with one of our 3oz Flight Bottles and housed them together in a custom EVA travel case. Perfect for a night away with your favorite pour. The tie
Description:

The Aged & Ore Bottle Flight is a premium set of 4 custom silicone wrapped glass bottles designed to transport and share samples of your favorite spirits. The flight bottles come in a custom EVA travel case that fits perfectly in any small bag. An Aged &
Description:

This Bundle combines two of our crowd favorite products, creating the ultimate travel bundle to bring along your favorite spirits and glassware. Bundle Includes: Neat Traveler (Gray) Bottle Flight (Gray) Note: This bundle is only available in gray and col
*Bourbon Culture is reader-supported. When you buy through links on our site, we may earn an affiliate commission.