*Bourbon Culture is reader-supported. When you buy through links on our site, we may earn an affiliate commission.
Johnny Drum is an obscure label that gets lost easily on any liquor store shelf. I passed by it numerous times until one day I picked up a bottle of it because I saw nothing else that interested me that day. In its heyday, a bottle of Johnny Drum carried a 15 year old age statement and by all accounts, still kinda sat on the shelves.
But these days, Kentucky Bourbon Distillers (i.e. Willett) has dropped the age statement has reportedly started to use its own distillate to fill this bottle. I think a main issue with why this bottle doesn't move too much is that it is priced and proofed at that magical price point, somewhere between $30 and $40, that it's going to get passed over in favor of cheaper options at that same proof (Wild Turkey 101) or more expensive bottles that carry an age statement and a pedigree (Henry McKenna BiB).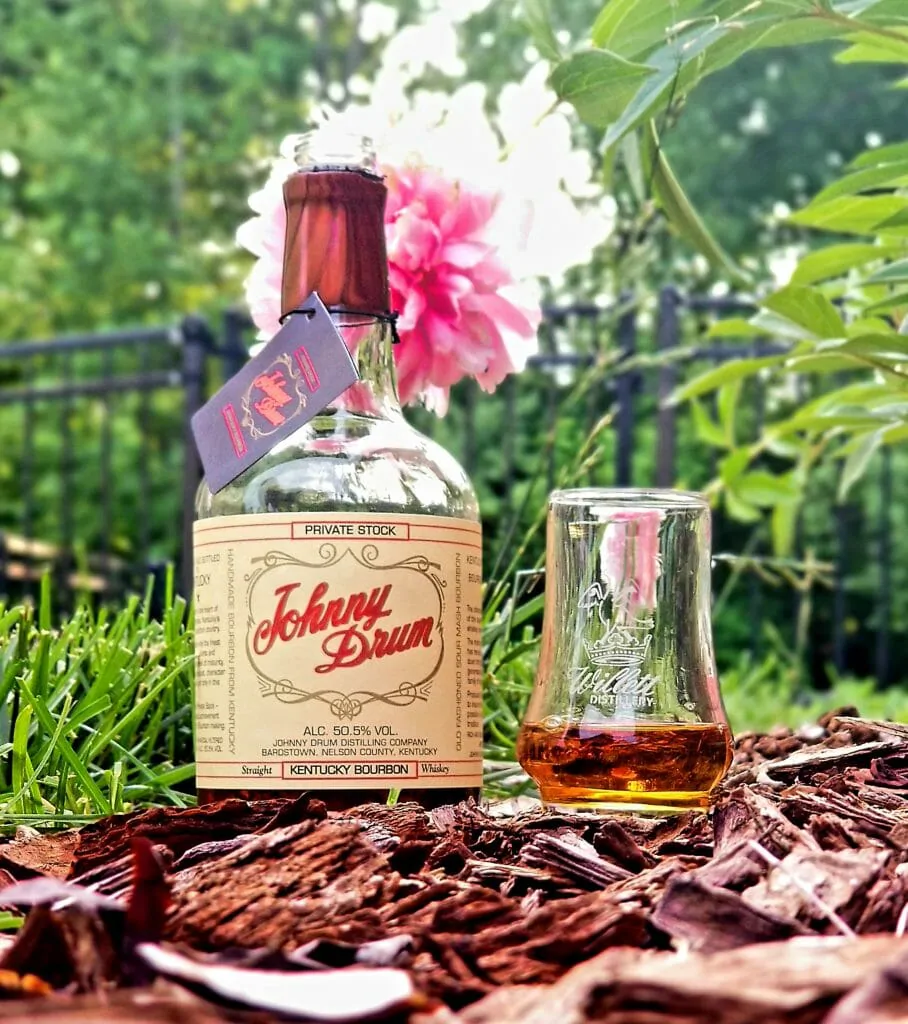 So this prompts the question: Is this mystery bourbon a shelf sleeper or an overpriced turd? Let's struggle to open the absolutely ridiculous wax dipped plastic screw cap (seriously, WTF) and find out. I sampled this neat in both a glencairn and in a fancy Willett glass that's close enough to a glencairn.
Tasting Notes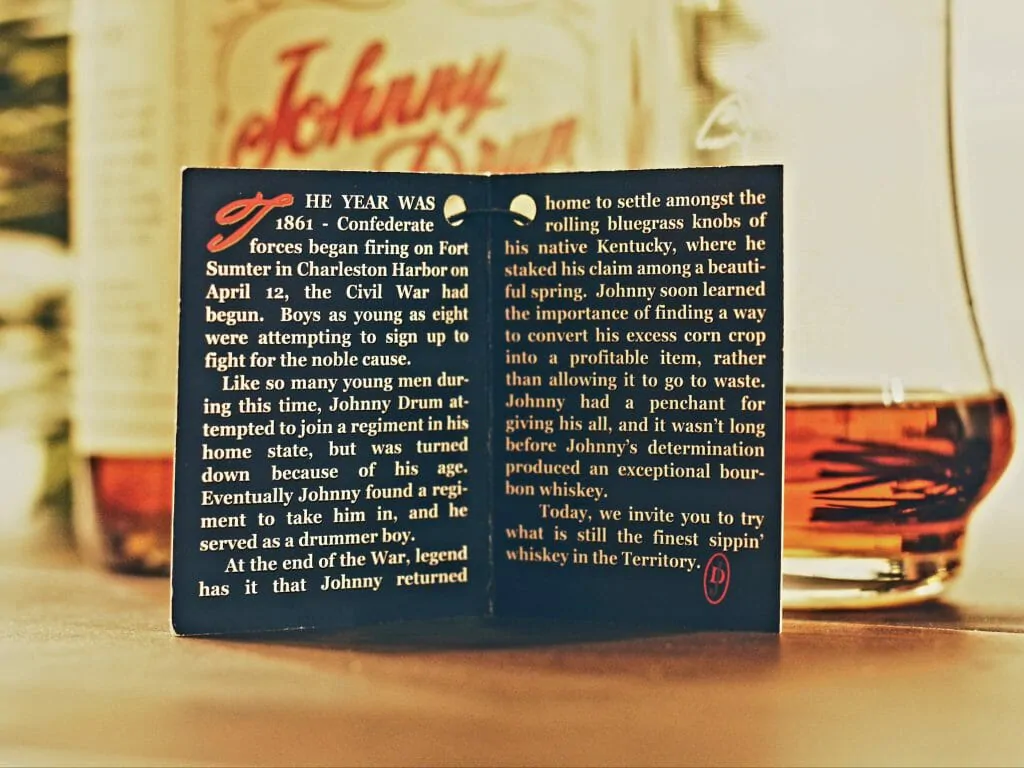 Nose: A lovely scented nose of vanilla custard, red berries, caramel drizzled French toast, ripe apples, melted white chocolate. Despite the big wave of sweets, the nose is very botanical overall, making me think it has a high rye content.
Palate: A nice oily mouthfeel and some interesting flavors of almond meal, apple dumplings, cinnamon, cardamom and fresh oak wood swirl around. It's pleasing and I can still detect rye notes here and there. It's almost like a young, high-rye MGP bourbon mashbill.
Finish: Sweet mint, pine, baked apples, cinnamon and tobacco leaf all leave a pleasant aftertaste that is never bitter, but continues to remind me of a rye whiskey rather than a bourbon.
Score: 6.5/10
So this is a pretty darn nice bourbon. In fact, if you had this blind you may well assume this is a moderately priced 7-8 year old rye whiskey. It appealed to me by boxing above its weight class, but the label, bottle, screw cap and general lack of identity will probably keep this setting on shelves at a store near you for a long time.
Final Thoughts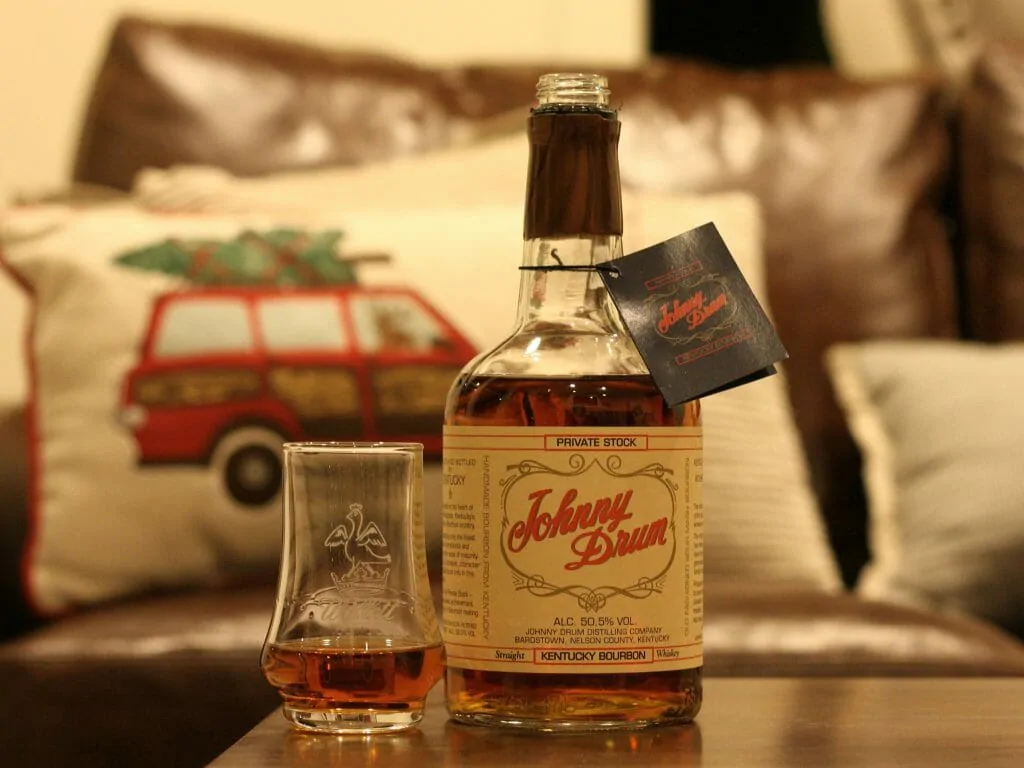 In a world of 100-ish proof bourbons that are equal or less in cost (WT101, Henry McKenna BiB, EHT Small Batch, 1792 BiB), this one seems like a hard sell on paper. The high-rye characteristics will appeal to even less in that aforementioned crowd. But if you're a fan of Old Granddad BiB, Four Roses Single Barrel or even a young MGP high rye bourbon like Tumblin Dice 3 and 4 year age stated, then Johnny Drum should be on your list of daily drinkers.
Scoring Index
1 | Disgusting | Drain pour (Example: Jeffers Creek)
2 | Poor | Forced myself to drink it
3 | Bad | Flawed (AD Laws 4 Grain BiB, Clyde Mays anything)
4 | Sub-par | Many things I'd rather have (Tincup 10 year)
5 | Good | Good, solid, ordinary (Larceny, Sazerac Rye)
6 | Very Good | Better than average (Buffalo Trace, OGD BiB)
7 | Great | Well above average (Old Ezra Barrel Proof, Old Weller Antique)
8 | Excellent | Exceptional (Michter's Barrel Proof Rye, Four Roses Barrel Strength)
9 | Incredible | Extraordinary (GTS, 13 Year MGP or Canadian Rye)
10 | Insurpassable | Nothing Else Comes Close (William Larue Weller)
Featured Products
Description:

The Aged & Ore Neat Traveler is a complete travel kit for spirits. We combined our widely praised Neat Glass with one of our 3oz Flight Bottles and housed them together in a custom EVA travel case. Perfect for a night away with your favorite pour. The tie
Description:

The Aged & Ore Bottle Flight is a premium set of 4 custom silicone wrapped glass bottles designed to transport and share samples of your favorite spirits. The flight bottles come in a custom EVA travel case that fits perfectly in any small bag. An Aged &
Description:

This Bundle combines two of our crowd favorite products, creating the ultimate travel bundle to bring along your favorite spirits and glassware. Bundle Includes: Neat Traveler (Gray) Bottle Flight (Gray) Note: This bundle is only available in gray and col
*Bourbon Culture is reader-supported. When you buy through links on our site, we may earn an affiliate commission.