*Bourbon Culture is reader-supported. When you buy through links on our site, we may earn an affiliate commission.
There is perhaps no greater controversy in the bourbon world than what exactly changed at Wild Turkey at the turn of the millennium.
Led by ownership changes, investments in new equipment, modifications to the way the product was fermented and distilled and a new Russell taking the reins of the Master Distiller operations, Wild Turkey has undoubtedly changed.
But all of these changes were conceived of in an effort to streamline production while bringing distillation processes into the 21st century.
It is unlikely that anyone was thinking that the steps they were taking back then would have significant impacts on the final products in the years that followed.
Older generations of bourbon drinkers may not have recognized this difference as the years went on. Much like a parent that does not realize the speed their children are growing, it is hard to see change when you are constantly immersed in it.
But for those that began drinking bourbon during the modern-Turkey era (widely considered to have started around 2006), they knew of no such changes until they got their first sip from a "dusty" bottle.
Only then were the differences between what Wild Turkey used to make and what Wild Turkey currently makes, apparent to all.
Russell's Reserve 13 Year Old Barrel Proof Bourbon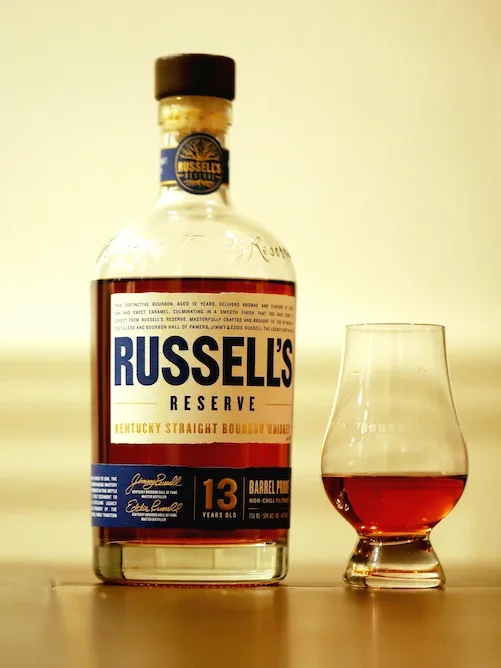 That leads us to the subject of our review today: Russell's Reserve 13 Year Old Barrel Proof Bourbon. In an era where Wild Turkey products often lack age statements and are rarely bottled at barrel proof, the announcement of this product that had both of those things was received with a ton of enthusiasm.
Adding fuel to the excitement fire was the news that this $70 bottle was going to be an annual release as well, meaning that if you couldn't get your hands on one this year, that you still might be able to in the future.
I don't mess around with too many Wild Turkey offerings but I generally enjoy Russell's Reserve Single Barrels. In spite of that, I've had my fair share of very boring ones. I also can't recall ever drinking one that has been over 10 years old.
The additional age of this RR13, coupled with the fact that I don't have to settle for a barrel that has been proofed down to 110 proof, is very intriguing.
I had no idea what to think before I got a chance to drink this new label except that this would either prove that Wild Turkey gets incrementally better with additional age and proof or it gets leaps and bounds better.
So which will it be? I sat down to find out with my trusty Glencairn and a clean palate.
Tasting Notes
Nose: The oak spice presence on the nose is big, rich and bold. I can't recall another modern-Turkey product with this much oak on it.
Cooked stone fruits and apples with cinnamon and nutmeg smell like they just got pulled from the oven. I also detect the scent of baker's chocolate, toffee and buttery vanilla.
The aromas are absolutely world class and easily on par with other Kentucky Distillery's flagship products.
Palate: The oak presence from the nose continues to dominate on the tongue. It really feels as if the amount of oak on this one is pushing the envelope of being too much but thankfully doesn't go over the edge.
That much oak is usually where the best releases live at and RR13 can be added to that list. Peppery spice, ginger root and spicy cinnamon show off a really nice heat that give each sip a great amount of character. All of that heat doesn't come off as being too high in proof though.
Additional rye notes like mint, herbs, cedar wood and Ricola Cough Drops show a rye influence in this dram that I seldom find in modern-Turkey bourbon (but do in Dusty Turkey).
There is sweetness in every sip, but since all of the other flavors are so captivating, it's hard to focus in on what kind of sweetness it really is.
Finish: Tobacco, oak and leather. The tannic "Big 3" go strong all the way to the finish. The sweetness at the end is toned down but that leaves the really luxurious old oak notes wide open to be enjoyed to their fullest.
Other flavor notes are present, but if you are sipping this drink, the main attraction here at the end is to finally taste those beautiful tannic notes that are rare to find at this level in modern Turkey.
Score: 8.8/10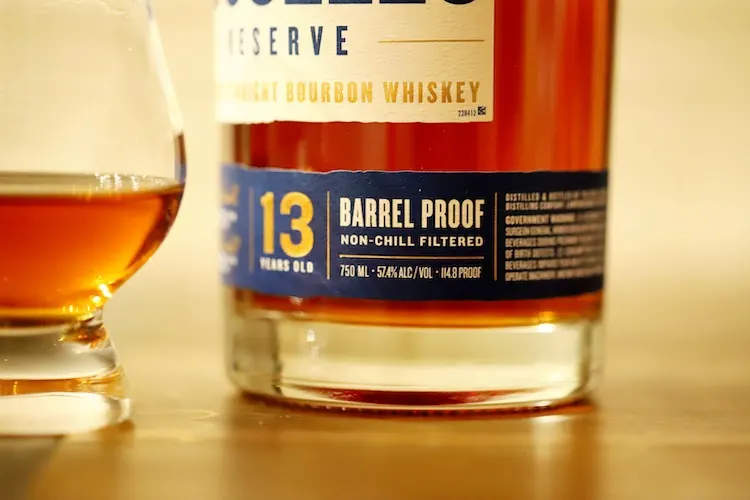 The nose on Russell's Reserve 13 year is probably the star of the show in a show that contains a lot of stars already. Rich, oaky and extremely well batched are just a few of my thoughts as I took it all in. This is probably the best Wild Turkey release to come out of Lawrenceburg, Kentucky in the past 5 years (if not longer).
Maybe I'm looking too much into this, but it seems odd that the Russell's chose 13 years old to be the age they settled on for this batch of bourbon.
Jimmy has already been on record saying that he thought that bourbon doesn't really start aging until after 6 to 8 years and he doesn't care much for bourbon over 12 years old. So who made the decision to bottle 13 year old (and possibly older) barrels?
Regardless, it is my opinion that age does wonders for Wild Turkey bourbon and that it seems to be one of the magical recipes for producing a legendary product that has been sorely missed in recent years.
It's unfortunate then that so few people will get to enjoy this. Everyone already assumed that this batch would be in short supply but these bottles disappeared in a flash in most cities around the US. And that's not because people hunted them to extinction either.
Stores and chains simply got so few bottles to begin with. This has led to a huge surge in prices on the secondary market if and when the bottles even do pop up (initial secondary prices are around $400 at the time of this writing).
Unfortunately, as much as I hate the secondary market, I kind of have to agree with people on this pricing. This is a legit-tasting Limited Edition bottling that packs the excitement with every sip that a Four Roses Small Batch LE or Old Forester President's Choice has.
I just hope that in future years, Campari will recognize that they have an elite label that they should invest heavily in. The world could definitely use more 13 year old barrel proof Turkey.
Ratings Breakdown
1 | Disgusting | Drain pour (Example: Jeffers Creek)
2 | Poor | Forced myself to drink it
3 | Bad | Flawed (AD Laws 4 Grain BiB, Clyde Mays anything)
4 | Sub-par | Many things I'd rather have (Tincup 10 year)
5 | Good | Good, solid, ordinary (Larceny, Sazerac Rye)
6 | Very Good | Better than average (Buffalo Trace, OGD BiB)
7 | Great | Well above average (Old Ezra Barrel Proof, Old Weller Antique)
8 | Excellent | Exceptional (Michter's Barrel Proof Rye, Four Roses Barrel Strength)
9 | Incredible | Extraordinary (GTS, 13 Year MGP or Canadian Rye)
10 | Insurpassable | Nothing Else Comes Close (William Larue Weller)
Featured Products
Description:

The Aged & Ore Neat Traveler is a complete travel kit for spirits. We combined our widely praised Neat Glass with one of our 3oz Flight Bottles and housed them together in a custom EVA travel case. Perfect for a night away with your favorite pour. The tie
Description:

The Aged & Ore Bottle Flight is a premium set of 4 custom silicone wrapped glass bottles designed to transport and share samples of your favorite spirits. The flight bottles come in a custom EVA travel case that fits perfectly in any small bag. An Aged &
Description:

This Bundle combines two of our crowd favorite products, creating the ultimate travel bundle to bring along your favorite spirits and glassware. Bundle Includes: Neat Traveler (Gray) Bottle Flight (Gray) Note: This bundle is only available in gray and col
*Bourbon Culture is reader-supported. When you buy through links on our site, we may earn an affiliate commission.