*Bourbon Culture is reader-supported. When you buy through links on our site, we may earn an affiliate commission.
Distilled and bottled by Laphroaig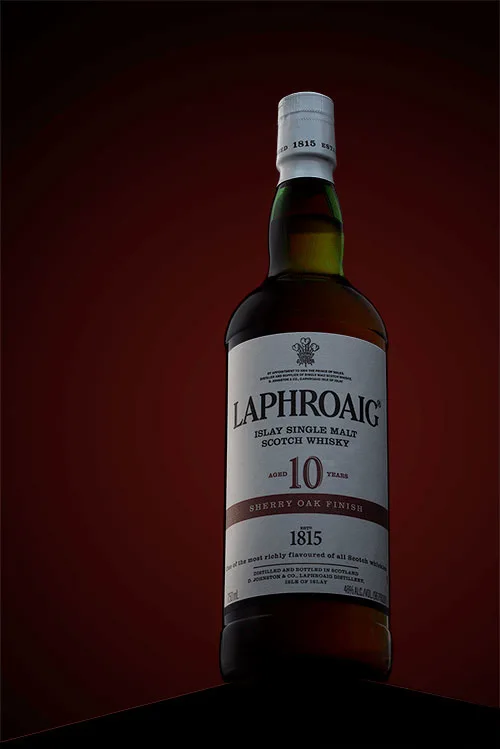 Region: Islay
Type: Single Malt
ABV: 48%
Age: 10yrs
Color: e150
This special release was initially matured in ex-bourbon casks before being finishing in sherry oak barrels for about a year. Bottled in 2020, this was released in the US in early 2021.
The bottle and tube make no mention of chill filtration or added coloring, but I believe the liquid has added caramel coloring.
Tasting Notes
Nose: This is initially all Laphroaig 10yr on the nose: freshly scrawled magic marker, menthol cigarette smoke and scads of medicinal character. But give it some time and a rich, sweet caramel note develops some sweetness to balance the peat notes.
Palate: The mouthfeel has a pleasant weight with some bittersweet grapefruit and dark chocolate that transitions to dried seaweed and more smoke.
Finish: Medium in length, the finish is loaded with spicy pepper and rich tobacco notes as well as some wood tannins before returning to the standard medicinal and smoky character that is undeniably Laphroaig.
Rating: 7/10, Very Good
Conclusion: I appreciate a special release from one of the big Islay distilleries that comes with an age statement, respectable ABV and a reasonable price point. Although it is high time for Laphroaig to abandon the practice of coloring their whisky, I continue to enjoy their bottlings and this one is no different.
Laphroaig's standard flavor profile is a bully and certainly takes center stage with this whisky, but there's still room for the sherry casks to have a supporting role, I like the interplay here of aggressively medicinal Laphroaig notes as they interact with some rich caramel, dark chocolate and tobacco notes.
It just works for me. Overall, I found this to be a very good whisky at a good price.
Featured Products
Description:

The Aged & Ore Neat Traveler is a complete travel kit for spirits. We combined our widely praised Neat Glass with one of our 3oz Flight Bottles and housed them together in a custom EVA travel case. Perfect for a night away with your favorite pour. The tie
Description:

The Aged & Ore Bottle Flight is a premium set of 4 custom silicone wrapped glass bottles designed to transport and share samples of your favorite spirits. The flight bottles come in a custom EVA travel case that fits perfectly in any small bag. An Aged &
Description:

This Bundle combines two of our crowd favorite products, creating the ultimate travel bundle to bring along your favorite spirits and glassware. Bundle Includes: Neat Traveler (Gray) Bottle Flight (Gray) Note: This bundle is only available in gray and col
*Bourbon Culture is reader-supported. When you buy through links on our site, we may earn an affiliate commission.