*Bourbon Culture is reader-supported. When you buy through links on our site, we may earn an affiliate commission.
High West's prowess as a whiskey blending juggernaut went from "King's of the Category" in the late 2000's to a "Modern Day Maker of Meh" shortly after Constellation Brands bought them out in late 2016.
Although many factors led to this downward trend, I'm going to concentrate on the singular reason that I believe led to this.
That reason revolved around one ingredient that went into virtually every bottle that left their facility in Utah.
I'm talking about a large lot of highly aged rye whiskey barrels that they found at Barton Distillery in Kentucky around 2007. Upon closer examination, the rye whiskey that High West found was two separate mashbills.
One was a somewhat traditional Kentucky "barely legal" rye whiskey containing 53% rye, 37% corn and 10% malted barley.
The other was a highly unusual (for Kentucky distillers) rye whiskey that contained 80% rye, 10% corn and 10% malted barley. Both were around 16 years old.
High West never intended to use these Barton barrels by themselves, instead electing to put them into blends with various bourbons (to make Bourye and Son of Bourye) and rye whiskies (Rendezvous Rye Whiskey and Rocky Mountain Rye Whiskey).
In regards to Rendezvous Rye (commonly referred to as RR), High West initially decided to blend together barrels of 6 year old MGP 95/5 rye whiskey and 16 year old barrels of the 80/10/10 Barton Rye Whiskey
The end result was a whiskey that seemed to have the best of both worlds and was widely loved. As the years went on and the 80/10/10 Barton rye whiskey began to run out, High West altered the recipe of RR by adding in the 16 year old 53/37/10 rye whiskey to the blend.
After Constellation Brands acquired High West, a mix of cost cutting practices and the depletion of the 16 year old Barton Rye Whiskey stocks resulted in yet another recipe change.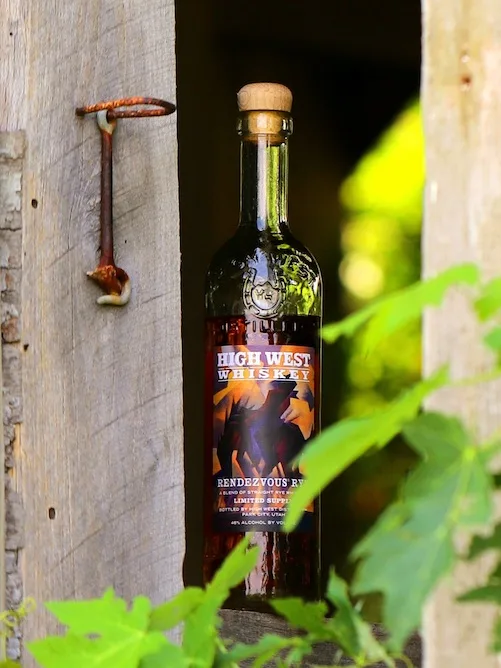 This time it would see only 6 year old MPG rye whiskey blended together with High West's own rye whiskey (80% rye and 20% malted rye) that they had been distilling on their pot still since around 2011.
Rather than creating a different label for this new blend, High West continued to use the name Rendezvous Rye. Enthusiasts of the brand noticed the change but could not do much about it.
After a couple of years, Rendezvous Rye was changed again to a strictly annual release. It lost it's old signature label and would now have a new label with each release by a different contemporary artist.
For 2021, the label artwork was from the artist Ed Mell. The recipe was also slightly altered again to contain even more of High West's own rye whiskey.
All of these changes have resulted in a lot of heartburn from those who fell in love with the brand's original products.
Compared to bottles produced from before 2017, the new products have been widely panned. High West used to be the darling of the enthusiast community for their strong stories and commitment to fantastic blends.
Now it seemed as if they just wanted to give up. But is the situation really that dire? Does a modern day Rendezvous Rye really compare so poorly to the blends of yesteryear?
There's only one way to find out. I decided to blindly sample the 2021 RR release next to a 2017 bottling which contains both 16 year old Barton rye whiskies and see if we all have reason to be upset or if we're all overreacting.
Blind Glass 1
Nose: A fairly deep caramel scent with wood and spice to boot. I'm finding a lot of those traditional MGP notes of pine needles, dill, mint and candied lemon peel. There's a nice scent that's hard to put my finger on but it's like powdered Tang.
Palate: Herbs mixed with toffee immediately acknowledge this is a rye whiskey coupled with a sweetness that comes from long barrel aging.
Other flavors include pine, cinnamon, nutmeg and a small amount of licorice (anise). There are spiced apples and orange zest mixed throughout to really round it all out.
Finish: More herbs and seasoned wood still hint to the duality of Indiana rye whiskey blended with another rye whiskey that has nice oak influence.
Tobacco leaf adds more lingering tannic notes while vanilla and floral notes still create a lightness to the finish that adds a great layer of complexity.
Score: 7.3/10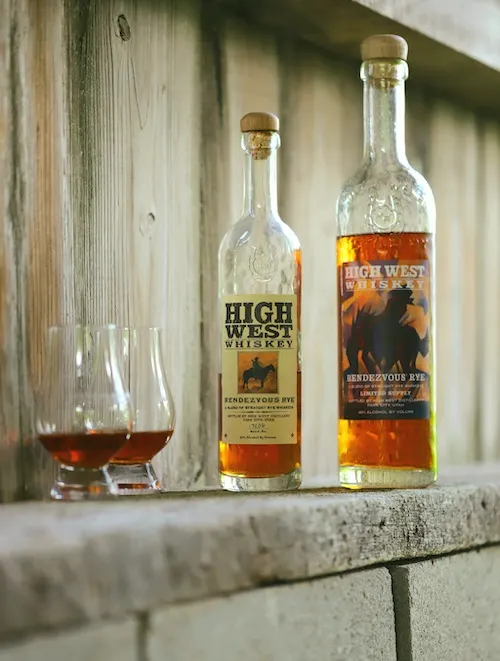 Blind Glass 2
Nose: Green wood and fresh cut grass hint to a nose that seems much younger than Glass 1. However, the wave of spices and herbs that I can detect is as long as it is varied: traditional baking spices coupled with sharp anise, dill, mint and rosemary.
There is a hint of wood that is not as green, but it's easily hidden by what I am perceiving as more youthful notes.
Palate: The "forest floor" notes are intense on the mouth. Damp earth and green shrubs mix with peppermint and botanical flavors.
There's some fresh cut pear along with honey for a bit of sweetness but there's a slight astringency that lurks with every sip that is subtracting from the experience.
Finish: Short to moderate in length, that's actually a good thing because it's not all that enjoyable. During the initial moment after the sip is complete, there's some mint, pepper and honey which are all okay.
But then the finish abruptly makes a U-Turn and becomes almost overly woody and dry. This feels unbalanced.
Score: 5.9/10
Reveal:
Blind Glass #1: Rendezvous Rye 2017
Blind Glass #2: Rendezvous Rye 2021
Winner: Rendezvous Rye 2017!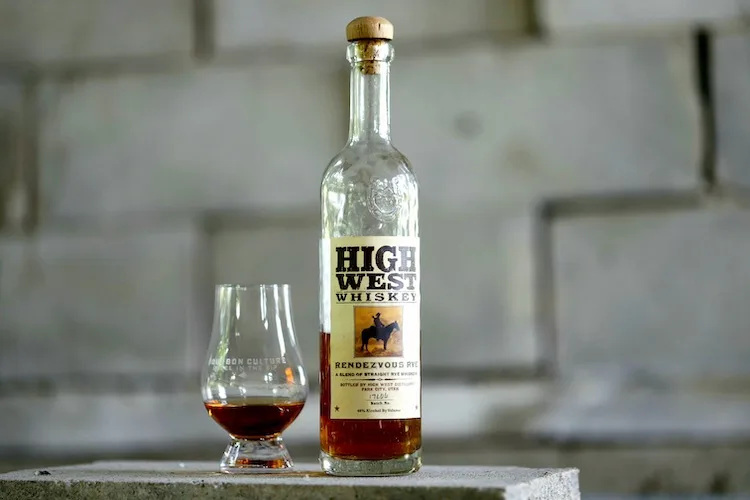 There was no escaping the feeling that Glass #1 was the older and more mature blend of the two from the beginning. That old Barton rye whiskey shines brightly in every product its ever been put in and this was no different.
I'm starting to think that the team behind the 2021 Rendezvous Rye realized that the wood notes were such a special trait in the older batches of RR that they needed to somehow find a way to mimic them in the new blend.
The distillate they used failed at achieving this but you can tell there was an effort that was made.
To be frank, I don't have high hopes that High West's own distillate will ever be able to achieve the same kind of appeal that their older releases did.
I believe this because I've read that some of this rye whiskey is aging in barrels that are smaller than the standard 53 gallon ones.
This means that the liquid-to-surface area exposure is much higher which is not a good thing.
Additionally, if they are not aging them in humidity controlled warehouses, then the distillate will come out tasting "dry" I do not know if they do or don't have those kinds of warehouses but the nose and mouth still come off with that sort of "drying" effect.
This could either be because the whiskey is still somewhat young or it's just not aging well at those high altitude, dry conditions.
The new RR is not entirely doom and gloom though. I found a ton of herbal, floral and spice notes that remind me of my favorite traits I like about Canadian Rye Whisky.
This might make sense as Canadian producers also use 100% rye mashbills that tend to be extremely perfume-y with all of those green notes.
In the end, I'm assuming some additional aging may improve High West's own distillate but that day will be a long way off.
Luckily, there is still plenty of Rendezvous Rye from 2017 and before still out there on shelves if you know what to look for. Happy hunting!
Ratings Breakdown
1 | Disgusting | Drain pour (Example: Jeffers Creek)
2 | Poor | Forced myself to drink it
3 | Bad | Flawed (AD Laws 4 Grain BiB, Clyde Mays anything)
4 | Sub-par | Many things I'd rather have (Tincup 10 year)
5 | Good | Good, solid, ordinary (Larceny, Sazerac Rye)
6 | Very Good | Better than average (Buffalo Trace, OGD BiB)
7 | Great | Well above average (Old Ezra Barrel Proof, Old Weller Antique)
8 | Excellent | Exceptional (Michter's Barrel Proof Rye, Four Roses Barrel Strength)
9 | Incredible | Extraordinary (GTS, 13 Year MGP or Canadian Rye)
10 | Insurpassable | Nothing Else Comes Close (William Larue Weller)
Featured Products
Description:

The Aged & Ore Neat Traveler is a complete travel kit for spirits. We combined our widely praised Neat Glass with one of our 3oz Flight Bottles and housed them together in a custom EVA travel case. Perfect for a night away with your favorite pour. The tie
Description:

The Aged & Ore Bottle Flight is a premium set of 4 custom silicone wrapped glass bottles designed to transport and share samples of your favorite spirits. The flight bottles come in a custom EVA travel case that fits perfectly in any small bag. An Aged &
Description:

This Bundle combines two of our crowd favorite products, creating the ultimate travel bundle to bring along your favorite spirits and glassware. Bundle Includes: Neat Traveler (Gray) Bottle Flight (Gray) Note: This bundle is only available in gray and col
*Bourbon Culture is reader-supported. When you buy through links on our site, we may earn an affiliate commission.