*Bourbon Culture is reader-supported. When you buy through links on our site, we may earn an affiliate commission.
R6 Distillery is a new craft whiskey distillery located in El Segundo, California. Their website is long on the backstory of their founder and why he decided to drop out of the finance industry and into whiskey making, but doesn't really go into detail on the specifics of how they make their whiskey or why they make it that way.
For sure, the whiskey they make is not sourced from anywhere else. They likely use a pot still to distill on but the other specifics like what kinds of mashbills, barrels or aging locations are all missing.
The label on this sample states that this bourbon was aged for a minimum of 2 years which is around par for course for a distillery that started not too long ago.
So with only that knowledge to go off of, let's get down to tasting to see just what exactly R6 Distillery has been cooking with in their kitchen. I sampled this neat in a glencairn.
Tasting Notes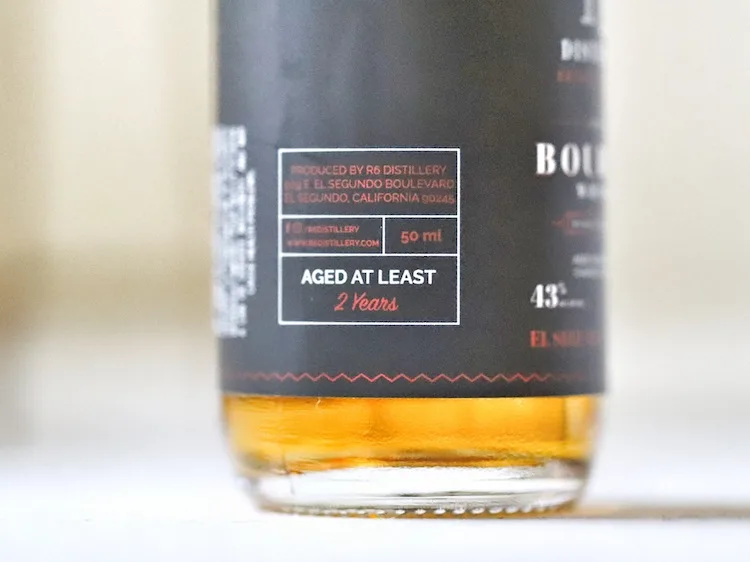 Nose: The nose is somewhat basic, but contains a lot of the aromas that I would expect in a bourbon. Caramel and vanilla take center stage while a bit of toasted oak and some cinnamon raisin toast add some uniqueness.
Overall, the youthful notes seem to be held in check. But at 86 proof, the nose won't overpower you.
Palate: Much like the soft and sweet nose, the initial flavors your tongue detects are just like that. There a a couple of layers of flavors I'm able to sift through as the session goes on with licorice and peppery pops that help to turn up the heat a bit.
I can also detect some cooked apples, raisins and figs as they combine with corn grits flavors. The rest of the palate runs out of steam likely owing to the low proof though. I do enjoy the slightly viscous mouthfeel though!
Finish: The sweetness on the finish is actually pretty good. There's not really any astringency or acetone notes for the length of time it was aged at.
The caramel and vanilla do well to compliment each other in the end. There's even a menthol cooling note that adds some zing, but overall it's simple and sweet and to the point.
Score: 5.8/10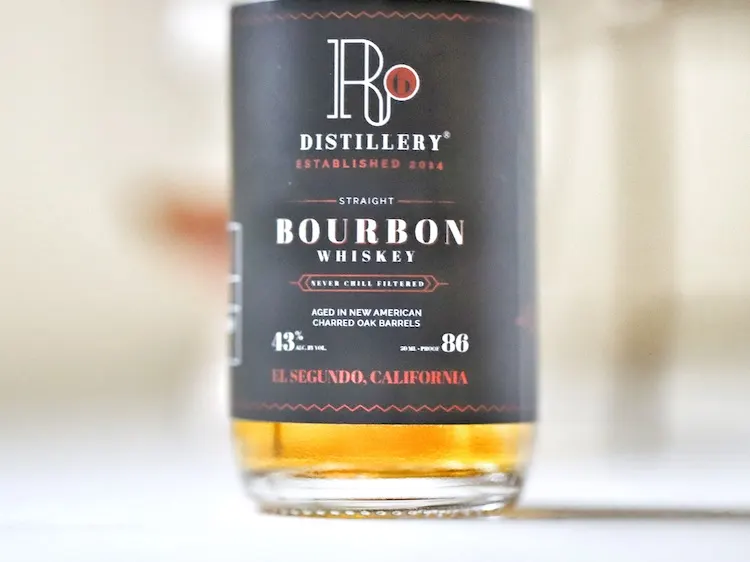 Overall, this is really not bad for a younger bourbon. It seems to have developed better than most craft whiskies at this age. I am assuming that the low proof probably helped it more than it hurt it, but I'm okay with them stopping where they did. If they had gone too much higher, they would have probably found more unbalance than an increase in flavor.
For all the more I didn't know about this bourbon, I'd say it acquitted itself quite well. The basic bourbon notes were all there, some unique traits were observed and best of all there were no harsh youthful notes.
That's about all you can ask out of a product for a new distillery like this. I'd like to keep my eye on this bourbon as it continues to age to see what it can do with more proof and age but for now, you should enjoy this if you buy it.
Ratings Breakdown
1 | Disgusting | Drain pour (Example: Jeffers Creek)
2 | Poor | Forced myself to drink it
3 | Bad | Flawed (AD Laws 4 Grain BiB, Clyde Mays anything)
4 | Sub-par | Many things I'd rather have (Tincup 10 year)
5 | Good | Good, solid, ordinary (Larceny, Sazerac Rye)
6 | Very Good | Better than average (Buffalo Trace, OGD BiB)
7 | Great | Well above average (Old Ezra Barrel Proof, Old Weller Antique)
8 | Excellent | Exceptional (Michter's Barrel Proof Rye, Four Roses Barrel Strength)
9 | Incredible | Extraordinary (GTS, 13 Year MGP or Canadian Rye)
10 | Insurpassable | Nothing Else Comes Close (William Larue Weller)
Featured Products
Description:

The Aged & Ore Neat Traveler is a complete travel kit for spirits. We combined our widely praised Neat Glass with one of our 3oz Flight Bottles and housed them together in a custom EVA travel case. Perfect for a night away with your favorite pour. The tie
Description:

The Aged & Ore Bottle Flight is a premium set of 4 custom silicone wrapped glass bottles designed to transport and share samples of your favorite spirits. The flight bottles come in a custom EVA travel case that fits perfectly in any small bag. An Aged &
Description:

This Bundle combines two of our crowd favorite products, creating the ultimate travel bundle to bring along your favorite spirits and glassware. Bundle Includes: Neat Traveler (Gray) Bottle Flight (Gray) Note: This bundle is only available in gray and col
*Bourbon Culture is reader-supported. When you buy through links on our site, we may earn an affiliate commission.