*Bourbon Culture is reader-supported. When you buy through links on our site, we may earn an affiliate commission.
It is not normally in my realm to review infused whiskies here at The Bourbon Culture. But when we received a bottle of AM PM "Coffee Bourbon" on our doorstep, it was hard not to pop it open immediately and see if it really did live up to its name.
Before we start, let me try to look into the background of this whiskey. First off, please note that I called it a whiskey and not a bourbon. I hate to be "that guy" but the wording on the label is slightly misleading.
It starts out by saying "Coffee Bourbon" with a description that claims it's "Straight Bourbon Whiskey with 100% Arabica Coffee, Madagascar Vanilla Beans and Pure Cane Sugar."
The reason why it's confusing is because of the word "with." It would have been way simpler to use the word "infused" on the label so that you can know for sure that it is not a finished bourbon, but instead has additives added to it.
Finished vs Infused
Otherwise, I was quick to get on the internet and find out if the coffee, vanilla and cane sugar had been actually aged in an barrel first before being used to finish a bourbon in or if they were straight up added to it.
If you've read my review for Abraham Bowman Limited Edition #15 (which uses the words Gingerbread and Chocolate on the front), you'd realize that sometimes these descriptors were fill ins for the type of finishing barrels that were used such as Gingerbread beer and Imperial Stout beer.
Anyway, going back to the spirit at heart, it did start out being a 3 year old bourbon (Seelbach's website says it's 4 years old) that was distilled by an undisclosed distillery in Tennessee.
The mashbill that was used is 80% corn, 10% rye and 10% malted barley. At first glance, this is very close to both Jack Daniel's 80/12/8 and George Dickel's 84/8/8. But a little more internet sleuthing reveals that Nashville Craft Distillery distills a bourbon with those same specifications.
Even more poignant is that they have only been open since 2016, making the age of this bourbon fall right in line with what could be sourced from them.
Having never had a Nashville Craft Distillery product before, I was in the dark on how this should taste. So there's only one way to find out. I sampled this neat in a glencairn.
Tasting Notes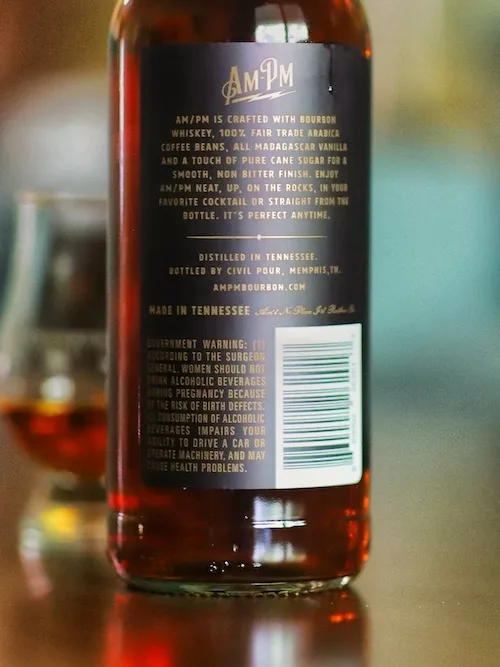 Nose: Undeniably coffee forward. The scent of just-used coffee grounds percolates through my nose. All other scents I find seem secondary, but not in a bad way.
Chocolate sauce and vanilla bean are the other two notes (as they should be) coupled with a tiny bit of wet wood in the background. Interestingly, if I look hard enough I can also detect some peppermint candy cane. The nose is really pleasant all around.
Palate: The sweetness of this whiskey really comes to the forefront of my tastebuds. It's thankfully not overly sweet, but when I read it has cane sugar added in, I found it hard to ignore.
The rest of the flavors consist of a vanilla cappuccino with chocolate sauce drizzled on top. Proof sting is essentially non-existent as well. The flavors are easy to like and hard to find fault in, but don't go expecting to find a lot of bourbon flavor as it really gets covered up. This may be a positive or negative depending on how you like your whiskey.
Finish: The added sugar remains at the forefront of the finish after the sip is complete. The coffee flavors turn slightly artificial towards the end while the chocolate and vanilla flavors remain.
It's not a bad finish, but there's also nothing about it that makes you want to bask in it for a while. Essentially, it encourages you to want to take another sip to restart the flavors and scents all over again.
Score: 6/10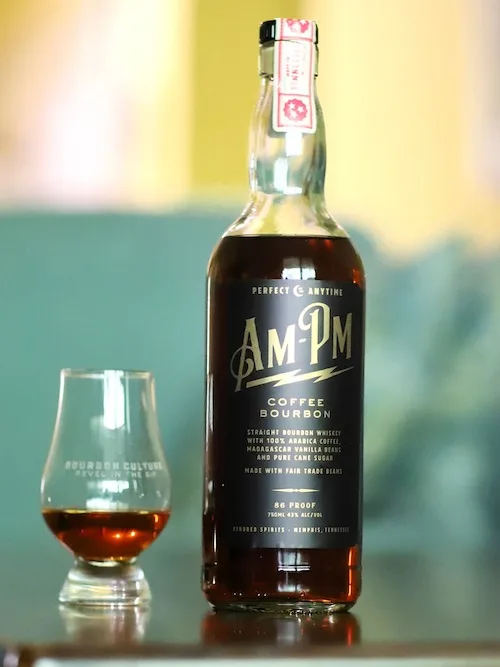 It's hard to compare this whiskey with other bourbons that have not had additives added to them, that's why my rating scale may be slightly inappropriate here.
But the bottom line is this is a really fun whiskey and I'd be lying if I said that I didn't enjoy it. It promises exactly what the label says it will and yet that still makes it unique in todays market. To be frank, whiskey is the perfect match with coffee and using any other spirit just doesn't make sense.
I don't know of any whiskey drinkers that don't also drink coffee, yet it's always been a big no-no to consume them so close together (coffee can ruin your taste buds for a while after drinking it).
And while I doubt that AM PM Coffee Bourbon is meant as a replacement for your morning coffee, it is a really delicious way to experience the coffee flavors we all know and love any time of the day.
Final Thoughts
As a final note, I really like that they kept this at 86 proof, which is respectable in the bourbon community. Too many flavored whiskies go sub 80 proof which is okay for some, but I'm a person that likes a little bit extra kick when I'm sipping on a whiskey.
A higher proof is definitely a way to achieve that. And as much as I have been talking about primarily enjoying this neat in a glass, the possibilities when mixing this into a cocktail are endless.
Even adding this to your existing coffee or maybe warmed up with a little bit of cream on a cold winter's night makes sense. Coffee is put into a lot of different foods these days and it's about time we asked what it is that we can put our whiskey into. And for about $30, it would be the perfect gift this holiday season for both the coffee lover or the whiskey lover in your life.
Ratings Breakdown
1 | Disgusting | Drain pour (Example: Jeffers Creek)
2 | Poor | Forced myself to drink it
3 | Bad | Flawed (AD Laws 4 Grain BiB, Clyde Mays anything)
4 | Sub-par | Many things I'd rather have (Tincup 10 year)
5 | Good | Good, solid, ordinary (Larceny, Sazerac Rye)
6 | Very Good | Better than average (Buffalo Trace, OGD BiB)
7 | Great | Well above average (Old Ezra Barrel Proof, Old Weller Antique)
8 | Excellent | Exceptional (Michter's Barrel Proof Rye, Four Roses Barrel Strength)
9 | Incredible | Extraordinary (GTS, 13 Year MGP or Canadian Rye)
10 | Insurpassable | Nothing Else Comes Close (William Larue Weller)
Featured Products
Description:

The Aged & Ore Neat Traveler is a complete travel kit for spirits. We combined our widely praised Neat Glass with one of our 3oz Flight Bottles and housed them together in a custom EVA travel case. Perfect for a night away with your favorite pour. The tie
Description:

The Aged & Ore Bottle Flight is a premium set of 4 custom silicone wrapped glass bottles designed to transport and share samples of your favorite spirits. The flight bottles come in a custom EVA travel case that fits perfectly in any small bag. An Aged &
Description:

This Bundle combines two of our crowd favorite products, creating the ultimate travel bundle to bring along your favorite spirits and glassware. Bundle Includes: Neat Traveler (Gray) Bottle Flight (Gray) Note: This bundle is only available in gray and col
*Bourbon Culture is reader-supported. When you buy through links on our site, we may earn an affiliate commission.