*Bourbon Culture is reader-supported. When you buy through links on our site, we may earn an affiliate commission.
Over the past two years, there has been an escalating arms race that officially sparked a second Cold War. As one side shows off their latest developments, the other side scrambles for an answer to counter them.
As ordinary citizens, we have no choice but to submit to the powerful influence that they have over us. We all must pick a side in the growing battle over who makes the best barrel-finished whiskies.
For years now, the world of finished whiskies has been growing at an amazing pace. American distilleries and non-distiller producers (NDPs) have increasingly followed in the footsteps of their fellow Scotch brethren by finishing whiskey in various Sherry, Port and Brandy barrels.
These seem like the perfect compliment to many of the flavors that bourbon and rye whiskey have. But as time has gone on, innovations from producers coast to coast have shown us that the sky is the limit in what barrels you can finish a whiskey in.
Everything from other spirits (tequila, orange curacao, Amaro) to every type of beer and even finishing a whiskey in a second brand new barrel have been experimented with.
All of those finishing barrels have the same thing in common; the oak that was used to make them primarily comes from North America or Europe.
Finished in Brazilian Amburana Barrels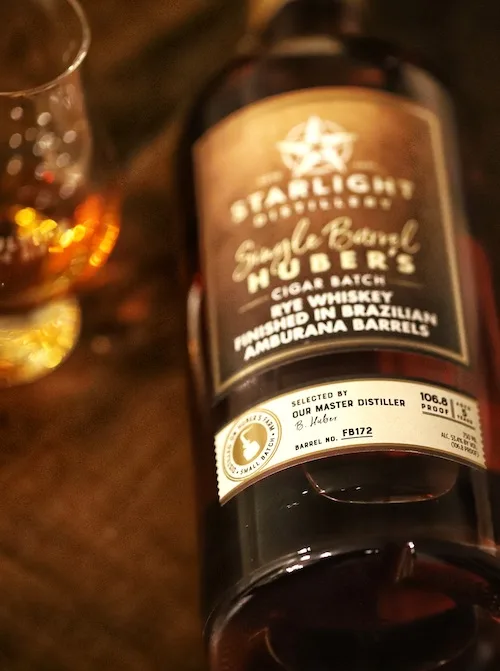 It's rare to see a species of oak used in whiskey making that is from somewhere else. But Starlight Distillery in Indiana has done their homework and managed to source Amburana oak barrels from Brazil.
This species of oak has been used to age and add flavor to various spirits that are produced domestically in Brazil for years. Since the growing conditions and climate is so different from oak trees that typically grow in places that have 4 seasons, the flavors they impart are wildly different.
Starlight has been on a kick lately of finishing their bourbon and rye whiskey in dozens of different barrel types. But one finish was so revolutionary it deserved its own moniker.
"Cigar Batch," is what it's called, but that may seem strange to most people that are not familiar with the growing subset of fans that are always looking for whiskies that are strong enough to pair with a cigar. The goal is to not have the flavors of the whiskey covered up by the heavy smoke of a cigar.
Among the world of bourbon, Joseph Magnus Cigar Batch is one of the most famous whiskies designed specifically to pair with a cigar because it uses robust MGP bourbon and finishes it in bold and spicy Armagnac barrels.
The end result is a liquid that tastes as dark as it looks and holds its own to any cigar you light. So is Starlight attempting to create a powerhouse whiskey that can stand up to the big, bold flavors of a cigar? Or are they using these Amburana barrels as a different approach? Let's find out.
I am sampling the rye whiskey finished in Amburana barrels today, but I should also note that they also make a bourbon Cigar Batch that undergoes the same process. I sampled this neat in a glencairn.
Tasting Notes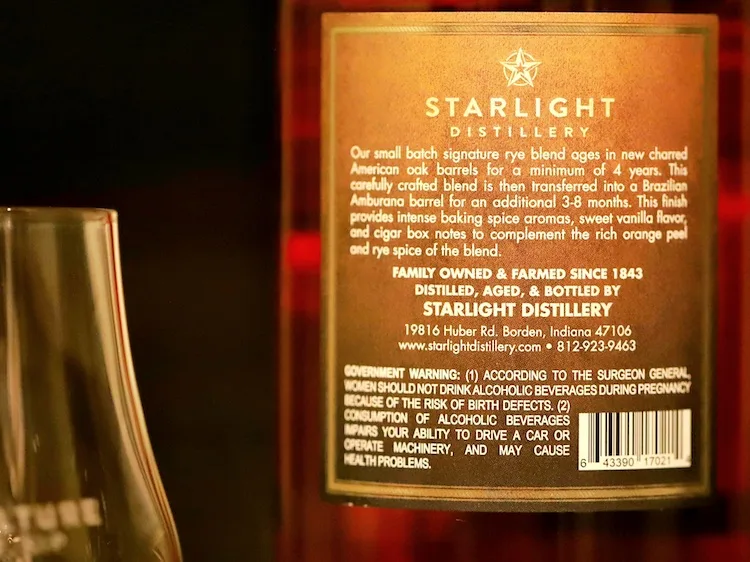 Nose: The nose is unlike any whiskey I've ever smelled before. What I find is more like a spiked hot tea than a whiskey with scents of lavender, teakwood and potpourri.
The fruit notes are all essences of the following: orange blossom, peach tea, candied apple, pumpkin pie and a bit of mint. Aromas of cinnamon candies and gingersnap cookies are probably coming from the rye whiskey base spirit, but it's completely overwhelmed by the initial unique scents. It's like I walked into a Teavana retail store.
Palate: The rye whiskey starts to come through on the palate a little bit more after being almost nonexistent on the nose. It's still hard to determine what notes have been influenced from the Amburana barrel finish and what notes are being influenced by the rye whiskey.
Flavors of bubblegum, mint, rose petals, sweet herbs and lemongrass confuse my palate but are all very enjoyable. Sweetness comes from honeycomb.
But it's the perfume-y flavors on my tongue that dominate once again with flavors of potpourri, lavender cookies, dried citrus peel, cranberry sauce, vanilla, cinnamon, allspice and mulled cider. T
he wood taste I'm picking up on is foreign to me because I'm used to finding notes that remind me of white oak or even cedar. This was just way more floral in its delivery. In the end, I'm thinking that this tastes more like a Hot Toddy.
Finish: The incredible baking spices and notes are out of this world. It's Thanksgiving and Christmas all rolled into one. Floral and tea-like notes last a long time on my tongue while the level of sweetness and rye spice (like gingerbread) seem to drop off. What I'm left with tastes like a perfume for my tongue.
Score: 9/10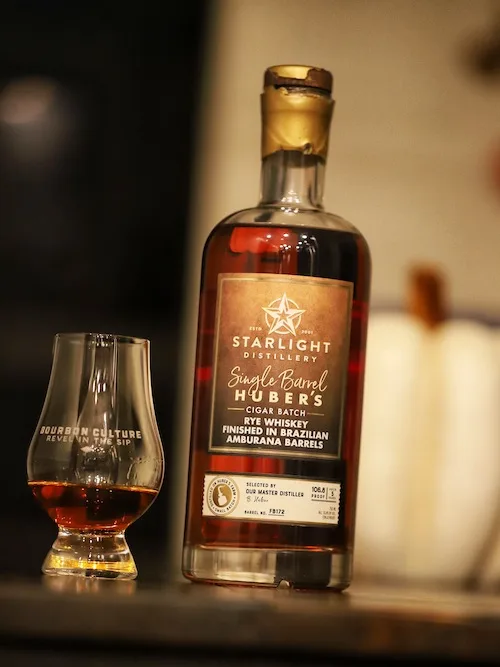 What I just drank is indescribable. There's simply nothing to compare it to in the field of whiskey. The whole essence came across like if Teavana decided to invent their own whiskey. It's been hours later and I still can't wrap my head around what I just tasted. It's like nothing else out there.
Starlight Cigar Batch takes a different approach compared to a whiskey like Joseph Magnus Cigar Blend. Instead of using a battle axe to the fight against a strong cigar, Starlight's version wields a fencing sword. Its delicate feel and artfulness in how it attacks carefully needles its way through a cigar's brashness.
Cigar Batch wants you to be able to enjoy both at the same time, not just one over the other. It's an amazing concept that paid off in ways I wasn't expecting. A blind comparison between Cigar Batch and Cigar Blend would not make sense in my eyes because they both go about their purpose with a different style. The only thing I recommend you doing is to have a cigar with both and decide for yourself on which style suits you more.
Final Thoughts
One of the most refreshing things about Starlight's line of limited edition bourbon and rye whiskey is the price. Even for a bottle that will see limited availability and uses an exotic finishing barrel, the price was still only $80.
That's a bargain these days for finished whiskey at a time where it seems like a finished whiskey's price is based on how much prestige and rarity the secondary barrel holds. Examples of what I'm talking about include whiskey finished in Armagnac, Tokaji, Mizunara and honey casks. All of those are either expensive to procure or involve processes that require extra man-hours to process. The fact that a finish like this isn't listed in the mid $100's is something that needs to be recognized in the industry.
If you're ever perusing your local liquor store aisle for a whiskey that really stands out, chances are Starlight has something for you. The creativity that they are tapping into now only helps to elevate the industry as a whole and it's one I hope that they continue to build on for years to come with releases just like this very special Cigar Batch Rye Whiskey.
Ratings Breakdown
1 | Disgusting | Drain pour (Example: Jeffers Creek)
2 | Poor | Forced myself to drink it
3 | Bad | Flawed (AD Laws 4 Grain BiB, Clyde Mays anything)
4 | Sub-par | Many things I'd rather have (Tincup 10 year)
5 | Good | Good, solid, ordinary (Larceny, Sazerac Rye)
6 | Very Good | Better than average (Buffalo Trace, OGD BiB)
7 | Great | Well above average (Old Ezra Barrel Proof, Old Weller Antique)
8 | Excellent | Exceptional (Michter's Barrel Proof Rye, Four Roses Barrel Strength)
9 | Incredible | Extraordinary (GTS, 13 Year MGP or Canadian Rye)
10 | Insurpassable | Nothing Else Comes Close (William Larue Weller)
Featured Products
Description:

The Aged & Ore Neat Traveler is a complete travel kit for spirits. We combined our widely praised Neat Glass with one of our 3oz Flight Bottles and housed them together in a custom EVA travel case. Perfect for a night away with your favorite pour. The tie
Description:

The Aged & Ore Bottle Flight is a premium set of 4 custom silicone wrapped glass bottles designed to transport and share samples of your favorite spirits. The flight bottles come in a custom EVA travel case that fits perfectly in any small bag. An Aged &
Description:

This Bundle combines two of our crowd favorite products, creating the ultimate travel bundle to bring along your favorite spirits and glassware. Bundle Includes: Neat Traveler (Gray) Bottle Flight (Gray) Note: This bundle is only available in gray and col
*Bourbon Culture is reader-supported. When you buy through links on our site, we may earn an affiliate commission.