*Bourbon Culture is reader-supported. When you buy through links on our site, we may earn an affiliate commission.
Bourbon Release Season starts each year at the beginning of September. This is when the really special allocated bourbons begin to trickle down to the consumers who have eagerly been anticipating them. For many years, the main draw of bourbon release season was the Pappy Van Winkle collection followed by the Buffalo Trace Antique Collection. Four Roses Small Batch Limited Edition and Old Forester's Birthday Bourbon release were considered a consolation prize if you couldn't grab a Pappy or BTAC. Before 2019, it wasn't considered a big enough deal to try and hunt these two bourbons. There was no rhyme or reason to it, but to the fans of each brand that just meant less competition for them to find their own bottle. 2019 may not have been the exact year that all changed, but it certainly was the most noticeable.
2019 Old Forester Birthday Bourbon
The 2019 releases of both Four Roses SmBLE and Old Forester Birthday Bourbon are still both considered to be some of the best releases they have put out either before or after. Four Roses secret to success in 2019 had a lot to do with their use of a 21-year-old OBSV recipe that was blended in the batch. But Old Forester's secret to success may have had more to do with it being the highest proof a Birthday Bourbon had ever been bottled at (which is still true at the end of 2021). Birthday Bourbon has never been a barrel proof bottling. Instead, a panel typically takes the batch of barrels they dumped and tastes them from barrel proof all the way down to 80 proof in an attempt to find which proof tastes best. That's what it gets bottled at.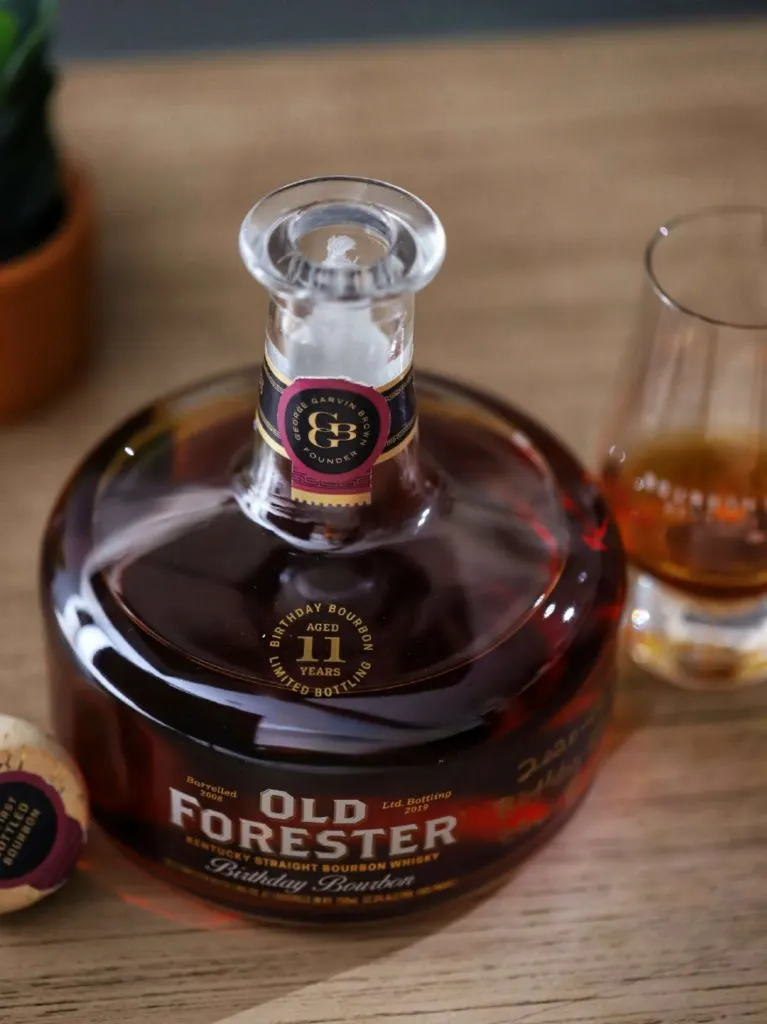 The 2019 release came in at 105 proof and had been aged for 11 years. For those of you who aren't familiar with the brand, Old Forester age statements are not a true reflection of how a barrel will taste. The reason revolves around their use of heat-cycled warehouses that see boilers turned on about once a month during the winter until the temperature hits 90 degrees or so. They hold it there for about 2 weeks at a time so that the liquid heats up inside the barrels and pushes into the wood again, much like what would happen in the summer. It's thought of that for every one year a barrel is aged in an Old Forester warehouse, it equals about 1.25 years of being aged in a normal warehouse.
Birthday Bourbon is one of the oldest products released by Old Forester. Yes there are some President's Choice bottles that are up there in age and also King of Kentucky, but Birthday Bourbon has more bottles produced and distributed over a much larger area than either of those two. So what is it about the 2019 release that makes it taste so good? Let's find out. I sampled this neat in a glencairn.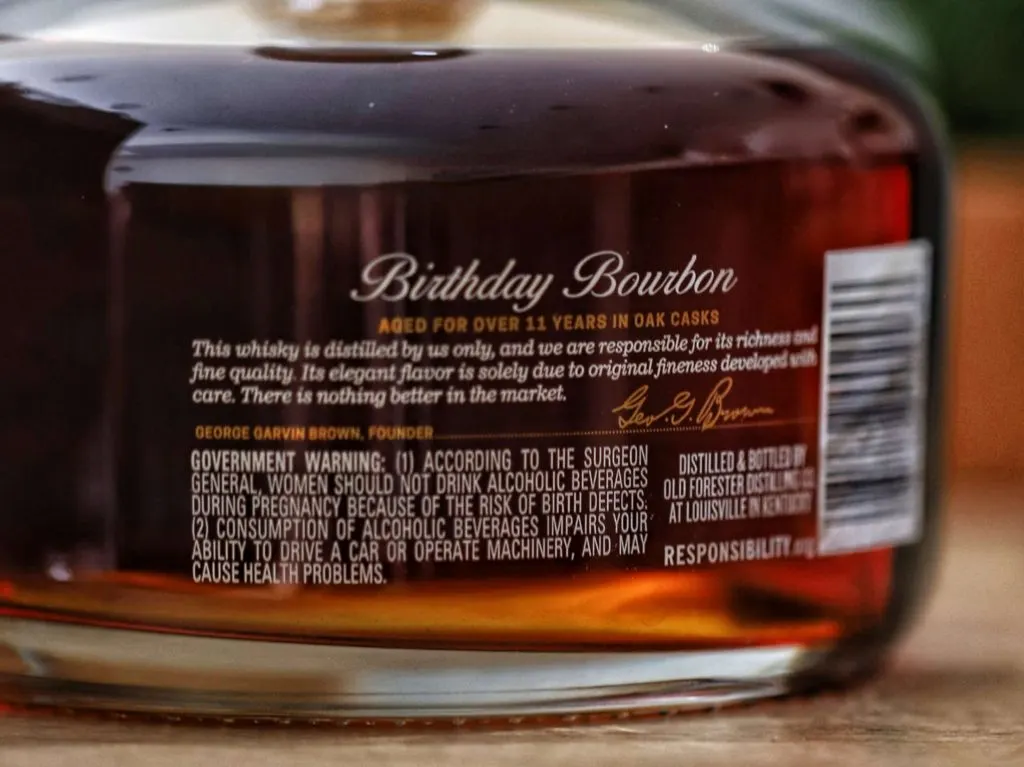 Tasting Notes
Nose: One of the dominant scents up front is waxy vanilla candle. The sweet scents come next with notes of toasted brown sugar, caramel sauce and brownies. The fruit scents smell like an assortment of those hard fruit candies that have been setting for years in grandma's candy bowl. They're concentrated and smell like they've been there for a few years but it's really kind of pleasant. There's also notes of fresh baked gingersnap cookies with nutmeg being the dominant spice. This is probably due to the high amount of rye in the mash bill.
Palate: Just like on the nose, the very potent, creamy vanilla is one of the first notes I find on my tongue. White chocolate is a flavor I don't often experience in bourbon, but my tongue is picking up on it here. Fruits are becoming more defined as I detect dried mangos, dried pineapple chunks and figs. Oak, old leather and chocolate are found in waves while sharper flavors of cinnamon, citrus scented wood cleaner and clove add layers of complexity. The flavors don't stop there either as the high-rye notes of licorice (both red and black kinds) and peppermint both can be found. The palate is one of the most interesting and complex ones I've tasted and leave me dumbfounded with how much flavor they packed into here.
Finish: Tannic notes of leather and oak hang around after the sip is complete while rye-forward flavors like more licorice and even some floral notes pop up. In fact, herbal flavors are the one surprise of this dram and I'm amazed at how much I pick up. This doesn't mean the finish is light in flavor though. Ther are still lots of cooked berry and black cherry notes as well as barrel char which adds a bit of smoke and ash to the end of the sip.
Score: 9.3/10
What an absolutely delicious bottle all around. The one thing Old Forester products do so well to begin with is provide so many layers of flavors. I wanted to try and tie something witty together about how many layers of flavors there were with the fact the bottle is supposed to represent a layered birthday cake with a candle on top, but words escape me. Instead, I'll just gush on about the fact that the wood notes are exquisitely done on this release and that this tastes much more mature than its 11 year old age statement suggests.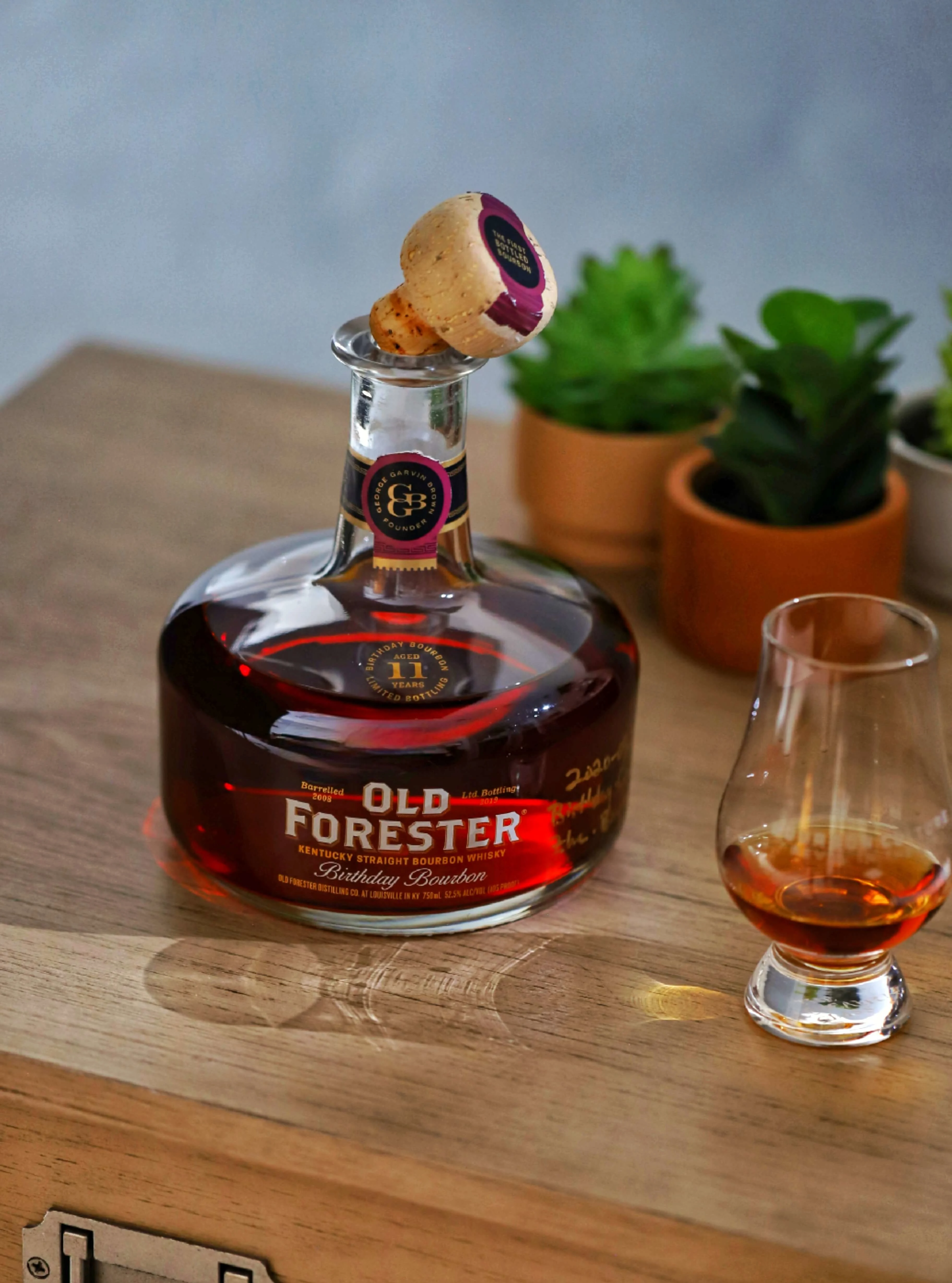 2019 truly was a terrific year for Birthday Bourbon. This is the kind of age and proof that I wish they'd release more often. But I get it, they can't really do this to all of their products because of how much extra cost each barrel incurs if it was aged past 5 or 6 years old. It's just a shame that this isn't more widely available so more people can experience the pinnacle of Old Forester.
When each release season comes around, I plant my flag firmly with the Four Roses Small Batch Limited Edition crowd as the one label I'm looking forward to the most. People like me laugh at those that chase boring bottles of Van Winkle or unobtainable bottles like BTAC. We even turn our noses up to those who wait in lines 200+ deep outside of Old Forester for a bottle of Birthday Bourbon. But it's releases like this 2019 OFBB that make me want to change my allegiance. With just one sip, I knew immediately that the 2019 release was one of the most splendid bourbons out there.
Featured Products
Description:

The Aged & Ore Neat Traveler is a complete travel kit for spirits. We combined our widely praised Neat Glass with one of our 3oz Flight Bottles and housed them together in a custom EVA travel case. Perfect for a night away with your favorite pour. The tie
Description:

The Aged & Ore Bottle Flight is a premium set of 4 custom silicone wrapped glass bottles designed to transport and share samples of your favorite spirits. The flight bottles come in a custom EVA travel case that fits perfectly in any small bag. An Aged &
Description:

This Bundle combines two of our crowd favorite products, creating the ultimate travel bundle to bring along your favorite spirits and glassware. Bundle Includes: Neat Traveler (Gray) Bottle Flight (Gray) Note: This bundle is only available in gray and col
*Bourbon Culture is reader-supported. When you buy through links on our site, we may earn an affiliate commission.