*Bourbon Culture is reader-supported. When you buy through links on our site, we may earn an affiliate commission.
I often write reviews on bottles of whiskey that are quirky or not easily found on the shelves of liquor stores. But I realize that many people do not have the time or desire to hunt for those kinds of bottles as much as I do. For most of us out there, what's on the shelf is what we are choosing from.
And most of the time we buy those bottles based on how appealing the packaging looks. If that describes your bourbon buying habits, you probably have bought a bottle of Blade and Bow Bourbon.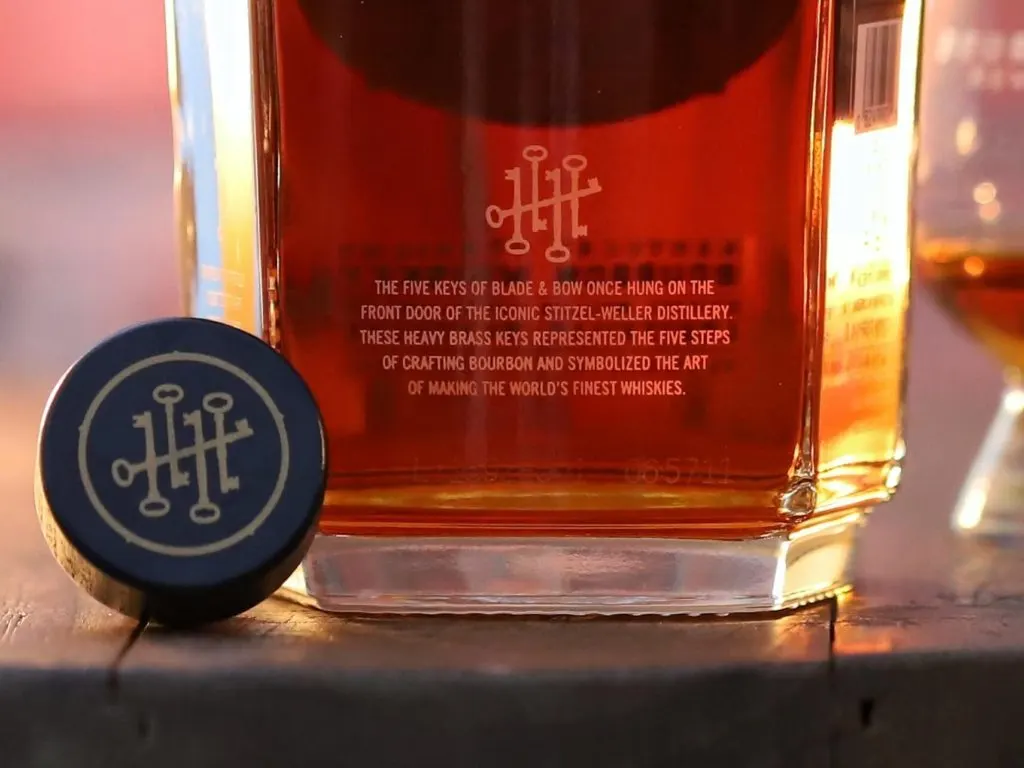 The origins of Blade and Bow
Blade and Bow is named from the main components of a key. Why name a bourbon after parts of a key? Because that is what decorated the door to the Stitzel Weller Distillery in the past. The five keys that were mounted on the door represented the five tenants of whiskeymaking: grains, yeast, fermentation, distillation and aging. Stitzel Weller created some of the greatest bourbon in the world (including Pappy Van Winkle) for decades before it ultimately had to shut down.
The facility stopped producing whiskey in 1992 and was bought by Diageo in shortly thereafter. Diageo began to slowly remodel it in the early 2000s. They weren't in a rush because what they were really after were the warehouses that still contained a decent amount of bourbon that came with the sale of the place. These barrels would primarily go into the various "Orphan Barrel" labels that they produced starting in 2013.
The barrels that had been left behind were primarily distilled in the late 1980s and early 1990s at the New Bernheim distillery just down the road. But those older barrels are not what goes into Blade and Bow. Blade and Bow, as well as Bulleit, is made from much younger bourbon sourced from other distilleries in Kentucky.
That list probably includes Barton and New Bernheim (which is Heaven Hill's Distillery, but the bourbon that is contract distilled for Diageo is not Heaven Hill's recipe). They also have been sourcing barrels from various Kentucky distilleries to produce younger I.W. Harper bourbon, Bulleit Bourbons and Blade and Bow. So while they don't talk about what sort of bourbon goes into Blade and Bow, we can deduce it is probably some of the same liquid that goes into their other brands.
The one thing that we do know is that Blade and Bow contains a small amount of Stitzel Weller bourbon in every batch. Keep in mind that since they do not tell us the actual amount that was used in their Solera process, it could literally be as little as a single drop.
The Solera process involves moving a certain amount of liquid (probably about half the barrel) from one barrel to the next in order to claim that the contents never fully depleted. This is a time consuming process that probably limits the amount of barrels that Diageo can produce every year. It's also fairly gimmicky since it's obvious that they wanted to find a product, any product, to attach the Stitzel Weller name to.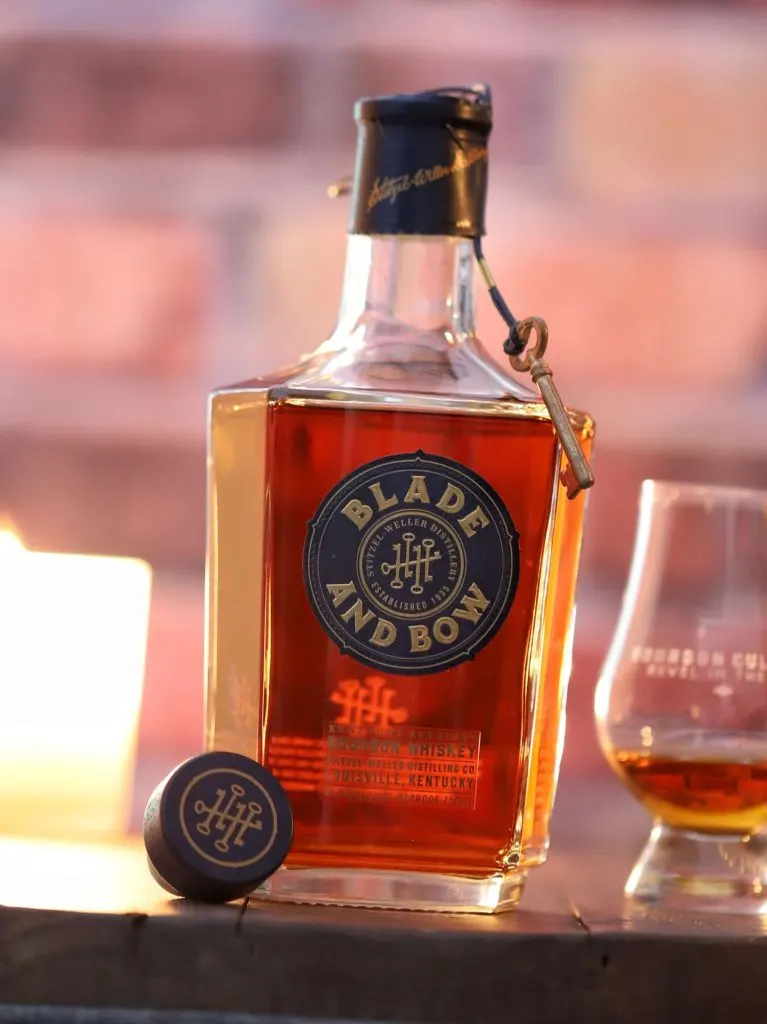 I'm going into this tasting knowing that what I'm tasting is likely 4 to 5 year old Barton (or New Bernheim!) that's been proofed down to 91 proof before being bottled. The $50 price tag, which other reviewers have called "fair" does not seem that fair to me. For a low proof, non-age stated (NAS) bourbon with no hint as to where it came from, then any higher than $30 seems egregious. But what do I know? Let's let the whiskey speak for itself. I sampled this neat in a glencairn.
Blade and Bow Bourbon Review Tasting Notes
Nose: A light and fruity affair complete with Christmas fruitcake, almond extract, vanilla and a bit of clove and cinnamon. It's not offensive and it carries a caramel sweetness throughout. There are some really odd scents such as "Hairspray" and a faint floral note. Both of these must be products of the Solera process, but I can't be sure.
Palate: A rather thin mouthfeel coupled with a lack of heat makes me want to remark that this bourbon is "smooth," but I'll try to explain it more in-depth. Sugar cookies, cherry syrup, vanilla candle wax and a hint of toffee and chocolate can all be found on the tongue. The whole mouthfeel is overly soft without much bite. The most striking thing is the lack of a distinct spice. And it's needed too, because there is nothing to counteract the overall boringness of the dram
Finish: Powdered donuts, cherry and vanilla coke and very little tannins are the main notes I find on the finish. If only there was more leather or oak notes to layer the flavors more. Overall, the finish is only short to moderate in length and somewhat dull.
Score: 6/10
Nothing really stands out in this dram. It's perfectly passable, even momentarily enjoyable. But it reminds me of another bourbon I have reviewed lately: Blanton's Special Reserve. I felt the same way about that experience where it was simple and pleasant. And that's about all the more you can say.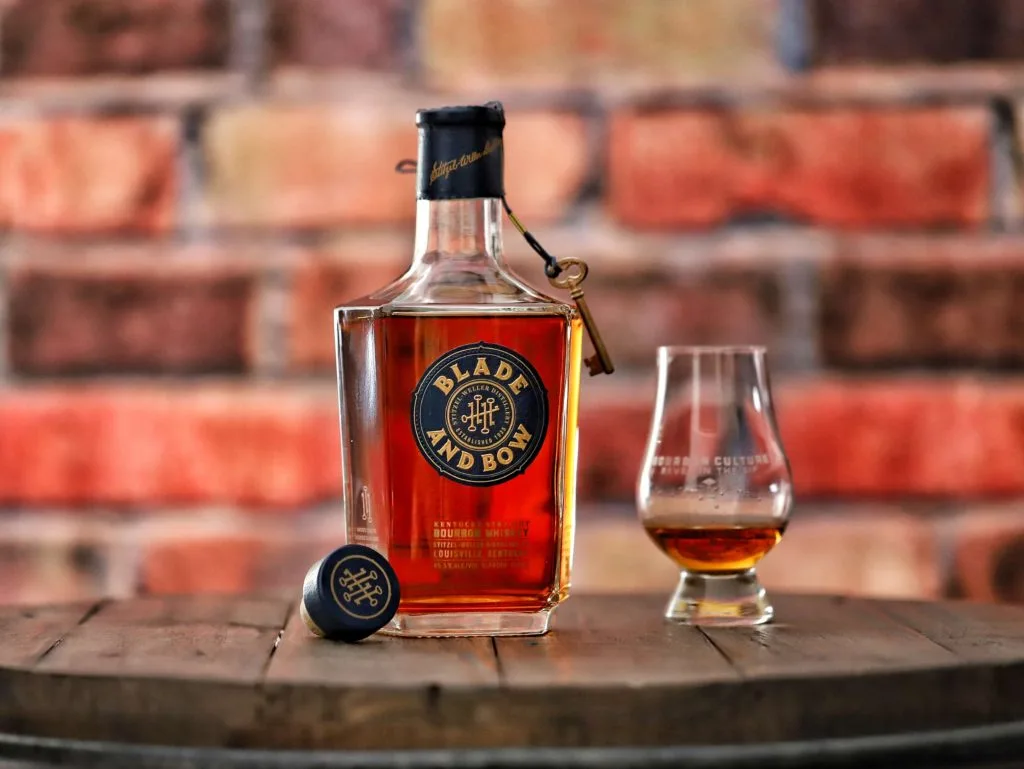 Final Thoughts
Blade and Bow is a pretty bottle with a fun story that most unassuming people would probably pick up but it's really nothing more than that. Comparable bottles are probably 1792 Small Batch, Bulleit Bourbon (90 proof) and Kentucky Owl Wiseman. But if you had to pick just one, buy the 1792 Small Batch because it's half the price of Blade and Bow or KO Wiseman.
A warning I give to others when they are seeing if their experience lines up with mine is that this is not a bourbon you should drink after something else. I started with this one first to find out what it truly tastes like.
The reason is because the thin and low proof nature of this bottle made it taste like water if it followed virtually any other bourbon. So please, if you must buy this bottle, enjoy it by itself or before drinking others. You'll thank me later.
Featured Products
Description:

The Aged & Ore Neat Traveler is a complete travel kit for spirits. We combined our widely praised Neat Glass with one of our 3oz Flight Bottles and housed them together in a custom EVA travel case. Perfect for a night away with your favorite pour. The tie
Description:

The Aged & Ore Bottle Flight is a premium set of 4 custom silicone wrapped glass bottles designed to transport and share samples of your favorite spirits. The flight bottles come in a custom EVA travel case that fits perfectly in any small bag. An Aged &
Description:

This Bundle combines two of our crowd favorite products, creating the ultimate travel bundle to bring along your favorite spirits and glassware. Bundle Includes: Neat Traveler (Gray) Bottle Flight (Gray) Note: This bundle is only available in gray and col
*Bourbon Culture is reader-supported. When you buy through links on our site, we may earn an affiliate commission.