*Bourbon Culture is reader-supported. When you buy through links on our site, we may earn an affiliate commission.
For years, Old Forester products had been overlooked on shelves all across America. In fact, their core lineup of products were basically seen as bottom shelf bourbons. But in early 2015, the gears began turning within the belly of the beast and the Whiskey Row series was born. These more upscale bottles were marketed to different drinkers with the hopes that there would be a whiskey for every type of drinker. After the 90 proof "1870 Original Recipe" and 100 proof "1897 Bottled In Bond" releases came out, Old Forester rolled out with the 115 proof "1920 Prohibition Style."
115 proof is a pretty strong offering for being a common shelf staple. About the only competitors that match it in proof, price and availability are Maker's Mark Cask Strength or Wild Turkey Rare Breed. But Old Forester was on a mission to change people's minds about the quality of their products. Did they succeed? I sat down to find out myself. As always, I sampled this neat from a Glencairn.
Tasting Notes
Nose: High proof products from Old Forester can be daunting sometimes, but this pour starts off on a soft note with creamy vanilla custard, cherry cordials and a little bit of sour citrus. There's a bit of maple syrup scent coupled with the seasoned wood that comes with it. Overall the nose is attractive and pulls you in. The balance is exceptional.
Palate: Cinnamon stick and black pepper greet your tastebuds, giving you fair warning of the proof you're about to experience. The palate isn't all heat though. I do pick up on a lot of sweet caramel and table syrup. There's a noticeable amount of peppermint that reminds you of the rye content that's in this mashbill too. Interestingly, a bit of toasted pecan adds a little nuttiness to the back end of the palate giving it more complexity.
Finish: Old Forester products are famous (at least for me) for having a "drying oak" and "furniture polish" characteristic. And I find that here on the finish. It's not a detraction from the taste as much as it's a reminder that it was aged in a heat-cycled warehouse. There are a handful of lingering flavors that help round out the rest of the experience like Milk chocolate, maple syrup and caramel chips. I should mention that I get a lot of maple syrup notes with Jack Daniels products too (another Brown Forman product). Is this a trait of the yeast?
Score: 7.7/10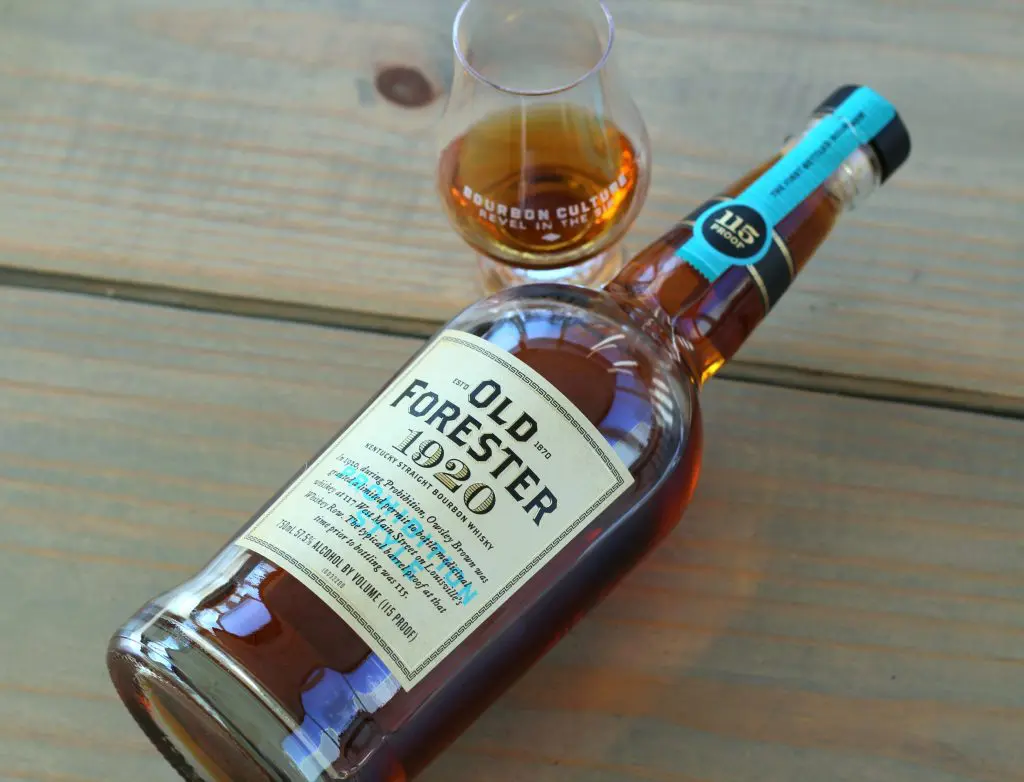 Old Forester products can be a hit-or-miss experience for me. One of the most recent misses are the new Barrel Strength Single Barrels that all seem off-balanced. Some of the hits have been the 150th Anniversary batches and low-proof offerings like 1910 and Statesmen (yes, you heard me right). But when it comes to a bottle like 1920 "Prohibition Style," I think they have a perennial hit on their hands that will continue luring new drinkers to their own products and high-proof bourbon in general for years to come.
Final Thoughts
I like to draw comparisons of Old Forester 1920 to the various batches of Stagg Jr that Buffalo Trace puts out. 1920 will probably never have the rabid fanfare and masses of taters looking to clear the shelves, but the character on these two are very similar. Both pack serious flavor along with a bit of untamed heat.
They are also generally sweet sips with a decent amount of oak. But whereas the secondary is tripping over themselves for bottles of Stagg Jr (secondary pricing is inching closer towards $200/bottle at the time of writing), there is no rush to go out and clear the shelves of 1920. In fact, it is one of the easiest bourbons to find. That reminds me, it's been a while since I've replaced my last bottle of 1920. Time to go to the store!
Ratings Breakdown
1 | Disgusting | Drain pour (Example: Jeffers Creek)
2 | Poor | Forced myself to drink it
3 | Bad | Flawed (AD Laws 4 Grain BiB, Clyde Mays anything)
4 | Sub-par | Many things I'd rather have (Tincup 10 year)
5 | Good | Good, solid, ordinary (Larceny, Sazerac Rye)
6 | Very Good | Better than average (Buffalo Trace, OGD BiB)
7 | Great | Well above average (Old Ezra Barrel Proof, Old Weller Antique)
8 | Excellent | Exceptional (Michter's Barrel Proof Rye, Four Roses Barrel Strength)
9 | Incredible | Extraordinary (GTS, 13 Year MGP or Canadian Rye)
10 | Insurpassable | Nothing Else Comes Close (William Larue Weller)
Featured Products
Description:

The Aged & Ore Neat Traveler is a complete travel kit for spirits. We combined our widely praised Neat Glass with one of our 3oz Flight Bottles and housed them together in a custom EVA travel case. Perfect for a night away with your favorite pour. The tie
Description:

The Aged & Ore Bottle Flight is a premium set of 4 custom silicone wrapped glass bottles designed to transport and share samples of your favorite spirits. The flight bottles come in a custom EVA travel case that fits perfectly in any small bag. An Aged &
Description:

This Bundle combines two of our crowd favorite products, creating the ultimate travel bundle to bring along your favorite spirits and glassware. Bundle Includes: Neat Traveler (Gray) Bottle Flight (Gray) Note: This bundle is only available in gray and col
*Bourbon Culture is reader-supported. When you buy through links on our site, we may earn an affiliate commission.