*Bourbon Culture is reader-supported. When you buy through links on our site, we may earn an affiliate commission.
In May 2020, members of the New Jersey Bourbon and Yacht Club (NJBYC) reached out about a trip that they planned on taking to Kentucky. The main purpose of the trip was to pick a Four Roses Private Selection barrel for Mid Valley Wine and Spirits. I am always game to meet up with members of the community who share a passion for reviewing and drinking good bourbon, so I told them I was interested in meeting up. I envisioned a day of bottle hunting, eating and awesome pours after their barrel pick was done. But coronavirus restrictions were constantly changing and it began to impact the amount of guys that could travel to Kentucky to do the barrel pick. Shortly before the date of the barrel pick, Four Roses began to restrict each group to only 4 tasters per slot. As circumstances would have it, the NJBYC had a last minute dropout by a member of the picking team. I was asked if I would like to join the pick in his place. Of course I was in. You never say "no" when Four Roses is offered up.
Meeting up with Dan, Ryan and Jason in Louisville on the day of the pick, we grabbed a quick bite at Biscuit Belly in NuLu before starting our journey to Cox's Creek. The whole picking experience will be detailed in an upcoming write-up that led us up to the end of the barrel pick where we had narrowed it down to 3 final recipes (which were still concealed). We asked Mandy if she could repour our final 3 again and we went outside for a moment to collect our thoughts. After coming back in and re-tasting through the 3, we declared our winner and the barrel was revealed… a 9 year, 8 month old OESO recipe. The king of Four Roses recipes was ours! We laughed, we cried, we each hugged… the barrel… and said our goodbyes… to the barrel (we also said our goodbyes to Mandy as well) and then took a victory lap around the grounds to soak it all in.
These bottles (sans sticker, New York State law) actually did hit the shelves unlike some groups who keep them only for themselves. But for those who were lucky enough to stop by MVWS during those few days in August, they stumbled upon the surprise of a lifetime. I was happy to be able to get my bottle from that special day.
Throughout this review, I promise to be as objective as I can because I'm aware that reviewing a barrel you helped pick seems like a recipe to receive a perfect score. That's not going to happen here because I have a little secret to share… this OESO was actually my second favorite of that day. I had picked a slightly off-profile OBSK as my favorite along with another person in our group. But in the end, we weighed the pros and cons and I couldn't be happier that we ended up deciding on this barrel. So let's dive in. I sampled this neat and in a Glencairn.
Tasting Notes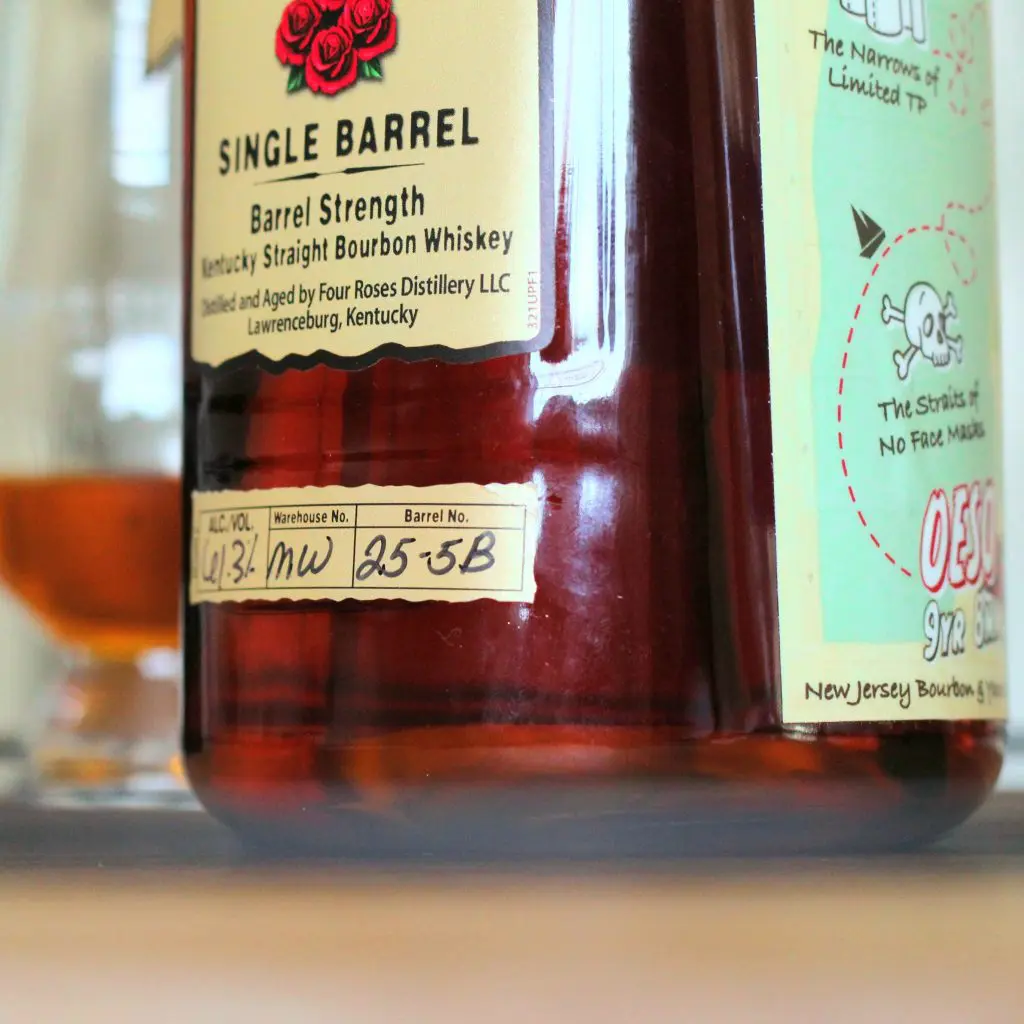 Nose: Even though this is an "O" yeast strain it almost seems like a "V." There are just so many fruit scents. Cherries, canned peaches and ripe strawberries… it's almost like it didn't need the help of the light brown sugar notes or the candy corn sweetness I also smell. The toasted wood scent won't strike you as heavy-handed, but is nicely integrated. Sweet desserts like crème brulee and cinnamon rolls add extra layers of complexity.
Palate: Cherry cough syrup, Fruit-by-the-Foot and grenadine syrup deliver a huge array of fruit flavors right up front. A small amount of black peppercorns and red pepper flakes provide the heat that I knew would come in a bottle that's over 120 proof but it's completely manageable. More dessert notes like coffee cake and cinnamon rolls with vanilla buttercream frosting are a treat to experience as the chocolate notes I normally get with all Four Roses "O" yeast strains shows up in the form of York Peppermint Patties. The whole palate is full of rich and intense flavors.
Finish: Cinnamon spice and mint are the two flavors that impact the finish the most when the sip is complete. Lingering notes of seasoned oak, chocolate mousse and even some butterscotch pudding add sweetness and depth while spicy peppercorn prickles continue from the palate to add heat. Finally, there's some wet tobacco that shows that the age on this barrel. It's sublime.
Score: 8.5/10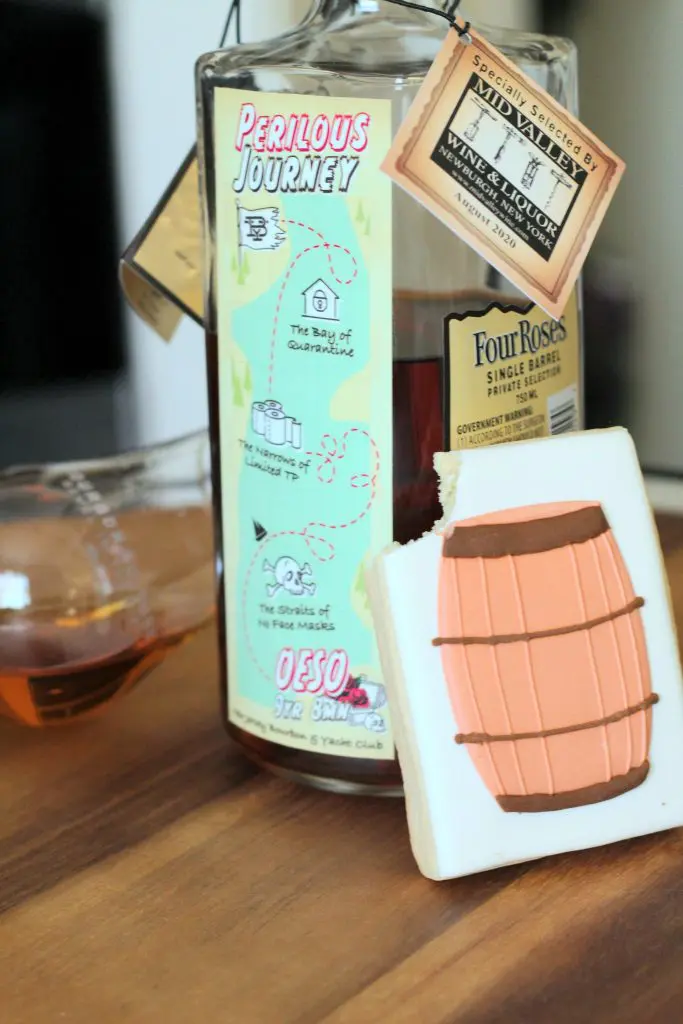 2020 saw a run of fantastic OESO picks come out of the 5th tier of Warehouse M. This was one of them. Four Roses Private Selections are not known for their wood and tobacco notes, so it took me by surprise when I found them. I usually find my 4RPS's to be complex and mostly sweet, but the richness of these flavors were more distinct in this OESO pick than almost all the other single barrels I've had before.
This is what made it such a winner. There are many people that I've talked to that have declared that this is better than some of the 4R Limited Edition Small Batch releases. That's high praise. However I don't think that it's quite on that level just yet, but it's very close.
Final Thoughts
In the end, Four Roses OESO single barrels continue to be one of the most desirable and hard-to-find recipes that comes out of Four Roses. While I'm sure that not everyone will say that OESO is their favorite, the secondary value on this recipe does start to paint that picture. Private Selection OESO's are always $50-100 more than any other recipe. This could have a lot to do with exclusivity but I think it's because it always seems to have the right mix of traits that people love to find from a Four Roses product. As for the Perilous Journey that it took to get this barrel? Let's just say I'd go on another one if this bottle was at the end.
Ratings Breakdown
1 | Disgusting | Drain pour (Example: Jeffers Creek)
2 | Poor | Forced myself to drink it
3 | Bad | Flawed (AD Laws 4 Grain BiB, Clyde Mays anything)
4 | Sub-par | Many things I'd rather have (Tincup 10 year)
5 | Good | Good, solid, ordinary (Larceny, Sazerac Rye)
6 | Very Good | Better than average (Buffalo Trace, OGD BiB)
7 | Great | Well above average (Old Ezra Barrel Proof, Old Weller Antique)
8 | Excellent | Exceptional (Michter's Barrel Proof Rye, Four Roses Barrel Strength)
9 | Incredible | Extraordinary (GTS, 13 Year MGP or Canadian Rye)
10 | Insurpassable | Nothing Else Comes Close (William Larue Weller)
Featured Products
Description:

The Aged & Ore Neat Traveler is a complete travel kit for spirits. We combined our widely praised Neat Glass with one of our 3oz Flight Bottles and housed them together in a custom EVA travel case. Perfect for a night away with your favorite pour. The tie
Description:

The Aged & Ore Bottle Flight is a premium set of 4 custom silicone wrapped glass bottles designed to transport and share samples of your favorite spirits. The flight bottles come in a custom EVA travel case that fits perfectly in any small bag. An Aged &
Description:

This Bundle combines two of our crowd favorite products, creating the ultimate travel bundle to bring along your favorite spirits and glassware. Bundle Includes: Neat Traveler (Gray) Bottle Flight (Gray) Note: This bundle is only available in gray and col
*Bourbon Culture is reader-supported. When you buy through links on our site, we may earn an affiliate commission.