*Bourbon Culture is reader-supported. When you buy through links on our site, we may earn an affiliate commission.
For all the more bourbon tourism has exploded along the Kentucky Bourbon Trail, it's amazing to me that distillery gift shops don't offer more exclusive bottles that would entice consumers to spend their money while there.
There is one distillery that has recognized this and has been actively selling bottles that you can only get there for many years now: Heaven Hill.
The Heaven Hill gift shop (along with the Evan Williams Experience gift shop) is the only place where you can buy Elijah Craig Barrel Select Single Barrels, known by many enthusiasts as "the Grenade."
Taking a quick glance at this tiny 200ml bottle would remind you of the general shape and size of a grenade, but it's actually in the shape of a tiny barrel. The cost seems reasonable enough to the average tourist looking to take something home ($29.99), but in the grand scheme of things, a standard-sized bottle would equate to just over $100.
If you're an enthusiast, you know that Elijah Craig Small Batch is typically sold around the $25-30 mark and is bottled at 94 proof. Elijah Craig Barrel Proof (ECBP) retails for around $60 and has ranged anywhere from 122.2 to 140.2 depending on the release.
It's also age stated to be 12 years old. The Elijah Craig grenade carries no age statement and is always bottled at 125 proof. It is rumored to be anywhere between 8 and 10 years old (because Elijah Craig does not use bourbon younger than 8 years old).
These facts alone make this a strange value proposition because it can be assumed that this is very close to being what a single barrel of ECBP would taste like.
For years now, bourbon hunters have routinely overlooked the Grenade while trying to find other gift-shop notables like William Heaven Hill, Heaven Hill Select Stock, Parker's Heritage and Old Fitzgerald Bottled-In-Bond.
But with all of those becoming extremely hard to find, people are finally giving in and buying these up despite the seemingly bad value proposition. So is there anything that stands out with these single barrels? There's only one way to find out. I bought a single barrel to see for myself.
Tasting Notes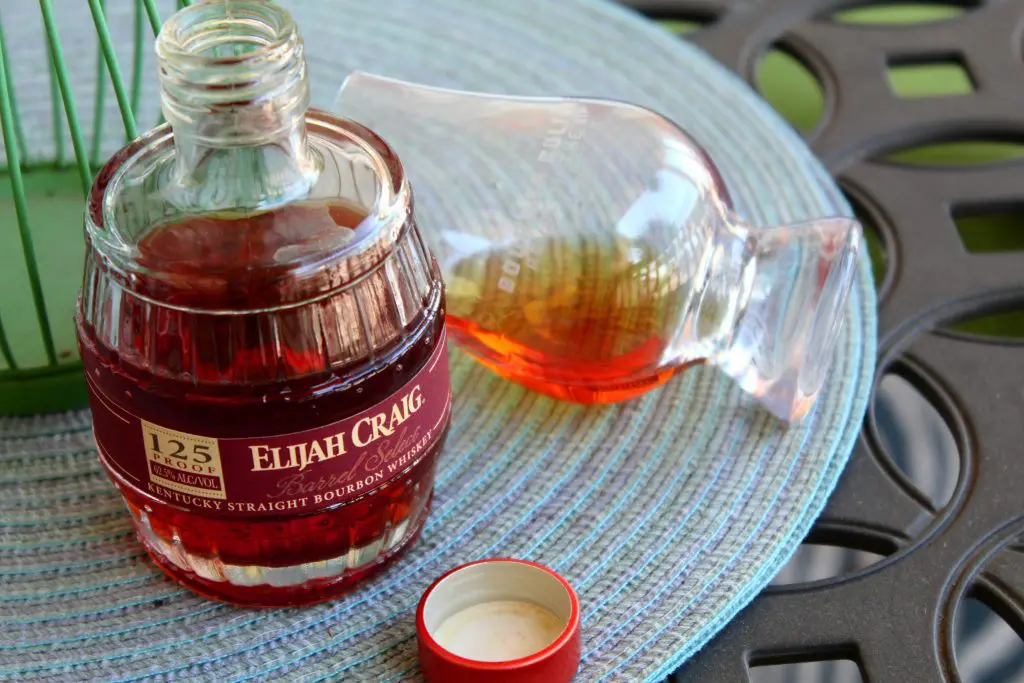 Nose: True to form, this single barrel's scents tick a lot of the same boxes that a well blended batch of ECBP would have. First to come out would be a light nuttiness that I find in most Heaven Hill products.
There is a thick, sweet layer of caramel sauce followed by a nice punch of vanilla bean. Then of course there is some delicious wood notes in there that gives this some very rich depth.
Palate: This drinks nice and sweet with flavors similar to a vanilla latte coming out first. The nuttiness also follows from the nose while peppery heat pounds your tongue. Many of these Grenades drink hot and it's well known that you have to let these breathe for a few weeks before they "settle down."
This particular single barrel offers up some nice dark fruit notes (like cherry), but they get swept aside in favor of the richer notes like barrel char, leather and seasoned wood.
It's a beautifully rounded blend of flavors that show you just what kinds of barrels get dumped into regular batches of Elijah Craig.
Finish: As the sip concludes, I'm happy to find notes of chocolate begin to come out and mix with the nuts and caramel. Bascially it's like eating a Baby Ruth candy bar only spicier.
Speaking of spice, sharp cinnamon joins the peppercorns to let you know that the proof is still very high, but it's all manageable.
Those dark fruits from the palate linger around on the finish and the vanilla returns in the form of buttercream frosting. It's rich, satisfying and lasts for a decent length of time.
Score: 7.7/10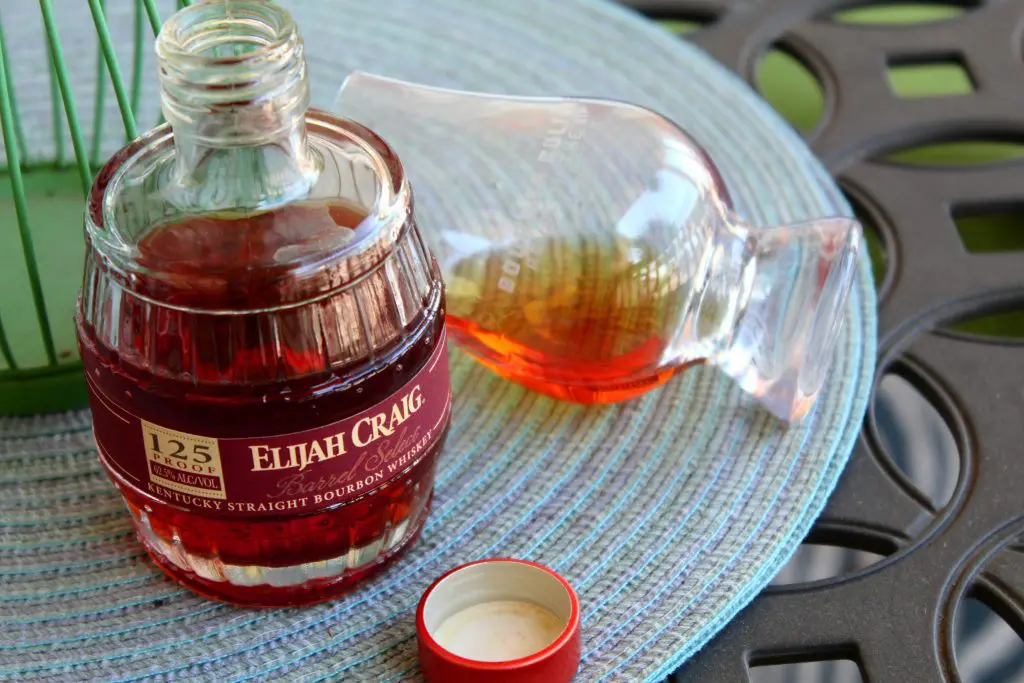 The score I gave this Grenade is slightly under the ratings I would give to an average bottle of Elijah Craig Barrel proof. That's not to say I didn't enjoy it or would recommend that you not buy one if you had the chance.
But while the ECBP's have heavier, more robust flavors about them, this single barrel still stood out as younger. That won't matter to a lot of people, but once you start adding up the value proposition of this being double the price of ECBP, it begins to lose its luster.
Final Thoughts
Now if Heaven Hill ever began to adequately provide specs on these Grenades, things like age, barrel, rickhouse location, etc, then maybe they would interest enthusiasts and tourists alike.
Until then, owning 1 seems like it's an acceptable risk to experience it and display it in your collection, but any more than that is probably unnecessary.
Ratings Breakdown
1 | Disgusting | Drain pour (Example: Jeffers Creek)
2 | Poor | Forced myself to drink it
3 | Bad | Flawed (AD Laws 4 Grain BiB, Clyde Mays anything)
4 | Sub-par | Many things I'd rather have (Tincup 10 year)
5 | Good | Good, solid, ordinary (Larceny, Sazerac Rye)
6 | Very Good | Better than average (Buffalo Trace, OGD BiB)
7 | Great | Well above average (Old Ezra Barrel Proof, Old Weller Antique)
8 | Excellent | Exceptional (Michter's Barrel Proof Rye, Four Roses Barrel Strength)
9 | Incredible | Extraordinary (GTS, 13 Year MGP or Canadian Rye)
10 | Insurpassable | Nothing Else Comes Close (William Larue Weller)
Featured Products
Description:

The Aged & Ore Neat Traveler is a complete travel kit for spirits. We combined our widely praised Neat Glass with one of our 3oz Flight Bottles and housed them together in a custom EVA travel case. Perfect for a night away with your favorite pour. The tie
Description:

The Aged & Ore Bottle Flight is a premium set of 4 custom silicone wrapped glass bottles designed to transport and share samples of your favorite spirits. The flight bottles come in a custom EVA travel case that fits perfectly in any small bag. An Aged &
Description:

This Bundle combines two of our crowd favorite products, creating the ultimate travel bundle to bring along your favorite spirits and glassware. Bundle Includes: Neat Traveler (Gray) Bottle Flight (Gray) Note: This bundle is only available in gray and col
*Bourbon Culture is reader-supported. When you buy through links on our site, we may earn an affiliate commission.