*Bourbon Culture is reader-supported. When you buy through links on our site, we may earn an affiliate commission.
Deerhammer Distillery, located in Buena Vista, Colorado, has been focusing their craft on the dark arts of "American Single Malt Whiskey" for a while now. While not a terribly big category, American Single Malt has been growing in size and popularity. One of the reasons for this may be the recognition that many whiskey drinkers in the US get their start from drinking Scotch. So it's not a leap to assume that American Malt Whiskey could provide some of those same flavors. Additionally, malted barley is already a well known and understood grain to ferment and distill with. It tends to produce a softer, more gentle whiskey than some bourbons or rye whiskies tend to be. Finally, malt whiskey ages relatively quickly which is very desirable for new distilleries trying make some of their money back.
Redstone Collaboration
Deerhammer collaborated with Redstone Meadery, another local Colorado producer, to source barrels that had been used to age mead in. For the uninitiated, mead is an alcoholic beverage made from primarily honey and water. The honey is the source of sugar that will be used for fermentation. If you've never had mead before, I'd describe it as very close to a sparkling cider or champagne, although many variants exist.
Deerhammer's took their standard 3 year old malt whiskey and dumped it inside of these used Mead barrels to see what would happen. After they felt it was just right, they bottled it up at a commendable 107 proof to retain as much body and character as they could. So what does this finished whiskey taste like? There's only one way to find out! I sampled this neat and in a Glencairn.
Tasting Notes
Nose: Without knowing a whole lot about what an American Malt should normally smell like, I am detecting that this whiskey is very rich and thick up front. There's a sort of creaminess to it that I find really satisfying. Warm butter, heavy whipping cream and candy bar nougat scents blend together well with nutmeg and cinnamon spice. I am even finding a seasoned wood note that fools me into thinking this has more age on it than its age states. Melted caramel and Golden Grahams Cereal round out this very sweet and dessert-y nose.
Palate: The spices from the nose become lighter on the tongue, but it's the "Scotchy" flavors of roasted animal fat and a touch of salinity that remind me so much of a non-peated single malt Scotch. I'm unsure why that is, but it's always been a trait I've picked up on with malts. It's really fascinating to see how quickly the flavors of mead shine through. First of all, the raw honey notes are obvious and are followed by notes of flat champagne and cream soda. But it's the floral notes that really stand out as I get flavors of wildflowers, rose petals, cherries and elderberry syrup. There's even a melon flavor that reminds me of cantaloupe.
Finish: You can tell how rich and thick this liquid is after you finish your first sip. It sets on your tongue like you just ate a spoonful of pudding. There's lingering notes of golden raisins, more flat champagne and unsweetened Malt O' Meal hot cereal. Oddly enough, I swear I can detect a hint of flat grape soda that really makes this one unforgettable. Age doesn't seem to have imparted its tannins on the liquid at the end that much, but there is a small amount of cigar ash I'm detecting that wraps it all up nicely.
Score: 8.1/10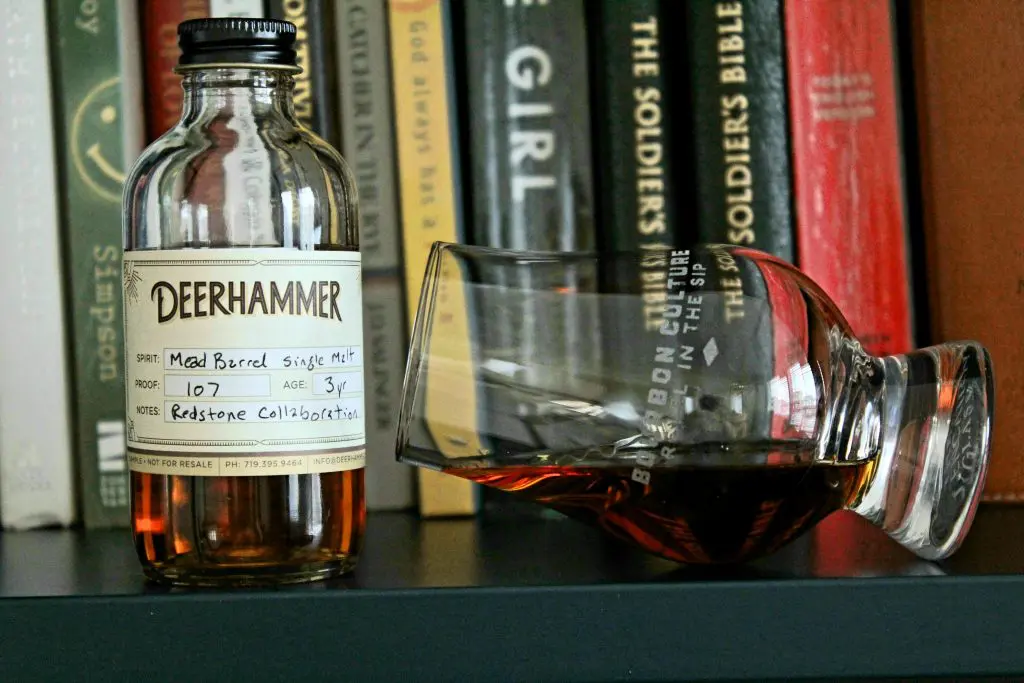 In the past, I've been reluctant to get into American Single Malts because I believed they didn't have a lot to offer for me. But in the last month, I've found myself experimenting with more Scotch thanks to a friend who has graciously sent me sample some of his collection. So now that I have a newfound appreciation for that category, I genuinely find myself enjoying all things malted, including American Single Malt Whiskies.
Final Thoughts
With that being said, this is one of the most interesting and unique whiskies out there that I've had in months. It's rich and flavorful and has nary a hint of youthful harshness. It may be hard to convince a non-malted whiskey drinker to try this stuff, but let me put it bluntly. If you ever see a bottle of this on the shelves, buy it. And then share it with a friend. I guarantee that it'll open your world to the magic and mystery of what Deerhammer has been able to create here. And maybe it'll open up somebody else's as well.
Ratings Breakdown
1 | Disgusting | Drain pour (Example: Jeffers Creek)
2 | Poor | Forced myself to drink it
3 | Bad | Flawed (AD Laws 4 Grain BiB, Clyde Mays anything)
4 | Sub-par | Many things I'd rather have (Tincup 10 year)
5 | Good | Good, solid, ordinary (Larceny, Sazerac Rye)
6 | Very Good | Better than average (Buffalo Trace, OGD BiB)
7 | Great | Well above average (Old Ezra Barrel Proof, Old Weller Antique)
8 | Excellent | Exceptional (Michter's Barrel Proof Rye, Four Roses Barrel Strength)
9 | Incredible | Extraordinary (GTS, 13 Year MGP or Canadian Rye)
10 | Insurpassable | Nothing Else Comes Close (William Larue Weller)
Featured Products
Description:

The Aged & Ore Neat Traveler is a complete travel kit for spirits. We combined our widely praised Neat Glass with one of our 3oz Flight Bottles and housed them together in a custom EVA travel case. Perfect for a night away with your favorite pour. The tie
Description:

The Aged & Ore Bottle Flight is a premium set of 4 custom silicone wrapped glass bottles designed to transport and share samples of your favorite spirits. The flight bottles come in a custom EVA travel case that fits perfectly in any small bag. An Aged &
Description:

This Bundle combines two of our crowd favorite products, creating the ultimate travel bundle to bring along your favorite spirits and glassware. Bundle Includes: Neat Traveler (Gray) Bottle Flight (Gray) Note: This bundle is only available in gray and col
*Bourbon Culture is reader-supported. When you buy through links on our site, we may earn an affiliate commission.